Low-Carb and Keto Shrimp Dinners
Shrimp is always tasty for a special meal, and this post has Low-Carb and Keto Shrimp Dinners you might like to make over the weekend!
PIN Low-Carb and Keto Shrimp Dinners to try some later!
I think frozen shrimp is a wonderful convenience food with so many possibilities for a tasty low-carb meal. Admittedly, shrimp can be a bit pricey, so it may be something you'd only have for an occasional treat. But when you're making a special dinner and want a treat, you'll be glad you have shrimp in the freezer to turn into one of these Low-Carb and Keto Shrimp Dinners!
I've updated this collection of shrimp dinners with more options, and if you scroll far enough to look after the photos there are even more tasty ideas using shrimp! Just click the recipe name for any of these to see the complete recipe on the original site. You can use Use Seafood Recipes to find more low-carb, Keto, and gluten-free recipes like these, or check out The BEST Low-Carb Fish and Shellfish Recipes for to see some of my favorites!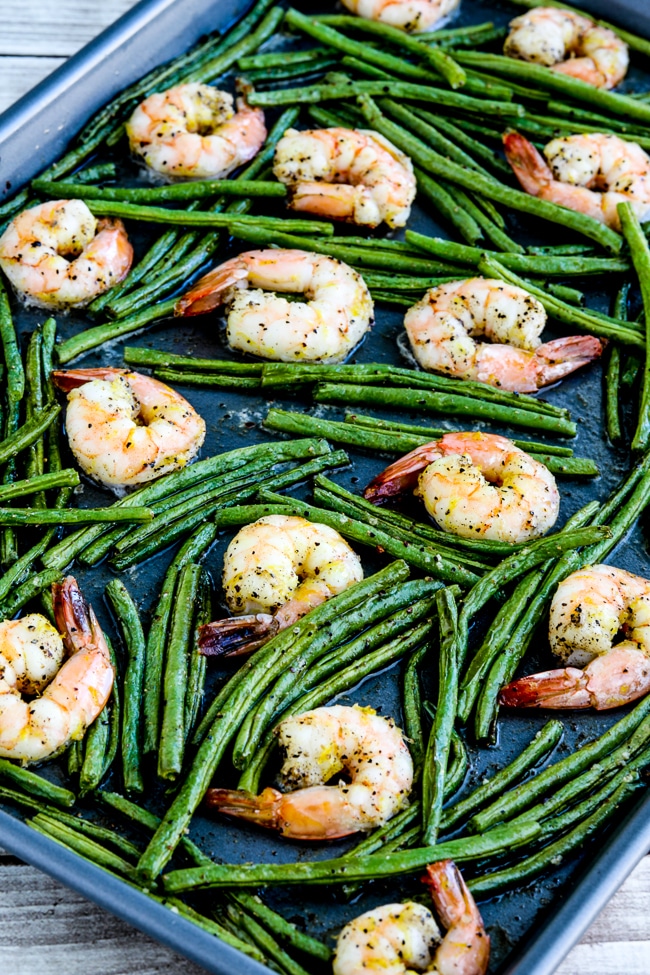 I had to include this Spicy Green Beans and Shrimp Sheet Pan Meal that might be my very favorite dinner with shrimp! (11 carbs, 3.9 grams fiber)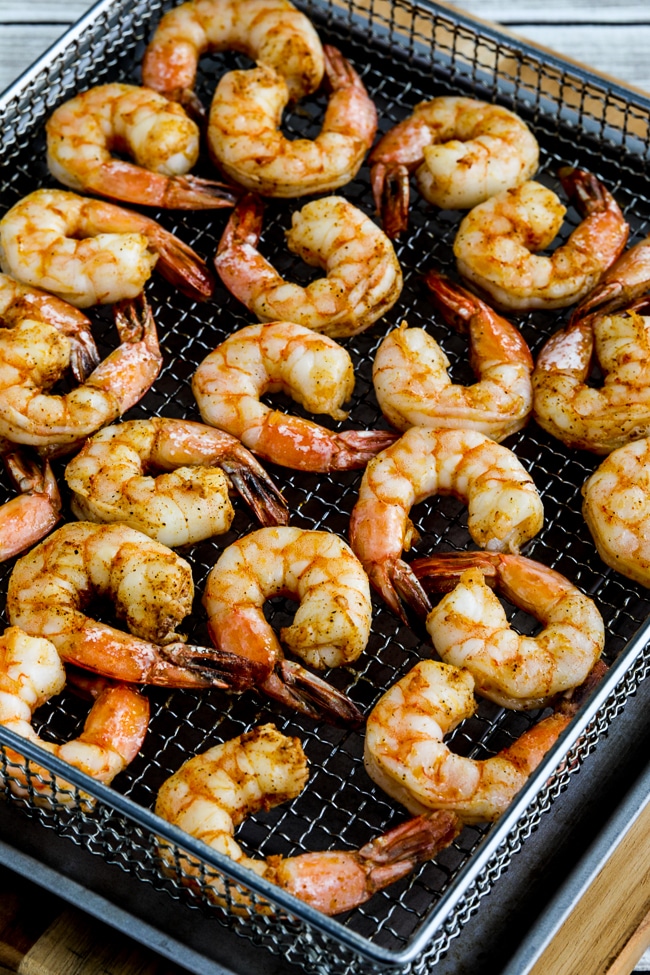 No matter whether you serve them hot as dinner or cold as an appetizer, these Air Fryer Shrimp are going to be a hit! And there's a Mustard-Horseradish Sauce if you like the sound of that. (2 carbs, 0 grams fiber)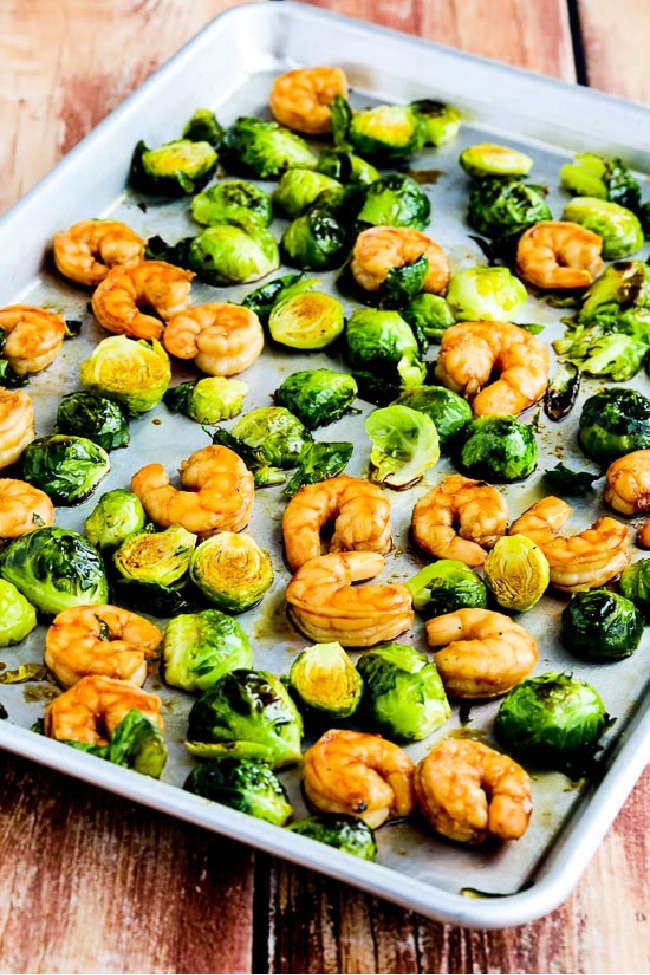 Roasted Asian Shrimp and Brussels Sprouts Sheet Pan Meal is a dinner I've made several times, and it's always a hit with people who like Brussels Sprouts! (9 carbs, 3 grams fiber)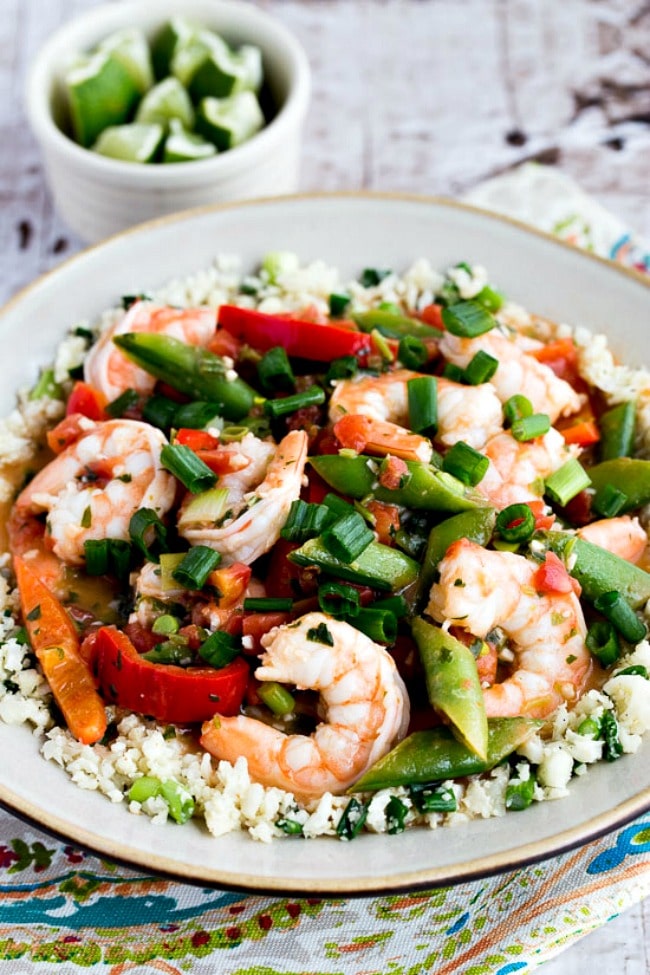 It took a couple of tries to perfect this Coconut Milk Shrimp over Cauliflower Rice, but the recipe we ended up with for this is just 100% amazing. (15 carbs, 4 grams fiber)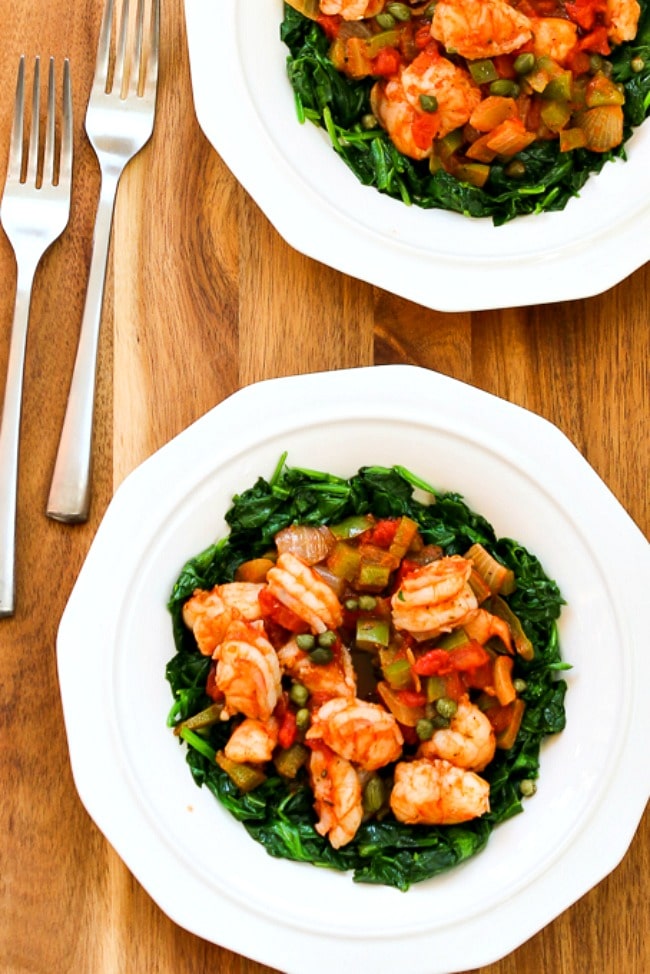 Mediterranean Shrimp over Spinach is another quick and tasty idea for shrimp dinner! If you're not a spinach fan just serve the mediterranean shrimp over spaghetti squash, zucchini noodles, or cauliflower rice. (13 carbs, 5 grams fiber)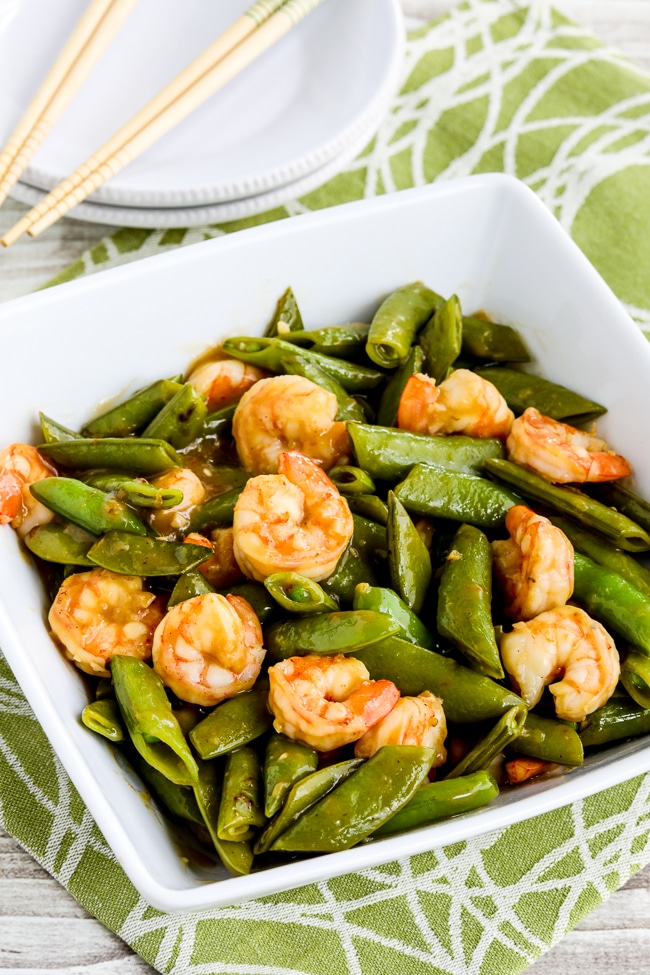 Stir-Fried Shrimp and Sugar Snap Peas is an absolutely WOW dinner idea that's really not that hard to make! (15 carbs, 3.6 grams fiber)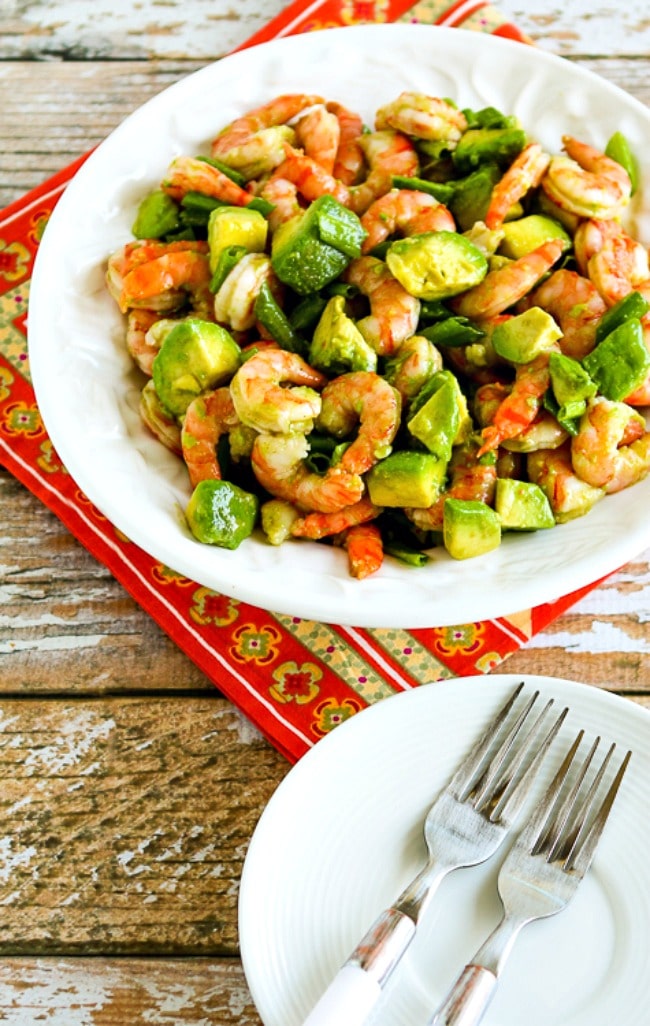 If you want shrimp for lunch or just want a lighter meal, this Shrimp and Avocado Salad is a long-time favorite of mine! (9 carbs, 5 grams fiber)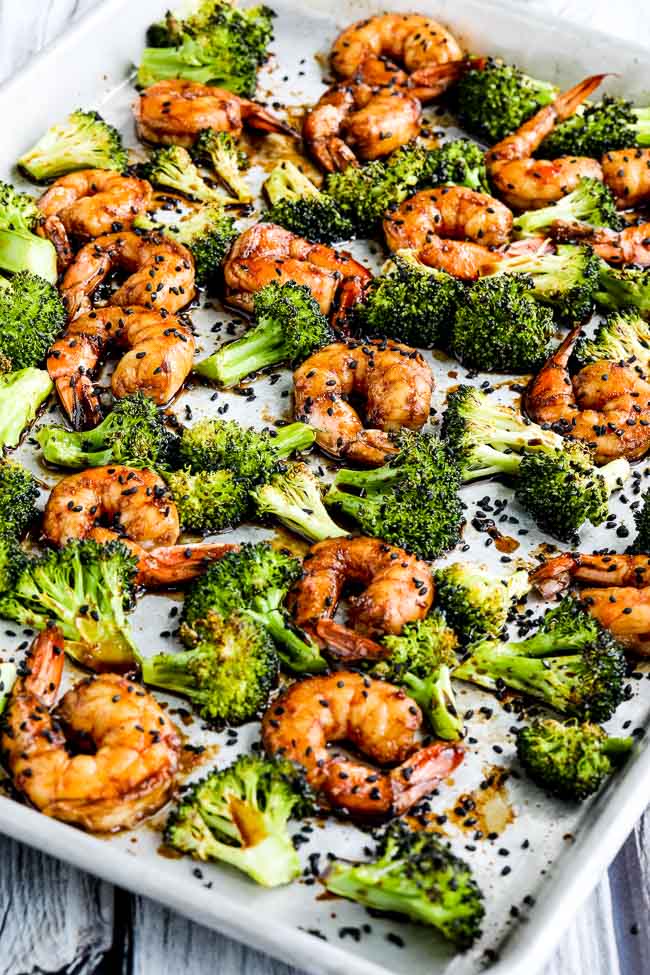 And if you like spicy food, this Sriracha-Spiced Shrimp and Broccoli Sheet Pan Meal is delicious and oh so easy to make! (10.5 carbs, 5 grams fiber)
Shrimp Dinners from Other Blogs:
Zucchini Noodle Shrimp Scampi from Low-Carb Maven
Roasted Curry Shrimp and Zucchini Sheet Pan Meal from Cookin' Canuck
Skinny Shrimp Piccata with Zoodles from Iowa Girl Eats
Skinny Spaghetti Squash Shrimp Scampi from Fit Slow Cooker Queen
Shrimp and Sausage Skillet Dinner from All Day I Dream About Food
More Tasty Shrimp from Kalyn:
Sheila's Low-Carb Shrimp Dip
Easy Shrimp Cocktail with Creamy Sriracha Cocktail Sauce
Shrimp Cocktail Lettuce Cups
Easy Garlic and Lemon Shrimp
Cauliflower Fried Rice with Shrimp
Spicy Baked Shrimp with Garlic
We are a participant in the Amazon Services LLC Associates Program, an affiliate advertising program designed to provide a means for us to earn fees by linking to Amazon.com and affiliated sites. As an Amazon Associate, I earn from qualifying purchases.