Baked White Fish with Pine Nut, Parmesan, and Pesto Crust
Try this Baked White Fish with Pine Nut, Parmesan, and Pesto Crust for a low-carb dinner idea that always feels like something special.
PIN Baked White Fish so you can make it later!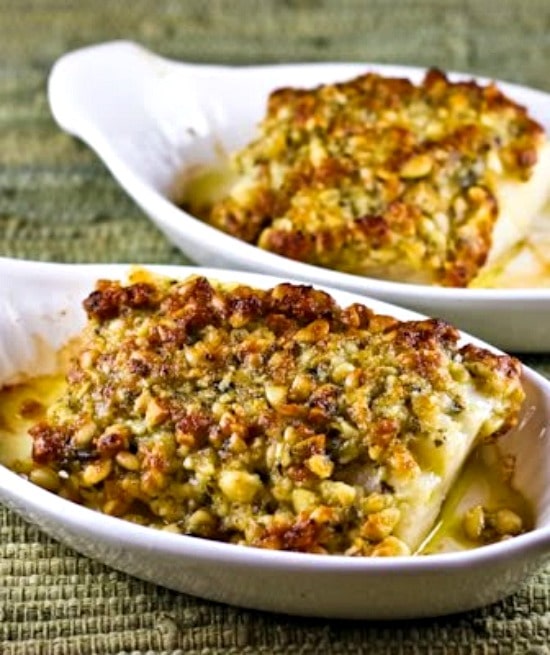 It's always great to have some easy baked fish dinners in your cooking arsenal, and this Baked White Fish with Pine Nut, Parmesan, and Pesto Crust always produces results so spectacular that no one will ever think about this being a low-carb or Keto dish. Serve this with a lovely salad of baby spinach and some type of roasted vegetable and it would be a perfect keto, low-carb, or South Beach Diet friendly dinner for any special occasion.
I love hanging out in the kitchen, but I'm not the kind of cook who wants to spend hours on a fussy recipe. I love recipes that are easy to prepare but have interesting ingredients with lots of flavor, and this recipe for baked white fish with a crust made of chopped pine nuts, Parmesan, garlic, pesto, and mayo certainly fits that description. And this is a recipe I've greatly enjoyed every time I've made it, so I am reminding you about it for Friday Favorites this week!
What ingredients do you need for this recipe?
What Kind of White Fish Did I Use?
I first made this with fillets of halibut, but now halibut is so expensive that's probably really a splurge for most people. You can use cod, bass, grouper, mahi-mahi, catfish, haddock, snapper, pollock, or any type of mild white fish. Depending on where you live, different varieties of white fish may be available and if you shop where there's someone behind the counter, ask what they recommend. Here's more about white fish from the Kitchn.
What if you don't have Pine Nuts?
I love, love, love pine nuts but I do know they're a bit of a budget splurge. I buy them in a big bag at Costco and keep them in the freezer, and most recipes don't use a super large amount so a bag will last me for years. But if you don't want to buy them just for this recipe I'd use chopped almonds to replace the pine nuts.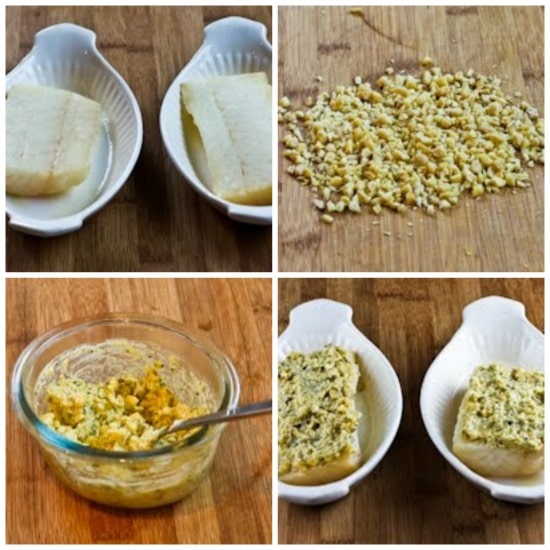 How to Make Baked White Fish with Pine Nut, Parmesan, and Pesto Crust:
(Scroll down for complete printable recipe.)
Let the fish come to room temperature while you preheat the oven to 400F/200C.
If your pieces of fish have a flatter side, put that side up so it's easier to spread on the crust mixture. (You can use one large casserole dish if you don't have individual dishes like this.)
Finely chop the pine nuts, using a large chef's knife, and finely mince one clove of garlic.
Combine pine nuts, Parmesan cheese, minced garlic, basil pesto, and mayonnaise. I used my favorite basil pesto from a jar but if you have your own pesto in the freezer, that would be even better.
Spread the crust evenly over each piece of fish, then bake for 10-15 minutes, or until fish is done and the crust is starting to get lightly browned.
Serve hot and wait for compliments.
Make it a Low-Carb Meal:
This would be great with something like Roasted Cauliflower with Red Pepper, Green Olives, and Pine Nuts, Twice-Baked Cauliflower, Garlic-Roasted Green Beans with Shallots and Almonds, Pesto Spaghetti Squash or Broccoli Gratin for a low-carb meal.
More Tasty Seafood Dinners To Try: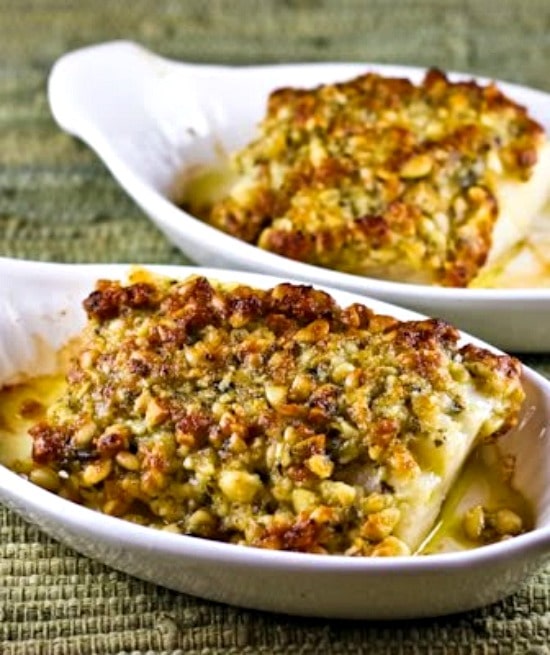 Yield: 2 servings
Baked White Fish with Pine Nut, Parmesan, and Pesto Crust
Prep Time 20 minutes
Cook Time 15 minutes
Total Time 35 minutes
This low-carb Baked White Fish with Pine Nut, Parmesan, and Basil Pesto Crust is special enough to make for guests.
Ingredients
2 white fish fillets, about 6 oz. each (I used halibut but you could use cod, tilapia, grouper, or any mild white fish)
3 T pine nuts
2 T Parmesan Cheese
1/4 tsp. finely minced garlic (1 garlic clove)
1 tsp. basil pesto (I used purchased pesto)
1 1/2 T mayo
Instructions
Preheat oven or toaster oven to 400F/200C. Spray individual casserole dishes with non-stick spray or olive oil (use one large casserole dish if you don't have individual ones.)
Remove the fish fillets from the refrigerator and let them come to room temperature while the oven reheats. (Having the fish at room temperature is very important or it won't cook before the crust topping gets too brown.)
Use a large chef's knife to finely chop the pine nuts and mince the garlic. Mix together chopped pine nuts, Parmesan cheese, minced garlic, basil pesto, and mayo.
Use a rubber scraper to spread the crust mixture evenly over the surface of each fish fillet. Pile it on so all the crust mixture is used.
Bake fish 10-15 minutes, until fish is firm to the touch and crust mixture is starting to lightly brown. (I baked the fish pieces in the photo for 13 minutes.) Serve hot.
Nutrition Information:
Yield:
2
Serving Size:
1
Amount Per Serving:
Calories: 283
Total Fat: 20g
Saturated Fat: 3g
Unsaturated Fat: 15g
Cholesterol: 89mg
Sodium: 266mg
Carbohydrates: 3g
Fiber: 1g
Sugar: 1g
Protein: 24g
Nutrition information is automatically calculated by the Recipe Plug-In I am using. I am not a nutritionist and cannot guarantee 100% accuracy, since many variables affect those calculations.
Low-Carb Diet / Low-Glycemic Diet / South Beach Diet Suggestions:
This Baked White Fish is suitable for any type of low-carb eating plan as well as any phase of the original South Beach Diet. Some of the ingredients in the crust topping are high in fat for South Beach, but only the Parmesan cheese has saturated fat and there's not a lot of topping.
Find More Recipes Like This One:
Check out My Favorite Low-Carb and Keto Recipes with Pesto for more tasty ideas for using basil pesto! Use Oven Dinners to find more recipes like this one. Use the Diet Type Index to find recipes suitable for a specific eating plan. You might also like to Follow Kalyn's Kitchen on Pinterest to see all the good recipes I'm sharing there.
Historical Notes for this Recipe:
This recipe was first posted in 2010, and it has been a hit on the blog. It was last updated with more information in 2021.
We are a participant in the Amazon Services LLC Associates Program, an affiliate advertising program designed to provide a means for us to earn fees by linking to Amazon.com and affiliated sites. As an Amazon Associate, I earn from qualifying purchases.