Baked Salmon with Pesto and Tomatoes (Video)
Baked Salmon with Basil Pesto and Tomatoes is delicious any time of year, even when you have to use basil pesto from a jar!
PIN Baked Salmon with Pesto and Tomatoes to make it later!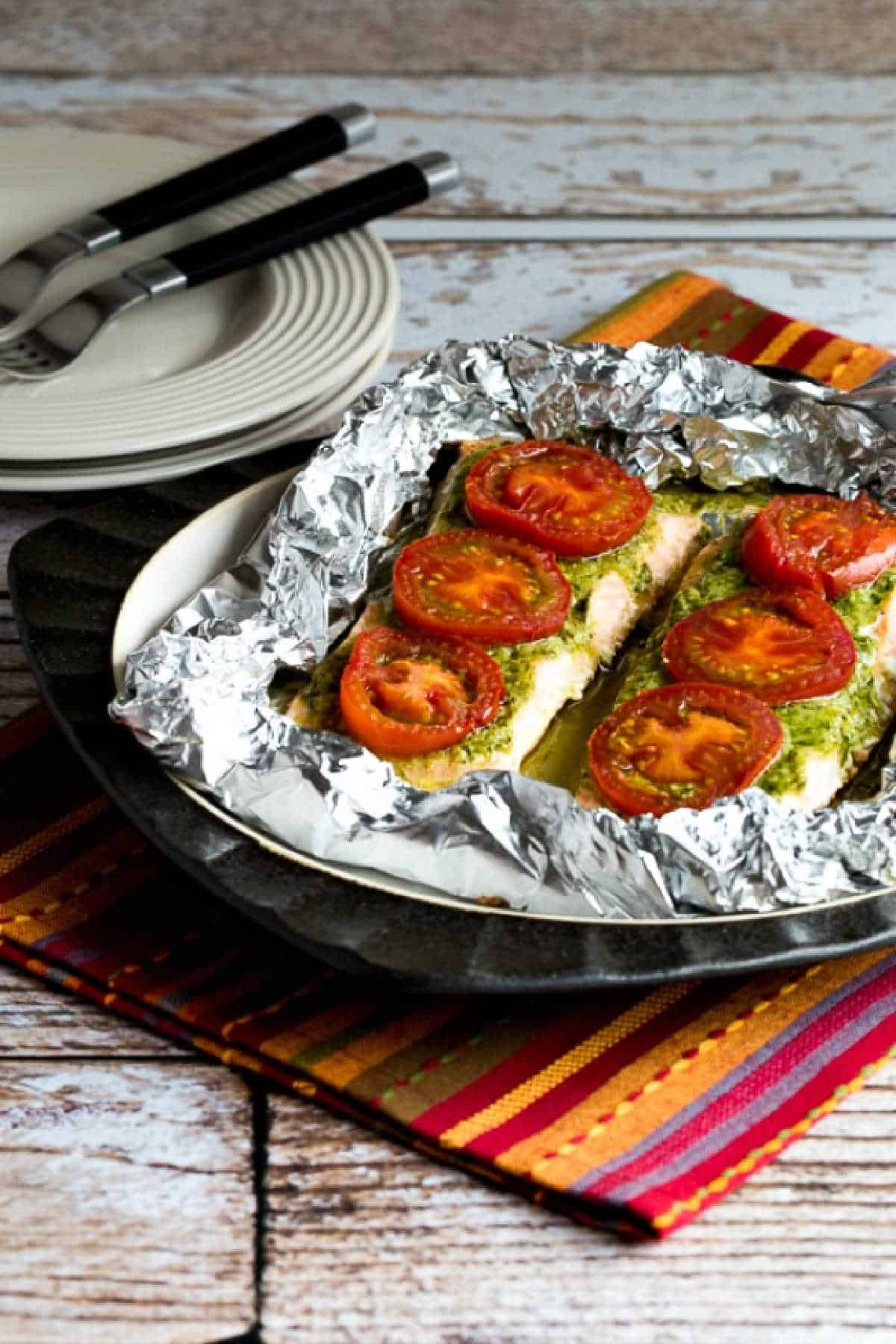 Today I'm reminding you about Baked Salmon with Pesto and Tomatoes. This is one of those no-fail perfect recipes that's always delicious whenever you make it, but if you still have some fresh garden tomatoes (and maybe even some homemade Basil Pesto with Lemon) this is even better.
In my small garden I'm still getting a few tomatoes, and I just made some pesto with the last of my basil that was growing in the window, so this looks like a great idea for an early fall dinner. But even if you don't have a garden, or your garden tomatoes are long gone, or if you have to use mid-winter tomatoes and pesto from the store, this recipe for salmon with pesto will always produce spectacular results!
The recipe was adapted from Mark Bittman's Quick and Easy Recipes from the New York Times (affiliate link) where Bittman used tomatoes and fresh basil to top salmon that was baked in foil.And no disrespect to Mark Bittman, but I think my variation of using pesto to replace the fresh basil might even have been an improvement!
What ingredients do you need?
What's my Favorite Pesto for this salmon with pesto?
There's no question that my homemade Basil Pesto with Lemon would be my first choice for any recipe that uses pesto. But when I don't have any of that in the freezer, I am very happy with Kirkland Basil Pesto from Costco, and I buy it over and over!
Want more Ideas for Basil Pesto?
Check out My Favorite Low-Carb and Keto Recipes with Pesto for more tasty ideas for using basil pesto!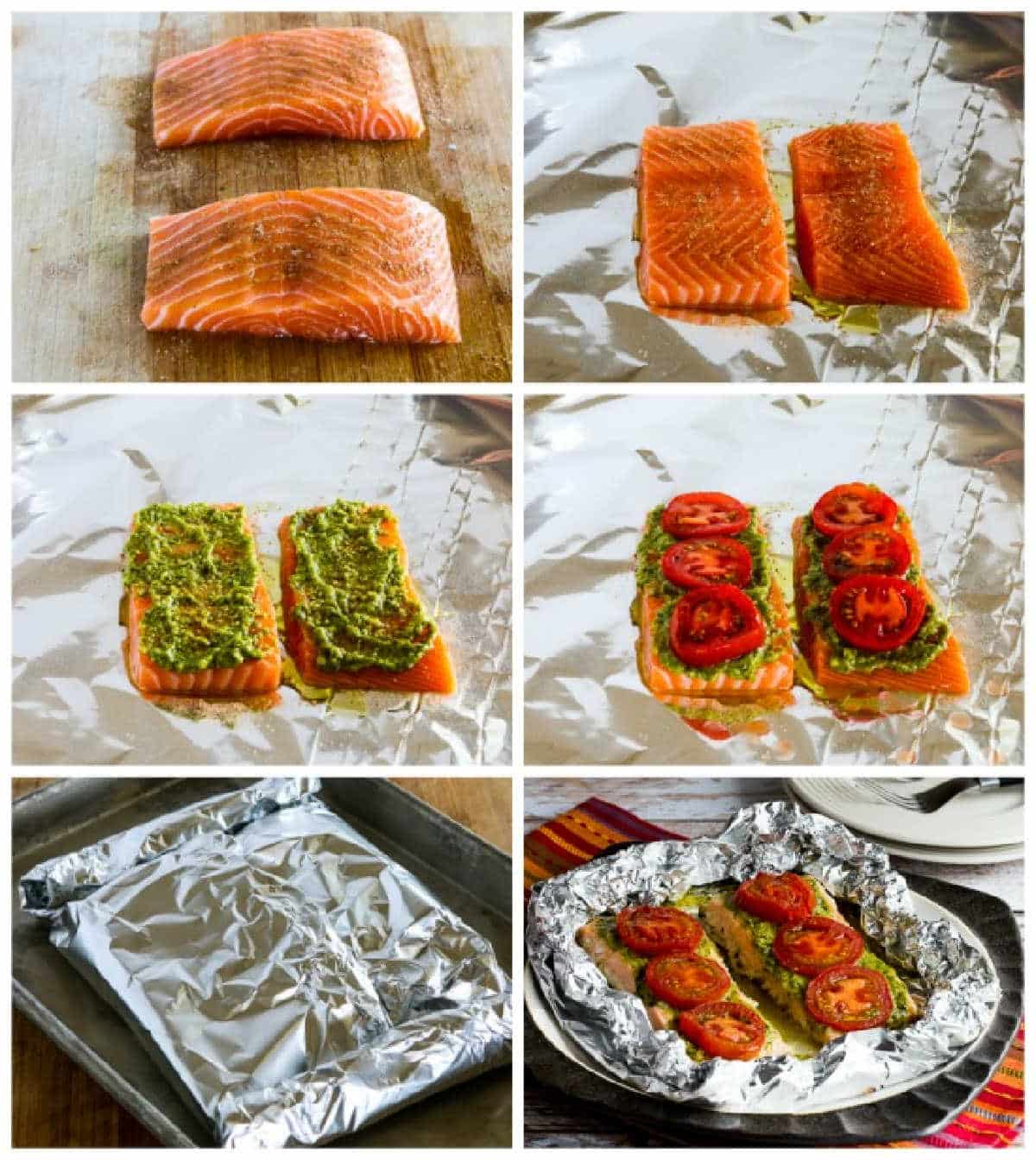 Steps to Make Salmon with Pesto and Tomatoes:
(Scroll down for complete printable recipe including nutritional information)
Let salmon come to room temperature while you preheat the oven or toaster oven and the baking sheet.
Make a double layer of foil, drizzle a little olive oil on the foil, lay on the salmon pieces, and season the fish. I always season fish with Szeged Fish Rub (affiliate link), but use any seasonings you like if you don't have that.
Top each piece of salmon with a thin layer of pesto and some slices of tomato.
Wrap up the packets, folding over the ends a couple of times.
Bake at 450 F for 15 minutes. Then let sit a few minutes before carefully opening packet.
Serve hot, and enjoy.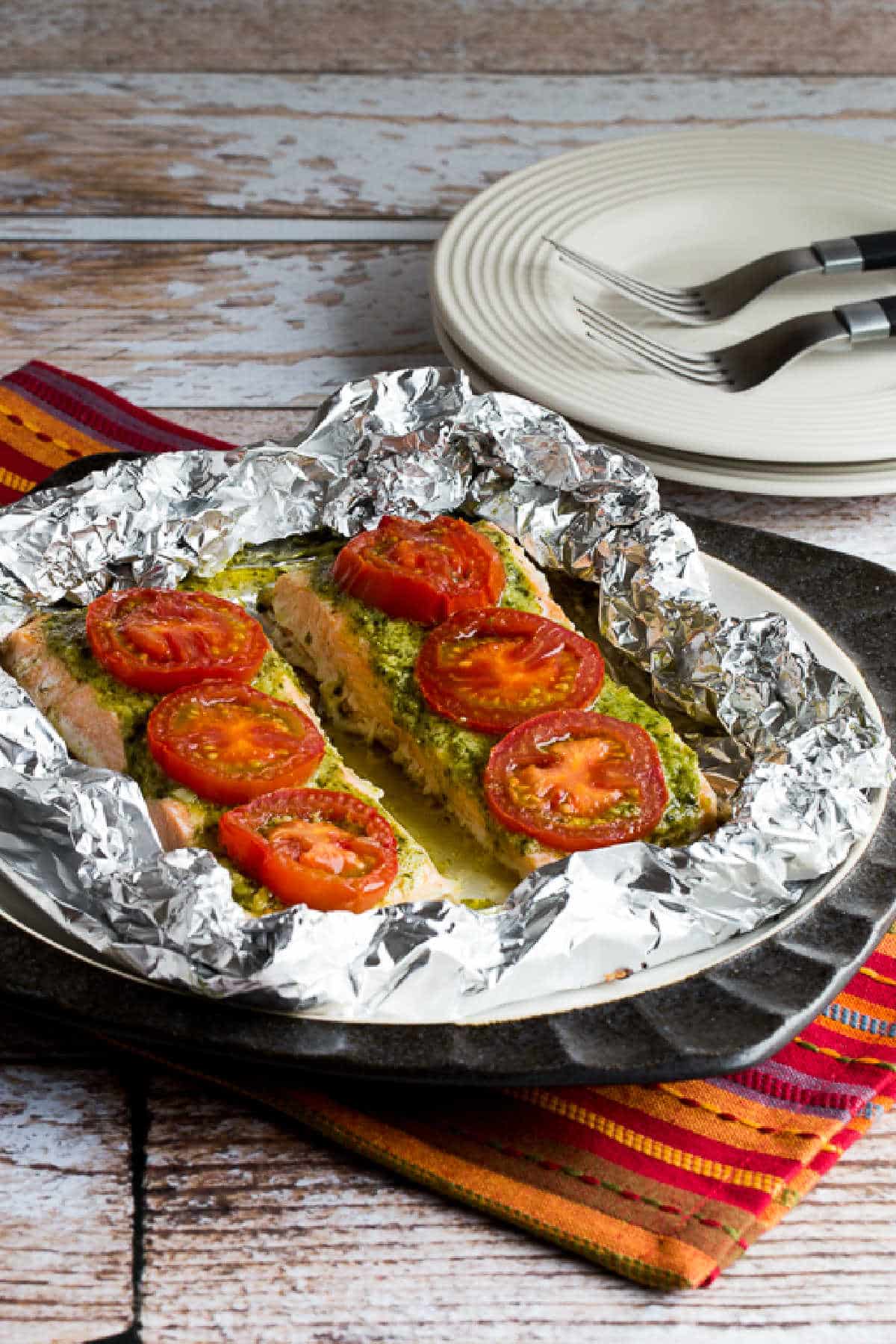 Make it a Low-Carb Meal:
You can serve the Salmon with Pesto and Tomatoes right in the foil if you'd like, for a dinner that's sure to please anyone who likes salmon. Add something like Cucumbers Caesar, Sweet and Sour Cucumber Salad, Grilled Eggplant Salad, Marinated Zucchini Salad, or Zucchini Noodle Mock Pasta Salad for a low-carb meal!
More Ideas for Baked Salmon: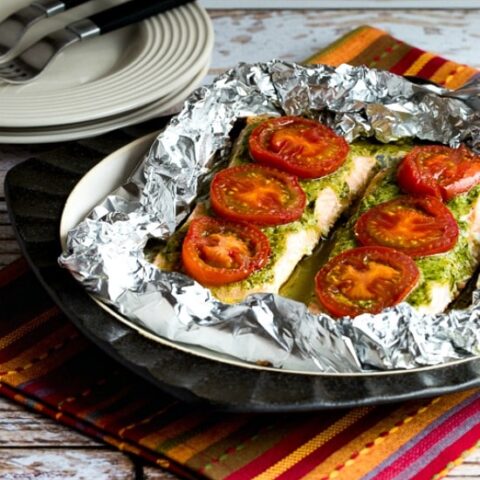 Yield: 2 servings
Baked Salmon with Pesto and Tomatoes
Prep Time 20 minutes
Cook Time 15 minutes
Total Time 35 minutes
Baked Salmon with Pesto and Tomatoes is so good, even when you don't have fresh summer tomatoes and have to use pesto from the store!
Ingredients
2 6 oz. salmon fillets
fish rub of your choice; see note (this is optional but recommended)
2 tsp. olive oil (to grease foil)
4 tsp. basil pesto (see notes)
2 medium tomatoes, sliced about 1/4 inch thick
Instructions
Preheat oven to 450 F. (see notes)
Place a baking sheet in oven to heat while you prep the salmon.
Tear two pieces of foil, big enough to wrap salmon with some overlapping.
Place foil pieces one on top of the other.
Put about 2 tsp. olive oil in center of top piece of foil and lay salmon on top of oil.
Season salmon with Szeged Fish Rub or other seasonings of your choice.
Spread each piece of salmon with about 2 tsp. basil pesto.
Arrange sliced tomatoes over pesto so they cover the top of the salmon.
Wrap salmon securely in foil, doubling over the seam and ends several times.
Place salmon packet on heated baking sheet and cook 15 minutes.
Remove from oven after 15 minutes and let sit 2-3 minutes.
Then open carefully and serve immediately, while salmon and tomatoes are hot.
Nutrition Information:
Yield:
2
Serving Size:
1
Amount Per Serving:
Calories: 575
Total Fat: 33g
Saturated Fat: 7g
Unsaturated Fat: 24g
Cholesterol: 158mg
Sodium: 211mg
Carbohydrates: 6g
Fiber: 2g
Sugar: 3g
Protein: 62g
Nutrition information is automatically calculated by the Recipe Plug-In I am using. I am not a nutritionist and cannot guarantee 100% accuracy, since many variables affect those calculations.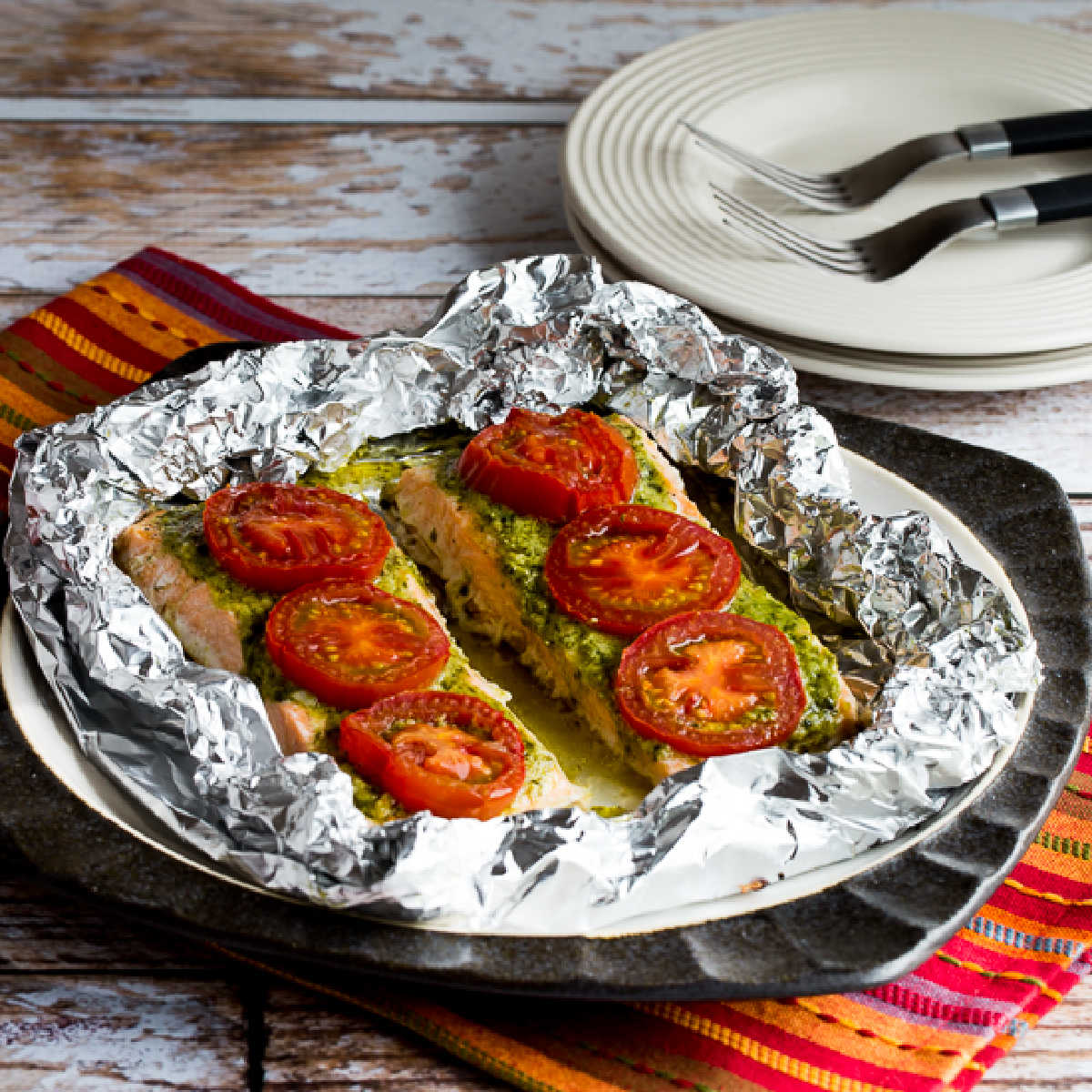 Low-Carb Diet / Low-Glycemic Diet / South Beach Diet Suggestions:
Baked Salmon with Basil Pesto and Tomatoes is a wonderful meal for low-carb or Keto eating plans, or for any phase of the original South Beach Diet. Tomatoes do have some carbs, but there's not a lot of tomato in this recipe.
Find More Recipes Like This One:
Use Seafood Recipes or Oven Dinners to find more recipes like this one. Use the Diet Type Index to find recipes suitable for a specific eating plan. You might also like to Follow Kalyn's Kitchen on Pinterest to see all the good recipes I'm sharing there.
Historical Notes for This Recipe:
This Baked Salmon with Pesto and Tomatoes was first posted in 2008! The photos were updated through the years, and the recipe was last updated with more information in 2022. And it's still a favorite for me after all those years.
We are a participant in the Amazon Services LLC Associates Program, an affiliate advertising program designed to provide a means for us to earn fees by linking to Amazon.com and affiliated sites. As an Amazon Associate, I earn from qualifying purchases.