Baked Halibut with Sour Cream, Parmesan, and Dill Topping
Baked Halibut with Sour Cream, Parmesan, and Dill Topping is a perfect low-carb meal to make for a special occasion; use any firm white fish if you don't have halibut!
PIN Low-Carb Baked Halibut so you can make it later!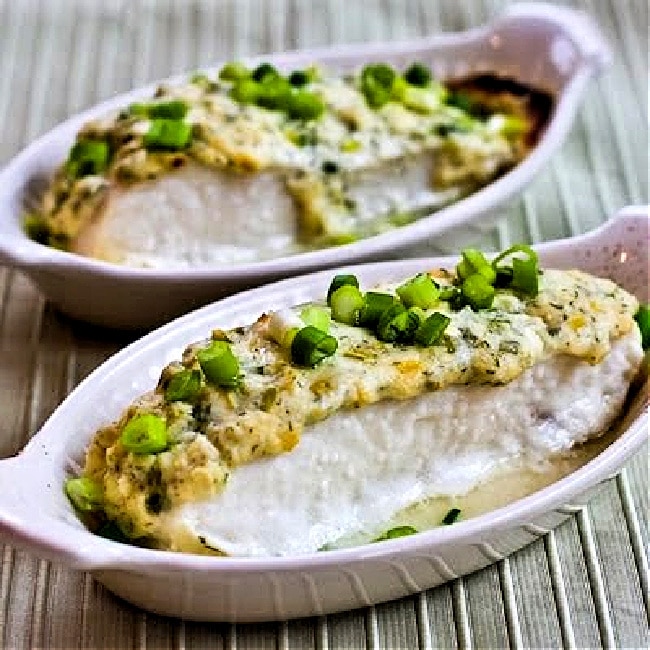 This recipe for Baked Halibut with Sour Cream, Parmesan, and Dill Topping has six main ingredients besides salt and pepper, so it barely misses the cut for my category of Five Ingredients or Less, but in spite of that this must be about the easiest way in the world to cook fish. I splurged on halibut, since my Costco started carrying it again, but you could make this with any type of mild white fish.
As you can see from the photos, my pieces of halibut were quite thick, so I used a digital meat thermometer (affiliate link) to tell when the fish was done. If you don't have one of those, cook fish until it's firm, but not hard to the touch. This was a delicious and impressive-looking dinner that would be perfect to serve to guests, but also easy enough to make for yourself if you've had a rough day and just need something quick and tasty for dinner.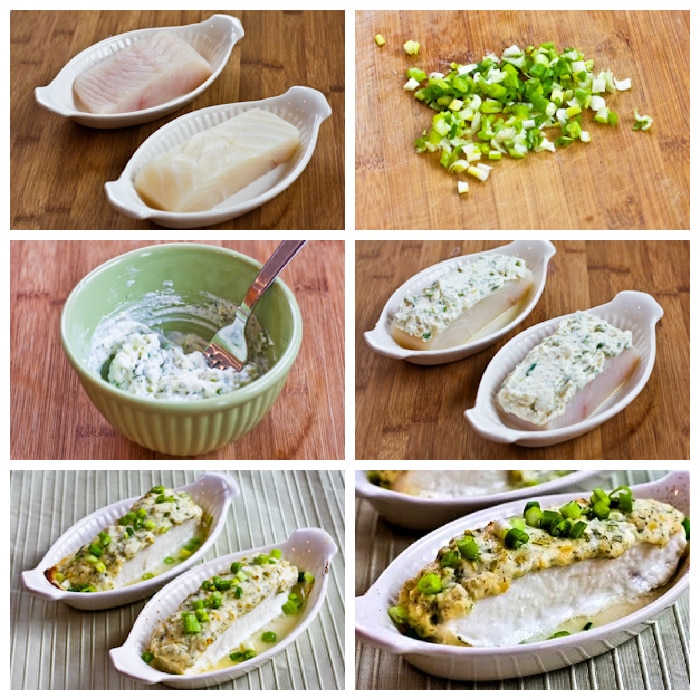 How to Make Baked Halibut with Sour Cream, Parmesan, and Dill Topping:
(Scroll down for complete recipe with nutritional information.)
Any recipe for cooking fish should start with letting the fish come to room temperature. In land-locked Utah I'm using frozen halibut, so I thawed it overnight in the refrigerator.
When I was ready to cook the halibut, I used a paper towel to press down on the fish and draw out some of the water, then let it come to room temperature in these little baking dishes. You can also bake it in a flat casserole dish if you don't have individual ones.
Slice enough green onions to make 3 T sliced green onions, then set aside 1 T for the topping and very finely chop the rest.
Mix together the sour cream, garlic powder, dill weed, finely grated Parmesan cheese, and finely chopped green onion. Dill weed (affiliate link) is dried dill leaves, but if you had fresh dill I would definitely use that and just increase the amount a little.
When the fish has come to room temperature, season each piece with a little salt and fresh ground black pepper.
Then use a rubber scraper to spread a thin coating of the sour cream mixture over the top of each piece of fish. You want the topping to be an even thickness all the way across each piece.
Timing will depend on the thickness and type of fish you're using, but I cooked these thick halibut pieces for about 24 minutes to get the temperature to reach 145F, the temperature recommended on the package of frozen halibut. The fish was still moist but perfectly cooked. (My pieces are thick; thinner fish will need less time.)
Make it a Meal:
This would taste great with Low-Carb Twice-Cooked Cabbage with Sour Cream and Bacon or something simple like Roasted Broccoli with Garlic for a low-carb meal.
More Halibut Recipes You Might Like:
Grilled Halibut with Garlic Cilantro Sauce
Air Fryer Fish Sticks
Grilled Halibut with Basil Vinaigrette
Fish Taco Cabbage Bowls
Grilled Halibut with Cumin and Lime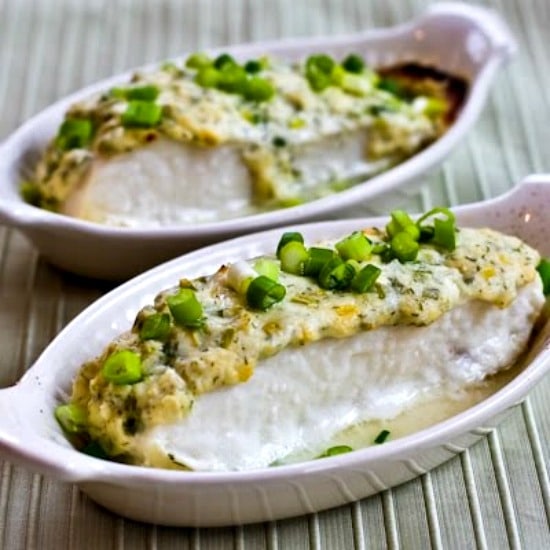 Yield: 2 servings but can easily be doubled
Baked Halibut with Sour Cream, Parmesan and Dill Topping
Prep Time 10 minutes
Cook Time 24 minutes
Total Time 34 minutes
This Baked Halibut with Sour Cream, Parmesan, and Dill Topping is a low-carb dinner that's easy but delicious enough to make for guests!
Ingredients
2 pieces halibut or other mild white fish, thawed if frozen and patted dry with paper towels
salt and fresh ground black pepper to taste
3 T sour cream
1/4 tsp. garlic powder
1/4 tsp. dill weed (dried dill leaves)
2 T finely ground Parmesan cheese
3 T sliced green onion
Instructions
Thaw frozen halibut overnight in refrigerator, then place in baking dish and blot dry with paper towels.
Let the halibut come to room temperature while you prep other ingredients. Preheat oven to 375F/190C.
Slice 3 T green onions, then measure 2 T and finely chop them. Reserve the other 1 T sliced onions to garnish the cooked dish.
In a small bowl, stir together the sour cream, garlic powder, and dill weed (affiliate link). Stir in the finely grated Parmesan cheese and green onions.
When fish has come to room temperature, use a rubber scraper to spread an even coating of this topping over each piece of the fish, using all the topping mixture.
Bake fish until the internal temperature reaches 145F/62C, or until fish pieces feel firm but not hard to the touch. (Use a fork to press down to test.) I baked my thick pieces of halibut for 24 minutes, but other types of fish or thinner pieces will cook more quickly.
Serve hot, sprinkled with remaining sliced green onions.
Nutrition Information:
Yield:
2
Serving Size:
1
Amount Per Serving:
Calories: 290
Total Fat: 12g
Saturated Fat: 4g
Unsaturated Fat: 6g
Cholesterol: 125mg
Sodium: 508mg
Carbohydrates: 3g
Fiber: 1g
Sugar: 1g
Protein: 40g
Nutrition information is automatically calculated by the Recipe Plug-In I am using. I am not a nutritionist and cannot guarantee 100% accuracy, since many variables affect those calculations.
Low-Carb Diet / Low-Glycemic Diet / South Beach Diet Suggestions:
This Low-Carb Baked Halibut with Sour Cream, Parmesan, and Dill Topping is a perfect low-carb main dish suitable for most low-carb and low-glycemic eating plans as well as any phase of the South Beach Diet.
Find More Recipes Like This One:
Use Oven Dinners to find more recipes like this one. Use the Recipes by Diet Type photo index pages to find more recipes suitable for a specific eating plan. You might also like to Follow Kalyn's Kitchen on Pinterest to see all the good recipes I'm sharing there.
We are a participant in the Amazon Services LLC Associates Program, an affiliate advertising program designed to provide a means for us to earn fees by linking to Amazon.com and affiliated sites. As an Amazon Associate, I earn from qualifying purchases.