Kalyn's Kitchen Picks: Kirkland Basil Pesto
Nothing can beat my homemade Basil Pesto with Lemon, but when you don't have any basil to make pesto this Kirkland Basil Pesto from Costco is pretty great! And this post has more than 20 recipe ideas for using Pesto; enjoy!
PIN Kirkland Basil Pesto and Recipes Using Pesto to try some later!
If you're a regular reader, you know I love to make basil pesto in the summer, and I think my recipe for Basil Pesto with Lemon can't be beat. But sometimes fresh basil isn't available, you don't want to bother making pesto from scratch, or you want to make recipes with pesto in the dead of winter.
For times when making pesto just isn't happening, I'm a huge fan of this Kirkland Basil Pesto from Costco, and this is great product that I've been buying for years. And just in case you're wondering, Costco has never given me any pesto or paid me to write about it here, but I'm excited to add it to my list of Kalyn's Kitchen Picks! If you're also a pesto fan, keep reading to see some of my favorite pesto recipe ideas, plus recipes using pesto from other bloggers. (Most but not all the recipes are low in carbs; you have been warned!)
Why do I love Kirkland's Basil Pesto so much?
Unlike tiny jars of pesto that you see in the grocery store, Kirkland Basil Pesto comes in a big 22 ounce jar, enough for any recipe that uses basil pesto. And this pesto keeps a long, long time in the fridge and like my basil pesto with lemon, it can be frozen.
Can you Cook with Kirkland's Basil Pesto?
I've heard from many readers through the years asking about a warning on the label of Kirkland's Basil Pesto that says "Product should not be heated." But I've cooked with this pesto for years and years with no problem. And since Pesto is actually a sauce to be used with pasta, I'm quite sure that warning means that when you're using this pesto as a pasta sauce, you shouldn't put the pesto into a pan and heat it (just add it to the hot pasta.) Please don't worry about using this as an ingredient in a dish that will be heated!
Favorite Recipes Using Basil Pesto: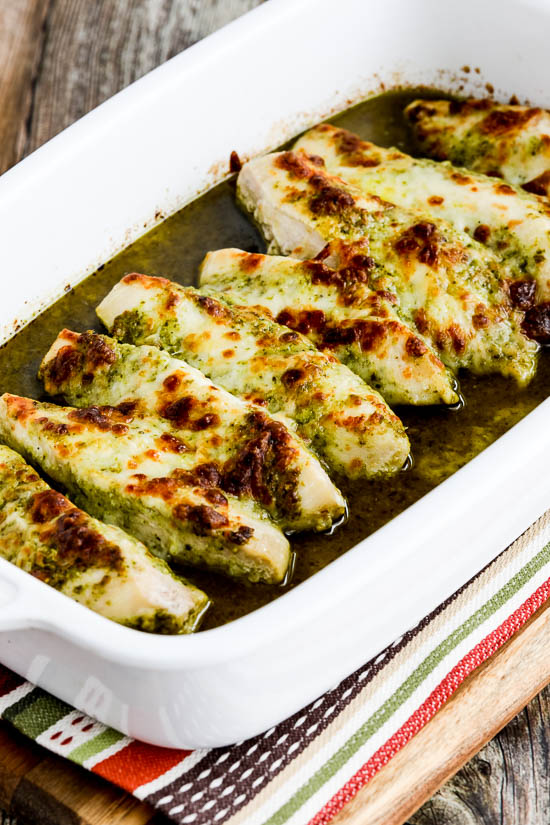 Easy Baked Pesto Chicken is one of the most popular recipes on the blog, and I know quite a few families who tell me this is also kid-friendly!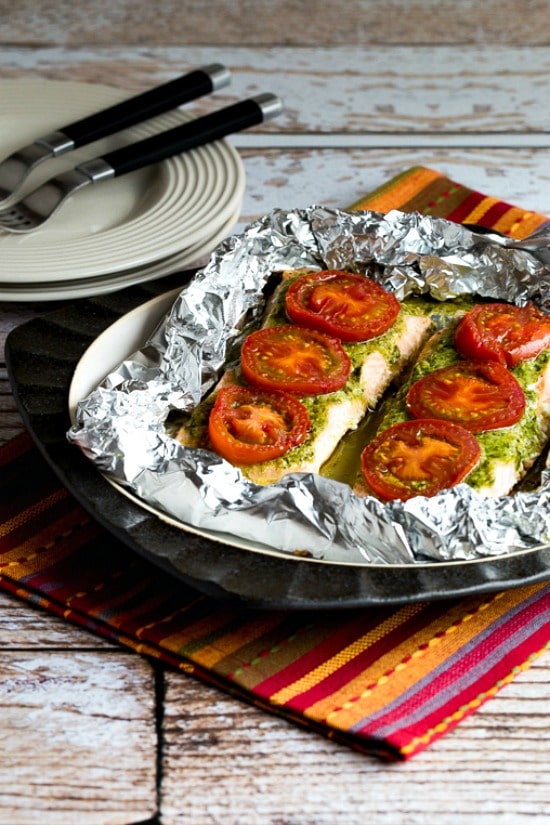 This amazing Foil-Baked Salmon with Basil Pesto and Tomatoes is something I make all year long.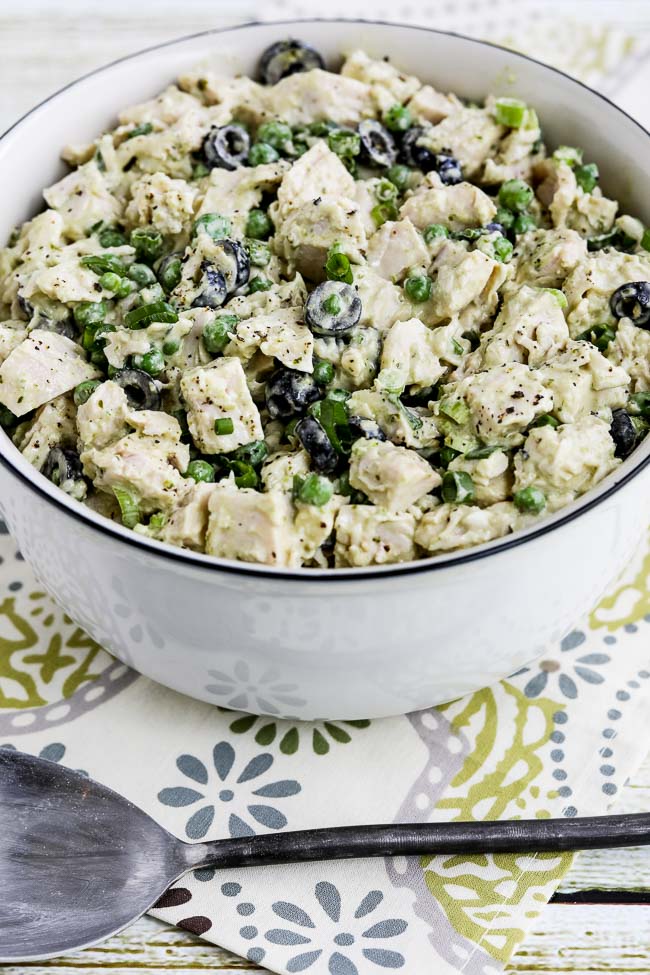 Chicken Pesto Salad is also quick and delicious for a salad that can be made with leftover chicken and this is perfect to make with rotisserie chicken with it's too hot to cook.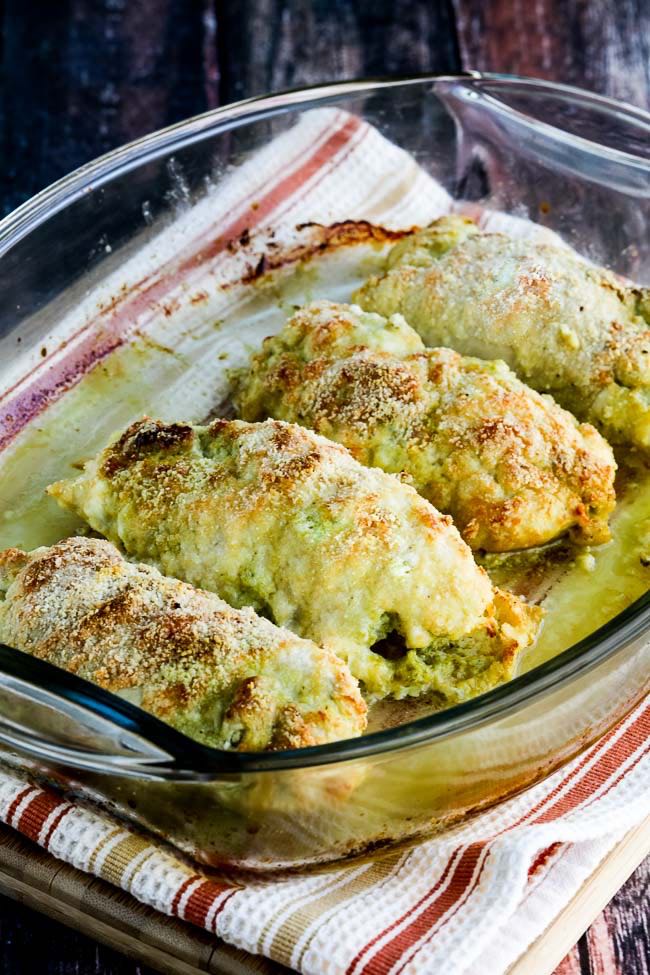 Baked Chicken Stuffed with Pesto and Cheese is another combination with pesto and chicken that's been hugely popular, and this is great for a special low-carb meal.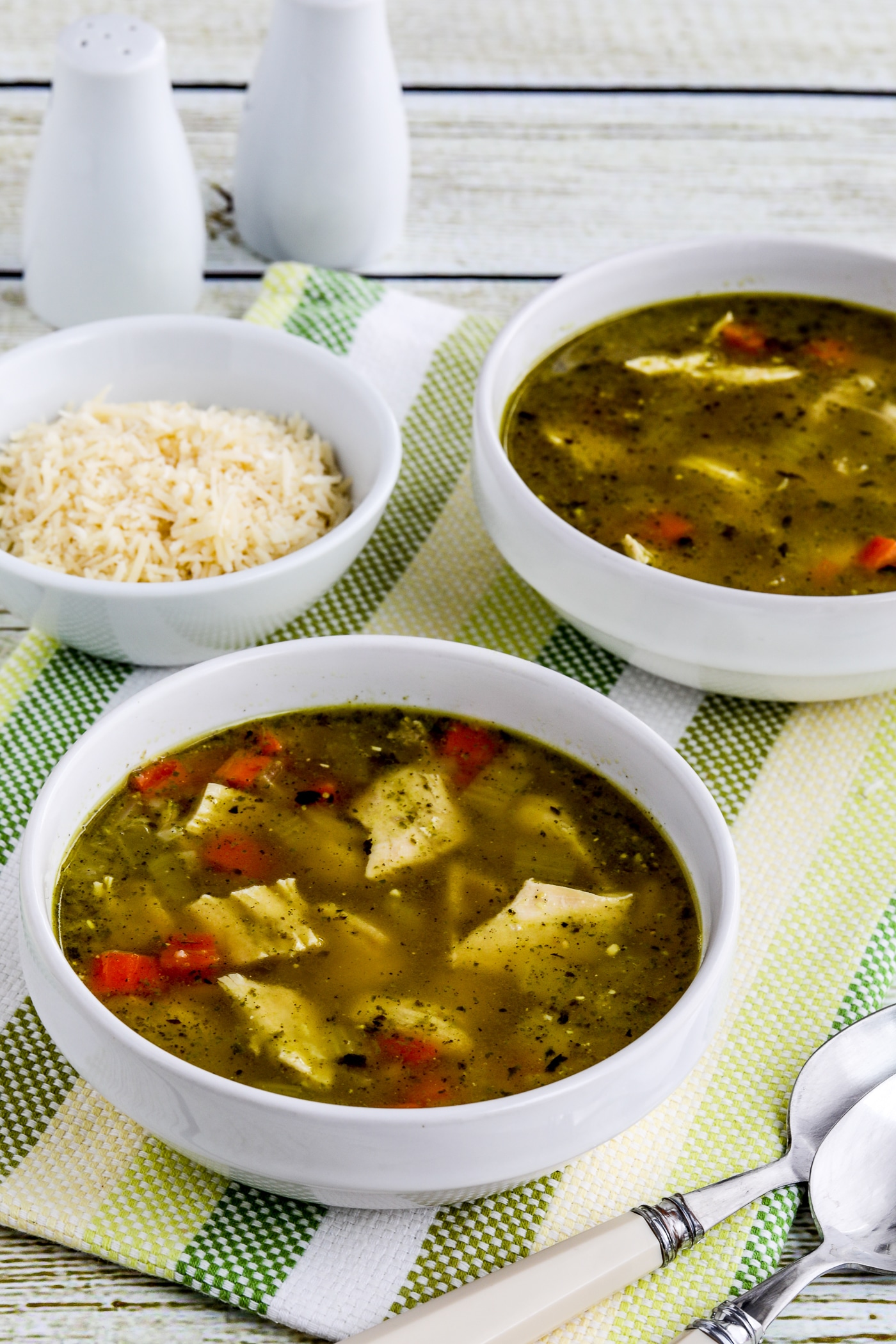 Chicken Pesto Soup is a delicious Instant Pot Chicken Soup that has pesto stirred in at the end, and if you like the combo of chicken + pesto you'll love this soup!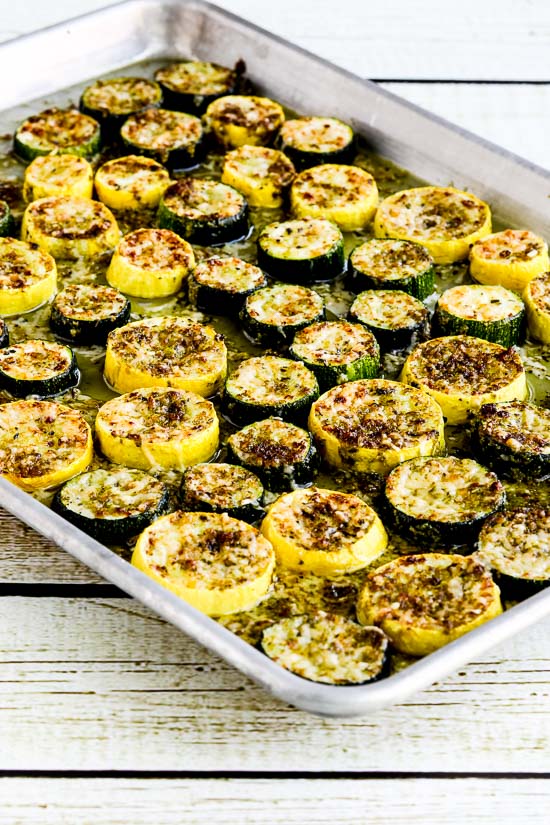 Summer Squash with Pesto and Parmesan is another favorite of mine.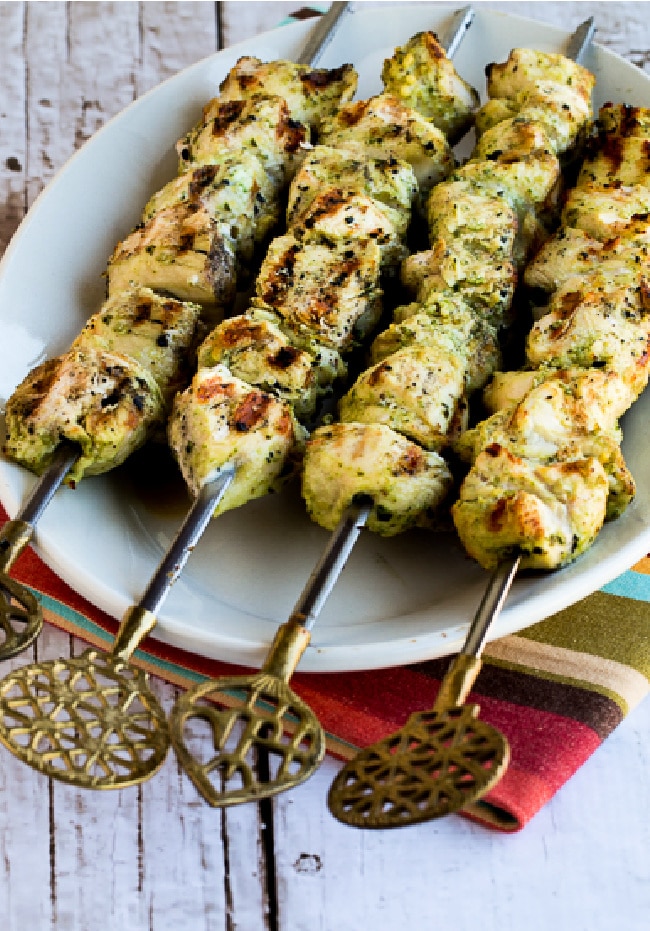 Pesto Lemon Chicken Kabobs can be cooked on a stove-top grill pan when it's not grilling weather and if you like pesto you'll make this over and over.
Instant Pot Sausage Soup with Pesto can be made with garbanzo beans, or use cauliflower rice instead of beans for a low-carb soup!
Salad Recipes with Pesto:
Zucchini Noodle Salad with Pesto and Chicken ~ Kalyn's Kitchen
Antipasto Salad with Pesto Vinaigrette ~ Two Sleevers
Zucchini Noodle Mock Pasta Salad ~ Kalyn's Kitchen
BLTA Pesto Chicken Salad ~ Peace Love and Low-Carb
Pesto Pasta Salad ~ Kalyn's Kitchen
Pesto Potato Salad ~ The Perfect Pantry
Pesto Recipes with Vegetables:
Asaragus with Basil Pesto ~ Kalyn's Kitchen
Pesto Chicken Stuffed Spaghetti Squash ~ Cookin' Canuck
Twice-Baked Spaghetti Squash with Pesto and Parmesan ~ Kalyn's Kitchen
Easy Four Cheese Pesto Zoodles ~ I Breathe I'm Hungry
Grilled Tofu Stacks with Pesto and Grilled Vegetables ~ Cookin' Canuck
Spiralized Zucchini Noodles with Basil Pesto ~ The Italian Dish
Zucchini with Pesto ~ Kalyn's Kitchen
Pesto Recipes with Chicken, Turkey, or Fish:
Fish Foil Packets with Pesto and Tomatoes ~ Kalyn's Kitchen
Grilled Pesto Shrimp Skewers ~ Skinnytaste
Baked White Fish with Pine Nut, Parmesan, and Pesto Crust ~ Kalyn's Kitchen
Turkey Pesto Meatball Sliders ~ The Perfect Pantry
Slow Cooker Pesto Chicken with Mushrooms ~ 365 Days of Slow Cooking
Tilapia with Pan Roasted Tomatoes and Pesto ~ $5 Dinners
About Products Featured for Kalyn's Kitchen Picks:
I purchased the Kirkland Basil Pesto myself and Costco has no idea whatsoever that I'm writing about their product. I love to feature products that are really a wow for me, and items featured as Kalyn's Kitchen Picks are always things I'd happily buy over and over. I don't accept review products from the many companies who offer to send them to me so that readers will know that my opinions are completely unbiased. You can see the complete list of products I've chosen to feature at Kalyn's Kitchen Picks.
We are a participant in the Amazon Services LLC Associates Program, an affiliate advertising program designed to provide a means for us to earn fees by linking to Amazon.com and affiliated sites. As an Amazon Associate, I earn from qualifying purchases.