Low-Carb Soups with Ground Beef
This round-up of Low-Carb Soups with Ground Beef can help you with easy dinners for cold weather; check out these tasty soup recipes! And there are 16 different soups for you to pick from when you're staring at a package of ground beef and wondering what to make!
PIN Low-Carb Soups with Ground Beef to make some later!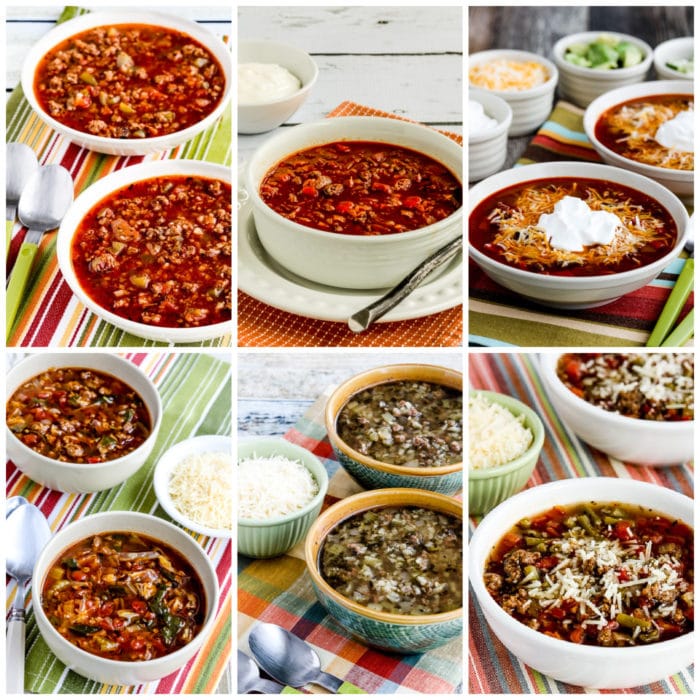 Are you having soup weather where you live? I don't like the cold weather much, but I do love making soup and I always enjoy eating a bowl of hot comforting soup on a cold night. And Utah is having plenty of cold snowy days this winter!
And ground beef is something many people always have in the freezer, so I'm guessing soup with ground beef is a good option for dinner option in lots of families! So today I'm updating this collection Low-Carb Soups with Ground Beef for a suggestion of something delicious to cook over the weekend.
There are eight amazing soup recipes here from Kalyn's Kitchen and eight more delicious soups from my low-carb blogging friends, and there's a variety of interesting soup ideas. A couple of these are personal favorites for me, so maybe one of these will end up being being a favorite dinner idea at your house too!
How do you get the complete recipe?
Just click any recipe title to see the complete recipe on the original site. All photos are copyrighted to the site that posted the recipe.
Want more ideas for cooking on the weekend?
If you're looking for other ideas for weekend cooking, don't forget my category with Weekend Food Prep ideas for recipes you can prep or cook on the weekend and eat during the week! And you can check Recipe Round-Ups for more low-carb round-ups like this one!
I'm a huge fan of Hungarian Paprika, and I love this stovetop Goulash Soup from Kalyn's Kitchen that has ground beef, roasted red peppers, cabbage, and plenty of paprika. And personally I'd always eat this with sour cream!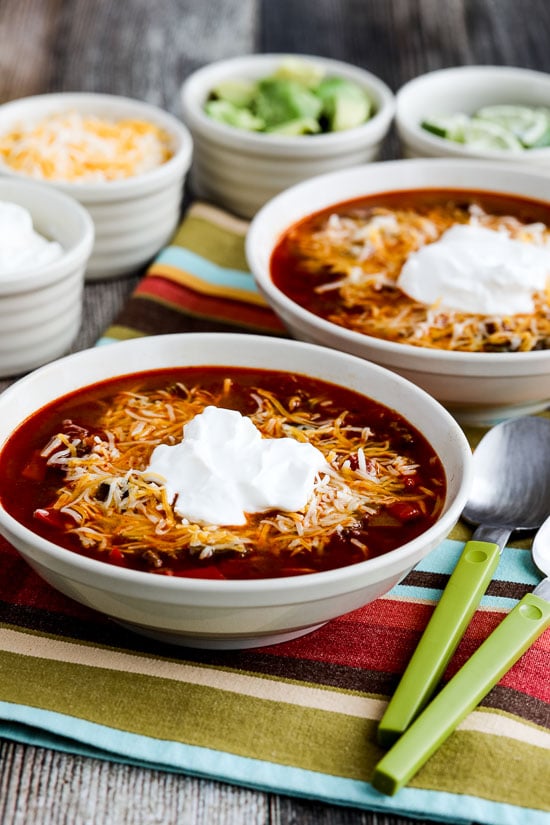 Instant Pot Taco Soup from Kalyn's Kitchen is absolutely a wow, even without the beans and tortilla chips that usually go in this type of soup. You can offer those at the table if some family members want them.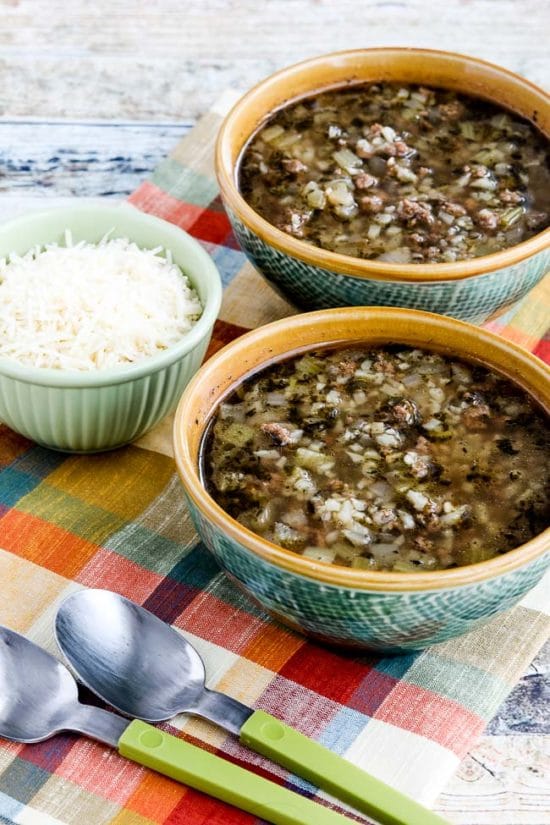 Instant Pot Low-Carb Ground Beef Cauliflower Soup from Kalyn's Kitchen is warm and comforting and this is quick and easy to make!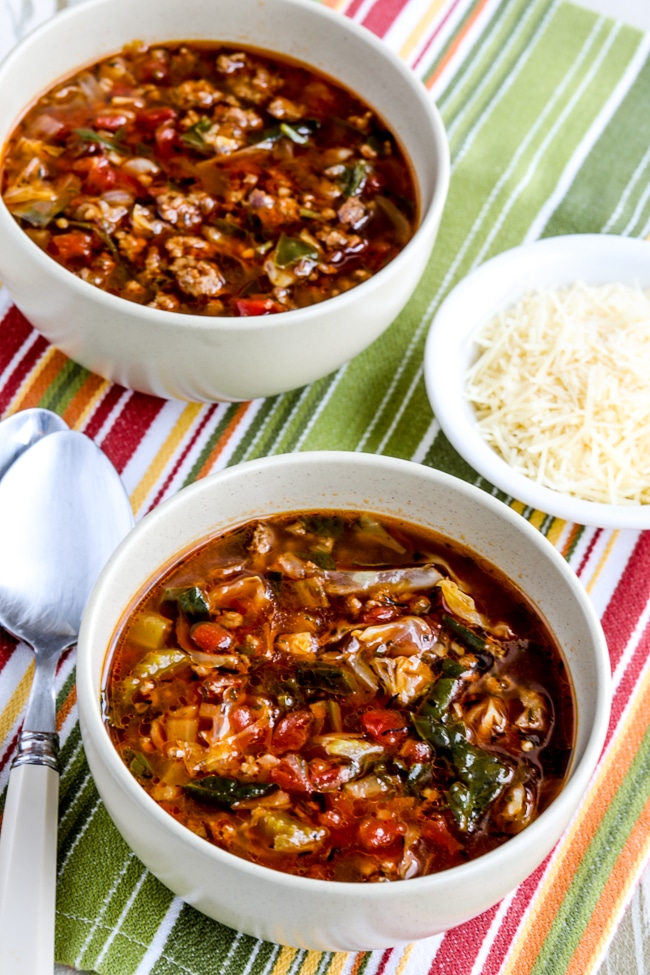 This tasty Ground Beef Vegetable Soup from Kalyn's Kitchen is a fairly recent soup I've made with ground beef, and this is so tasty! And there's a link for a similar slow cooker recipe if you prefer that method.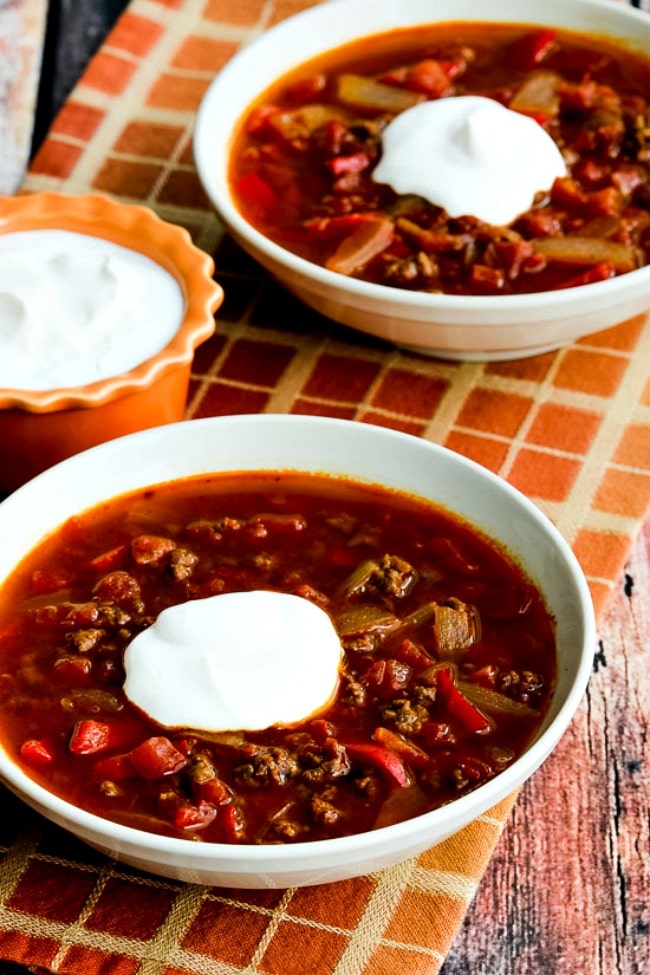 If you prefer using the Instant Pot, this Instant Pot Goulash Soup from Kalyn's Kitchen also uses the spicy Hungarian Paprika that I love so much!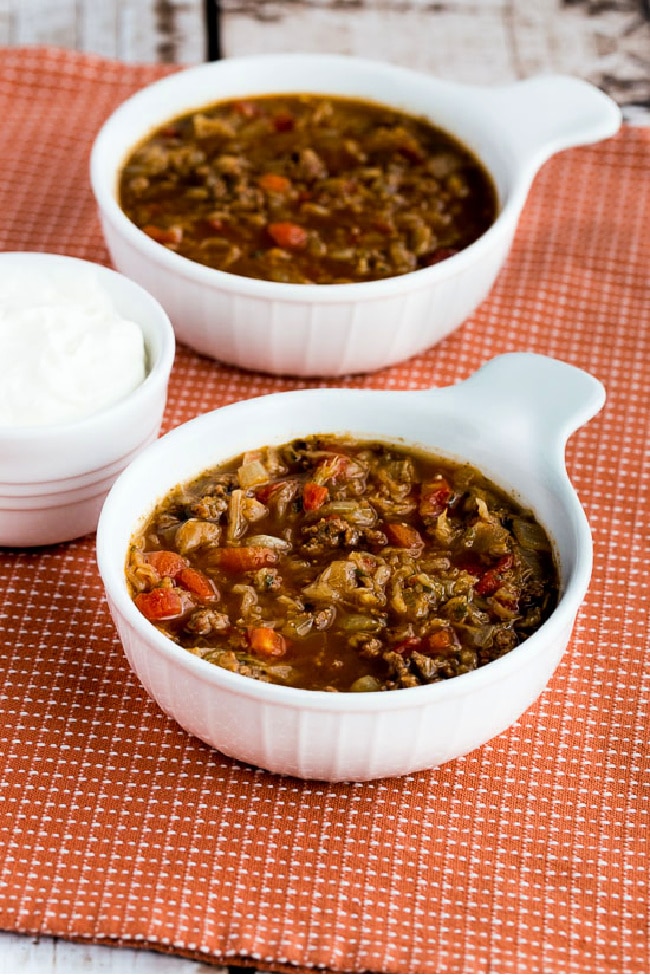 Please be open-minded about the sauerkraut in this Ground Beef and Sauerkraut Soup from Kalyn's Kitchen because the sauerkraut gets sweet and so delicious after it simmers in the soup! And this recipe has lots of fans!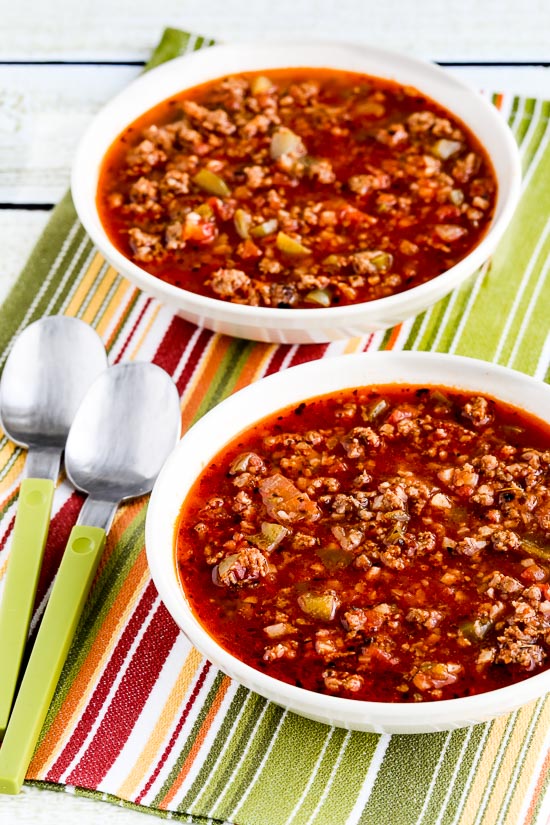 Low-Carb Stuffed Pepper Soup from Kalyn's Kitchen has ground beef and Italian Sausage, and this low-carb version with cauliflower rice has been just as popular as the original stuffed pepper soup with rice that I made years ago!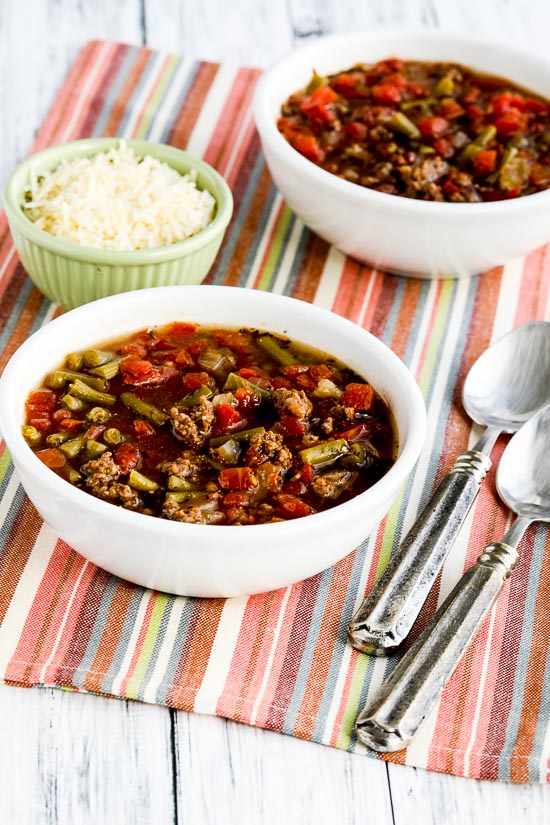 This delicious Instant Pot Soup with Ground Beef, Green Beans, and Tomatoes was one of the first soup recipes I made in the Instant Pot, and this is extra easy to make.
More Soup with Ground Beef:
More Ideas for Low-Carb Soup:
We are a participant in the Amazon Services LLC Associates Program, an affiliate advertising program designed to provide a means for us to earn fees by linking to Amazon.com and affiliated sites. As an Amazon Associate, I earn from qualifying purchases.