Keto Breakfast Casseroles Your Family Will Love!
Keto Breakfast Casseroles will come in handy if you're feeding a family but the adults are watching their carbs! And there are 22 amazing breakfast ideas here that I think your family will love!
PIN Keto Breakfast Casseroles to try one later!
When I shared Amazing Low-Carb and Keto Dinners Your Family will Eat I talked about the challenges of feeding a family and sticking to a lower-carb eating plan for the adults. Now this collection of Keto Breakfast Casseroles Your Family Will Love can help you make breakfast that works for everyone! Of course every family has different food preferences, so scroll through this collection of low-carb breakfasts from bloggers around the web and see which ones look like a hit for your household. Hope you enjoy trying some!
Why do I love breakfast casseroles so much?
One thing that's so great about making a breakfast casserole for a low-carb breakfast is the idea that you may have leftovers! Of course that depends on how many people you're feeding the first time you serve it, but you just might get lucky and have breakfast for a few days.
What is Weekend Food Prep?
Planned leftovers is exactly why I think low-carb and Keto breakfast casseroles like this are great for Weekend Food Prep. Check out that category if you'd like more options for things you can prep on the weekend and eat during the week!
How do you get the complete recipe?
Just click any recipe title to see the complete recipe on the original site. All photos are copyrighted to the blogger who posted the recipe. And you can check out Recipe Round-Ups for more low-carb round-ups like this one!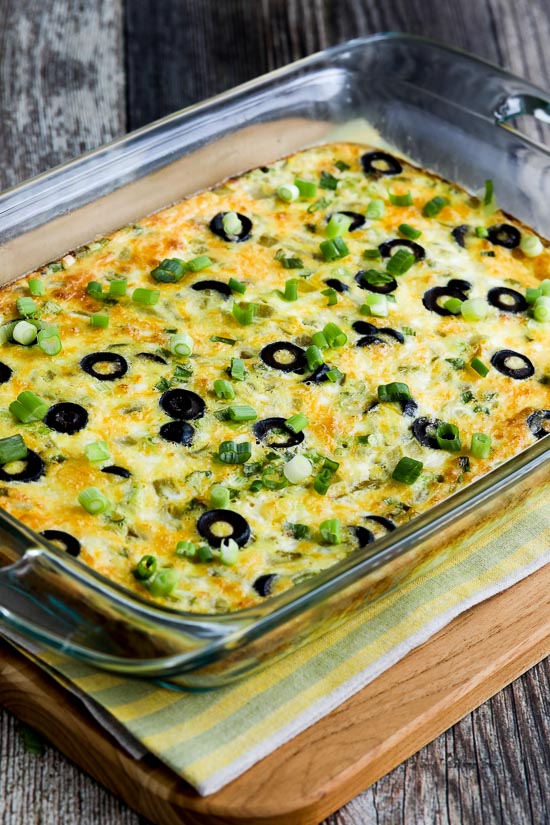 Bobbi's Egg Casserole with Cheese and Green Chiles from Kalyn's Kitchen is barely spicy; you can use less chiles if your kids are picky about them!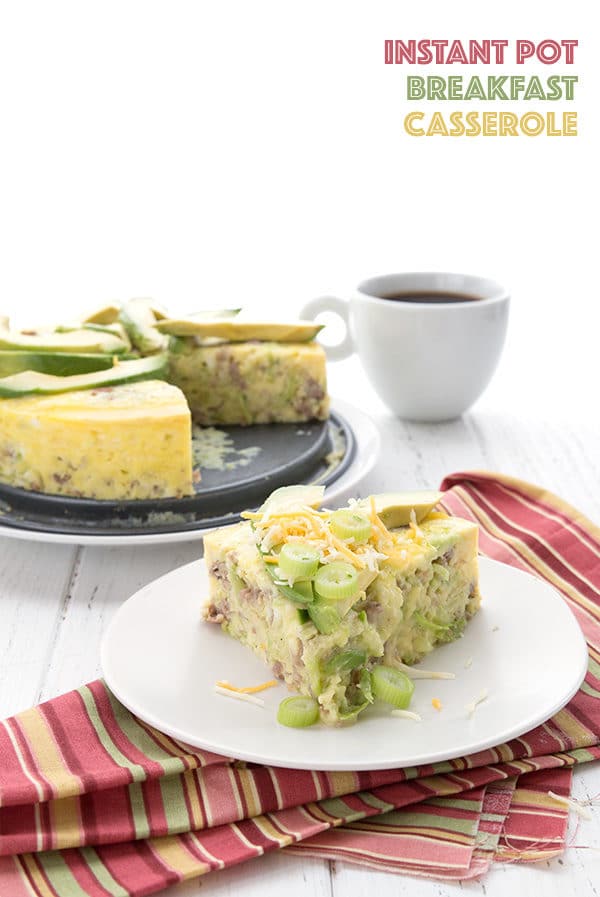 I love the creativity of this Instant Pot Breakfast Casserole from All Day I Dream About Food, and Carolyn has a way to make the veggies less noticeable! She says you can also make this in the oven if you prefer.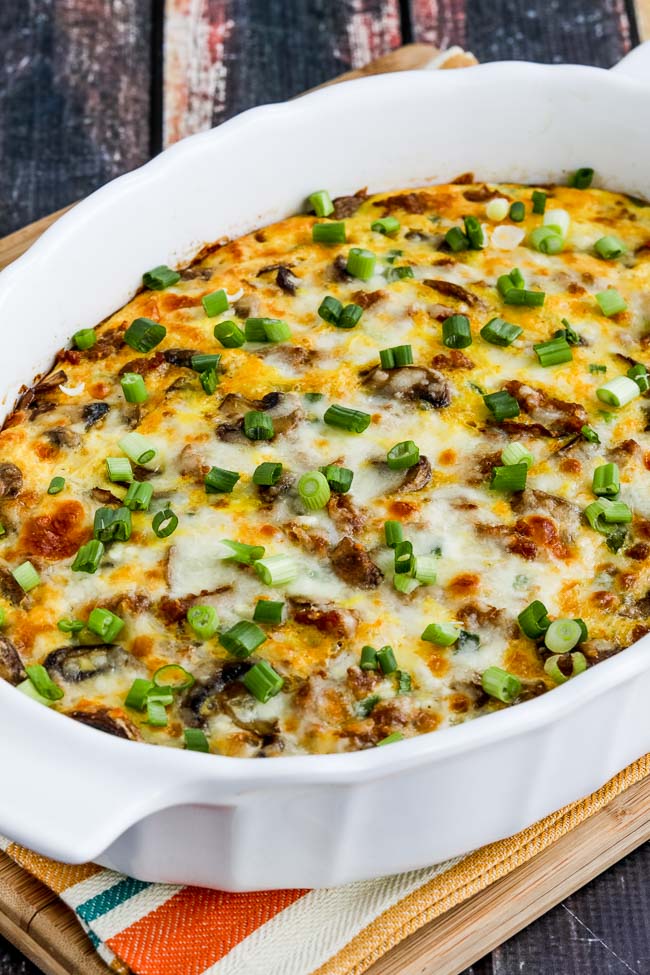 Any family that likes Italian Sausage will love this Breakfast Casserole with Italian Sausage. Use mild Italian Sausage if you prefer and leave out the mushrooms if you have kids who won't eat them!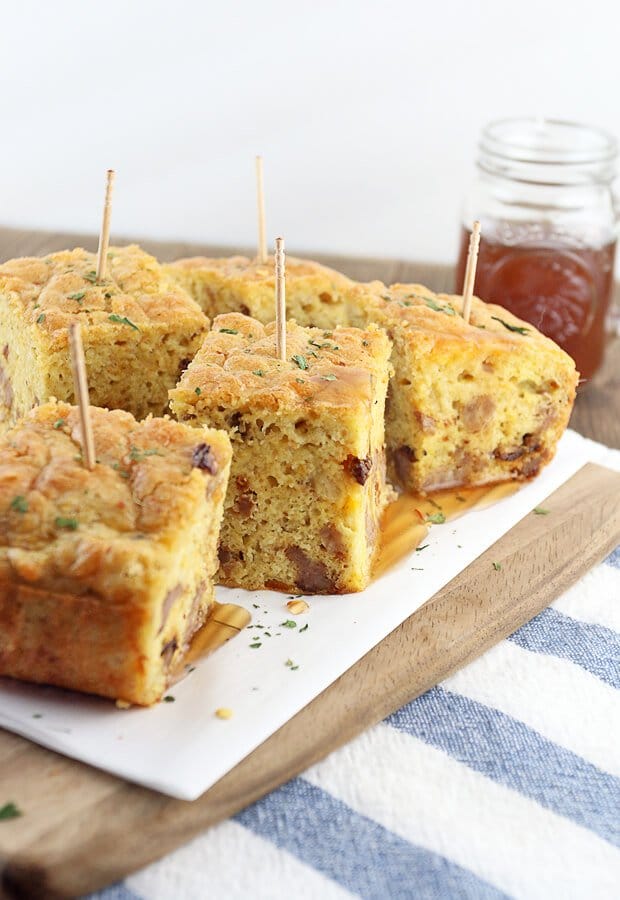 I've never had the famous McGriddle at McDonalds, but I'm intrigued by this Low-Carb Mock McGriddle Casserole from Ruled Me, and I bet this would be a hit with the kids!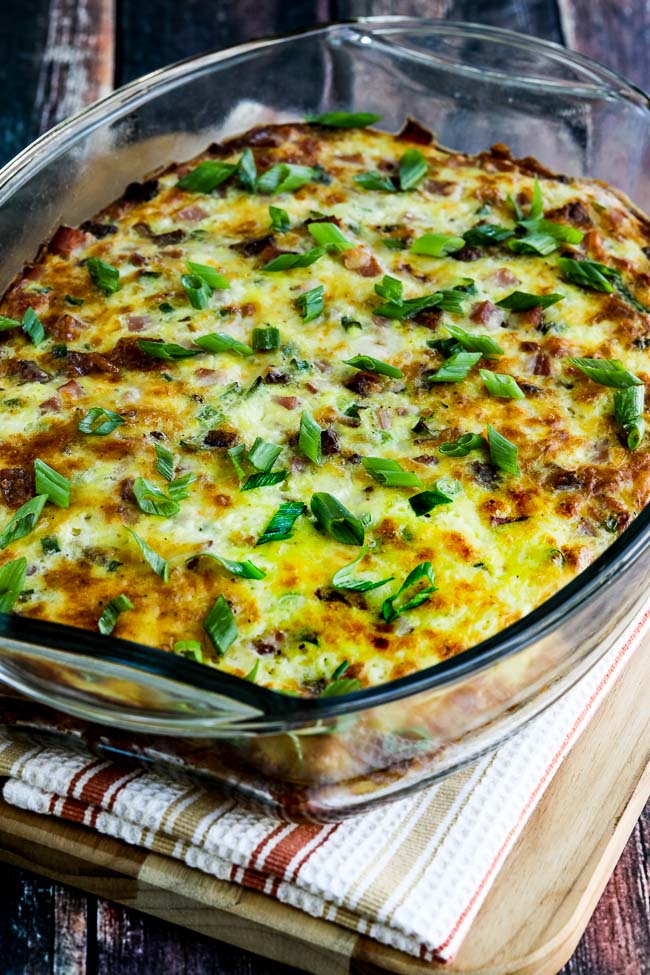 If your family likes bacon, sausage, and ham, this Pork Lover's Keto Breakfast Casserole from Kalyn's Kitchen is going to be a hit!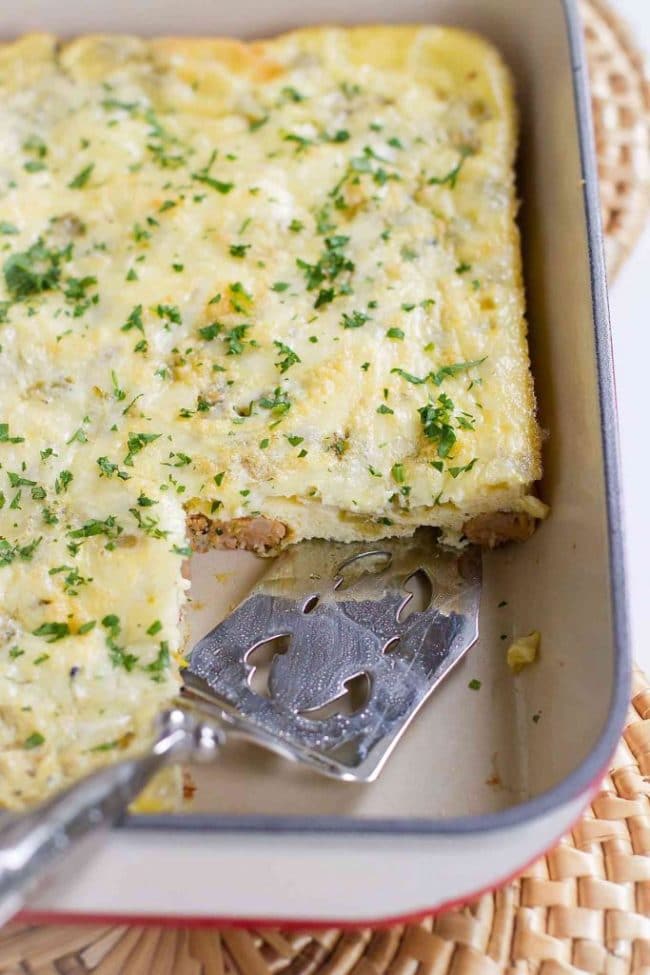 This Baked Egg Sausage Casserole with Green Chiles from Cookin' Canuck gets extra flavor from green chiles and Pepper Jack cheese, but you can go easy on those ingredients if your family prefers milder flavors.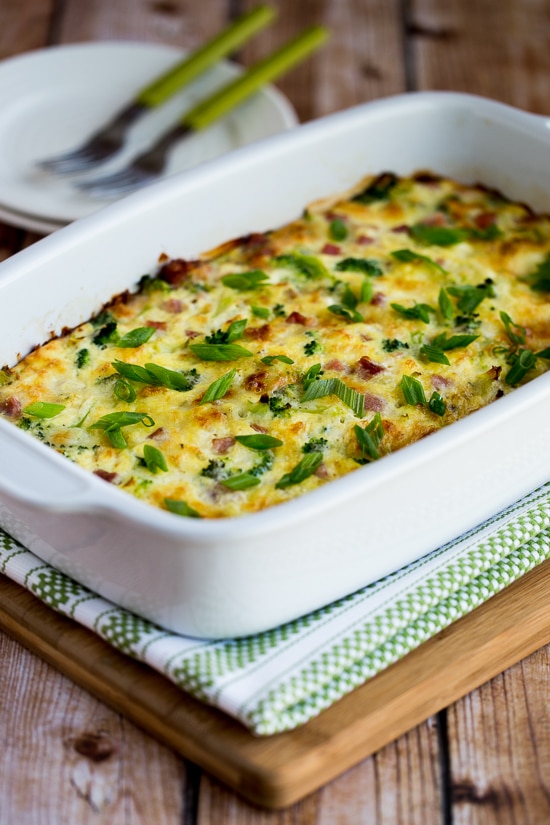 Broccoli, Ham, and Mozzarella Baked with Eggs from Kalyn's Kitchen is a recipe I've made many times for houseguests; always good reviews for this one!
Doesn't this Egg and Two-Cheese Breakfast Casserole with Sausage, Mushrooms, Bacon, and Herbs look delicious from The Perfect Pantry! If there are ingredients like mushrooms that your family won't warm up to, just use more of the ones they do like!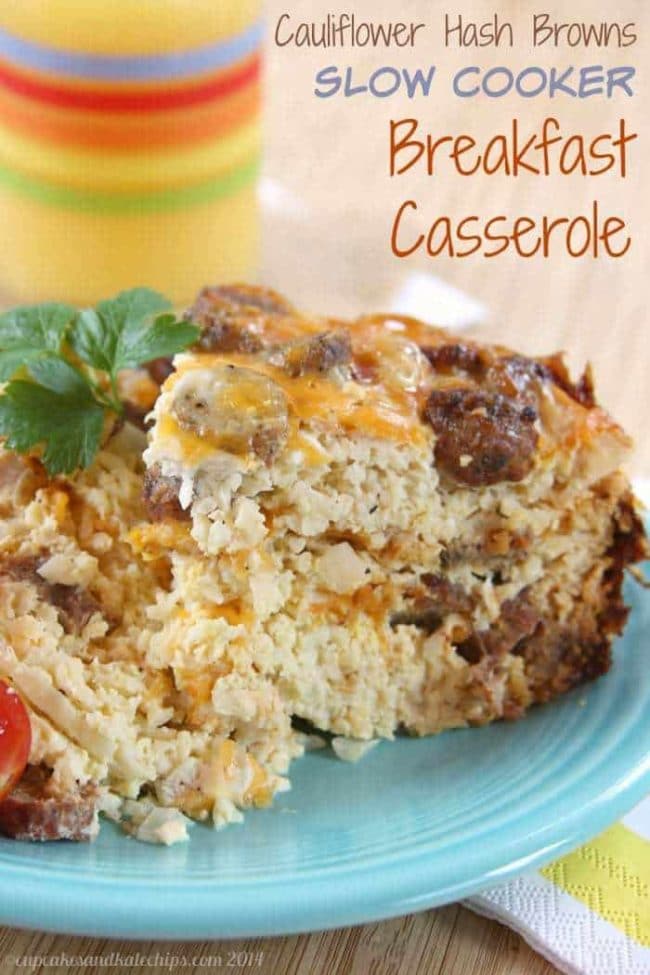 I'd love to try this Cauliflower Hash Browns Slow Cooker Breakfast Casserole from Cupcakes and Kale Chips, and I bet the kids won't know there is cauliflower with all those other flavors!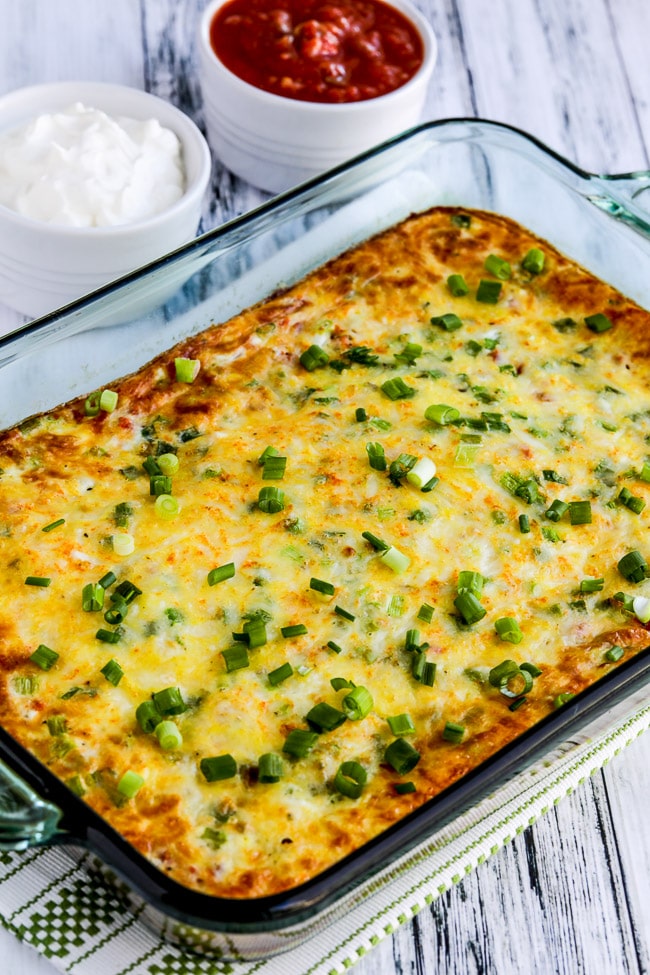 This low-carb Southwest Egg Casserole from Kalyn's Kitchen uses ingredients you probably have on hand to make a cheesy breakfast casserole with Southwestern flavors! And this is barely-spicy so the kids will probably eat it.
It's a bit more work but I bet the family would love this Vanilla Cinnamon French Toast Casserole from Beauty and the Foodie, and Stacey has lots of options to make this low-carb!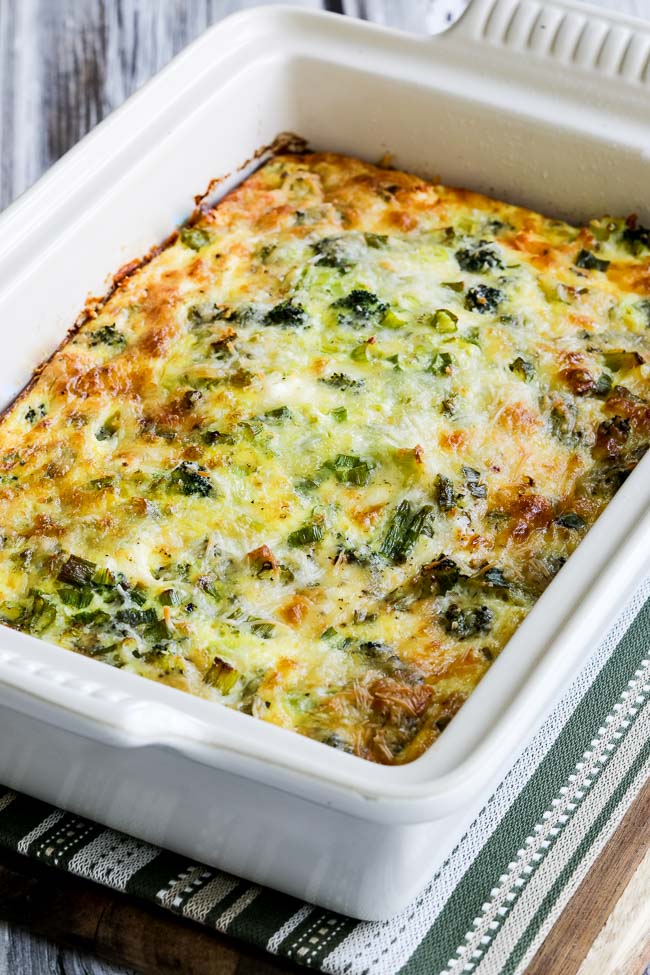 And finally, I know some kids won't eat broccoli, but the ones who like it will devour this Broccoli and Three Cheese Keto Breakfast Casserole from Kalyn's Kitchen.
More Keto Breakfast Casseroles:
Keto Monte Cristo Breakfast Casserole from I Breathe I'm Hungry
Broccoli, Mushrooms, Ham, and Cheddar Baked with Eggs from Kalyn's Kitchen
Cream Cheese Easy Egg Bake from Joy Filled Eats
Zucchini and Green Chile Breakfast Casserole from Kalyn's Kitchen
Cheesy Overnight Bacon and Egg Breakfast Casserole from The Food Charlatan
Broccoli Cheese Breakfast Casserole from Kalyn's Kitchen
Low-Carb Breakfast Casserole with Sausage from Step Away from the Carbs
Slow Cooker Egg Casserole with Sausage, Peppers, and Cheese from Kalyn's Kitchen
Crock Pot Mexican Breakfast Casserole from Sugar-Free Mom
Broken Arm Breakfast Casserole with Cottage Cheese, Bacon, and Feta from Kalyn's Kitchen
Want More Low-Carb Recipes?
Low-Carb Bowl Meals You'll Make Over and Over
Amazing Low-Carb and Keto Dinners Your Family Will Eat
Low-Carb and Keto Slow Cooker Dinners You'll Make Over and Over!
We are a participant in the Amazon Services LLC Associates Program, an affiliate advertising program designed to provide a means for us to earn fees by linking to Amazon.com and affiliated sites. As an Amazon Associate, I earn from qualifying purchases.