Low-Carb and Keto Soups with Cabbage
During March it's still cold and cabbage goes on sale, so use that bargain cabbage to make Low-Carb and Keto Soups with Cabbage.
PIN Low-Carb and Keto Soups with Cabbage!
During March I always go a bit crazy over cabbage recipes, and on social media I've been sharing my Top Ten Low-Carb and Keto Recipes with Cabbage and Low-Carb and Keto Cabbage Salads. But March weather is still pretty cold in most places, so today I'm sharing these Low-Carb and Keto Soups with Cabbage! Of course I may be biased since I'm such a big cabbage fan, but I think cabbage is a perfect ingredient to add to soup when you don't want to use rice or noodles.
Here you'll find my favorite soups with cabbage from Kalyn's Kitchen, plus some tasty looking cabbage soup recipes from other low-carb blogs. Just click the recipe title to see the complete recipe on the site that posted it! And I hope you enjoy making some cabbage soup for Weekend Food Prep this week!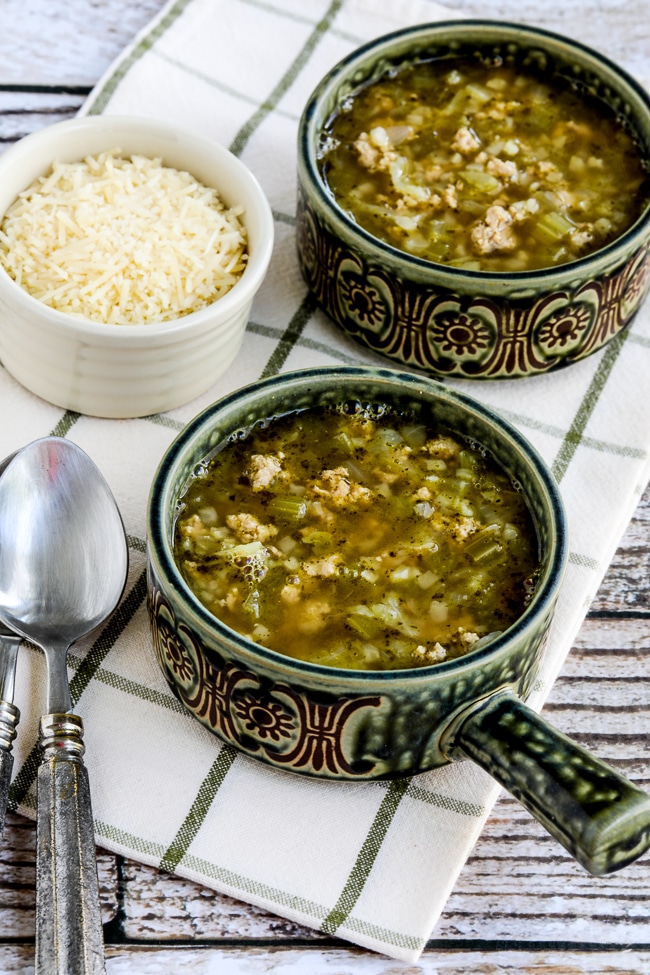 This Instant Pot Turkey Rice Soup with Cabbage is a tasty soup made with ground turkey, and it uses cauliflower rice for the low-carb version. Or if you don't care about carbs, there are instructions to make this with cooked wild rice or cooked white rice as well. And there are also instructions for making this with leftover turkey! (9 carbs, 2 grams fiber)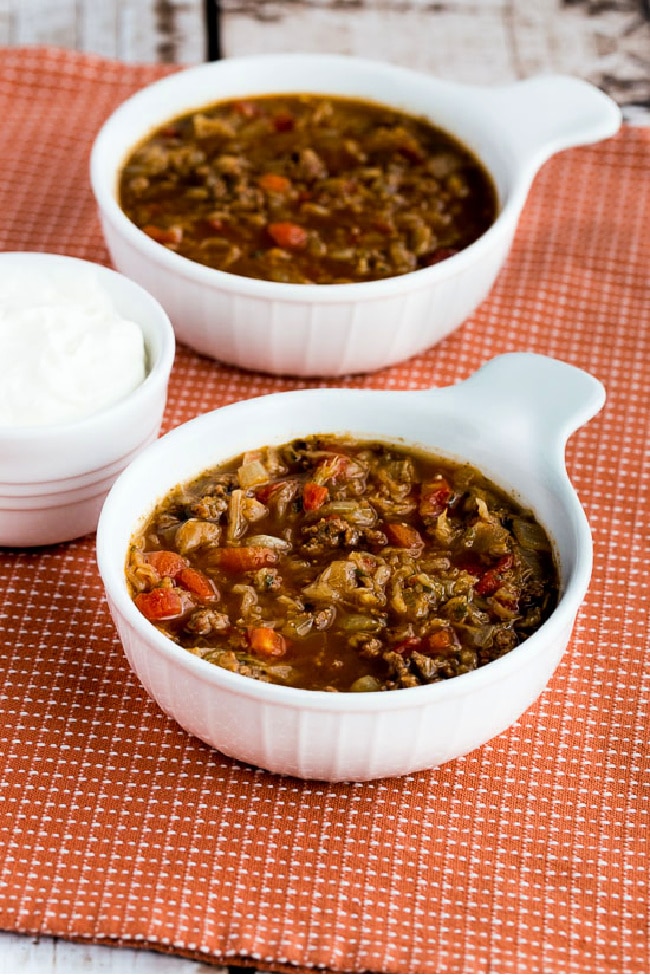 Even if you haven't ever cooked with sauerkraut, be open-minded about trying this low-carb Ground Beef and Sauerkraut Soup! This is a favorite soup of several of my friends, and the sauerkraut gets sweet and delicious when it's cooked in a soup. (9 carbs, 3 grams fiber)

Instant Pot Ham and Cabbage Soup might be the most popular soup with cabbage on the blog, and I notice after holidays like Christmas and Easter people are making this soup with their leftover ham! (8.5 carbs, 4 grams fiber)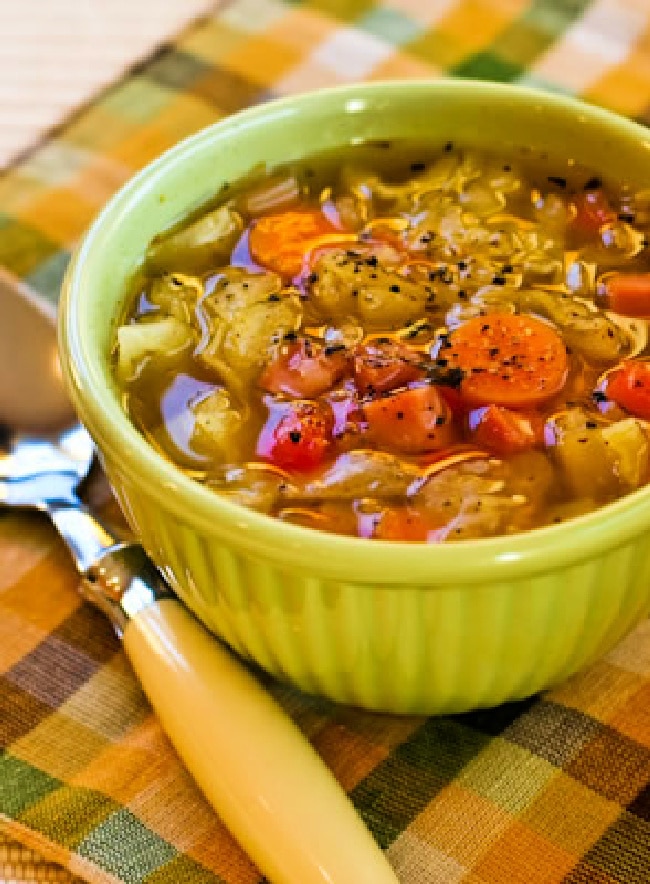 If you're not an Instant Pot fan, just use the recipe for Slow Cooker Ham and Cabbage Soup, which also has instructions for making this tasty soup on the stove. (8.5 carbs, 4 grams fiber.)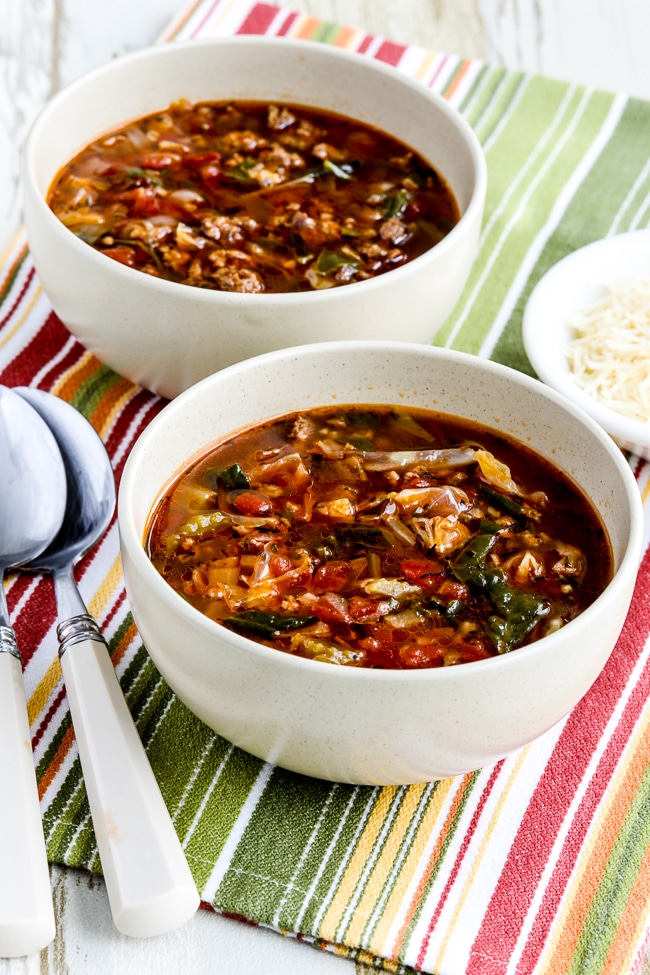 Slow Cooker Ground Beef Soup with Cabbage is another delicious soup with cabbage made in the slow cooker, or check out Ground Beef Vegetable Soup to make this tasty soup on the stove. (10 carbs, 3.3 grams fiber.)

This delicious Goulash Soup has ground beef, tomatoes, roasted red peppers, and cabbage! Everyone who loves spicy Hungarian flavors like I do is going to enjoy this soup. (12 carbs, 3 grams fiber)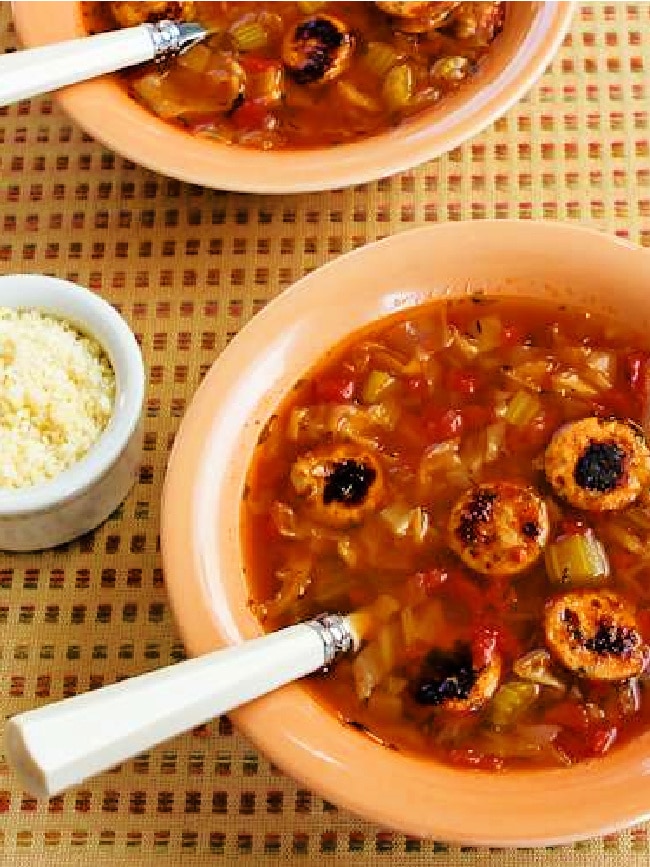 Slow Cooker Cabbage Soup with Sausage is a tasty low-carb soup that's easy to make. Your house will smell great while this cooks all day, and it's especially good topped with Parmesan cheese! (11 carbs, 3 grams fiber)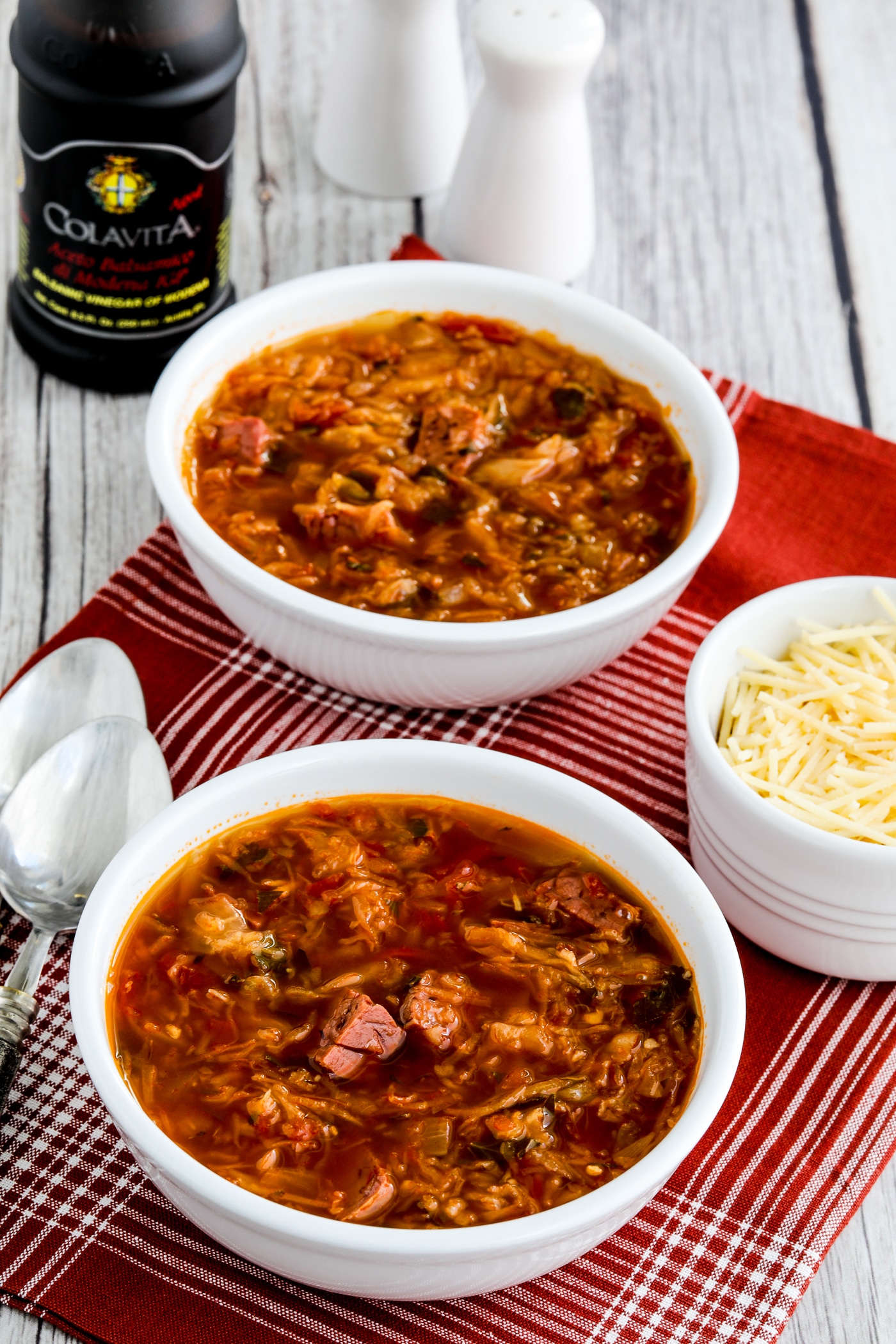 And finally, the cabbage is in the form of sauerkraut in this Leftover Corned Beef Soup, and this soup is loaded with great flavors! (7 carbs, 3 grams fiber)
Tasty Soup with Cabbage from Other Low-Carb Blogs:
Keto Cream of Chicken Soup with Cabbage from Sugar-Free Mom
Keto Cabbage Roll Soup from Peace Love and Low-Carb
Pork Belly Cabbage Soup from Two Sleevers
Keto Cabbage Soup from Joy Filled Eats
Unstuffed Cabbage Soup with Sausage from Low-Carb with Jennifer
Keto Instant Pot Cabbage Beef Stew from Beauty and the Foodie
We are a participant in the Amazon Services LLC Associates Program, an affiliate advertising program designed to provide a means for us to earn fees by linking to Amazon.com and affiliated sites. As an Amazon Associate, I earn from qualifying purchases.