Low-Carb and Keto Cabbage Salads
Cabbage is a great vegetable to keep on hand, and here are Low-Carb and Keto Cabbage Salads you'll make over and over! There are 19 amazing cabbage salads featured here, so be sure to check out all your options if you're a cabbage salad fan.
PIN Low-Carb and Keto Cabbage Salads to try some later!
Some of my favorite salads are made with cabbage, and this collection of Low-Carb and Keto Cabbage Salads features the cabbage salads I make all year long. And I'm such a huge cabbage fan that when I don't want to fuss with making food I wouldn't mind a bit having a big bowl of cabbage salad and calling it dinner!
Of course not everyone loves cabbage salad the way I do, so if salad for dinner wouldn't be a go at your house, think of these tasty salad ideas as a side dish.
And cabbage stays good in the fridge for more than a week, so some of my favorite cabbage salads are great ideas for Weekend Food Prep as well, if you'd like to make the salad on the weekend and eat it for a few days.
How to get the complete recipe:
Just click the recipe title to see the complete recipe for that cabbage salad on this site. And for all the fellow cabbage fans, enjoy!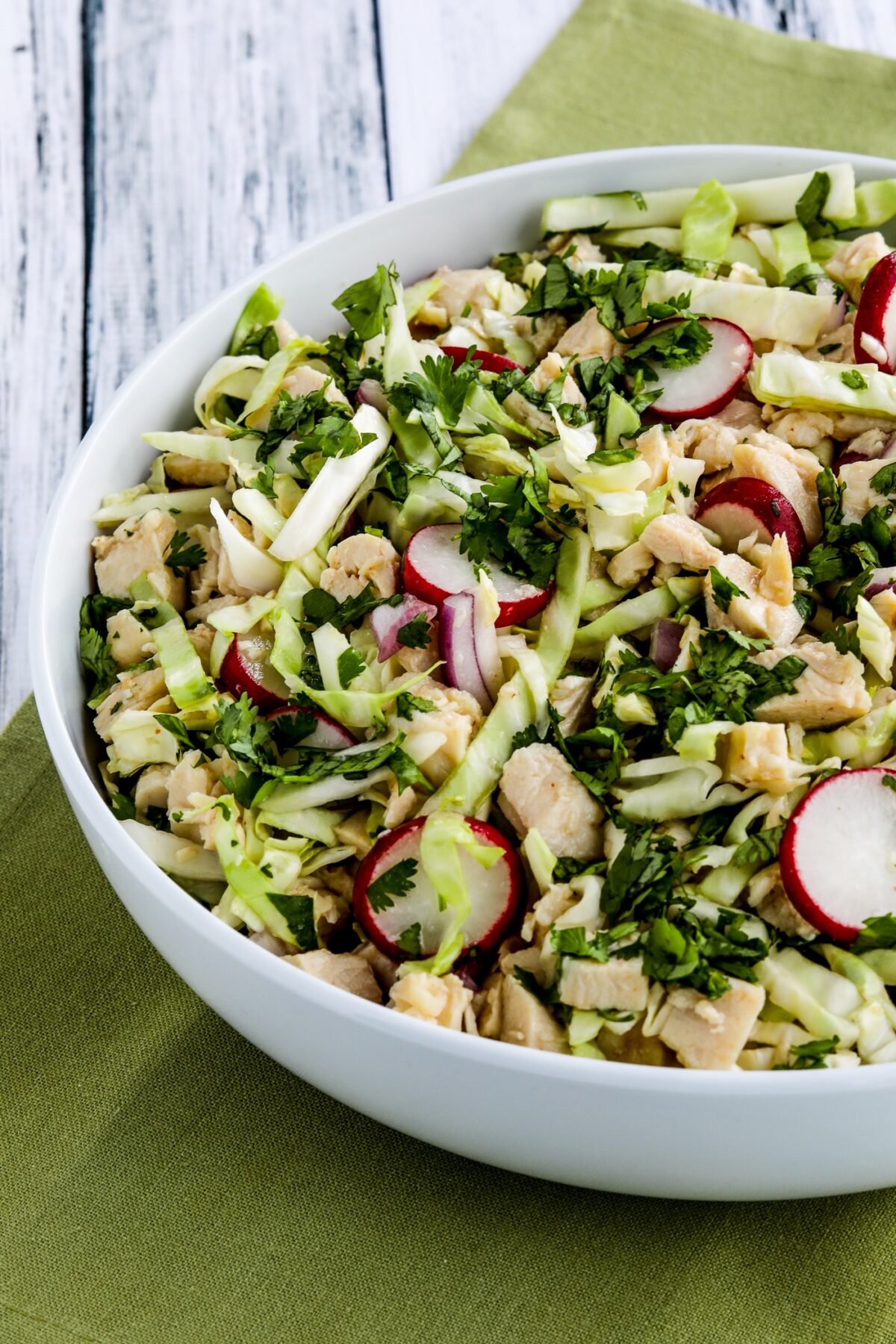 Vietnamese Chicken Salad with Cabbage is one of my favorites for a main-dish cabbage salad, and check out the interesting dressing!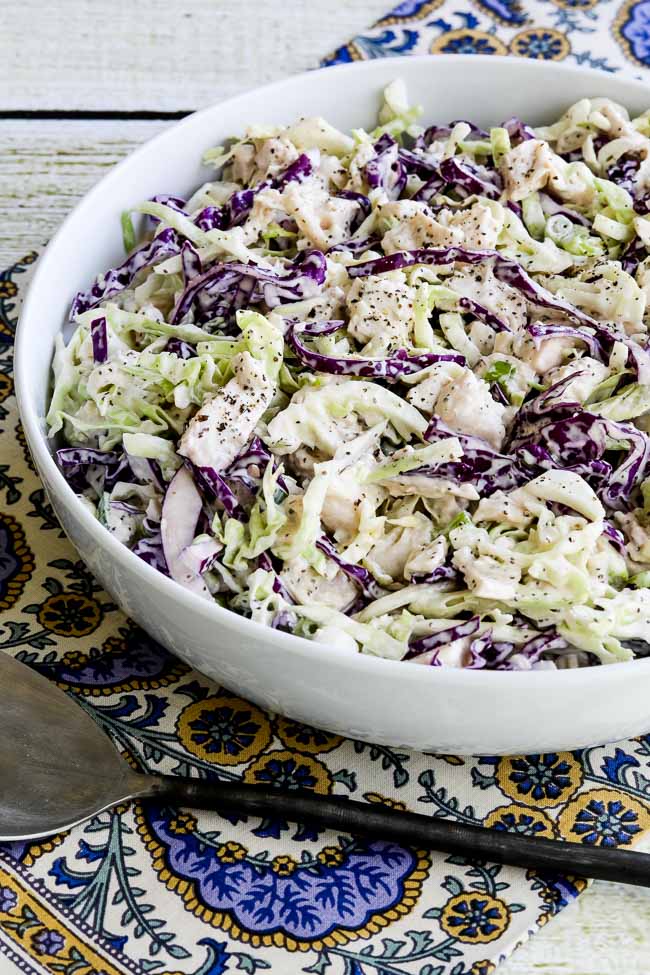 Chicken Cabbage Salad with Mustard is a cabbage salad that can be a main dish, and this is perfect to use leftover rotisserie chicken!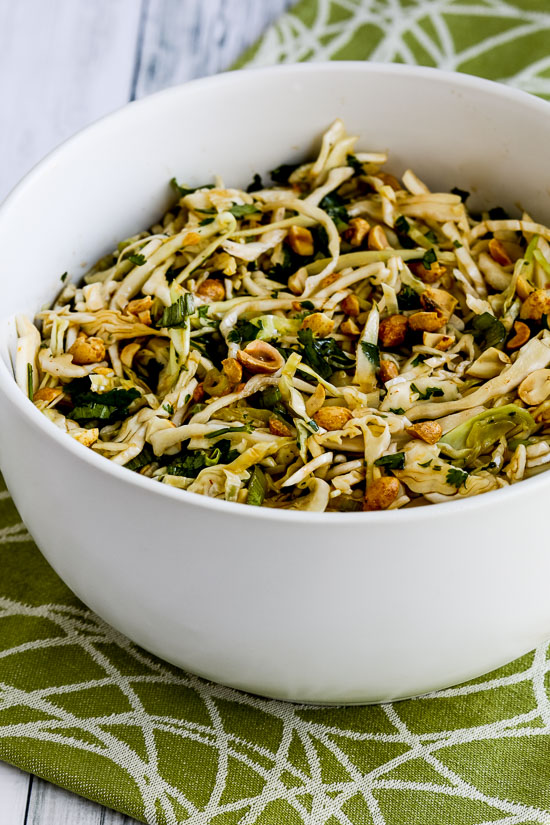 I love every ingredient in this Spicy Cilantro Peanut Slaw! (If you're a cilantro avoider, make this with more thinly sliced green onion to replace the cilantro.)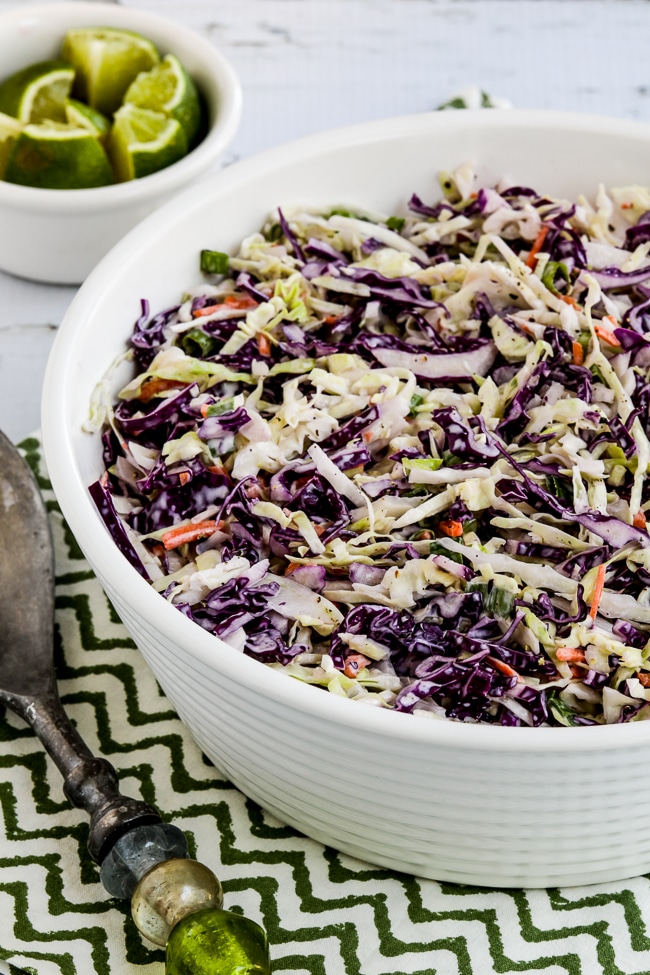 Spicy Lime Coleslaw is a recipe that got new photos not too long ago, and ever since then it's been on repeat at my house!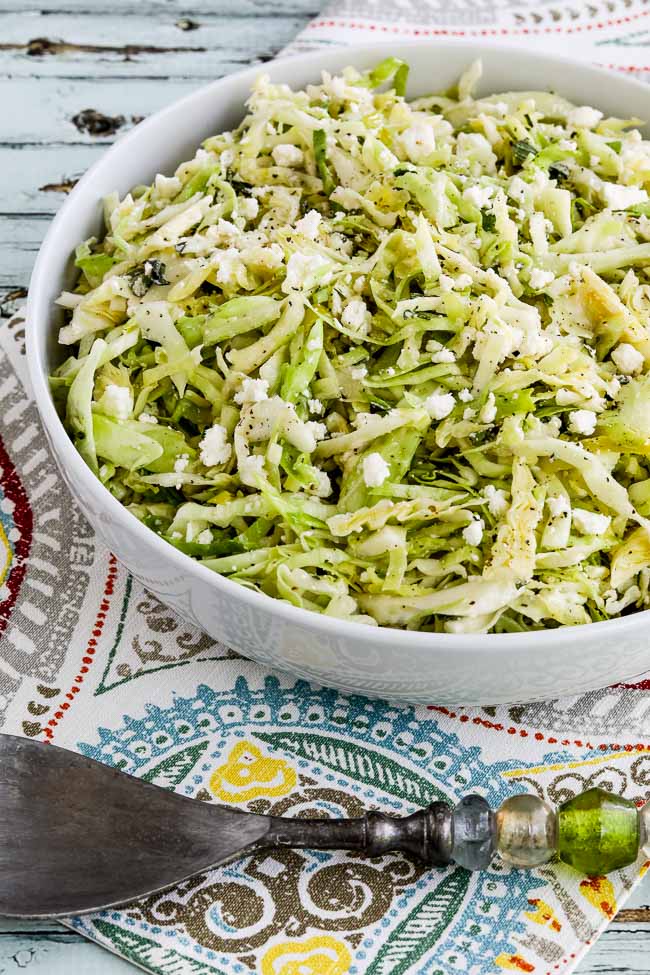 If you like Feta Cheese and spicy Greek Peperoncini, you'll love this Greek Cabbage Salad!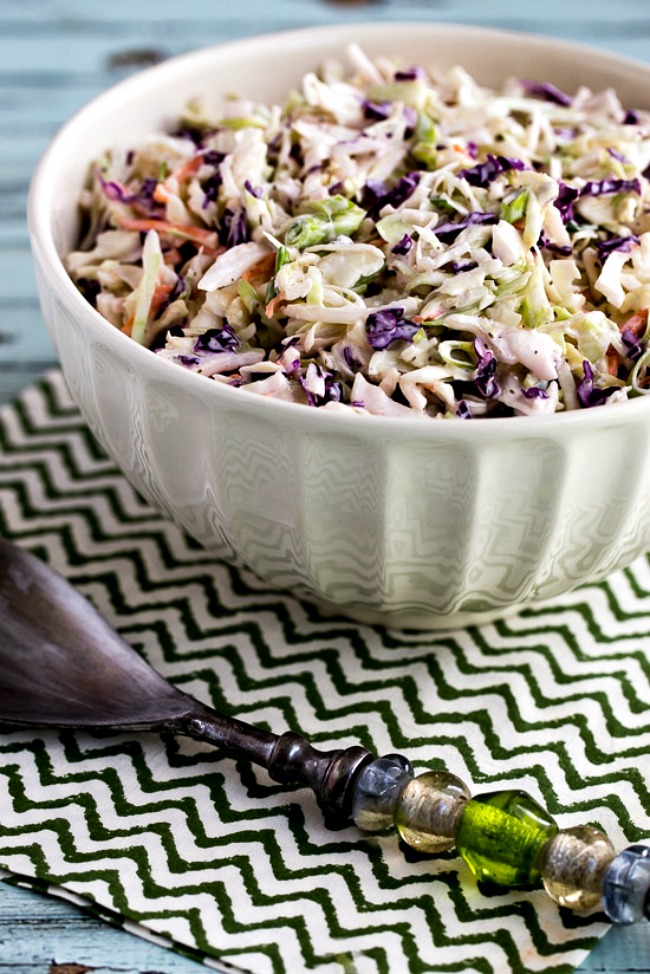 Coleslaw is a classic cabbage salad that's pretty easy to make low-carb, and Kalyn's Low-Carb Coleslaw is a big hit with my whole family, even the ones who never think about carbs.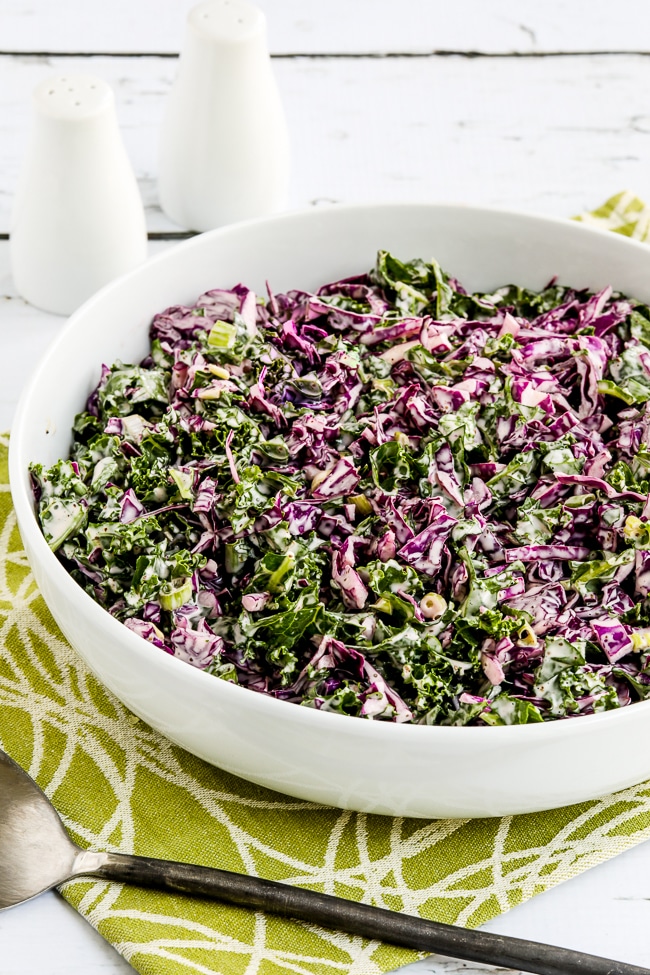 Kale and Red Cabbage Slaw is a think-outside-the-box slaw recipe, but I absolutely love this recipe. (I buy the bag of chopped kale to make this!)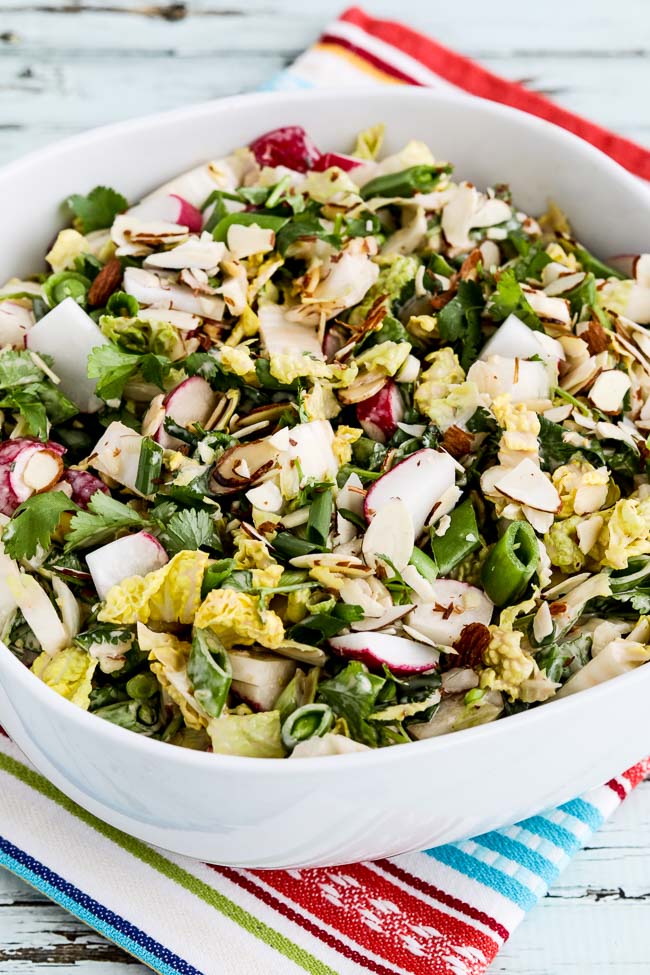 This Napa Cabbage Asian Slaw has sugar snap peas, radishes, almonds, and cilantro (or thinly sliced green onions if you wish!) I've made this over and over for parties.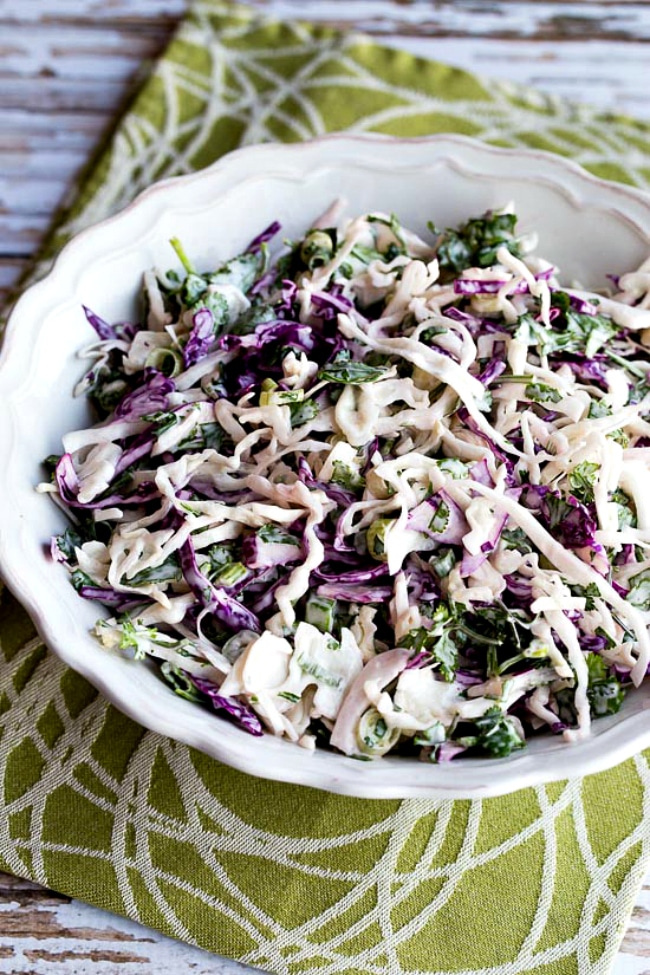 If I had to pick the cabbage salad I've made the most, hands down it would be this Spicy Mexican Slaw with Lime and Cilantro. (Remember the substitute of thinly-sliced green onion if you're not a cilantro fan.)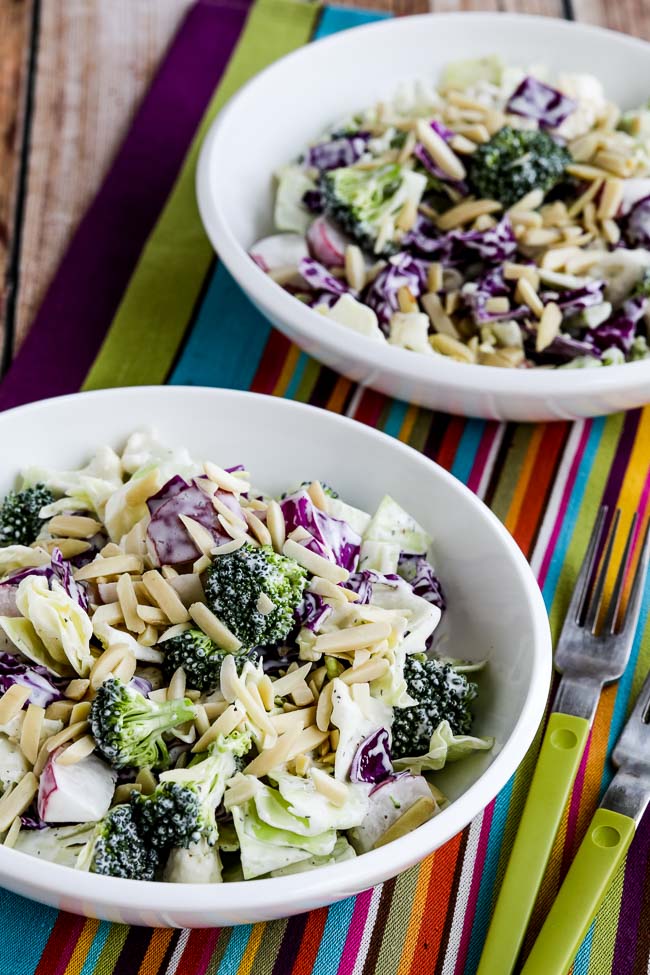 And finally, I launched my Weekend Food Prep category with this Crunchy Low-Carb Chopped Salad, and cabbage and red cabbage are the two ingredients I always include in this food prep salad.
More Low-Carb and Keto Cabbage Salads:
We are a participant in the Amazon Services LLC Associates Program, an affiliate advertising program designed to provide a means for us to earn fees by linking to Amazon.com and affiliated sites. As an Amazon Associate, I earn from qualifying purchases.