Asparagus with Basil Vinaigrette
Combine the best of spring and summer in this recipe for barely-steamed Asparagus with Basil Vinaigrette, and don't miss my trick for using more of the asparagus stems!
PIN Asparagus with Basil Vinaigrette to try it later!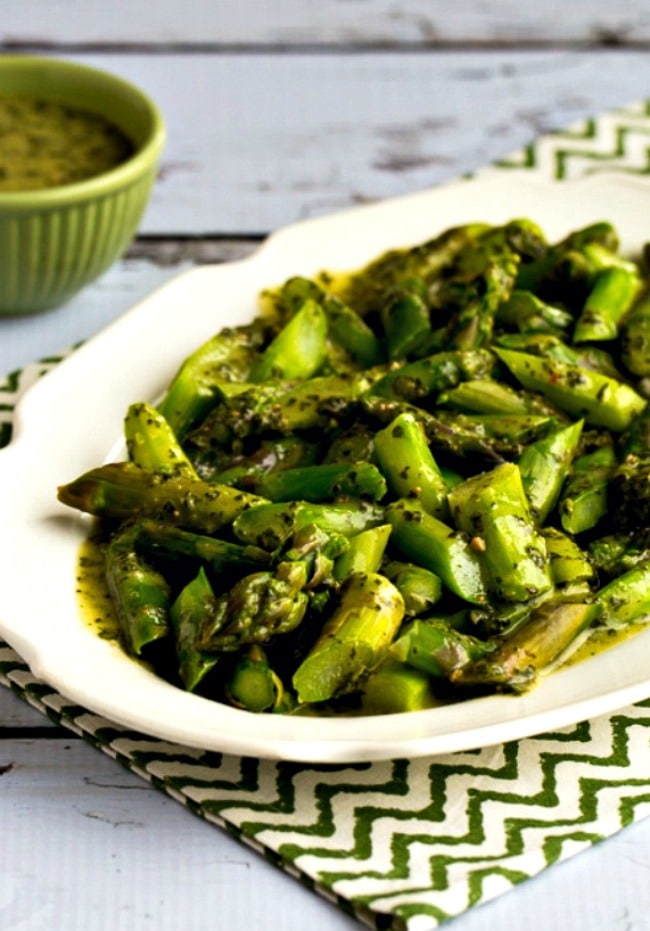 Fresh asparagus has been on sale in my favorite grocery stores, and when asparagus starts to get less expensive I find myself wanting to eat it over and over. And while it's asparagus season I'm going to remind you of a few more asparagus favorites back in the archives that you may have missed.
This Asparagus with Basil Vinaigrette has been one of my favorites for years! The asparagus is kicked up with the Basil Vinaigrette that's a spring and summer treat I look forward to every year for drizzling on tomatoes, vegetables, and grilled chicken or fish, and asparagus with basil vinaigrette tastes just as amazing! A few weeks ago I got my first basil plants of the season to go in the kitchen window, so it's a perfect time to make this. And you may want to make extra basil vinaigrette because it's good on so many things!
What ingredients do you need?
asparagus
salt and fresh-ground black pepper to taste
Can you cook the asparagus in other ways?
If you're not into steaming the asparagus, you can definitely serve this Basil Vinaigrette with Roasted Asparagus or Grilled Asparagus.
What is Basil Vinaigrette?
Basil Vinaigrette is a vinaigrette dressing that's bumped up in flavor by the addition of fresh chopped basil. If you don't have fresh basil you can use purchased basil pesto to make the dressing, although I love the intense basil flavor of the dressing made with basil puree and the version with pesto won't be dairy-free. See my recipe for Basil Vinaigrette for complete instructions for making this spring and summer dressing!
Want more amazing ideas for asparagus?
Check out Low-Carb and Keto Asparagus Recipes for Easter, Low-Carb Sheet Pan Meal with Asparagus, and Favorite Low-Carb and Keto Asparagus Recipes for lots more good ideas for using asparagus while it's in season.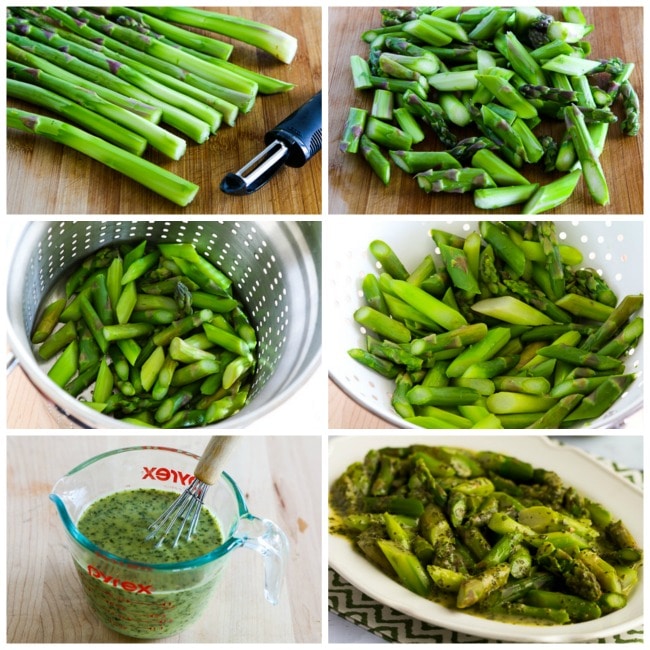 How to Make Asparagus with Basil Vinaigrette:
(Scroll down for complete recipe with nutritional information.)
Start water boiling or turn on steamer while you peel the bottom part of the asparagus and then cut asparagus into 2 inch pieces.
Steam until the asparagus is barely cooked, probably about 5 minutes from the time the steam starts. I used a stovetop steamer (affiliate link) I got from my stepmother Norma, but an electric steamer (affiliate link) would also work.
Drain asparagus well.
Puree the fresh basil and mix with your favorite no-sugar vinaigrette dressing to make the basil vinaigrette.
Arrange asparagus on a plate, season with salt and fresh-ground black pepper, and drizzle over desired amount of basil vinaigrette.
That's it! Serve hot or room temperature, with a little more basil vinaigrette on the side to spoon over at the table. Enjoy!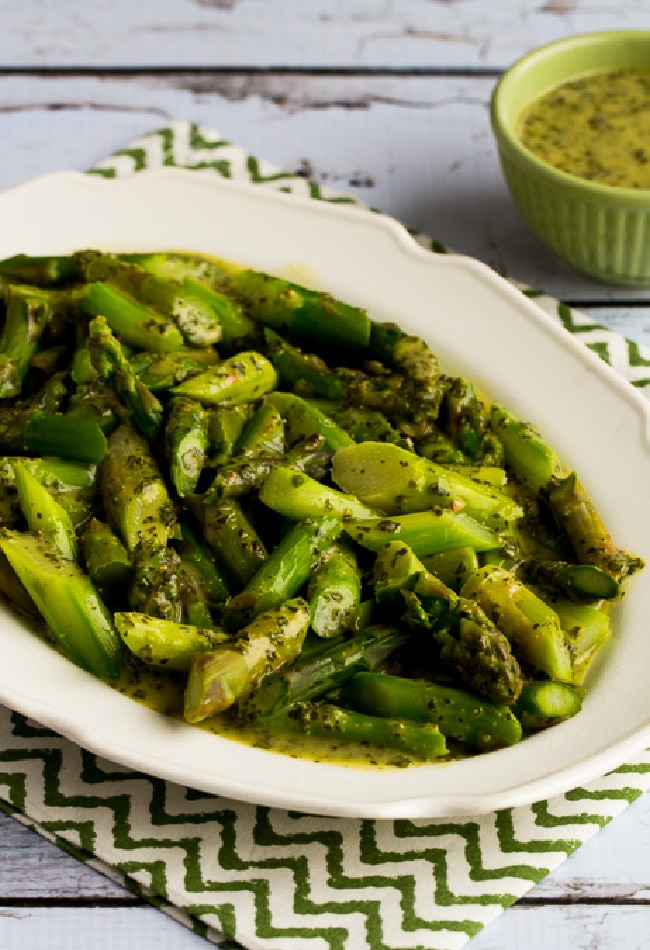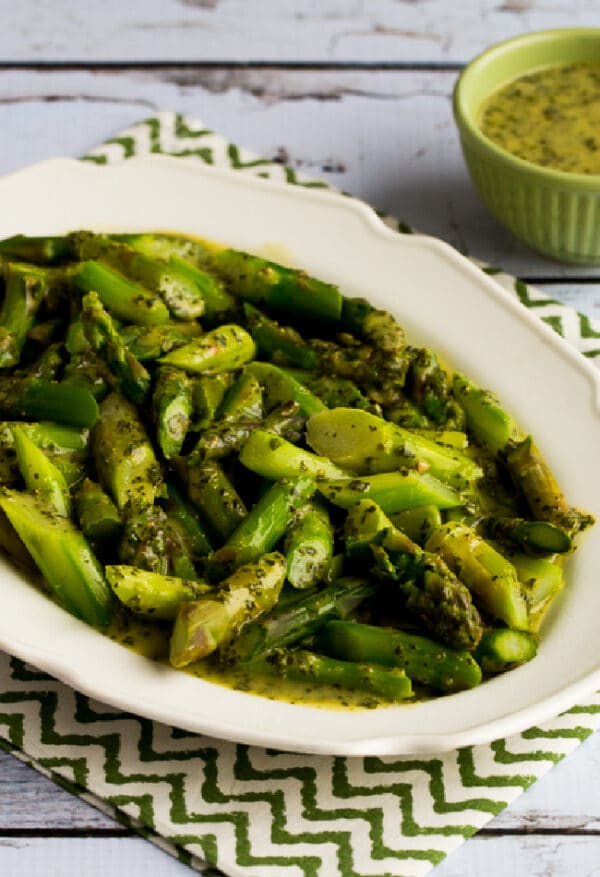 More Asparagus Recipes You Might Like:
Breakfast Casserole with Asparagus, Mushrooms, and Goat Cheese
Baked Eggs and Asparagus with Parmesan
Asparagus and Tomato Salad with Hearts of Palm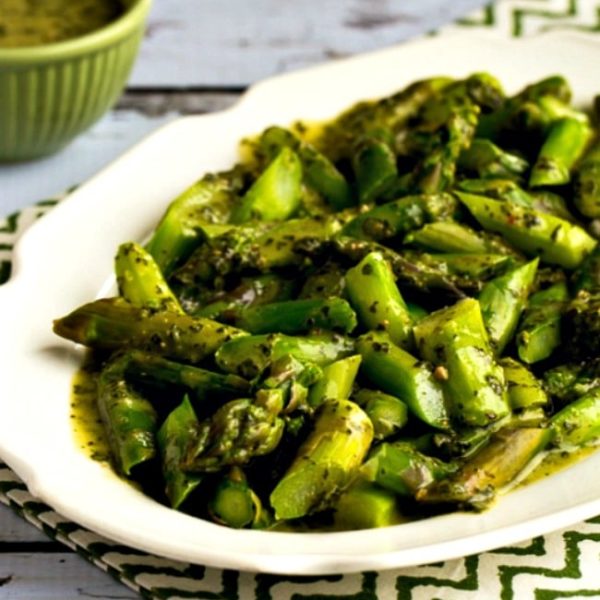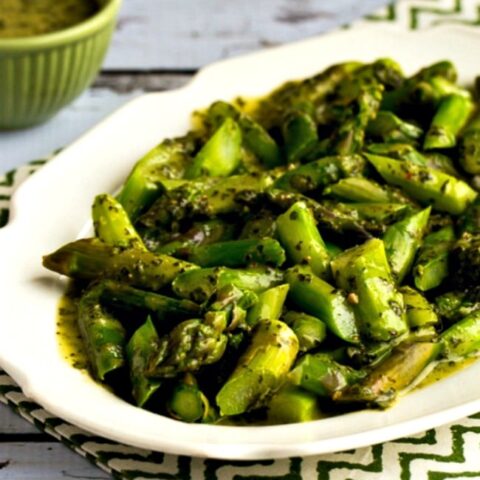 Yield: 4 servings
Asparagus with Basil Vinaigrette
Prep Time 20 minutes
Cook Time 5 minutes
Total Time 25 minutes
Combine the best of spring and summer in this barely steamed Asparagus with Basil Vinaigrette!
Ingredients
1 pound asparagus
salt and fresh-ground black pepper to taste
1/2 cup Basil Vinaigrette
Instructions
Start water boiling in your stovetop steamer or electric steamer (affiliate links).
Trim off the woody ends of the asparagus, and then lightly peel the lower part of each stalk with a vegetable peeler. This allows you to use more of the asparagus than if you just break off the pieces, and it helps the stems cook as quickly as the asparagus tips. (You may still have to trim off a few inches if the ends are very woody.)
After peeling, cut each spear into pieces about 2 inches long, cutting on the diagonal.
Steam asparagus until barely tender, being careful not to overcook. (I would start checking about 5 minutes after the steam starts; you may prefer a minute or two longer, depending on how crisp you like it.)
While asparagus steams, make Basil Vinaigrette.
To serve, drain asparagus well and arrange on plate.
Season with salt and fresh-ground black pepper to taste, and drizzle Basil Vinaigrette over. Enjoy!
Notes
I recommend making the full recipe of Basil Vinaigrette because it's good on so many things. I used Newman's Own Classic Oil and Vinegar Dressing (affiliate link) for this recipe; be sure to use a dressing that's Gluten-Free or Vegan if you're following one of those diets.
You can make the basil vinaigrette with purchased basil pesto if you don't have any fresh basil, but that version will not be Paleo or Vegan.
This recipe created by Kalyn.
Nutrition Information:
Yield:
4
Serving Size:
1
Amount Per Serving:
Calories: 45
Total Fat: 2g
Saturated Fat: 0g
Trans Fat: 0g
Unsaturated Fat: 1g
Cholesterol: 0mg
Sodium: 234mg
Carbohydrates: 6g
Fiber: 2g
Sugar: 2g
Protein: 3g
Nutrition information is automatically calculated by the Recipe Plug-In I am using. I am not a nutritionist and cannot guarantee 100% accuracy, since many variables affect those calculations.
Low-Carb Diet / Low-Glycemic Diet / South Beach Diet Suggestions:
This is a perfect side dish for low-carb and Keto eating plans and any phase of the South Beach Diet and with the right ingredient choices this Asparagus with Basil Vinaigrette can easily be vegan and Paleo.
Find More Recipes Like This One:
Use Side Dishes to find more ideas like this one. Use the Diet Type Index to find recipes suitable for a specific eating plan. You might also like to follow Kalyn's Kitchen on Pinterest, on Facebook, or on Instagram to see all the good recipes I'm sharing there.
Blogger Info:
This recipe was first posted as part of a month-long asparagus event hosted by blogger Kevin Weeks, whose blog is no longer online. Kevin passed away in 2012, and is greatly missed in the food blogging community.
We are a participant in the Amazon Services LLC Associates Program, an affiliate advertising program designed to provide a means for us to earn fees by linking to Amazon.com and affiliated sites. As an Amazon Associate, I earn from qualifying purchases.