Low-Carb and Keto Leftover Ham Recipes
This round-up of Low-Carb and Keto Leftover Ham Recipes has so many good ideas, you might even want to buy some ham to try these recipes! And there are 18 different amazing recipes here using ham!
PIN Low-Carb and Keto Leftover Ham Recipes to try some later!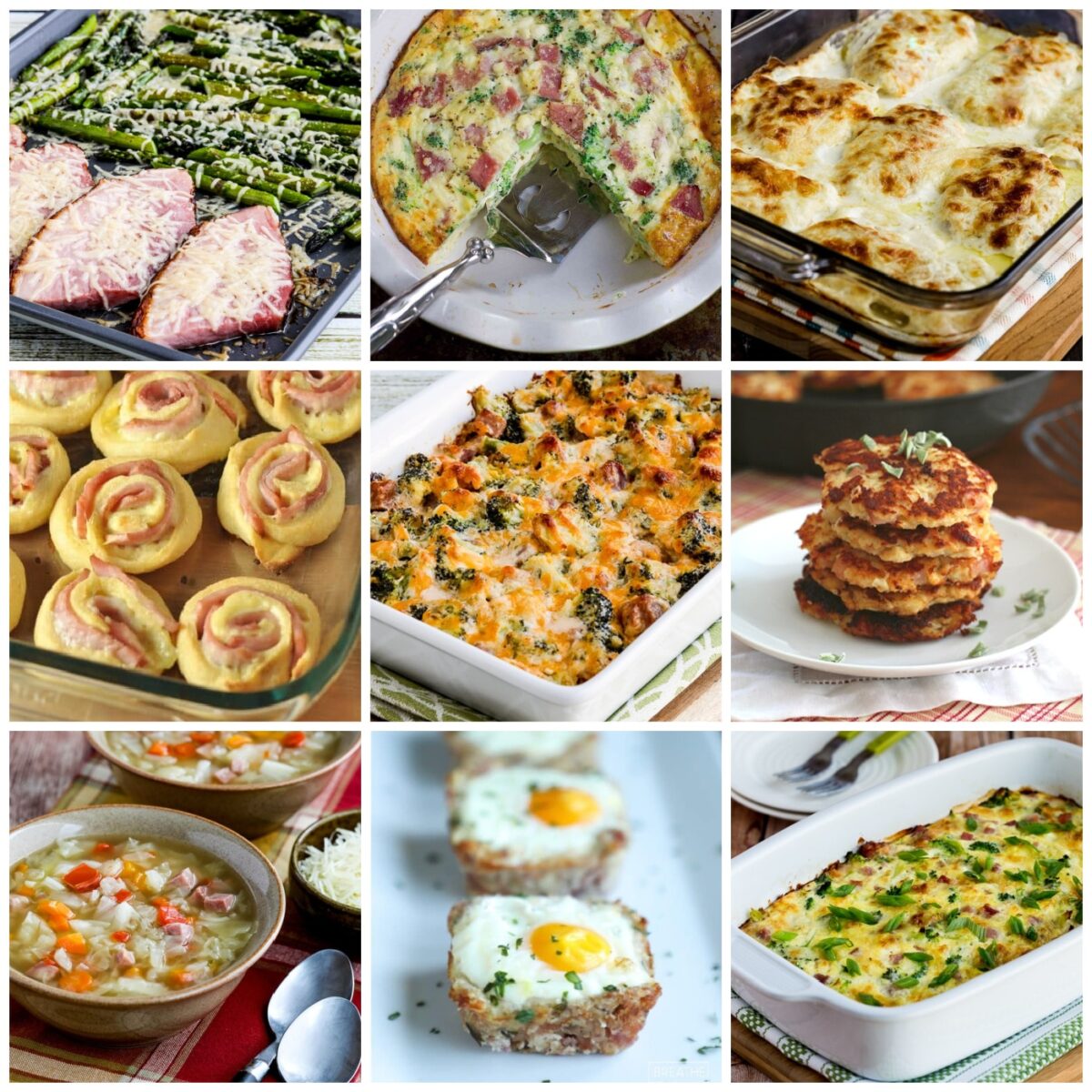 Ham is one of those dishes people love to make for a holiday or for a special meal, and it's a great low-carb protein as long as you stay away from those honey-baked or sweet-glazed hams. And one of the best things about cooking ham is making something amazing with the leftover ham, am I right?
So I'm updating this collection of Low-Carb and Keto Leftover Ham Recipes for everyone who's looking for recipes using ham. If you have some ham in the fridge this recipe collection will help you turn it into low-carb meals that are lot more interesting than ham sandwiches. I hope you'll find something here that inspires you!
What kind of leftover ham recipes will you find here?
This post has 18 delicious recipes using ham in sheet pan meals, casseroles and breakfast casseroles, fritters, soups with ham, ham roll-ups, ham and eggs, crepes with ham, egg muffins with ham, quiche, ham salad, and more!
What if you don't have leftover ham?
If you want to try one of the recipes using ham but don't have leftover ham, thick-sliced ham from the deli or one of those ham steaks from Costco would be perfect for these recipe.
How do you get the complete recipe?
This post has ideas for using ham from Kalyn's Kitchen and great blogs around the web; just click the recipe title to see that recipe on the original blog. All photos are copyrighted to the blog that originally posted the recipe.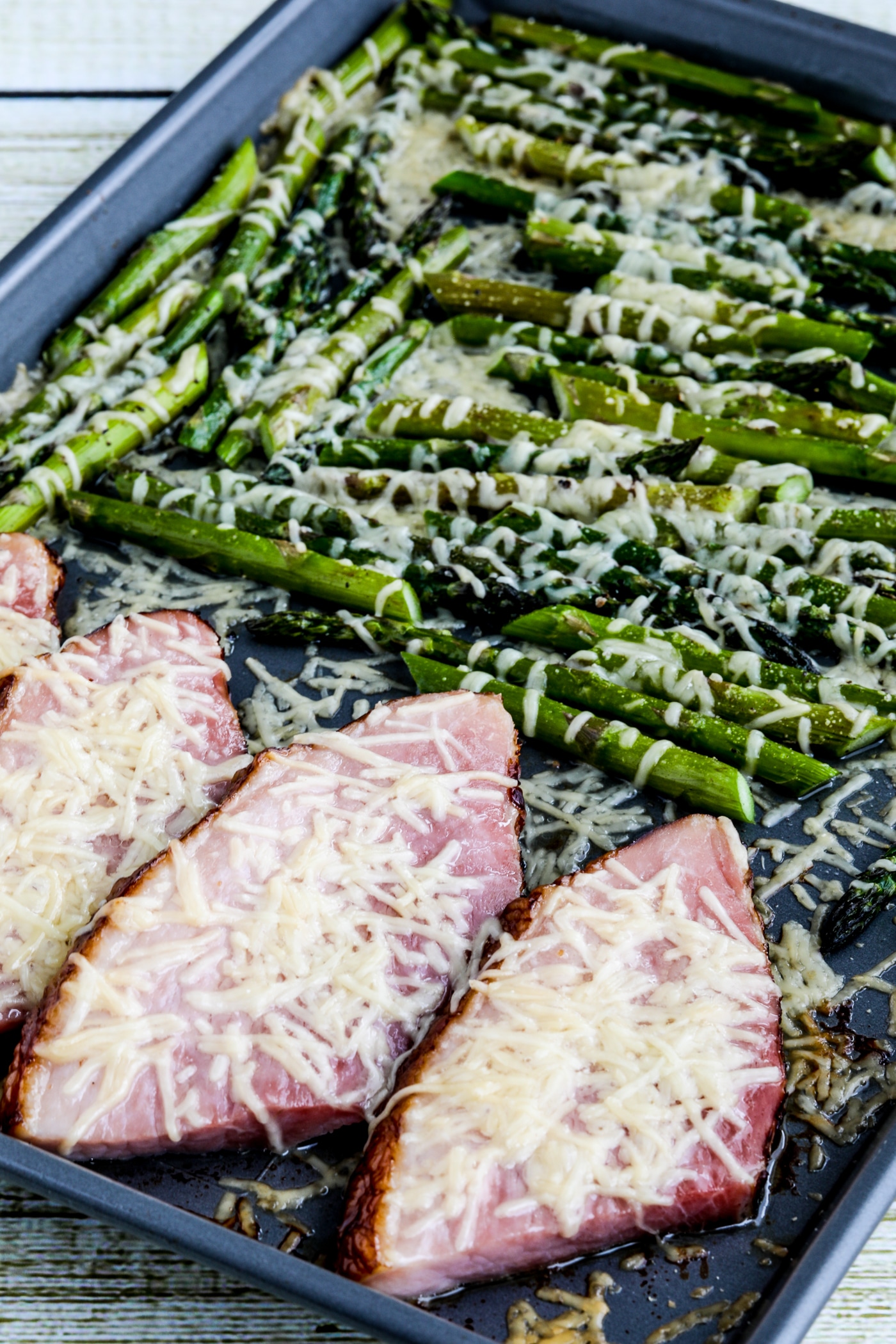 This Easy Cheesy Baked Ham and Asparagus that's made as a sheet pan meal is a newer idea on the blog for leftover ham, and this was a winner!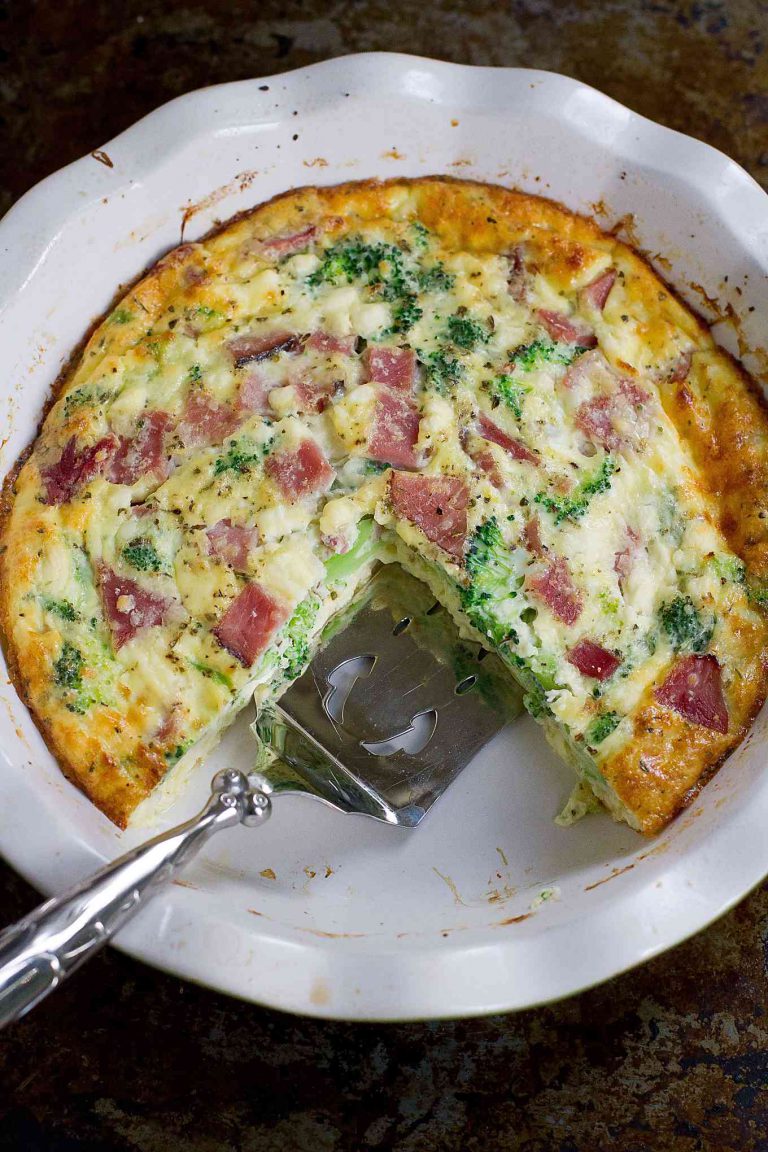 Leftover Broccoli and Ham Crustless Quiche from Cookin' Canuck can turn leftovers into an amazing breakfast!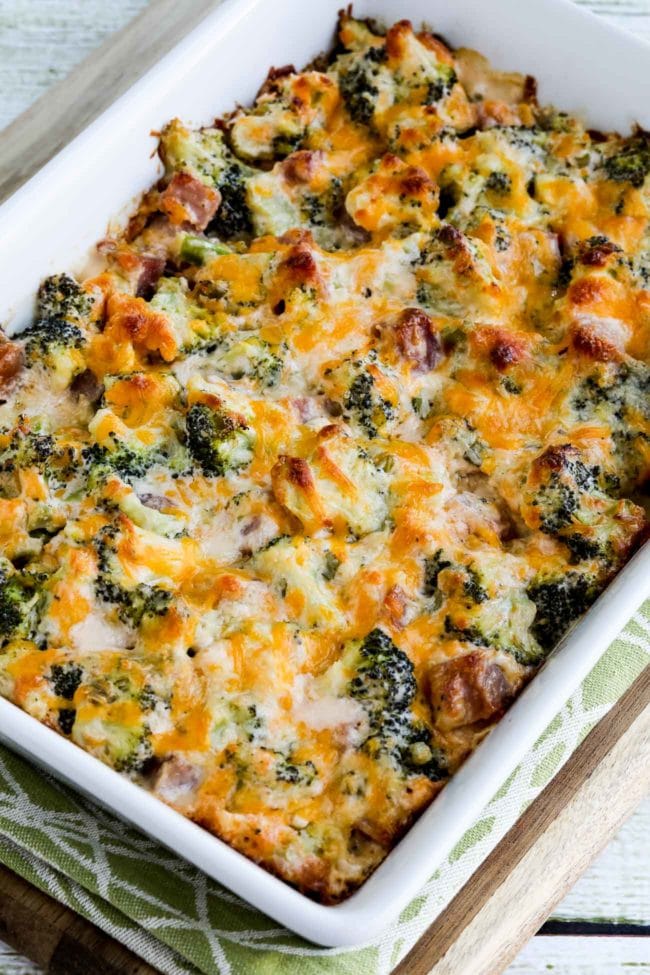 Ham and Broccoli Casserole au Gratinis always going to be a winner, and this is a good reason to buy those big two pound bags of broccoli!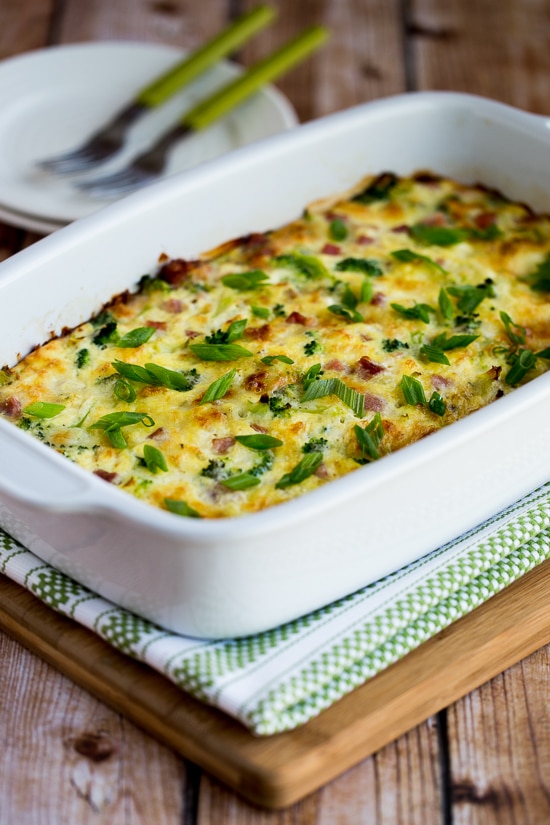 Easter means ham and eggs, so this low-carb Broccoli, Ham, and Mozzarella Baked with Eggs from Kalyn's Kitchen is the perfect after-Easter dish.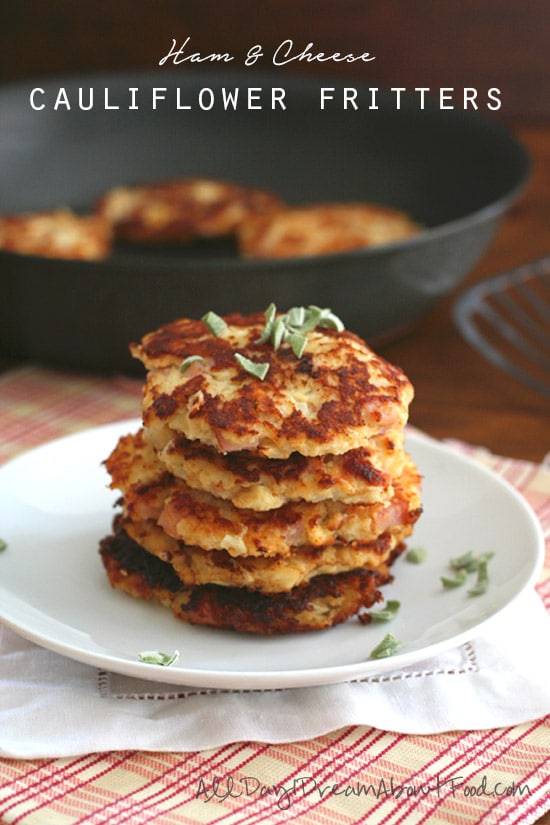 Don't you just love the looks of these Ham and Cheese Cauliflower Fritters from All Day I Dream About Food?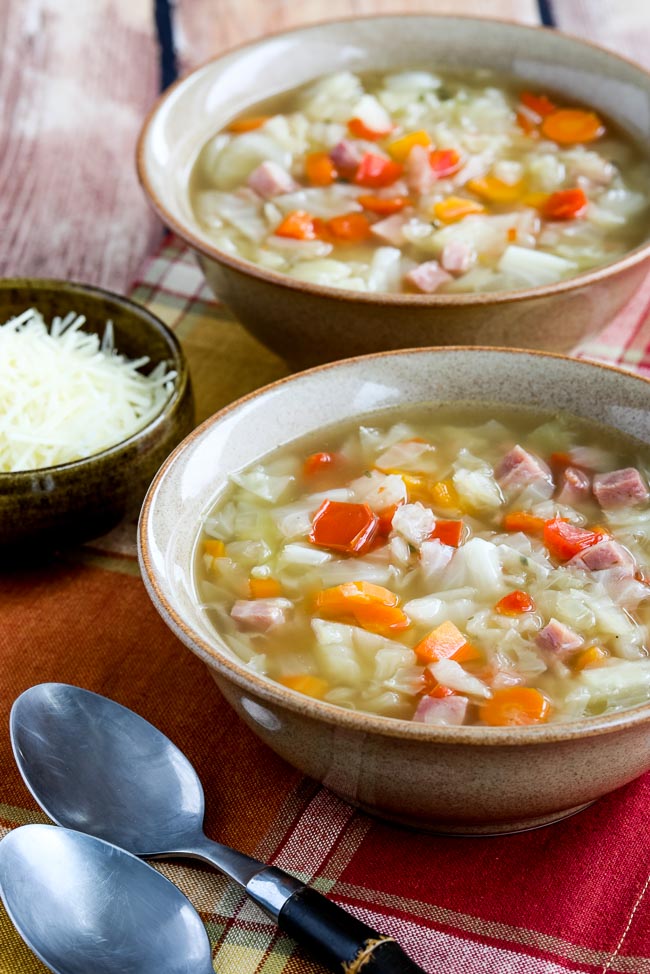 If the weather is still chilly at Easter where you live, this Instant Pot Ham and Cabbage Soup from Kalyn's Kitchen is a great idea for leftover ham!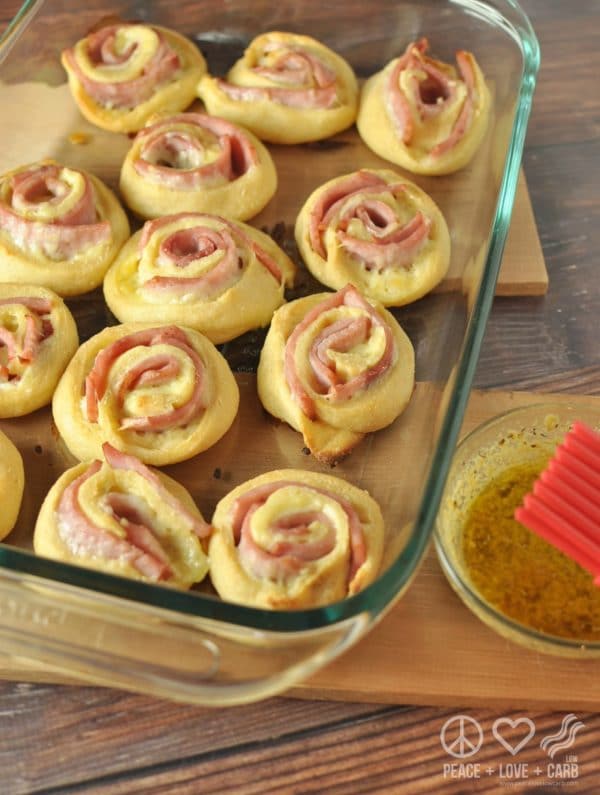 I'm intrigued by these Hot Ham and Cheese Roll-Ups with Dijon Butter Glaze from Peace Love and Low Carb.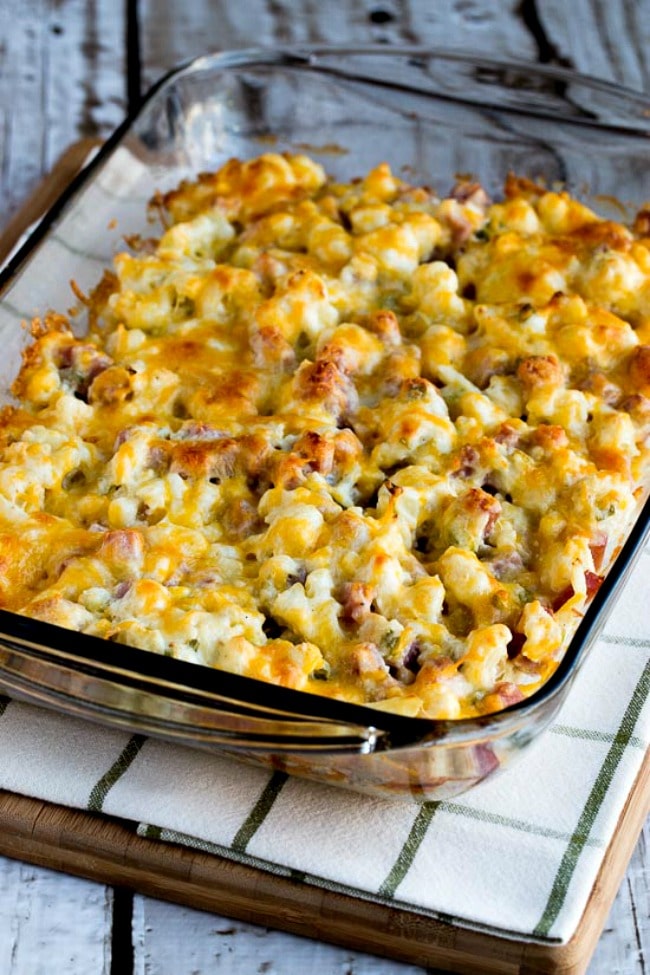 Maybe make one more casserole this spring so you can try this Ham and Cauliflower Casserole au Gratin from Kalyn's Kitchen; this recipe has a lot of fans.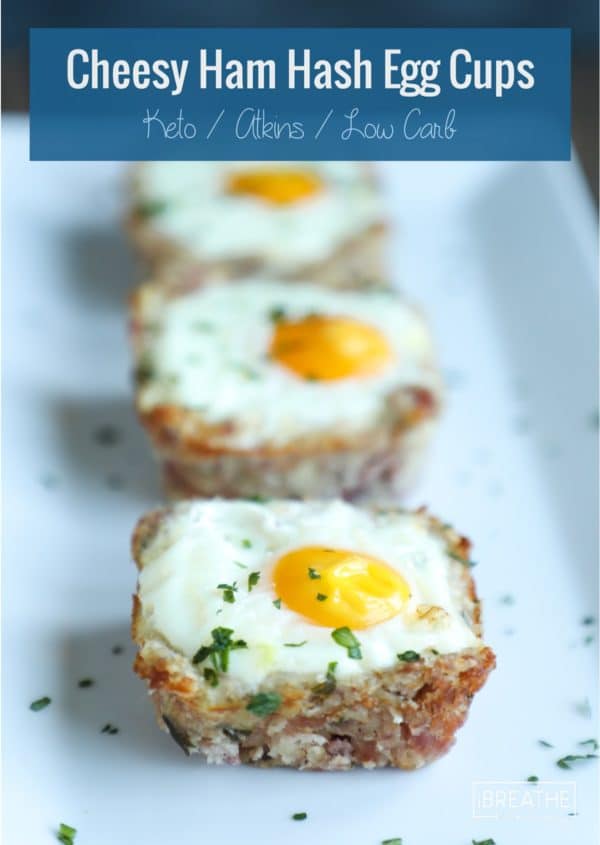 One of the more creative ways to use ham that I've seen is these Cheesy Ham Hash Egg Cups from I Breathe I'm Hungry. Don't they look delicious?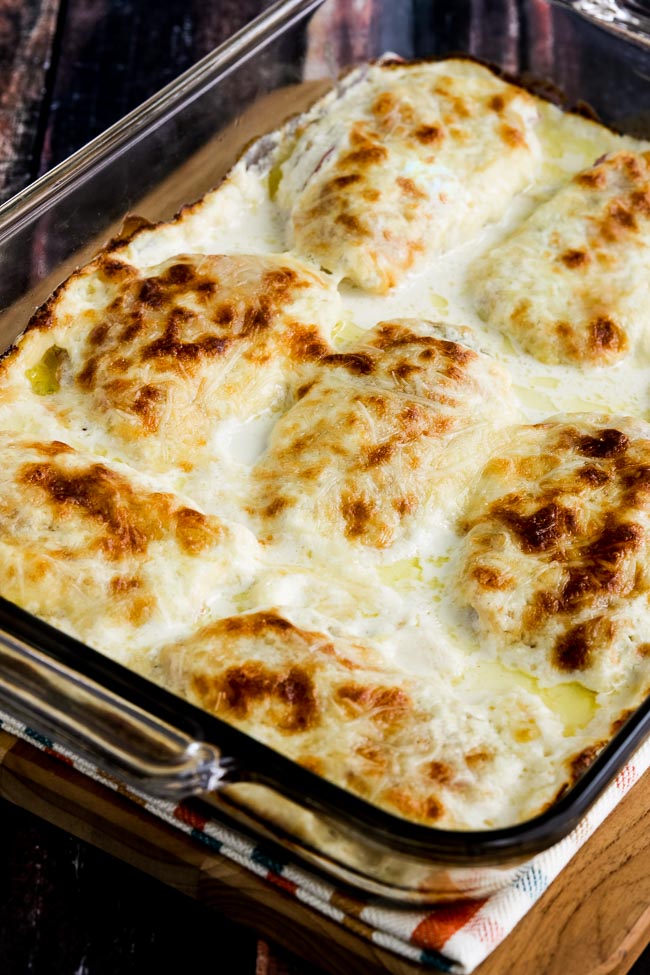 If you're lucky enough to have some slices of ham leftover, grab some chicken and Swiss cheese and make this Chicken Cordon Bleu Bake from Kalyn's Kitchen.
More Low-Carb and Keto Leftover Ham Recipes:
Let us know in the comments if you have good recipes using ham!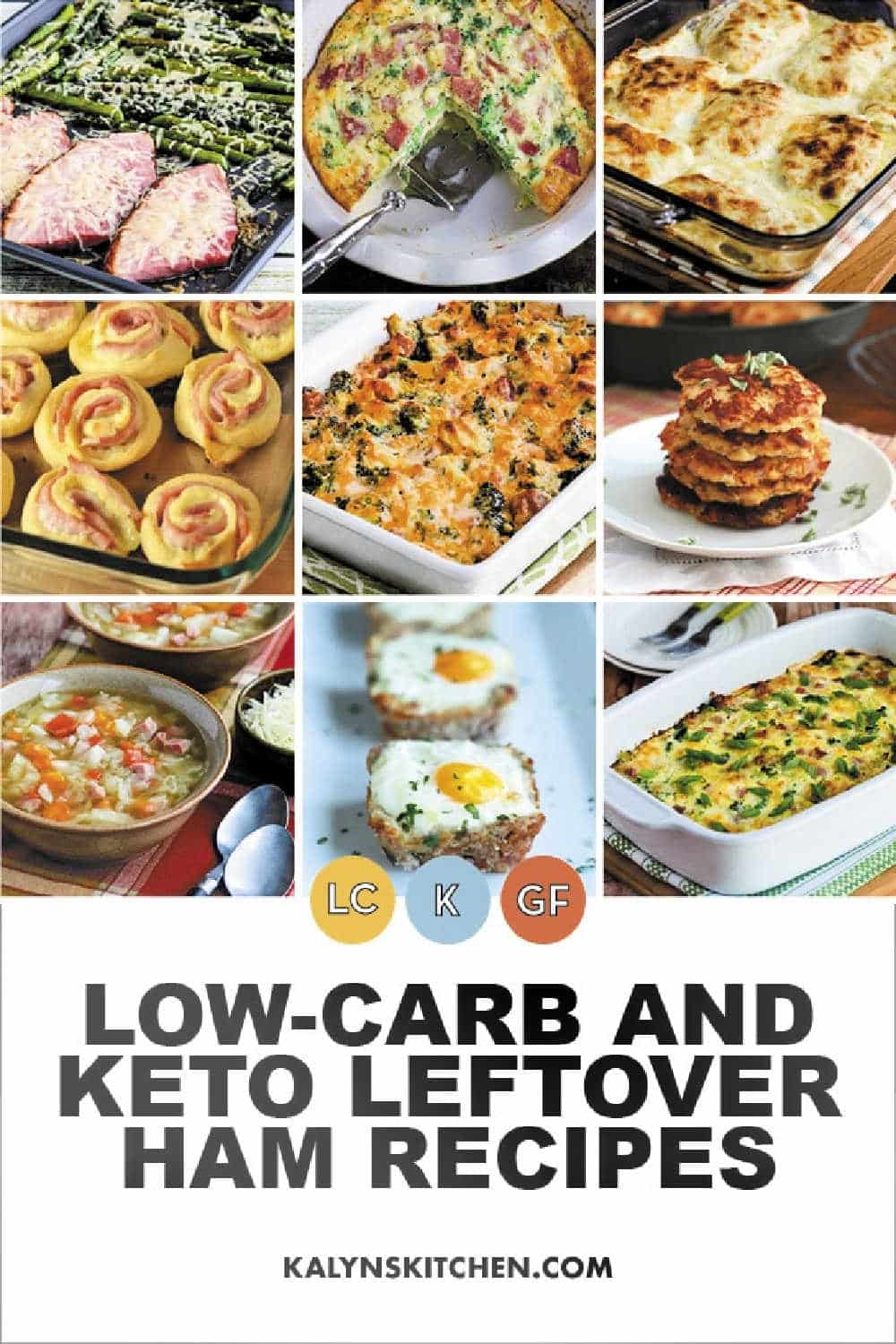 We are a participant in the Amazon Services LLC Associates Program, an affiliate advertising program designed to provide a means for us to earn fees by linking to Amazon.com and affiliated sites. As an Amazon Associate, I earn from qualifying purchases.