Egg Muffins with Ham, Cheese, and Bell Pepper
I love having some of these Egg Muffins with Ham, Cheese, and Bell Pepper in the fridge for a quick and tasty grab-and-go breakfast! You can switch out the green pepper for red pepper or use another vegetable if you prefer!
PIN Egg Muffins with Ham, Cheese, and Green Pepper!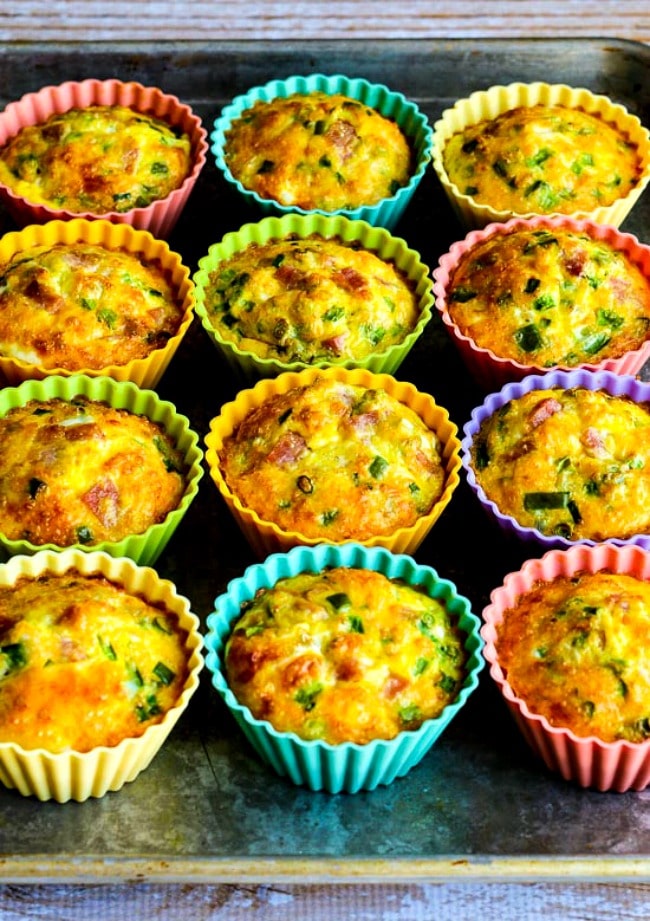 When it's January, lots of people start making my Grab-and-Go Egg Muffins for an easy low-carb breakfast. You can see recipes for this type of egg dish all over the web now, but I first made them in 2005 and came up with the name Egg Muffins as a variation of something I saw in one of the South Beach Diet books.
My basic recipe for egg muffins has infinite variations, so I haven't posted too many individual recipes for the basic egg muffins, but I have shared a few recipes for combinations I make over and over like these Egg Muffins with Ham, Cheese, and Bell Pepper. I love the little bits of tender-crisp bell pepper in these, but you can use red pepper or another vegetable if you're not a green pepper fan.
What ingredients do you need for this recipe?
ham
Mexican Blend Cheese
green bell pepper
green onion (optional, but recommended)
eggs
Spike Seasoning (affiliate link), or use any seasoning blend that's good with eggs)
What size silicone baking cups did I use?
For years I've had both large and small silicone baking cups (affiliate link) but a few weeks ago I bought these colorful Chambers Bay Baking Company silicone baking cups (affiliate link), which are a middle size that I really like; Chambers Bay calls this size Jumbo size. (My small cups measure 2.5 inches across and hold 1/3 cup, the new medium size cups measure 3.5 inches across and hold 2/3 cup and the large size are 3.75 inches across and deeper and hold 1 cup.) Naturally I had to try out the new cups, so I decided to update the photos for this favorite recipe with the new size cup. (You can also still find a link to the original recipe for small baking cups down in the recipe; click that printer-friendly link to get the recipe if you have the small size.)
Want more Grab-and-Go Breakfast ideas?
For more breakfast recipes to eat on the go, check out Low-Carb and Keto Grab-and-Go Breakfasts.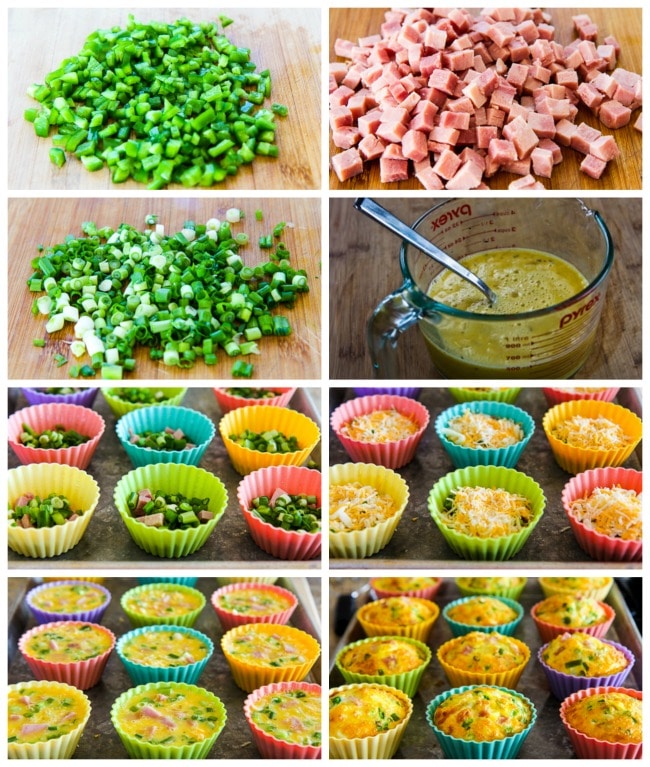 How to Make Egg Muffins with Ham, Cheese, and Bell Pepper:
(Scroll down for complete printable recipe with nutritional information.)
Finely chop the green pepper, chop the ham, and slice the green onions.
Beat eggs well to combine.
Put the muffin cups (affiliate link) on a baking sheet and spray muffin cups with non-stick spray.
Fill each cup with some of the finely diced green pepper, diced ham, sliced green onion, and cheese.
Then pour in egg, let it settle down, and fill with egg again, until the egg is almost to the top of the baking cups.
I like to take a fork and gently "stir" so ingredients are well combined.
Bake 25-30 minutes, or until the top of the egg muffins are browned to your liking.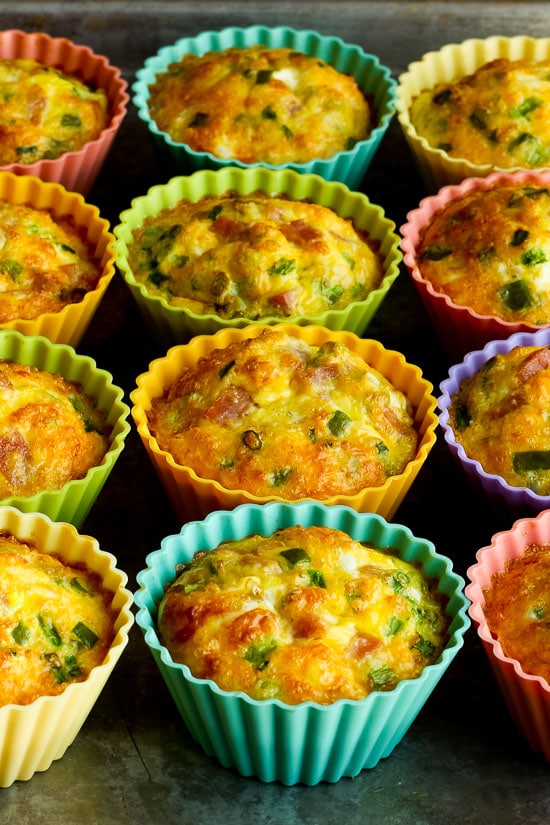 Egg muffins will keep at least a week in the fridge and can be reheated quickly in the microwave for a perfect easy breakfast. When I have a batch of these in the fridge I feel like I've got breakfast handled for a few days; enjoy!
More Tasty Low-Carb Egg Muffins:
Weekend Food Prep:
This recipe has been added to a category called Weekend Food Prep to help you find recipes you can prep or cook on the weekend and eat during the week!
Yield: 12 muffins
Egg Muffins with Ham, Cheese, and Bell Pepper
Prep Time 12 minutes
Cook Time 30 minutes
Total Time 42 minutes
I love to grab something like egg muffins for a quick breakfast, and Ham, Cheese, and Bell Pepper Egg Muffins in the fridge are a great way to start out the week!
Ingredients
2 cups finely diced ham
1 1/3 cups finely grated Mexican Blend Cheese
1 green bell pepper, seeds and stem cut away and finely diced
3 thinly sliced green onions (optional, but recommended)
15 eggs, beaten well
2 tsp. Spike seasoning (or use any seasoning blend that is good with eggs)
Instructions
Preheat oven to 375F/190C.
Spray silicone baking cups (affiliate link) with nonstick spray.
Dice ham and green pepper and slice green onions.
In the bottom of the the baking cups layer the ham, green pepper, green onions and cheese, dividing each equally among the 12 baking cups.
Break eggs into a bowl or large measuring cup that has a pour spout, then beat eggs and Spike Seasoning (affiliate link) with a fork until they are well combined.
Pour eggs over the other ingredients until the muffin cups are nearly full, but not quite reaching the top. (I pour some egg in each cup, let it settle, and then pour more until the cup is nearly full.)
Take a small fork and gently "stir" to distribute the ingredients in the egg mixture.
Bake 25-30 minutes, or until the egg mixture is set and starting to brown slightly. (The last few years I've been liking them more browned, but if you don't like them as brown as I do I would start checking after 22 minutes.)
Egg muffins will keep well in the refrigerator for at least a week. I don't like them frozen as they release liquid when they thaw.
To reheat, microwave 45-60 seconds. (Don't cook too long in the microwave or they get rubbery.)
Nutrition Information:
Yield:
12
Serving Size:
1
Amount Per Serving:
Calories: 169
Total Fat: 11g
Saturated Fat: 4g
Unsaturated Fat: 5g
Cholesterol: 259mg
Sodium: 603mg
Carbohydrates: 2g
Fiber: 0g
Sugar: 1g
Protein: 16g
Nutrition information is automatically calculated by the Recipe Plug-In I am using. I am not a nutritionist and cannot guarantee 100% accuracy, since many variables affect those calculations.
Low-Carb Diet / Low-Glyecmic Diet / South Beach Diet Suggestions:
The egg muffins would be a great choice for most low-carb diet plans, many of which would prefer full-fat cheese. If made with lean ham and low-fat cheese, these Ham, Cheese, and Bell Pepper Egg Muffins would be approved for any phase of the original South Beach Diet.
Find More Recipes Like This One:
Use Breakfast Recipes to find more recipes like this one. Use the Recipes by Diet Type photo index pages to find more recipes suitable for a specific eating plan. You might also like to follow Kalyn's Kitchen on Pinterest, on Facebook, on Instagram, or on YouTube to see all the good recipes I'm sharing there.
Historical Notes for this Recipe:
This recipe was first posted in 2012. The photos were updated in 2016, and the recipe was last updated with more information in 2021.
We are a participant in the Amazon Services LLC Associates Program, an affiliate advertising program designed to provide a means for us to earn fees by linking to Amazon.com and affiliated sites. As an Amazon Associate, I earn from qualifying purchases.