Green Eggs and Ham (Video)
Kids who like Dr. Seuss might enjoy this fun version of Green Eggs and Ham and this is a tasty low-carb breakfast for adults as well! You can use another green vegetable for these Scrambled Eggs with Ham and Kale if kale is not a winner at your house!
PIN Green Eggs and Ham to try it later!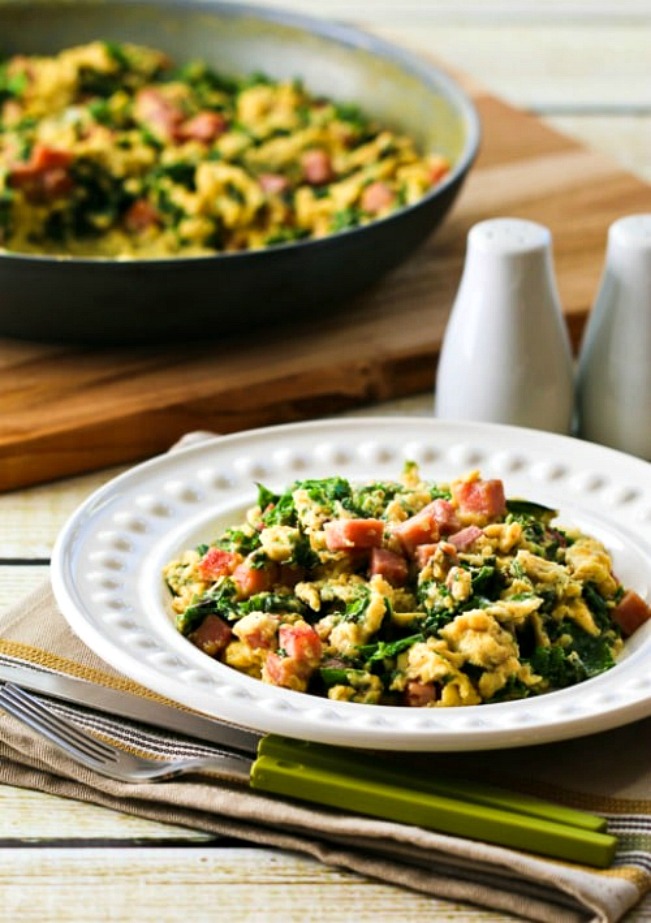 I was one of those kids who grew up with my nose in a book, and my love of reading has continued to this day. In fact, now that I am officially "retired" and working at home I schedule some time nearly every day to read for a few hours, and look forward to it as a highlight of the day!
But when I was teaching elementary school I realized all too well how some kids don't love to read, and I remember being excited when the National Education Association came up with the idea of a national celebration on Dr. Seuss' birthday, designed to celebrate on March 2 as a way to get kids to be more enthusiastic about reading. You may not have known that Read Across America was started as an NEA project, but I bet you've seen news coverage of events to promote reading happening on Dr. Seuss' birthday, and if you have kids or grandkids you might have participated in fun happenings on that day.
When I taught school we always had a week-long schedule of activities for Read Across America, and one of them included the school lunch version of Green Eggs and Ham, usually eggs dyed green with food coloring, with cubes of ham. Read Across America is on March 2, and when the idea for Green Eggs and Ham popped into my mind, I thought it would be fun to post it as an idea for that day. This was delicious; much better than those dyed-green scrambled eggs! And if you really want to celebrate, read the book to your kids while you eat it!
It took a couple of tries to get a reasonable photo of this dish of scrambled eggs with ham and kale, but the only tricky part about making it is cooking the eggs over really low heat so they're still soft and slightly creamy when you eat them. I tried this with both Jake and Kara, and we loved this combination; hope you enjoy!
What ingredients do you need for this recipe?
chopped curly kale (or another green vegetable)
ham
Olive Oil (affiliate link)
eggs
Spike Seasoning (affiliate link), or other seasoning blend that's good with eggs
salt and fresh-ground black pepper to taste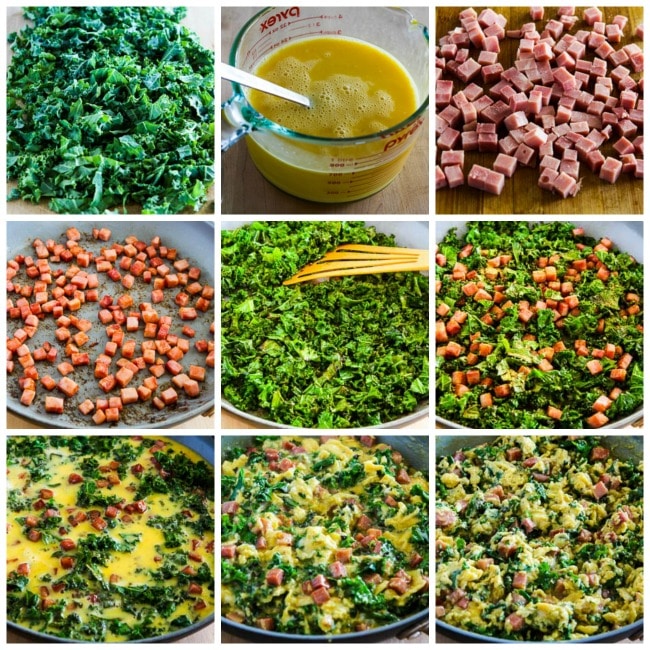 How to Make Green Eggs and Ham:
(Scroll down for complete printable recipe including nutritional information.)
Start with a bunch of curly kale. Cut the kale away from the ribs (and discard ribs), chop the kale, and give it a wash in the salad spinner if needed.
Beat 12 eggs until the whites and yolks are well-combined.
Chop up 8 ounces of ham into small cubes.
Heat a little olive oil in a good non-stick pan. I used my new favorite Green Pan (affiliate link) for this recipe.
Cook the ham until it's lightly browned.
Remove the ham, add a little more oil, then saute the kale until it's starting to wilt, then add 1/2 cup water and cook over medium-low heat until the water evaporates and the kale is soft.
Add the ham cubes to the kale and cook until the ham is heated through.
Season kale and ham with Spike Seasoning (affiliate link), salt, and fresh-ground black pepper.
Turn the stove to lowest possible heat, add the eggs, and cook while gently stirring every 30 seconds or so until the eggs are cooked to your liking, about 5-6 minutes total cooking time, or a bit longer if you like the eggs well-done. Serve hot.
And reading Green Eggs and Ham while you eat breakfast would be a fun way to celebrate!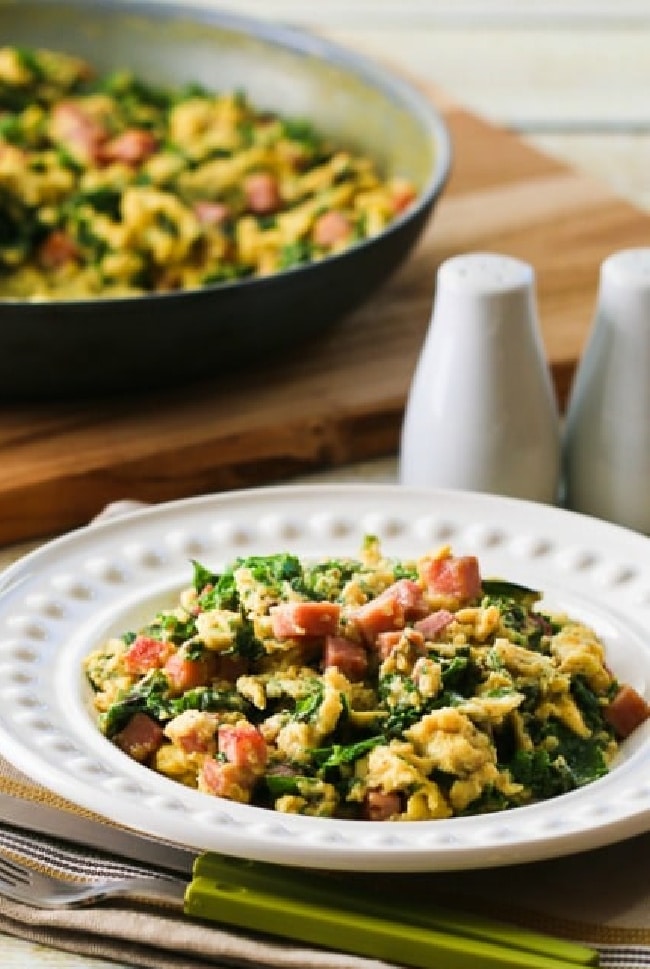 More Green Eggs and Ham Ideas: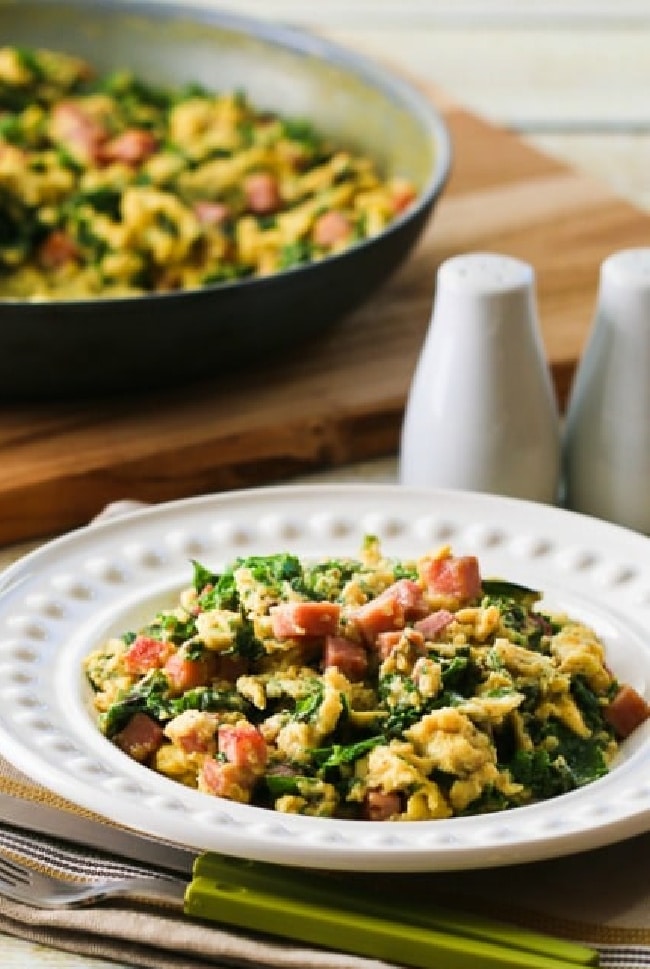 Yield: 6 servings
Green Eggs and Ham
Prep Time 15 minutes
Cook Time 16 minutes
Total Time 31 minutes
Kids who like Dr. Seuss might eat kale in this fun version of Green Eggs and Ham.
Ingredients
4 oz. finely chopped curly kale (see notes)
8 oz. ham, cut into small cubes
2 tsp. olive oil, divided (or more, depending on your pan)
12 eggs, beaten to combine well
Spike Seasoning, to taste
salt and fresh-ground black pepper to taste
Instructions
Cut away the ribs of the kale, discard ribs, and coarsely chop the kale leaves.
Most kale is a little gritty, so wash it in a salad spinner and dry well if needed.
Chop the ham into small cubes.
Heat 1 tsp. olive oil in a large non-stick pan and cook the ham over medium heat until it's starting to lightly brown.
Remove ham to a plate, add the second teaspoon of oil and let it heat, then add the chopped kale leaves all at once.
Cook the kale, turning over the whole time, until the kale is wilted down by about half.
Turn heat to medium low, add 1/2 cup of water, and cook until all the water is evaporated and the kale is soft.
Add the ham cubes back into the pan with the kale, season with Spike Seasoning (affiliate link), salt, and fresh ground black pepper to taste, and cook a minute or two until the ham is heated through.
Turn heat to the lowest possible heat (and let the pan cool off a minute if your pan seems really hot.)
Add the eggs all at once and cook, stirring gently every 30 seconds or so, until the eggs are cooked to your liking, about 5-6 minutes.
I prefer this dish when the eggs are still quite soft; remember they continue to cook and harden even when you turn off the heat.
Serve hot, with a little Green Tabasco Sauce (affiliate link) to add at the table if desired.
Notes
You could use baby kale, but it will wilt a lot more quickly and I think the texture of the larger kale leaves will work better in this dish This recipe created by Kalyn and perfected with help from Jake and Kara.
Nutrition Information:
Yield:
6
Serving Size:
1
Amount Per Serving:
Calories: 215
Total Fat: 13g
Saturated Fat: 4g
Trans Fat: 0g
Unsaturated Fat: 8g
Cholesterol: 396mg
Sodium: 676mg
Carbohydrates: 2g
Fiber: 0g
Sugar: 1g
Protein: 21g
Nutrition information is automatically calculated by the Recipe Plug-In I am using. I am not a nutritionist and cannot guarantee 100% accuracy, since many variables affect those calculations.
Low-Carb Diet / Low-Glycemic Diet / South Beach Diet Suggestions:
This Green Eggs and ham would be suitable for most Low-Carb or low-glycemic eating plans. If you're making this for the original South Beach Diet, be sure to use lean ham or turkey ham to limit the amount of saturated fat. Other low-carb plans won't care about that.
Find More Recipes Like This One:
Use Breakfast Recipes to find more recipes like this one. Use the Diet Type Index to find recipes suitable for a specific eating plan. You might also like to follow Kalyn's Kitchen on Pinterest or on Facebook to see all the good recipes I'm sharing there.
We are a participant in the Amazon Services LLC Associates Program, an affiliate advertising program designed to provide a means for us to earn fees by linking to Amazon.com and affiliated sites. As an Amazon Associate, I earn from qualifying purchases.