22 Keto Mexican Food Dinners
Everyone loves Mexican food, and here's a great collection of 22 Keto Mexican Food Dinners to help satisfy that craving for Mexican flavors! Now you can enjoy Mexican food any time of year without overloading on carbs. And most of these tasty dishes are also gluten-free!
PIN the Keto Mexican Food Dinners to try some later!
I'm a huge fan of Mexican food, and through the years I've made so many tasty low-carb dinners with Mexican flavors. And Cinco de Mayo is coming up, so it's time to plan the menu!
There's nothing I like more than a good excuse to eat Mexican food for a whole week, so for the occasion I'm updating this collection of Keto Mexican Food Dinners, and the Mexican food dinners I'm featuring here are favorites that I bet your family will like.
If you look at all the options there are 22 tasty recipes here with Mexican flavors! And I wouldn't blame you if you decide to make one these tasty Mexican food dinners right away, even before Cinco de Mayo gets here!
Are the Keto Mexican Food Dinners all gluten-free?
Most of these Mexican Food recipes are gluten-free, but a few of them use low-carb flour tortillas. You can make those with gluten-free tortillas, or some will work with lettuce wraps.
How do you get the complete recipe?
Just click or tap any recipe name to see the complete recipe on Kalyn's Kitchen. To skip directly to the complete recipe and bypass introductory information, use the JUMP TO RECIPE button at the top of the post.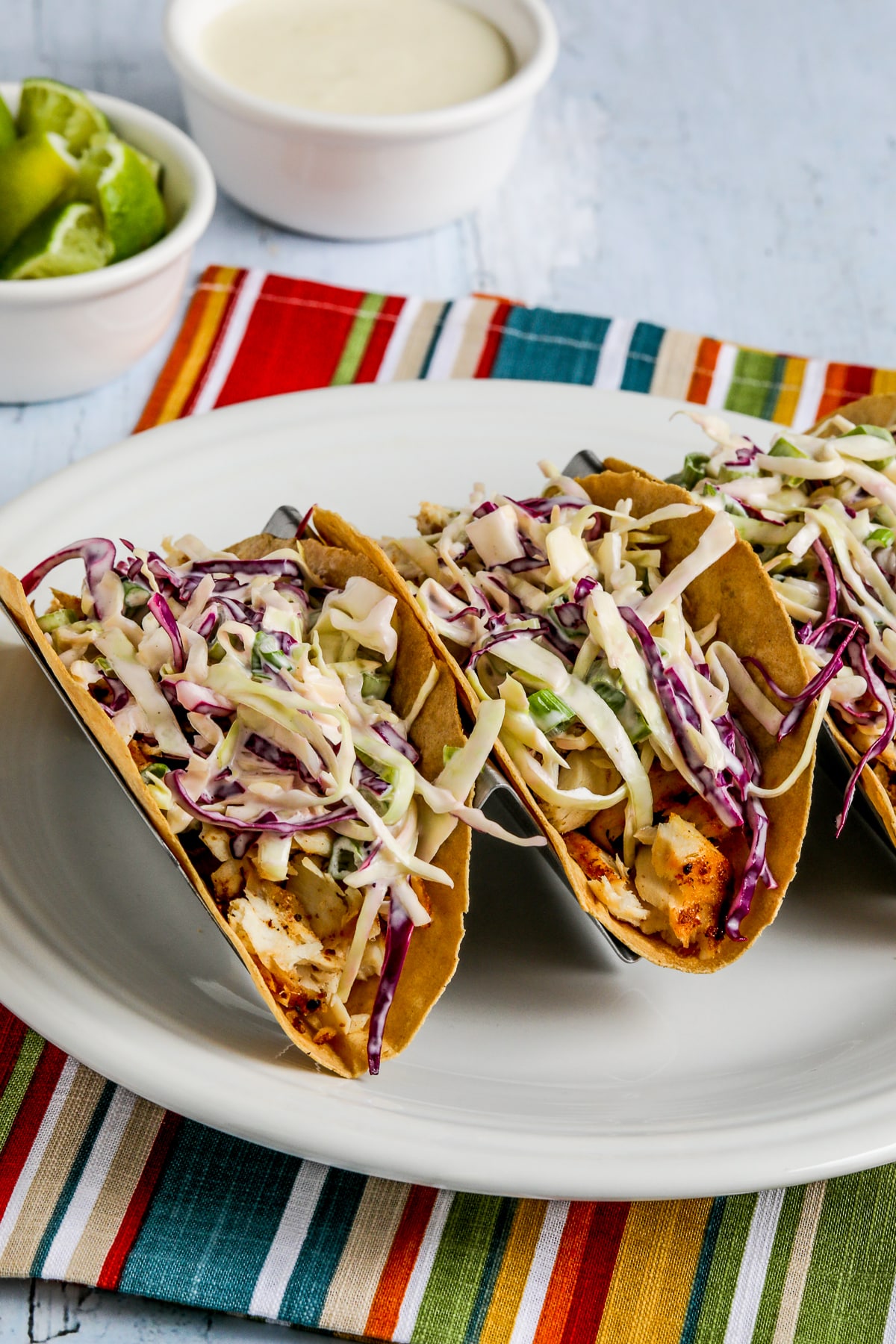 These Air Fryer Fish Tacos are served with a spicy slaw, and we loved them with extra sauce and a squeeze of lime!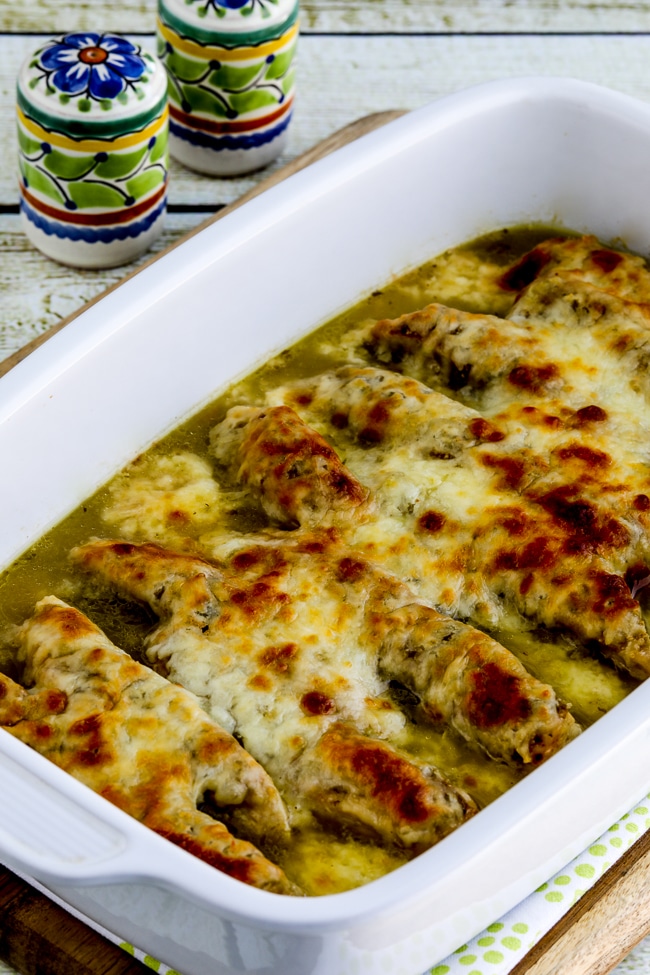 Salsa Verde Chicken Bake is one of the easiest Mexican dinners you could ever want, and this is so, so delicious! And I actually bought the fun salt and pepper shakers you see in the photo at Gorky Pottery in Mexico!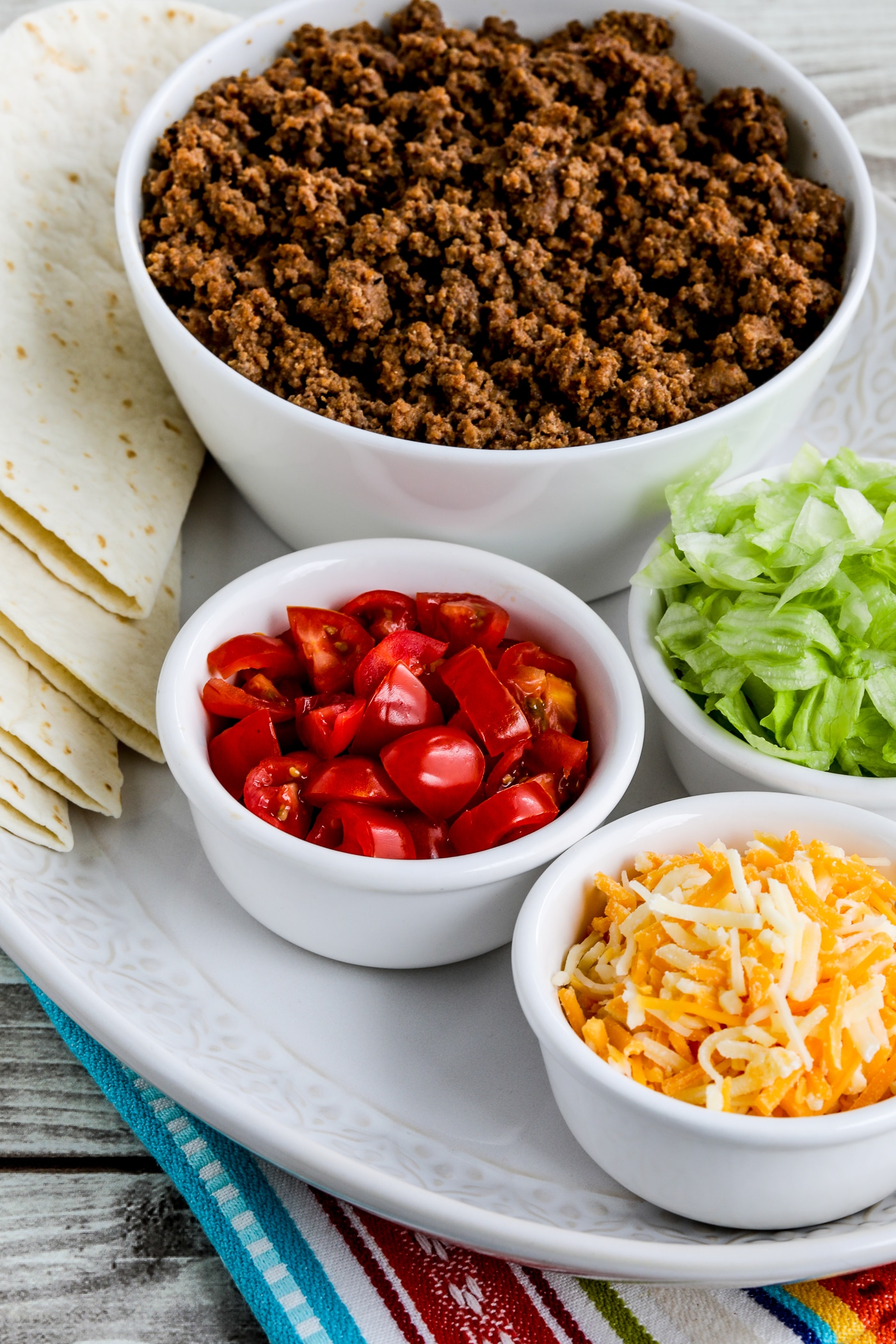 This recipe for Instant Pot Taco Meat produces flavorful and perfectly-seasoned ground beef that's so good for making into tacos! Eat your taco meat in lettuce wraps if you prefer even fewer carbs.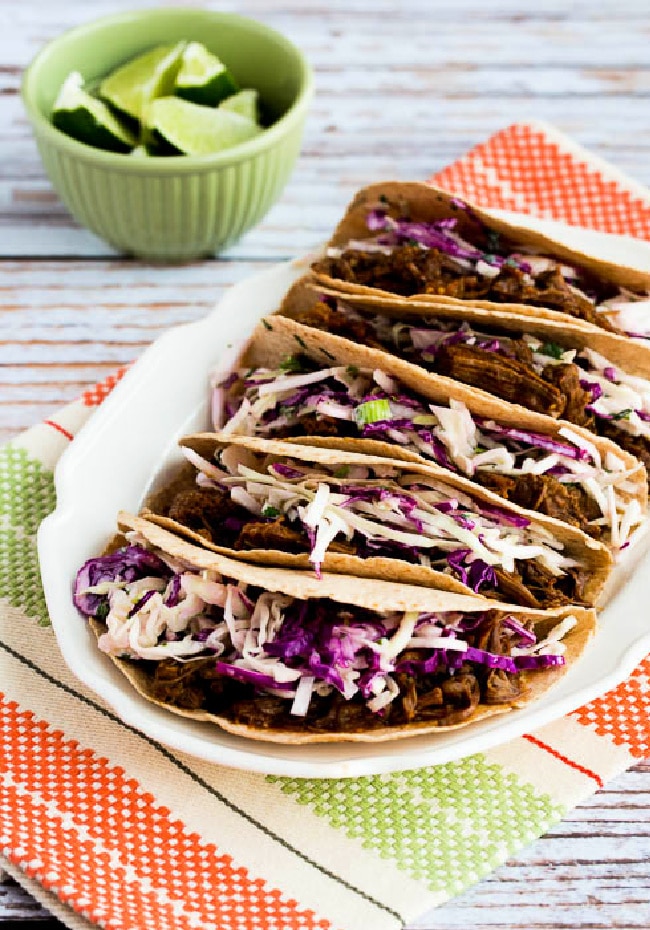 Flank Steak Tacos can be made in the Instant Pot or the slow cooker, and the tacos are delicious with Spicy Mexican Slaw.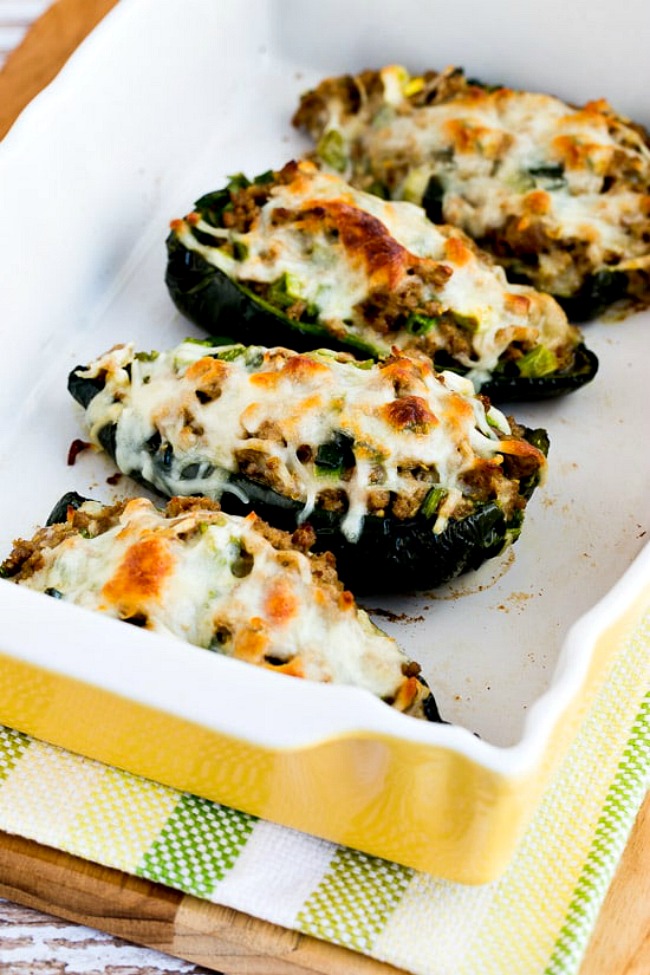 Stuffed Poblanos with Ground Turkey are an amazing dinner idea. If you like Poblano chiles, you'll love this dish!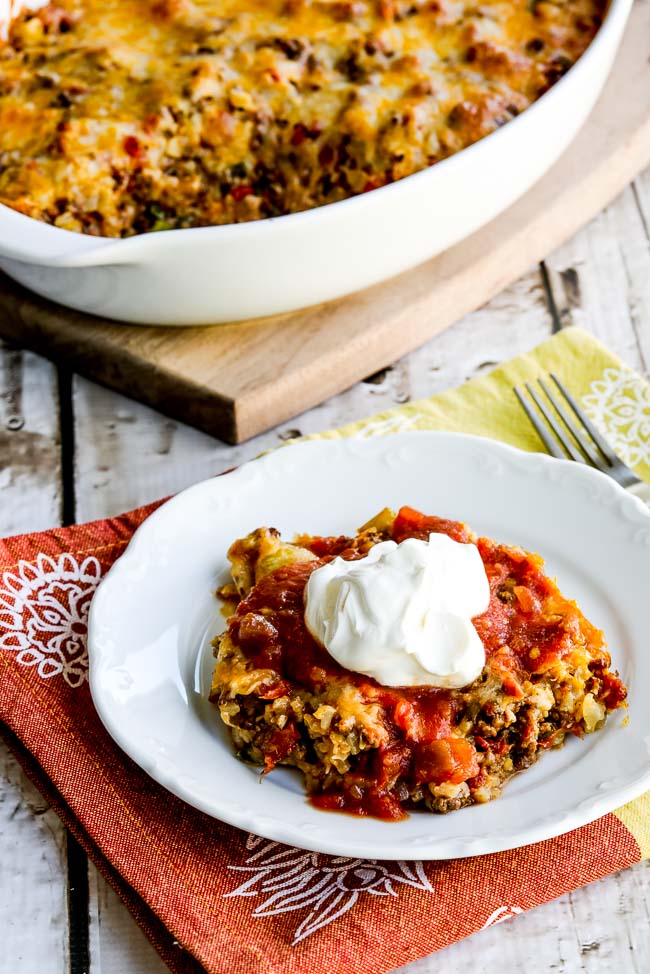 Cheesy Low-Carb Taco Casserole has been a hit on the blog and this will probably be a hit with the whole family!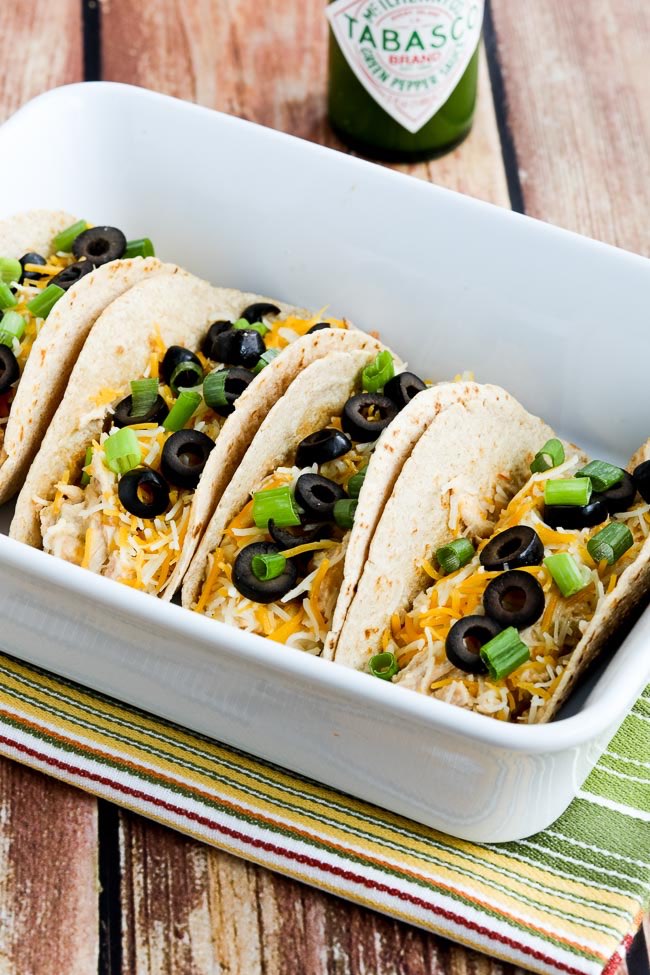 These Instant Pot Cheesy Chicken Tacos have seasoned shredded chicken, cream cheese, and cheese, for chicken tacos that you'll love!
Low-Carb Twice-Cooked Chicken with Green Chiles and Cheese has really been a hit on the blog and if you love cheesy chicken and green chiles you're going to love this!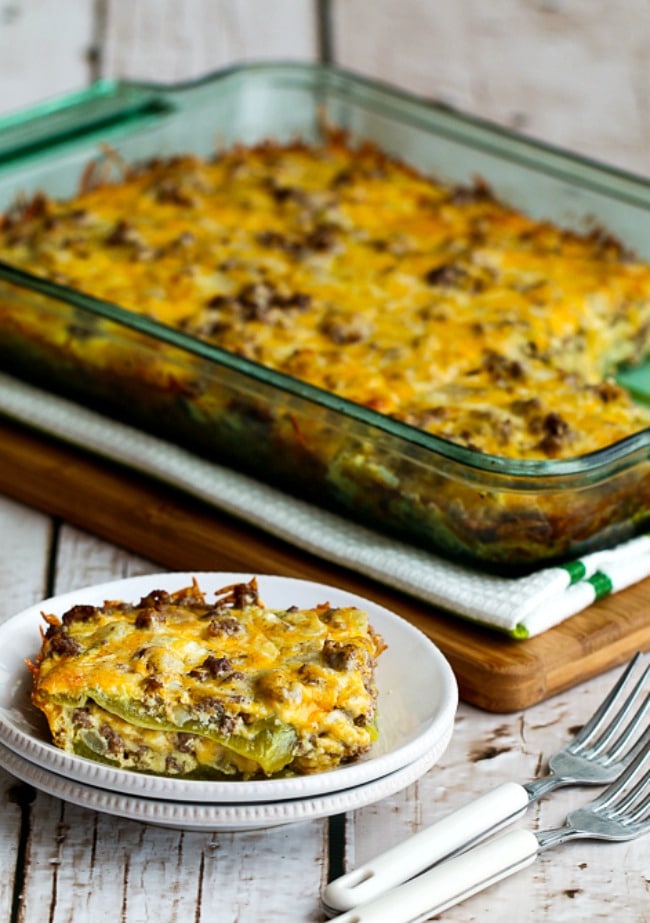 Beefy Cheesy Green Chile Bake is the perfect low-carb Mexican casserole with ground beef!
Instant Pot Salsa Pork Chops are of course a riff on my popular Salsa Chicken recipe, and this is equally a wow! And this recipe also has a slow cooker version, and here are some more fun salt and pepper shakers from Mexico!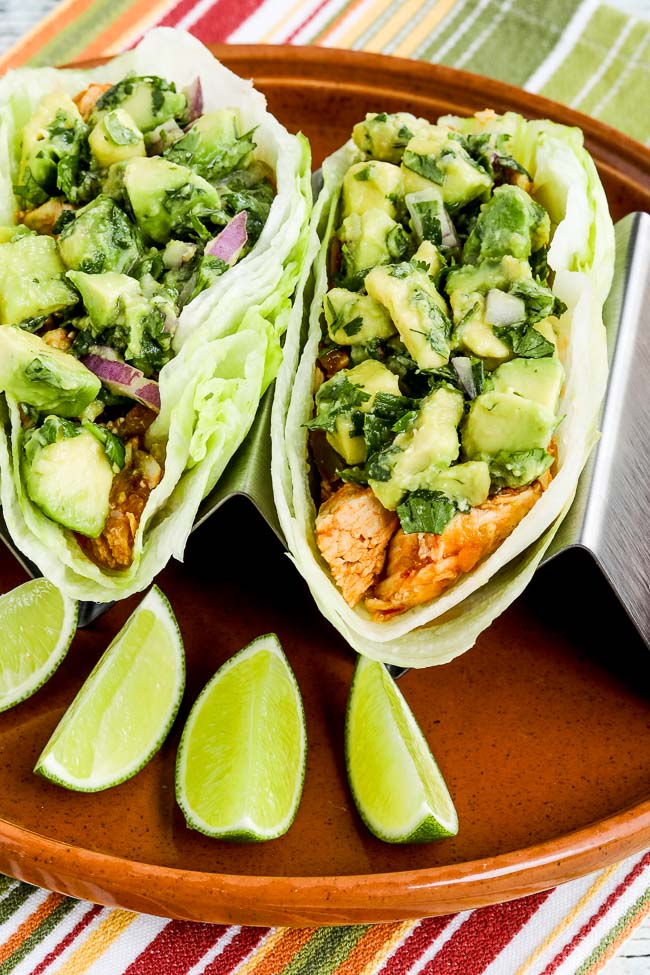 Spicy Shredded Chicken Lettuce Wrap Tacos can be made in the Instant Pot or the Slow Cooker!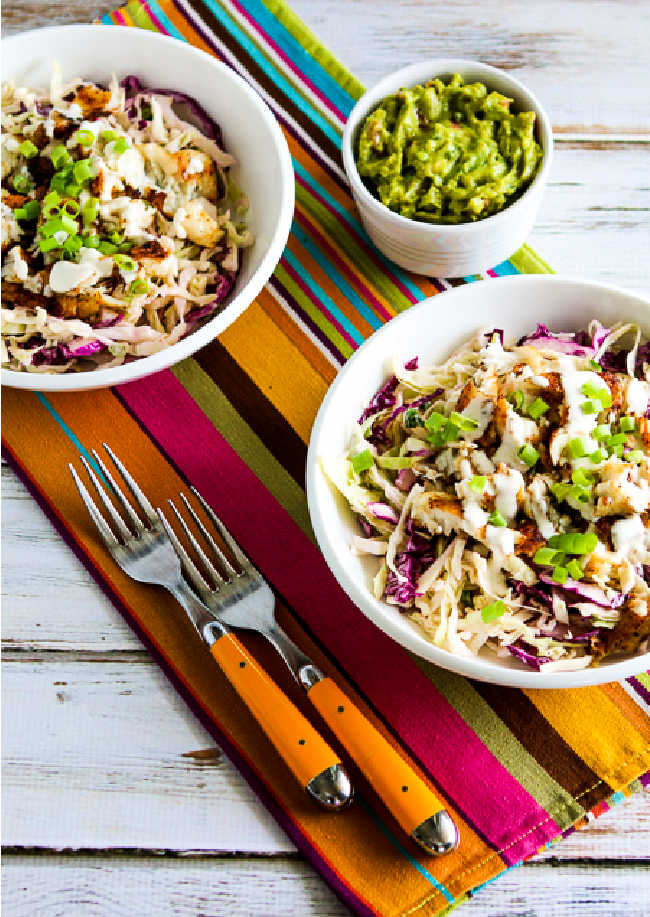 Fish Taco Cabbage Bowls have been a popular recipe on Kalyn's Kitchen for years, and if you like fish tacos you'll probably love this recipe!
More Keto Mexican Food Dinners:
We are a participant in the Amazon Services LLC Associates Program, an affiliate advertising program designed to provide a means for us to earn fees by linking to Amazon.com and affiliated sites. As an Amazon Associate, I earn from qualifying purchases.