Favorite Keto Summer Salads
These Favorite Keto Summer Salads are the summer salad recipes I make every year, and there are 30 salads here with a variety of flavors!
PIN my Favorite Keto Summer Salads to try some later!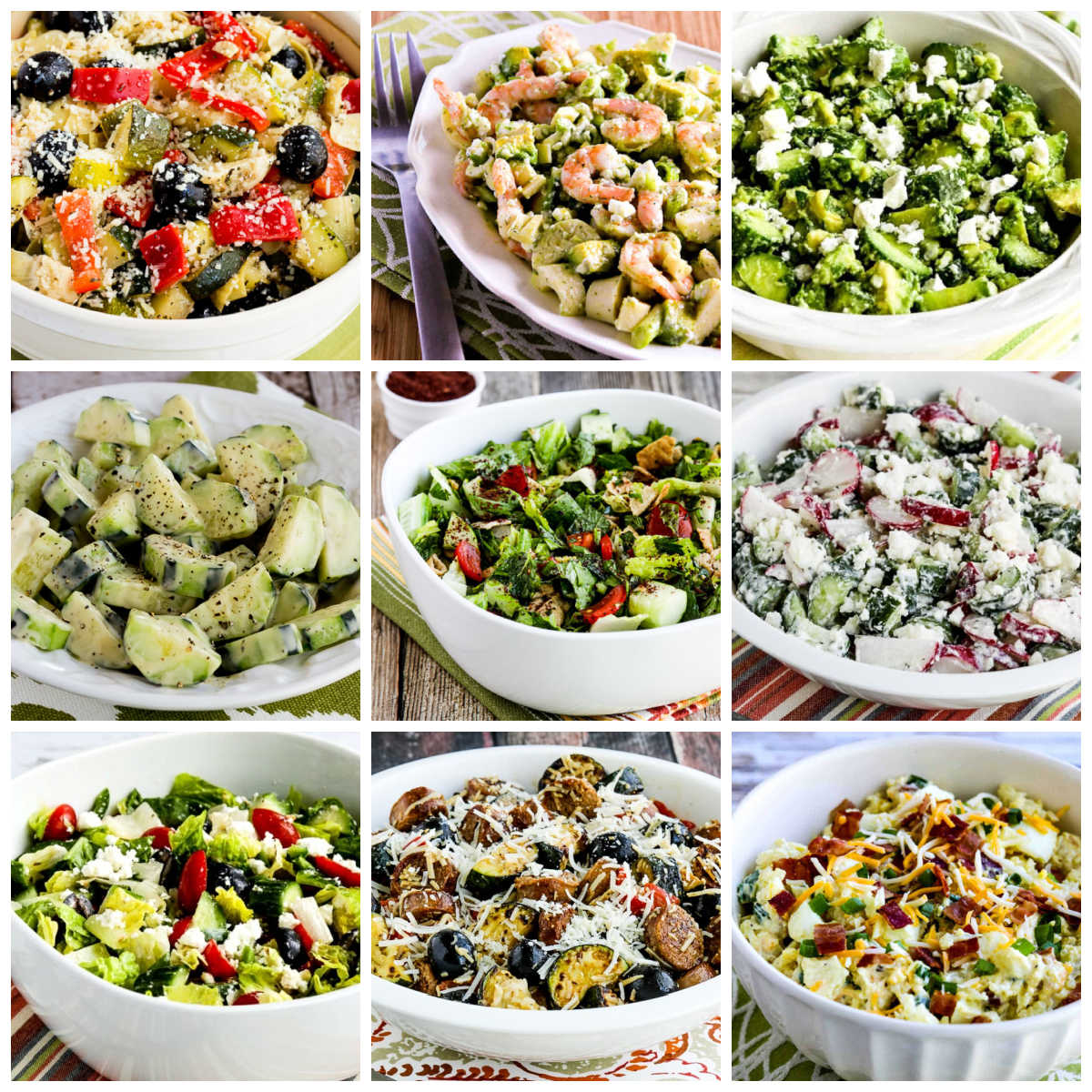 Summer is almost here and I love to celebrate the arrival of salad season every year! And these Favorite Keto Summer Salads are my most-repeated summer salads, the ones I make over and over. But I love salads, and there are so many great Salad Recipes on my site that I had a very hard time narrowing it down to only 30 salads to spotlight here!
Be sure to scroll down and investigate some of the links if you want to see all your options for amazing salads to make with summer ingredients!
What kinds of summer salads are featured here?
This salad round-up focuses on salads that use my favorite summer ingredients like cucumbers, tomatoes, zucchini, and fresh herbs. And there are also some salad that I especially love during the summer months like cold shrimp salad, egg salad, or chicken salad. There are side dish salads and main dish salads, and I hope you end up loving some of my favorite salad recipes as much as I do!
How do you get the complete recipe?
Just click or tap on any recipe title to see the complete summer salad recipe on Kalyn's Kitchen.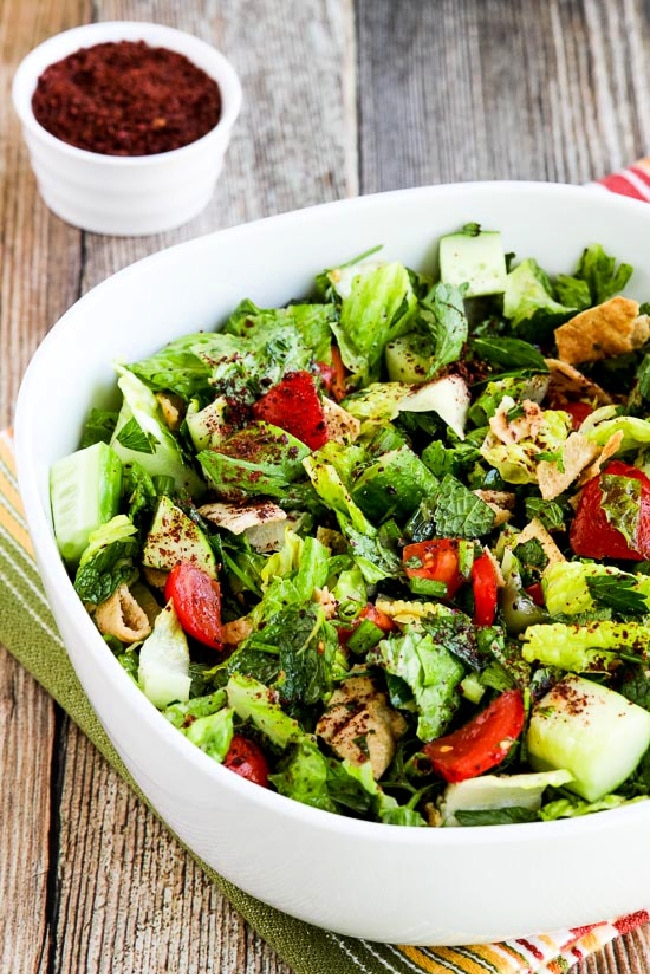 I use low-carb pita bread to make this Fattoush Lebanese Salad, and there's no doubt that when it's summer and I have fresh mint, fresh parsley, and garden tomatoes I'll be making this salad. This might even be my number one pick for summer salads! (Omit pita if you need it to be gluten-free.)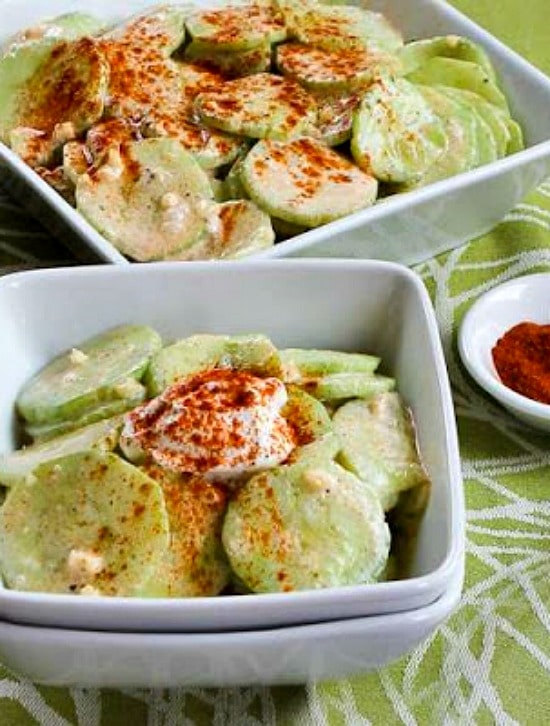 Al's Famous Hungarian Cucumber Salad (from my Hungarian friend Al) is one of the most popular low-carb summer salads on the blog, and this is not to be missed!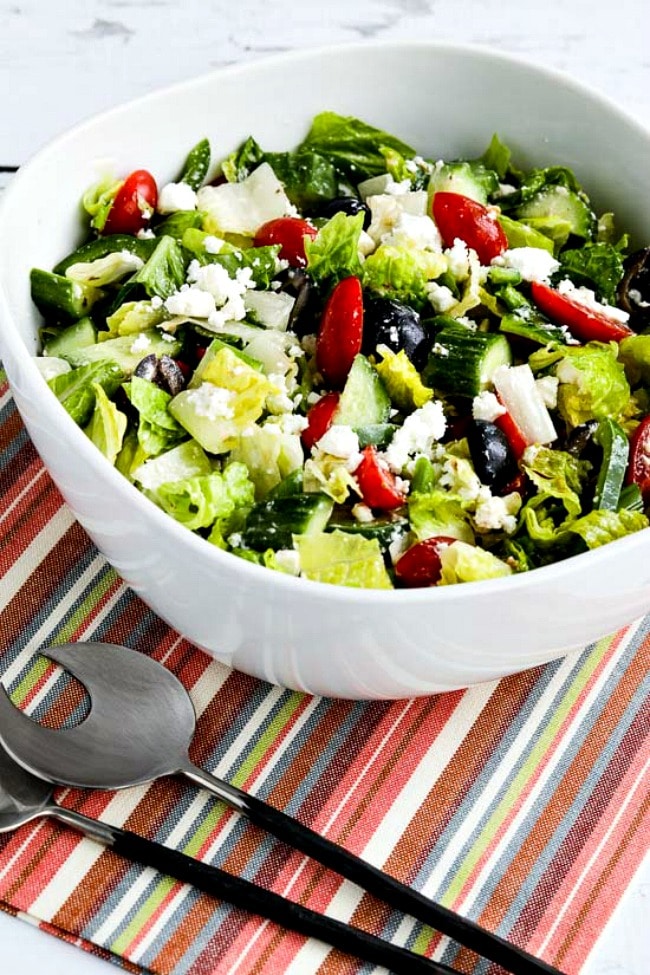 Go easy on the tomatoes for the lowest carbs if you like, but this American Greek Salad is definitely one of my long-time faves for a summer salad!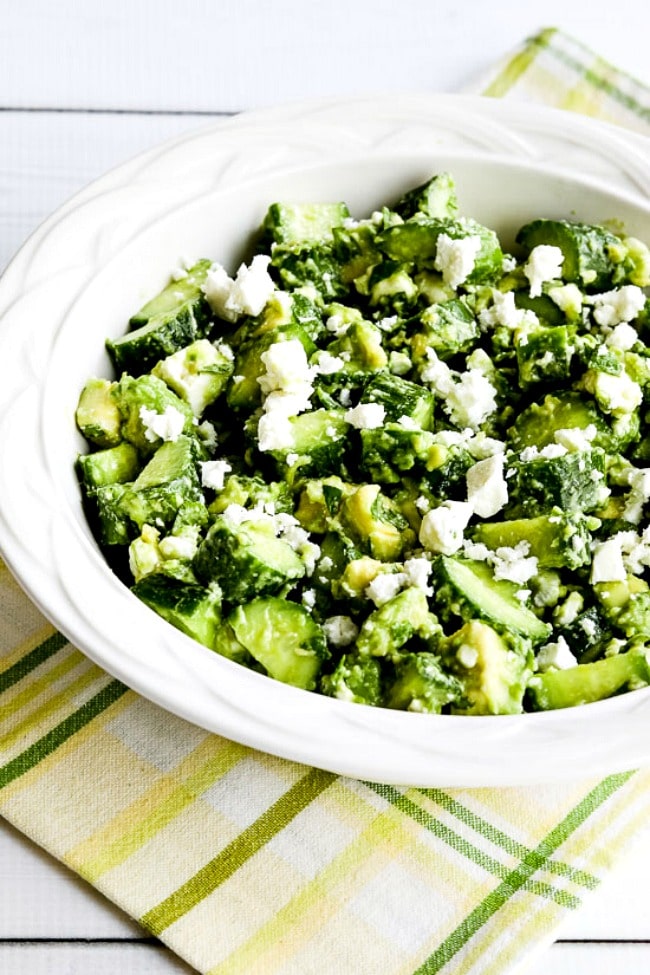 There are so many of my favorite summer flavors in this Cucumber Salad with Avocado and Feta and the salad is flavored with lime and mint!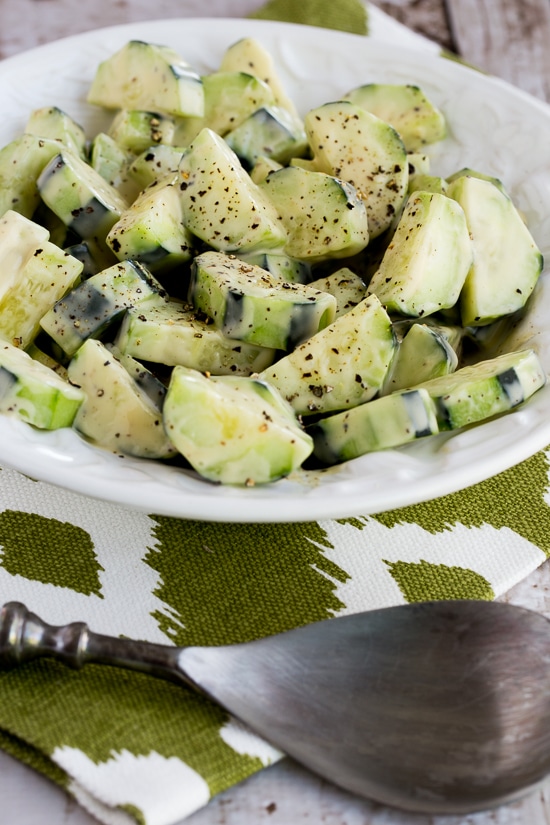 As soon as garden cucumbers show up I start making this Cucumbers Caesar, and this ridiculously easy salad only has three ingredients!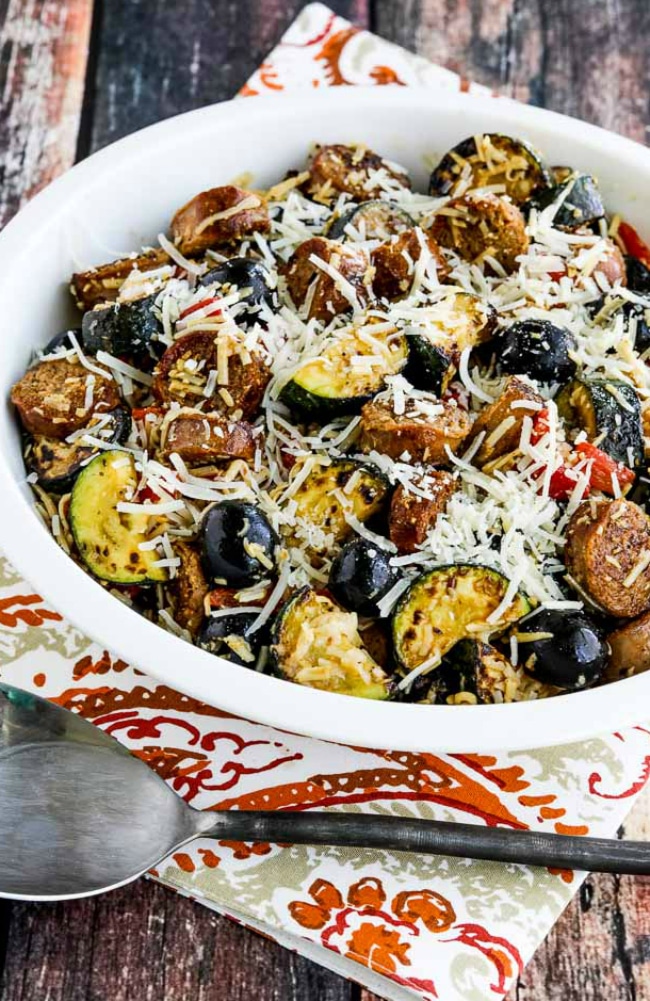 No-Pasta Salad with Zucchini and Italian Sausage has all my favorite pasta salad ingredients without the pasta!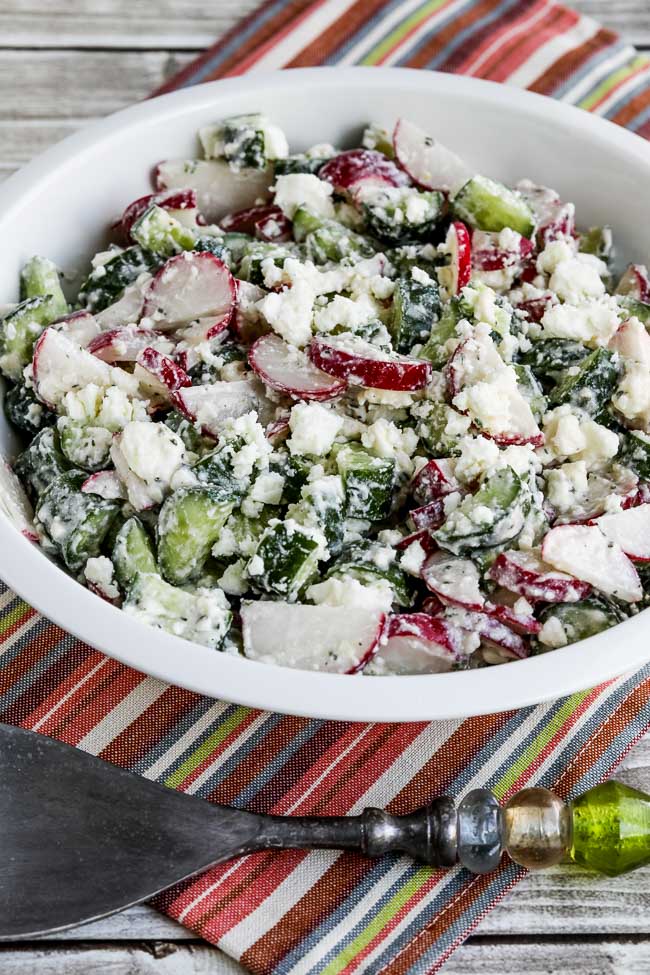 I love cucumbers and Feta cheese, so this Cucumber and Radish Salad with Feta Dressing is high on my list!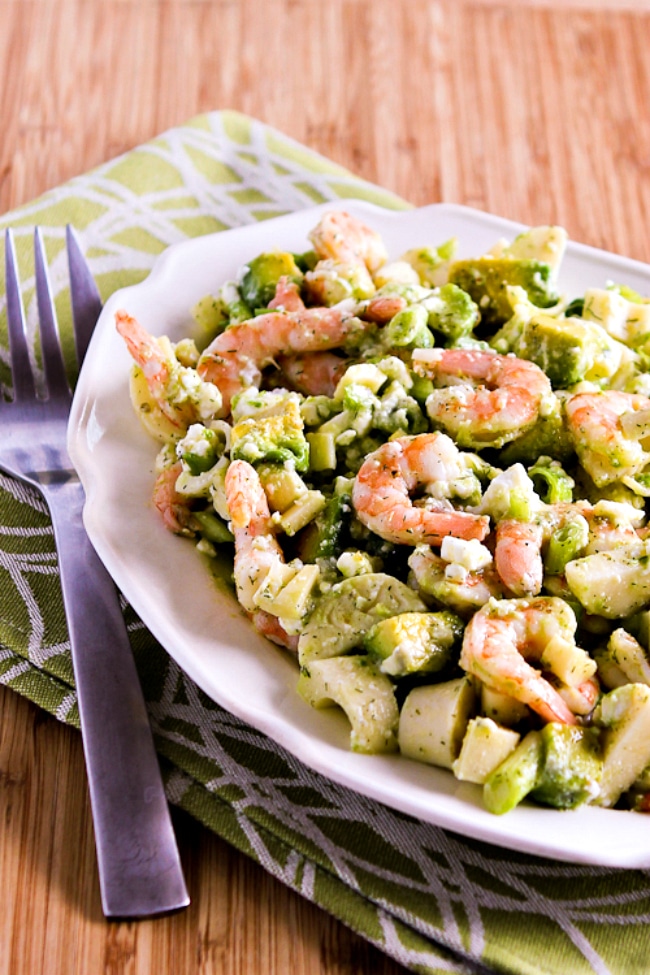 Shrimp Salad is a summer classic, and this Lemony Shrimp Salad with Avocado, Heart of Palm, and Feta is really a wow!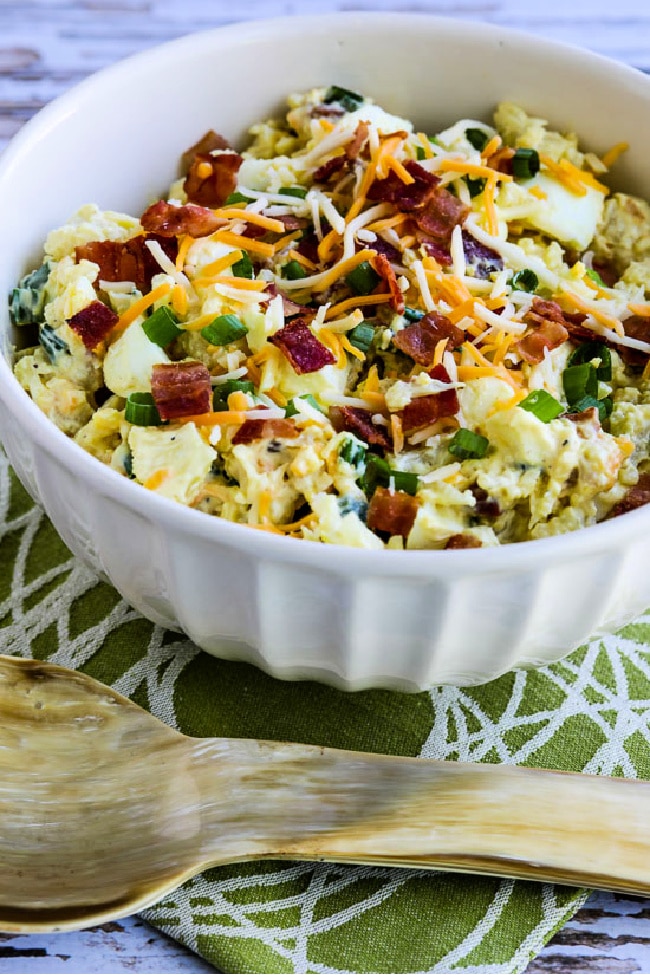 Loaded Cauliflower Potato Salad has been a huge hit on Kalyn's Kitchen, and for good reason because this salad is a hit with anyone I make it for. YUM!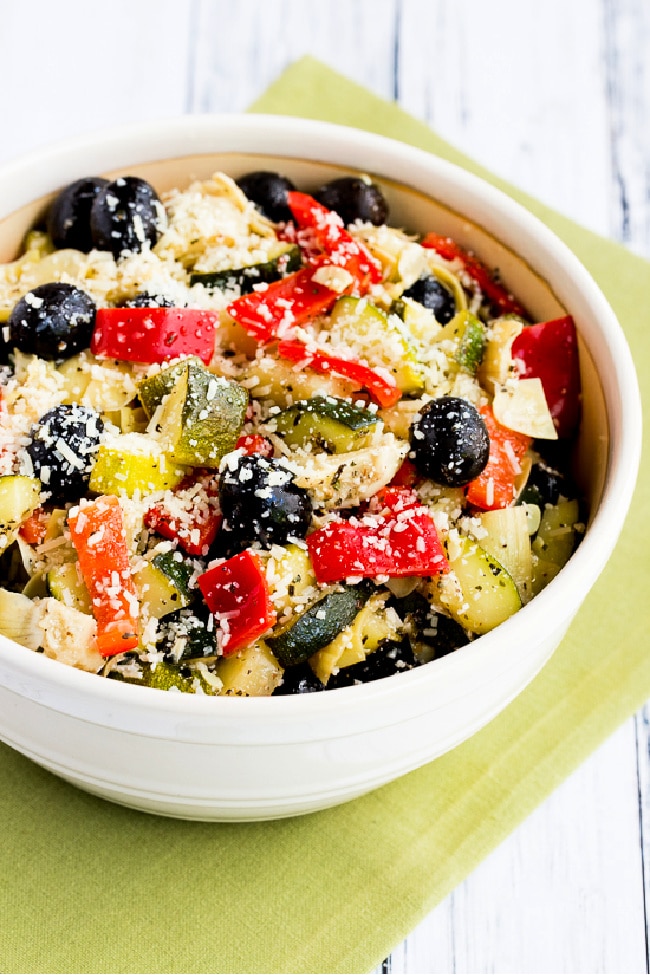 This Marinated Zucchini Salad is another one I've made often for family parties.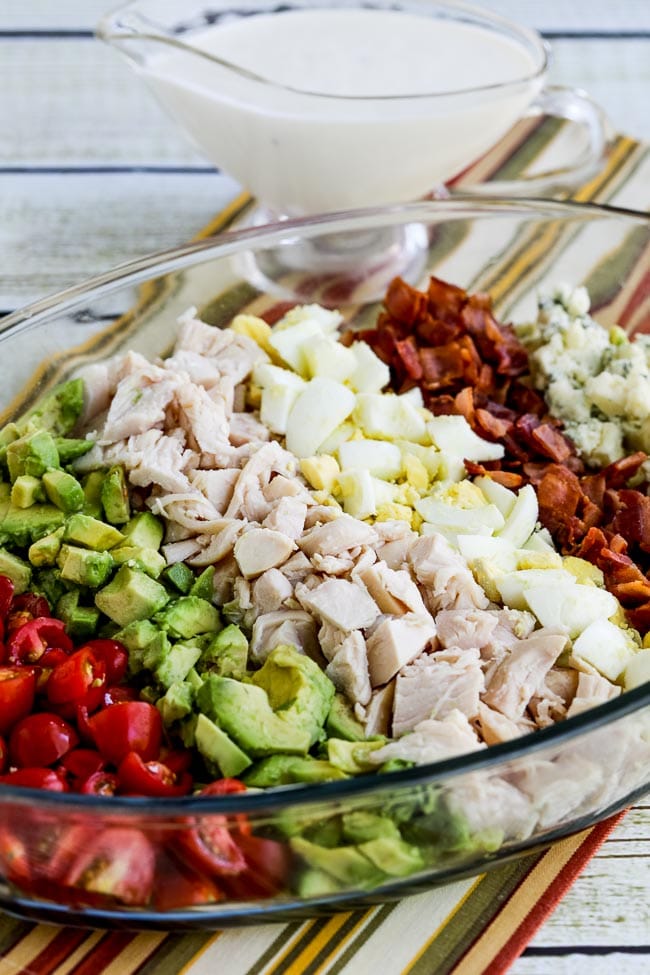 Lettuce-Free Keto Cobb Salad has all the best flavors of Cobb Salad without the lettuce. You can use less tomatoes for even fewer carbs if you prefer.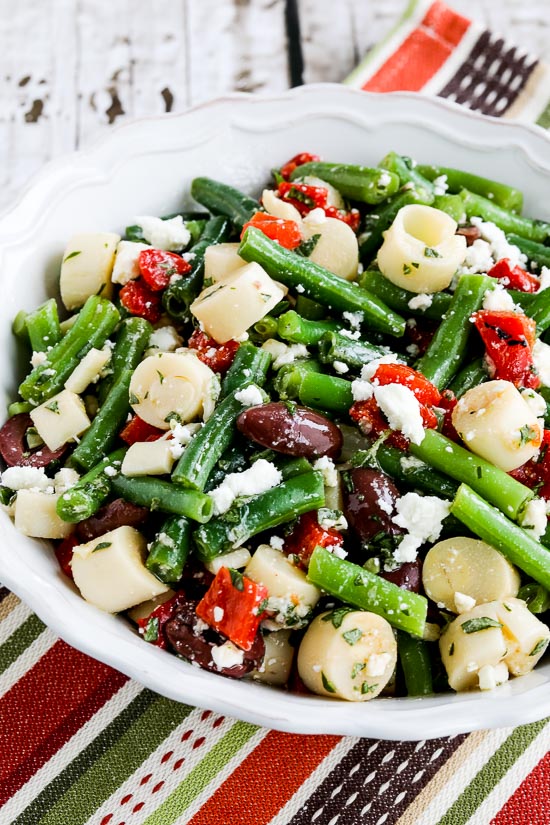 And last of all, this Green Bean Salad with Hearts of Palm is a salad that just screams summer! Grab some green beans at the Farmer's Market if you don't have a garden and make this tasty salad!
More Amazing Keto Summer Salads:
Want even more Summer Salad Ideas?
Check out Salad Recipes to see even more tasty low-carb salads!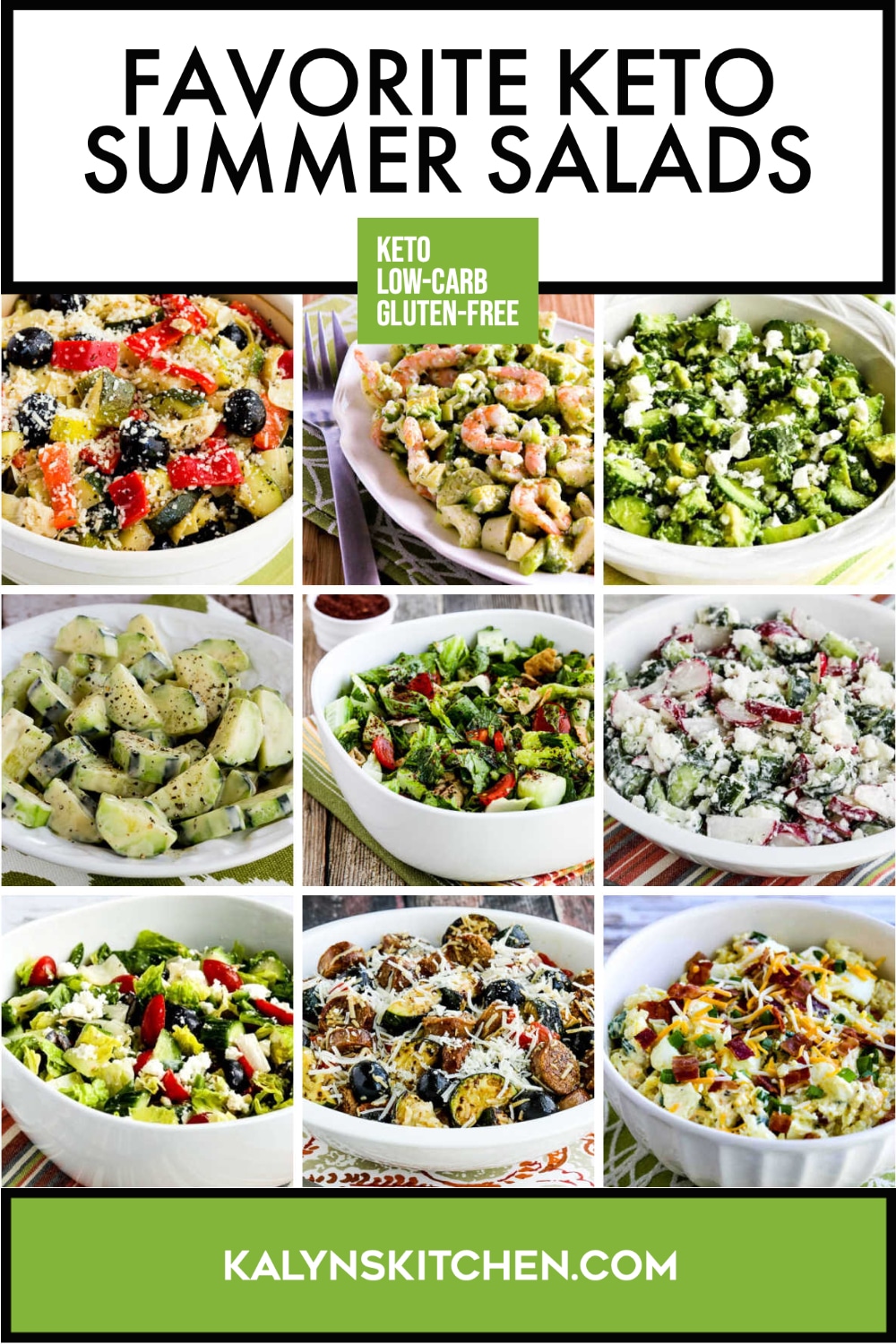 We are a participant in the Amazon Services LLC Associates Program, an affiliate advertising program designed to provide a means for us to earn fees by linking to Amazon.com and affiliated sites. As an Amazon Associate, I earn from qualifying purchases.