Cucumbers Caesar
Cucumbers Caesar is so easy to make, so low in carbs, and so delicious that once you try it you'll make this tasty salad over and over. And if you can get fresh garden cucumbers, that will make this tasty 3-ingredient salad even better!
PIN Cucumbers Caesar to try it later!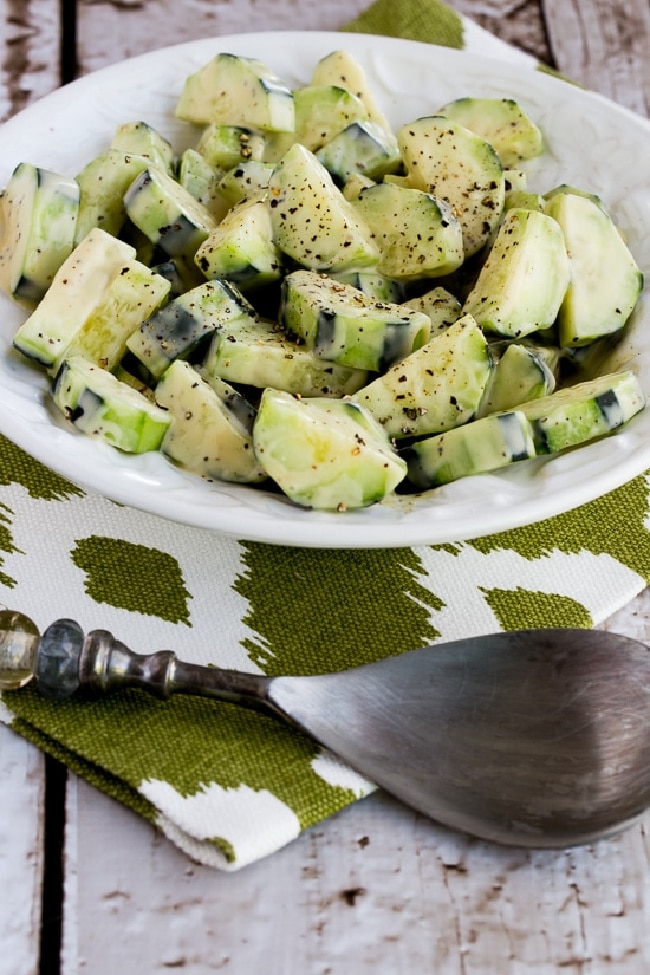 I first posted this incredibly easy and low-carb recipe for Cucumbers Caesar in the very early days of my blog, at a time when I had quite a few friends urging me to post easy recipes. That clamor for easy recipes was the reason I created the Five Ingredients or Less category, not including commonly used things like salt, pepper, olive oil etc.
That category has been popular for years with people who want easy recipes. And this is one of those recipes that's so ridiculously simple that it's almost an oxymoron to call it a recipe, but when I used to make this at Lake Powell when I was catering houseboat trips, people would go completely crazy over it.
And once you try the recipe I bet you'll make it all year long for parties, picnics, and even camping trips. And if you can find fresh garden cucumbers to make this salad, it will only be better.
What ingredients do you need for this recipe?
(This is only a list of ingredients; please scroll down for complete printable recipe. Or if you use the JUMP TO RECIPE link at the top of the page, it will take you directly to the complete recipe.)
cucumbers, preferably garden-fresh
Caesar Dressing, see below
fresh ground pepper to taste
What Caesar Dressing do I use for Cucumbers Caesar?
For years I wouldn't use anything but Cardini's Caesar for this recipe. The in one of those unexplained corporate decisions, Cardini's changed the recipe so it was so vinegary and less creamy, and I didn't like it so much any more. Now I use Newman's Own Creamy Caesar Salad Dressing (affiliate link) or Yo Mama's Caesar Dressing (affiliate link) both of which are very low in carbs and taste creamy like Cardini's used to before they messed with it. But any Caesar Dressing that you like will be amazing on this.
What kind of cucumbers are best for this salad?
Of course fresh garden cucumbers are best for any salad with cucumber. But when you don't have those, I would prefer either the "European" cucumbers that come wrapped in plastic, or the small mini cucumbers. Regular grocery store cucumbers are often sold with a wax on the skin and they don't have as good of flavor.
Want to see a whole collection of tasty cucumber salads?
You can use 30 Low-Carb Cucumber Salads to see more of my many favorite salads with cucumbers!
How to make Cucumbers Caesar:
(This is only a summary of the steps for the recipe; please scroll down for complete printable recipe. Or if you use the JUMP TO RECIPE link at the top of the page, it will take you directly to the complete recipe.)
If you have fresh garden cucumbers there's no need to peel them but I always peel off strips if I'm using cucumbers from the store.
Cut the cucumbers in half lengthwise and then into slices.
Toss with desired amount of your favorite Caesar Dressing, and season generously with fresh-ground black pepper.
That's it!
The salad is best served right away, but even when it's been in the fridge overnight this is seriously good, especially if you're a cucumber fan.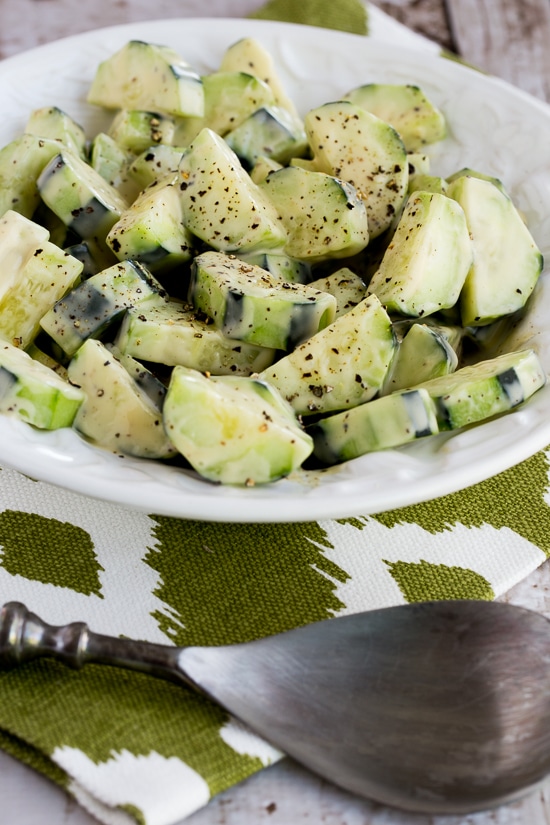 Make it a Low-Carb Meal Meal:
For a low-carb meal that's also really easy, this would be delicious with Completely Foolproof 100% Delicious Grilled Chicken and Easy Grilled Mushrooms.
More Extra Easy Salads with Cucumbers: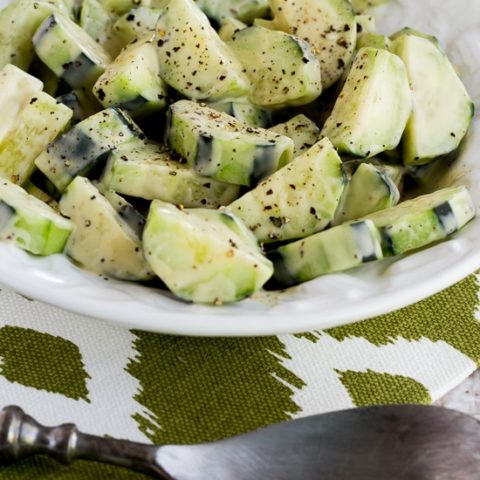 Yield: 2 servings
Cucumbers Caesar
Prep Time 10 minutes
Total Time 10 minutes
Cucumbers Caesar are so easy, delicious, and low in carbs that once you try them you'll make this tasty salad all summer long.
Ingredients
2 medium cucumbers, preferably garden-fresh
3 T Caesar Dressing (see notes)
fresh ground pepper to taste
Instructions
If you have garden-fresh cucumbers there is no need to peel.
For store-bought cucumbers, peel thin stripes from the cucumbers, and cut in half lengthwise, and then cut into slices about 1/2 inch thick.
Put cucumbers in serving bowl and dress liberally with Caesar Dressing.
Grind black pepper over and serve.
Nutrition Information:
Yield:
2
Serving Size:
1
Amount Per Serving:
Calories: 153
Total Fat: 13g
Saturated Fat: 2g
Unsaturated Fat: 10g
Cholesterol: 9mg
Sodium: 271mg
Carbohydrates: 4g
Fiber: 1g
Sugar: 4g
Protein: 2g
Nutrition information is automatically calculated by the Recipe Plug-In I am using. I am not a nutritionist and cannot guarantee 100% accuracy, since many variables affect those calculations.
Low-Carb Diet / Low-Glycemic Diet / South Beach Diet Suggestions:
Cucumbers Caesar is a great recipe for any low-carb or low-glycemic diet plan, including Keto, and it would also be great for any phase of the original South Beach Diet.
Find More Recipes Like This One:
Use Salad Recipes to find more recipes like this one. Use the Diet Type Index to find more recipes suitable for a specific eating plan. You might also like to follow Kalyn's Kitchen on Pinterest, on Facebook, on Instagram, or on YouTube to see all the good recipes I'm sharing there.
Historical Notes for this Recipe:
This super simple recipe has been a hit on my blog since 2006! The recipe was last updated with more information in 2023.
We are a participant in the Amazon Services LLC Associates Program, an affiliate advertising program designed to provide a means for us to earn fees by linking to Amazon.com and affiliated sites. As an Amazon Associate, I earn from qualifying purchases.