Thai Cabbage Slaw
Even if you have to buy the mint, this Thai Cabbage Slaw is worth the splurge if you're a fan of mint and cabbage and like Thai flavors! And this salad can be vegan if you use Vegetarian Fish Sauce!
PIN Thai Cabbage Slaw to make it later!
Mint is something I have in abundance in the summer, and it's so prolific that I'm glad I have a garden bed divided into thirds so the mint is contained. Maybe it's because I have so much free mint in the summer, but I have a hard time buying mint at the grocery store, and I saved this recipe for Thai Cabbage Slaw months ago, thinking I would try it in the summer when I had mint begging to be used. Then every time I looked through recipes I had saved, this one was calling to me, until finally I paid a ridiculous price for mint at the grocery store and tried the recipe.
When I'm trying to eat low carb even more than usual, cabbage salads are one of my favorite things to keep on hand. Maybe it's my personal variation of the cabbage soup diet, but I can eat raw cabbage over and over without getting tired of it. If you're looking for low-carb recipes that won't make you feel deprived, I highly recommend this salad, and look after the recipe for some of my other salad favorites.
This was another of those recipes where Jake and I were absolutely raving the entire time we devoured four servings of this (and we had eaten lunch about 30 minutes earlier!) If you like Thai flavors, I'm guessing this salad might become one of your year-round favorites, even if you have to remember to buy mint!
How to Make Thai Cabbage Slaw:
(Scroll down for complete recipe with nutritional information.)
The dressing for this salad has just lime juice, fish sauce or Vegetarian Fish Sauce (affiliate link), Golden Monkfruit Sweetener (affiliate link) or sweetener of your choice, and red chile flakes.
You can use either color of finely-sliced cabbage, but we made a mix with more red than green, which made the salad pretty.
Toss the red and green cabbage together with the dressing. Then let it sit for 10-15 minutes, or at least as long as it takes you to chop the other ingredients.
While the salad marinates prepare the chopped mint, chopped cilantro, and thinly-sliced green onions.
We increased the amount of peanuts, which didn't seem too extravagant, since the rest of the salad was so low in calories.
After the cabbage has marinated for 10-15 minutes, stir in the green onion, chopped mint, chopped cilantro, and most of the peanuts, saving a few peanuts to sprinkle on each serving.
Serve right away and enjoy!
More Low-Carb Cabbage Salads Kalyn is Crazy About:
Spicy Lime Coleslaw
Low-Carb Spicy Cilantro-Peanut Slaw
Low-Carb Spicy Mexican Slaw with Lime and Cilantro
Napa Cabbage and Red Cabbage Salad with Fresh Herbs and Peanuts
Puerto Rican Spicy Cabbage Salad
Cabbage Salads from Other Blogs:
Ottolenghi's Cabbage and Kohlrabi Salad from The Taste Space
Coleslaw with Wasabi Dressing from David Lebovitz
Asian Cabbage Salad from Andrea Meyers
Red Cabbage Salad with Walnuts, Raisins, Feta, and Warm Mustard Dressing from The Perfect Pantry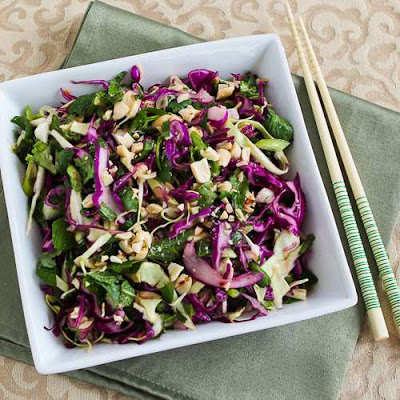 Yield: 4 servings
Thai Cabbage Slaw
Prep Time 15 minutes
Total Time 15 minutes
Even in the winter when you have to buy the mint, this Thai Cabbage Slaw is worth the splurge!
Ingredients
4 cups thinly sliced and chopped cabbage (see notes)
1/4 cup thinly sliced green onions
1/2 cup chopped mint leaves
1/2 cup chopped cilantro
1/3 cup chopped salted peanuts (or more)
Dressing Ingredients:
1 1/2 T lime juice
1 T fish sauce (see notes)
2 tsp. Golden Monkfruit Sweetener (see notes)
1/2 tsp. dried red chile flakes (more or less to taste)
Instructions
Stir together the lime juice, fish sauce (affiliate link), sweetener of your choice, and red chili flakes to make the dressing. (You might start with the smaller amount of chile flakes and taste on your finger to see if you want more heat.)
Thinly slice and chop enough red and green cabbage to make 4 cups of sliced cabbage.
Put the cabbage in medium-sized bowl and toss with the dressing.
Let the cabbage marinate while you prepare the other ingredients.
Slice the green onions. Wash and spin dry the mint leaves and cilantro, using a salad spinner or drying with paper towels, then chop enough to make 1/2 cup each chopped mint and cilantro. Coarsely chop peanuts with a chef's knife.
Add the green onion, chopped mint, chopped cilantro, and most of the peanuts to the cabbage and toss to combine.
Serve right away, sprinkling a few peanuts on each serving of salad.
Notes
Use a mix of red and green cabbage if you have it. We used more red than green, which made a pretty salad. I love Golden Monkfruit Sweetener (affiliate link) but use any sweetener of your choice. You can use fish sauce (affiliate link) or Vegetarian Fish Sauce (affiliate link).
We ate this all so I didn't get to see how it would keep in the fridge, but I am guessing it would be best freshly made.
This recipe was slightly adapted from Thai-Style Cabbage Slaw in Sunset Magazine Easy Party Food.  (I could not find the recipe online.)
Nutrition Information:
Yield:
4
Serving Size:
1
Amount Per Serving:
Calories: 113
Total Fat: 6g
Saturated Fat: 1g
Trans Fat: 0g
Unsaturated Fat: 4g
Cholesterol: 0mg
Sodium: 418mg
Carbohydrates: 12g
Fiber: 4g
Sugar: 5g
Protein: 5g
Nutrition information is automatically calculated by the Recipe Plug-In I am using. I am not a nutritionist and cannot guarantee 100% accuracy, since many variables affect those calculations.
Low-Carb Diet / Low-Glycemic Diet / South Beach Diet Suggestions:
Cabbage is a wonderful low-glycemic ingredient, and as long as you use an approved sweetener, everything in this salad is approved for any phase of the original South Beach Diet and other low-carb diet plans.
Find More Recipes Like This One:
Use Salad Recipes to find more slaw recipes like this one! Use the Recipes by Diet Type photo index pages to find more recipes suitable for a specific eating plan. You might also like to Follow Kalyn's Kitchen on Pinterest to see all the good recipes I'm sharing there.
We are a participant in the Amazon Services LLC Associates Program, an affiliate advertising program designed to provide a means for us to earn fees by linking to Amazon.com and affiliated sites. As an Amazon Associate, I earn from qualifying purchases.