Blue Cheese Coleslaw (Video)
Easy and delicious Blue Cheese Coleslaw uses commercial blue cheese dressing and buttermilk to make the dressing for this low-carb coleslaw. Add some crumbled blue cheese or Gorgonzola to the coleslaw if you'd like even more blue cheese flavor!
PIN Blue Cheese Coleslaw to try it later!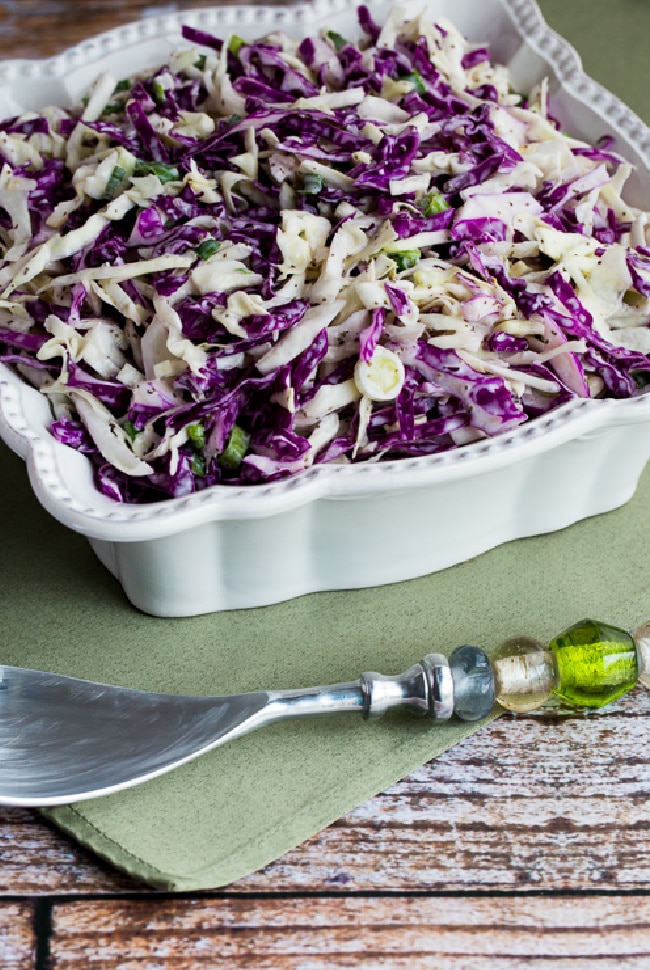 I'm always featuring cabbage recipes during March when cabbage is on sale, so I thought it would be a good time to remind you about this amazing (and ridiculously easy) Blue Cheese Coleslaw. This tasty coleslaw has a dressing made from my favorite Litehouse Blue Cheese Dressing thinned with buttermilk. And this tasty coleslaw with blue cheese flavors has turned into one of my favorite cabbage salads (on a blog that's loaded with cabbage salad favorites!)
The buttermilk adds a few carbs but you're not using a huge amount of it, and cabbage is a vegetable that's fairly low in carbs and loaded with fiber. And I'm pretty crazy over this Blue Cheese Coleslaw even when I don't have any blue cheese crumbles to mix into the salad, but if you have crumbled blue cheese, that does take it completely over the top. I could happily eat this for lunch most any time of year.
What ingredients do you need for this recipe?
(This is only a list of ingredients; please scroll down for complete printable recipe. Or if you use the JUMP TO RECIPE link at the top of the page, it will take you directly to the complete recipe.)
Litehouse Original Blue Cheese Dressing (or your favorite low-carb blue cheese dressing)
buttermilk
green cabbage
red cabbage
green onion
Celery Seed (affiliate link)
salt and fresh-ground black pepper to taste
crumbled blue cheese (optional)
Can you make Blue Cheese Coleslaw with coleslaw mix in a bag?
You can absolutely make this salad with purchased coleslaw mix that's already chopped if you're not concerned about a few extra carbs from the carrots.
Can you use another dressing for this Blue Cheese Coleslaw recipe?
I love the purchased low-carb blue cheese salad dressing that's the base of the dressing for this salad, and in case you can't tell I am fond of that dressing partly because it's so low in carbs! You can definitely use a different brand of blue cheese, but be sure to check the label if you're watching carbs and don't find the brand I used.
How long will Blue Cheese Coleslaw keep in the fridge?
The coleslaw will keep in the fridge for a day or two for sure. But the cabbage does get softer when it's been refrigerated, so I like to keep the shredded cabbage mixture in a plastic container in the fridge and mix in the dressing right before I eat it. And be prepared that the red cabbage with color the mixture making it kind of pink if you store it too long.
Want more tasty low-carb salads with cabbage?
Check out Low-Carb and Keto Cabbage Salads if you're a big cabbage salad fan like I am!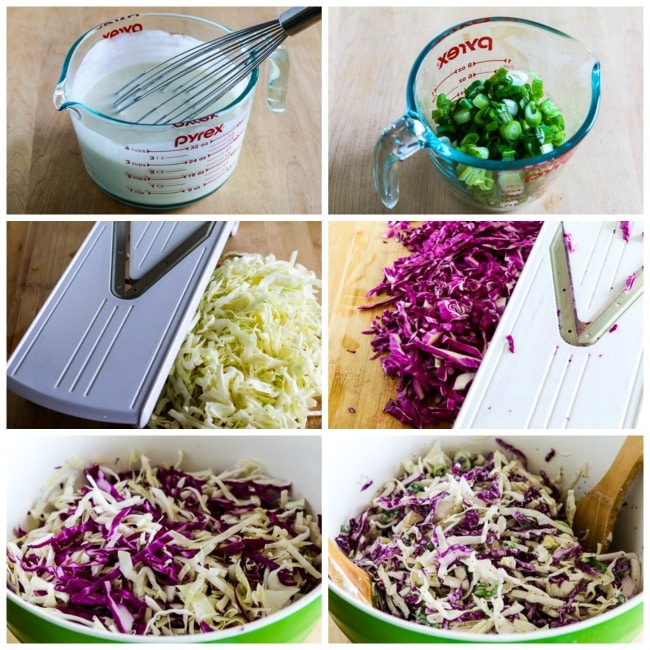 How to Make Blue Cheese Coleslaw:
(This is only a summary of the steps for the recipe; please scroll down for complete printable recipe. Or if you use the JUMP TO RECIPE link at the top of the page, it will take you directly to the complete recipe.)
Mix together your favorite thick blue cheese dressing and some buttermilk to make the dressing. I use about 3 parts dressing to one part buttermilk, but you might want to adjust that if you use a different brand of dressing.
Slice a generous amount of green onion.
I use my Mandoline Slicer (affiliate link) to cut the cabbage, but you can also use a knife. I slice it thin with the mandoline and then chop the slices into shorter lengths.
Mix the red cabbage, green cabbage, green onion, and Celery Seed (affiliate link), and then stir in the dressing. (If you're not eating it all at once, only mix dressing in the amount you'll be eating.)
And if you're really a blue cheese fan, go ahead and mix about 1/4 cup crumbled blue cheese into the salad.
I promise this will be a hit with anyone who likes cabbage and blue cheese. And you don't have to tell them how ridiculously easy it is to make!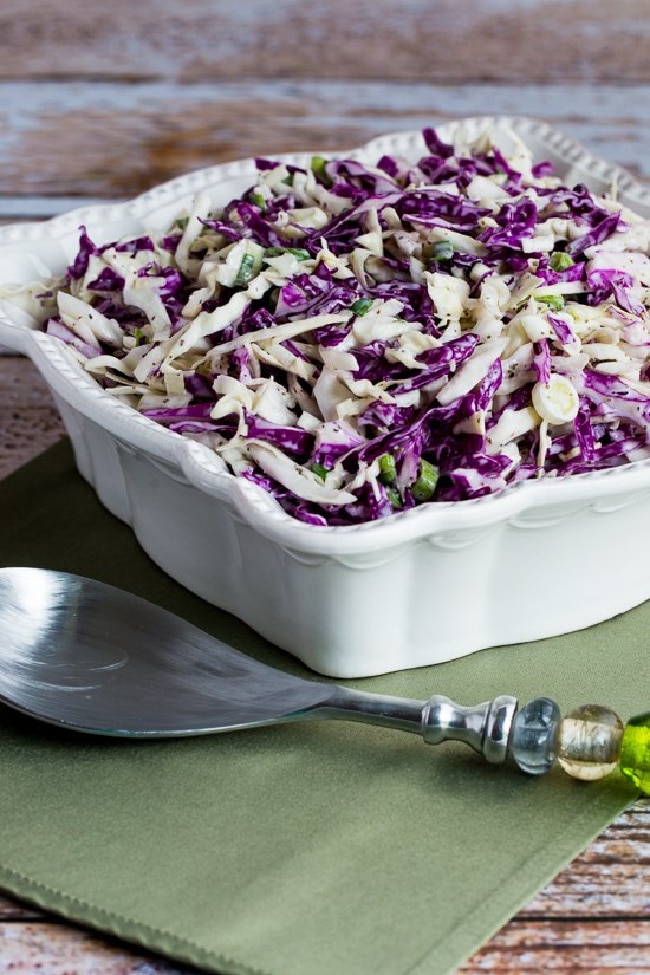 More Tasty Cabbage Slaw Recipes:
Weekend Food Prep:
This recipe has been added to a category called Weekend Food Prep where you'll find recipes you can prep or cook on the weekend and eat during the week!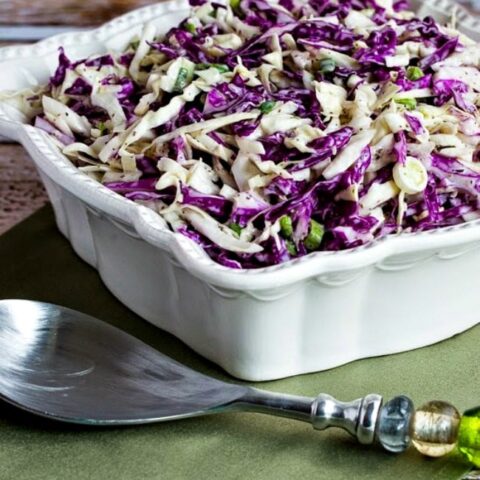 Yield: 6 servings
Blue Cheese Coleslaw
Prep Time 10 minutes
Total Time 10 minutes
My favorite bottled blue cheese dressing and buttermilk make the dressing for this easy Blue Cheese Coleslaw.
Ingredients
6 T Litehouse Original Blue Cheese Dressing (see notes)
2 T buttermilk
1/2 head green cabbage, thinly sliced and then chopped
1/2 head red cabbage, thinly sliced and then chopped
1/2 cup thickly sliced green onion
2 tsp. celery seed
salt and fresh-ground black pepper to taste
1/4 crumbled blue cheese (see notes)
Instructions
Mix together the blue cheese dressing and buttermilk until it's the thickness you prefer. (I like this dressing mixture on lettuce too, so I usually mix more than this salad calls for and keep it in the fridge.)
Thickly slice green onions until you have about 1/2 cup sliced green onion.
Use a Mandoline Slicer (with the 3 mm blade) (affiliate link) or a long knife to cut all the cabbage into thin strips; then coarsely chop the strips of cabbage.
Mix the chopped green cabbage, chopped red cabbage, and sliced green onion in a large bowl and then stir in desired amount of dressing.
Add the celery seed, crumbled blue cheese (if using), and salt and fresh ground pepper to taste and gently stir a few more times.
Serve right away.
If this recipe makes more than you'll eat at one time I recommend only mixing dressing on the amount you will be eating.
Store the dressing mixture and cabbage/green onion mixture separately in the fridge and combine and season the salad right before you eat the leftovers.
Notes
I like Lighthouse Original Blue Cheese for this dressing, but use any brand that's low in carbs. The crumbled blue cheese is totally optional but it's delicious if you're a blue cheese fan.
Cabbage does have some carbs, but it has fiber that decreases the net carbs.
Recipe created by Kalyn.
Nutrition Information:
Yield:
6
Serving Size:
1
Amount Per Serving:
Calories: 129
Total Fat: 8g
Saturated Fat: 2g
Trans Fat: 0g
Unsaturated Fat: 6g
Cholesterol: 6mg
Sodium: 246mg
Carbohydrates: 13g
Fiber: 4g
Sugar: 6g
Protein: 3g
Nutrition information is automatically calculated by the Recipe Plug-In I am using. I am not a nutritionist and cannot guarantee 100% accuracy, since many variables affect those calculations.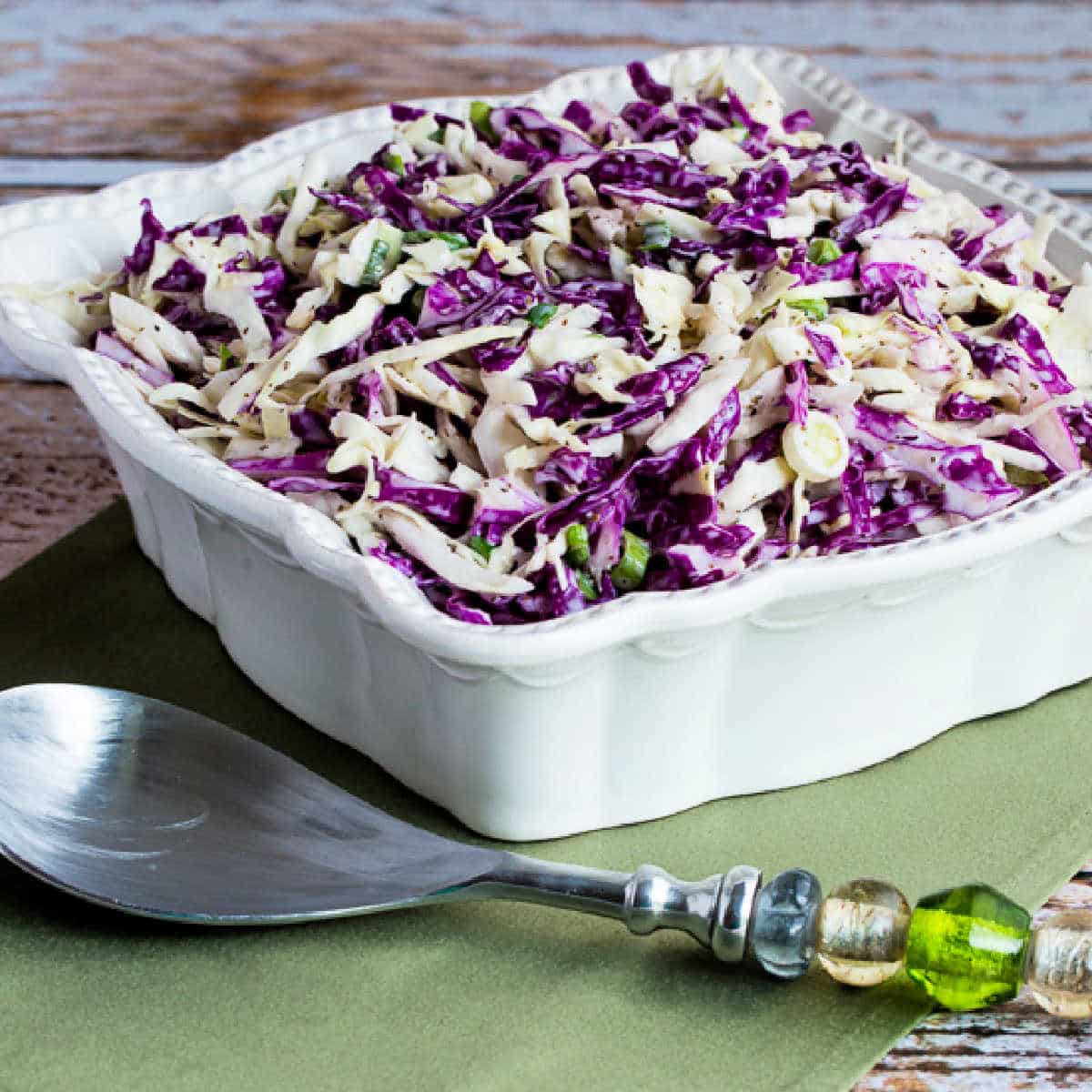 Low-Carb Diet / Low-Glycemic Diet / South Beach Diet Suggestions:
All the ingredients in this Blue Cheese Coleslaw are low-carb and low-glycemic choices. The Lighthouse Original Blue Cheese that I used is low in carbs and saturated fat, and even if you added crumbled blue cheese this salad is mostly healthy cabbage, but this salad may be too high in carbs for Keto.
Find More Recipes Like This One:
Check out Cabbage Recipes for more tasty ideas with cabbage. Use the Diet Type Index to find recipes suitable for a specific eating plan. You might also like to follow Kalyn's Kitchen on Pinterest, on Facebook, on Instagram, on TikTok, or on YouTube to see all the good recipes I'm sharing there.
Historical Notes for this Recipe:
This coleslaw recipe with blue cheese dressing was first posted in 2015. The recipe was last updated with more information in 2023.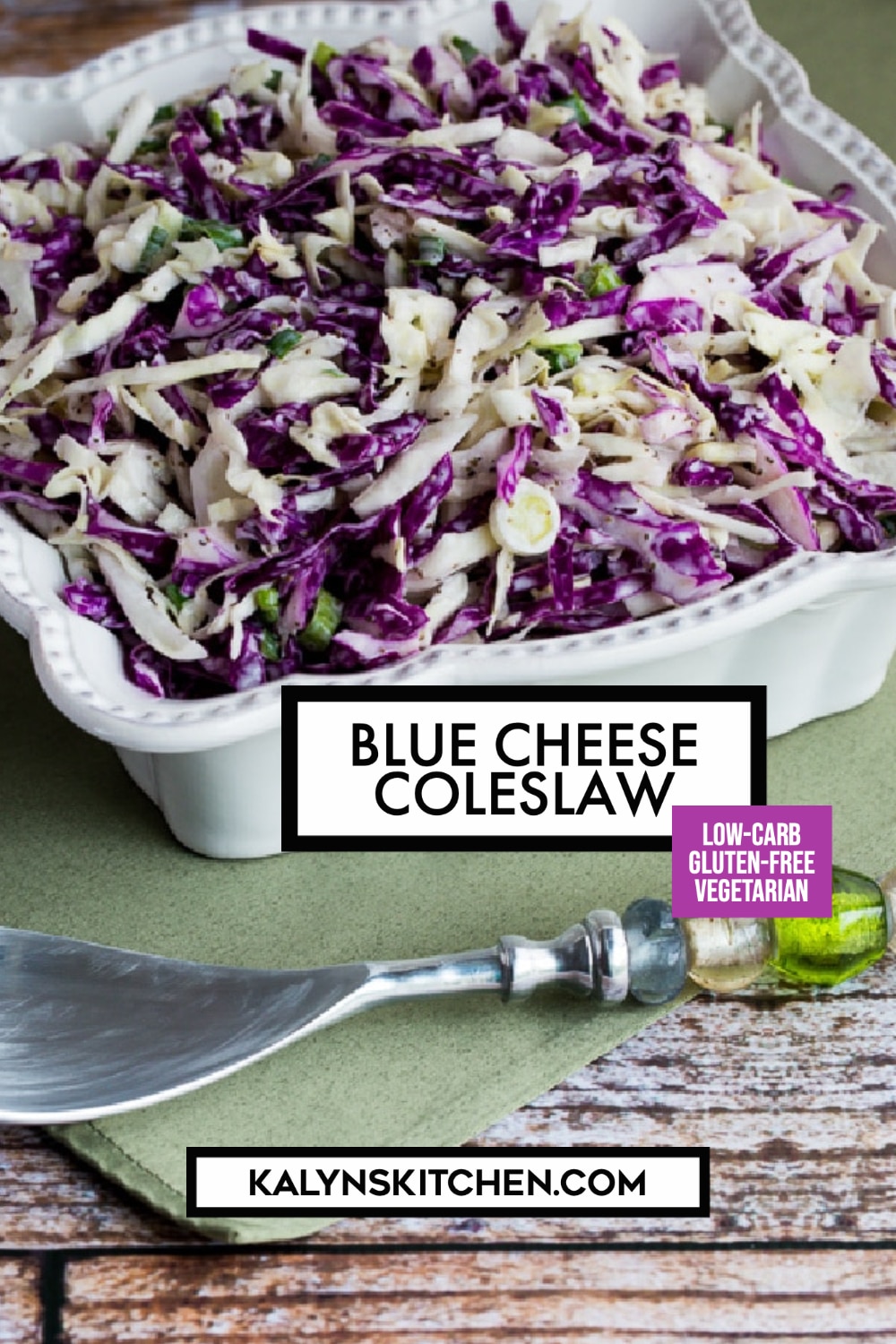 We are a participant in the Amazon Services LLC Associates Program, an affiliate advertising program designed to provide a means for us to earn fees by linking to Amazon.com and affiliated sites. As an Amazon Associate, I earn from qualifying purchases.