Kalyn's Low-Carb Coleslaw
Kalyn's Low Carb Coleslaw is the perfect low-carb or Keto side dish for any kind of protein main dish; if you like coleslaw you'll make this over and over!
PIN Kalyn's Low-Carb Coleslaw to make it later!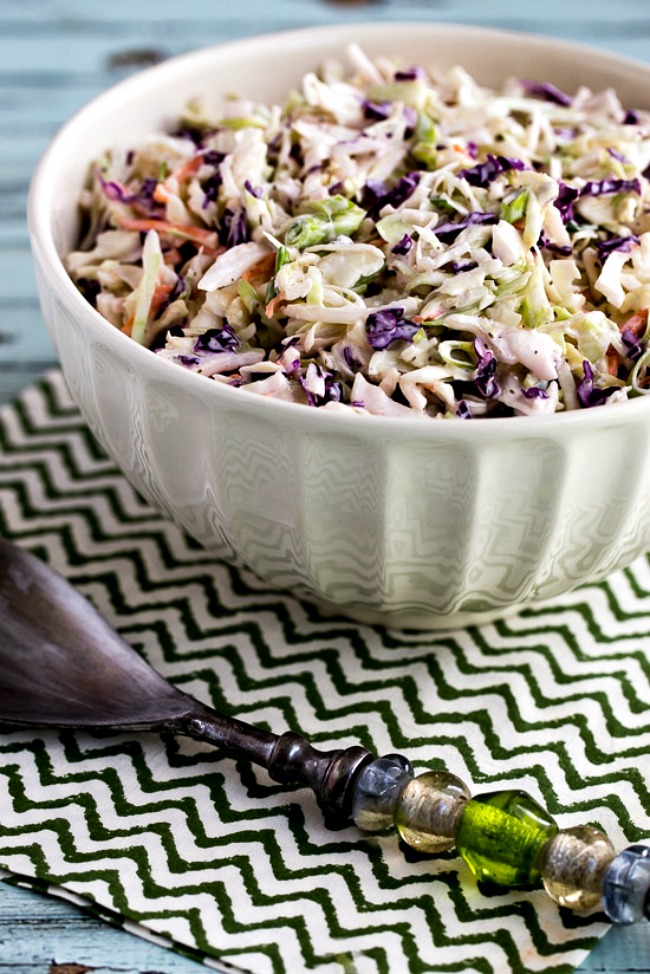 It's St. Patrick's Day and I'm guessing most people who read this blog planned their menu as soon as I shared my Low-Carb and Keto Irish-Inspired Recipes for St. Patrick's Day. I hope everyone is making corned beef and low-carb side dishes and having a great time celebrating! And if you stocked up on cabbage while it's on sale for the holiday, you might have some left to make Kalyn's Low-Carb Coleslaw, which I think is a perfect low-carb side dish when you want a salad with a little crunch!
It's probably not too hard to figure out that I love salads with cabbage, and there are lots of interesting cabbage slaw recipes on the blog, some of which I make over and over when I want a tasty low-carb side dish with a bit of crunch. But I have to confess I love coleslaw, just the basic sweet-sour stuff you make with the already-shredded mix from the grocery store. It's a salad I think is the perfect side dish to have with protein main dish whether you've cooked it on a grill, in the oven, or in a pan on the stove.
So years ago I created this recipe for Kalyn's Low Carb Coleslaw, after I'd been eating the lower carb way for a little while. When I served it to my extended family of absolutely-not-low-carb eaters, several people commented that it was the best coleslaw they'd ever had! If you like coleslaw at all I hope you'll try my version, and if you're like me you may end up keeping a package of coleslaw mix and a jar of this dressing in the fridge at all times so you can make this in a flash!
I love this version of coleslaw with my personal "must have" ingredients of buttermilk, celery seeds, and chopped red cabbage; hope you enjoy!
What ingredients do you need for this recipe?
coleslaw mix
red cabbage
green onion
buttermilk
milk (or use all buttermilk for a little more tang)
mayo
white wine vinegar
fresh-squeezed lemon juice
Onion Powder (affiliate link)
Celery Seed (affiliate link)
Vege-Sal (affiliate link) (or use slightly less salt (see notes)
Monkfruit Sweetener (affiliate link), or other sweetener of your choice
How long will this dressing keep in the fridge?
This dressing will keep in the fridge for a week or probably even two, so I'm giving you a recipe for enough dressing for two bags of coleslaw mix. Make the full amount of dressing, and you can make a big bowl of low-carb coleslaw for a party or have coleslaw again in a few days!
Do you love salads with Cabbage?
If you're a huge cabbage fan like I am, be sure to check out my great collection of Low-Carb and Keto Salads with Cabbage!
How to Make Kalyn's Low-Carb Coleslaw:
(Scroll down for complete printable recipe with nutritional information.)
Mix together buttermilk, milk (or more buttermilk), mayo, white wine vinegar, lemon juice, onion powder, celery seed, Vege-Sal (affiliate link) (or salt), and sweetener of your choice.
Chop up red cabbage and thinly slice green onions.
Combine coleslaw mix, chopped cabbage, and sliced green onion, and then stir in desired amount of dressing.
Season Kalyn's Low-Carb Coleslaw with a little more salt and fresh ground black pepper if desired and chill in the refrigerator for a few hours. That's all there is to it!
If you want to make this for Weekend Food Prep, chop all the ingredients and make the dressing, then store separately and assemble the salad the day you're going to eat it.
This is best the day it's made, but that doesn't stop me from gobbling up leftovers the next day whenever I have some in the fridge.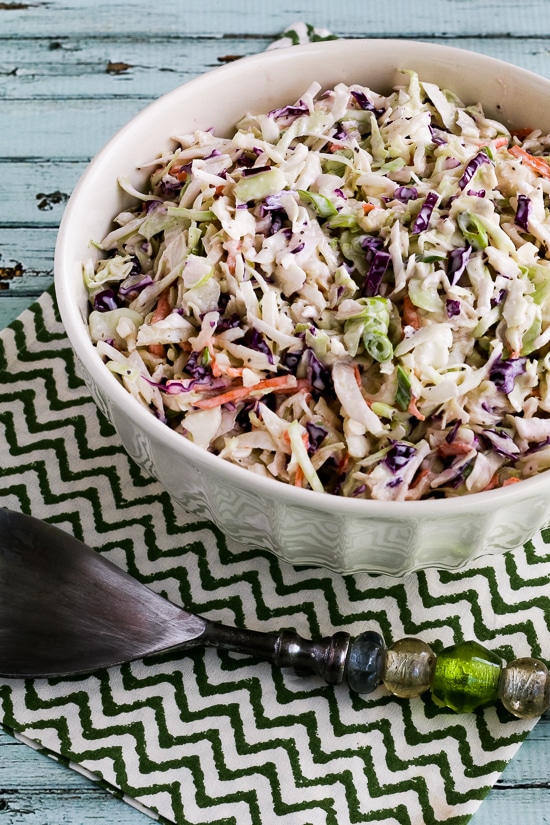 More of Kalyn's Favorite Coleslaw Salads!
Crunchy Napa Cabbage Asian Slaw
Weekend Food Prep:
This recipe has been added to a category called Weekend Food Prep where you'll find recipes you can prep or cook on the weekend and eat during the week!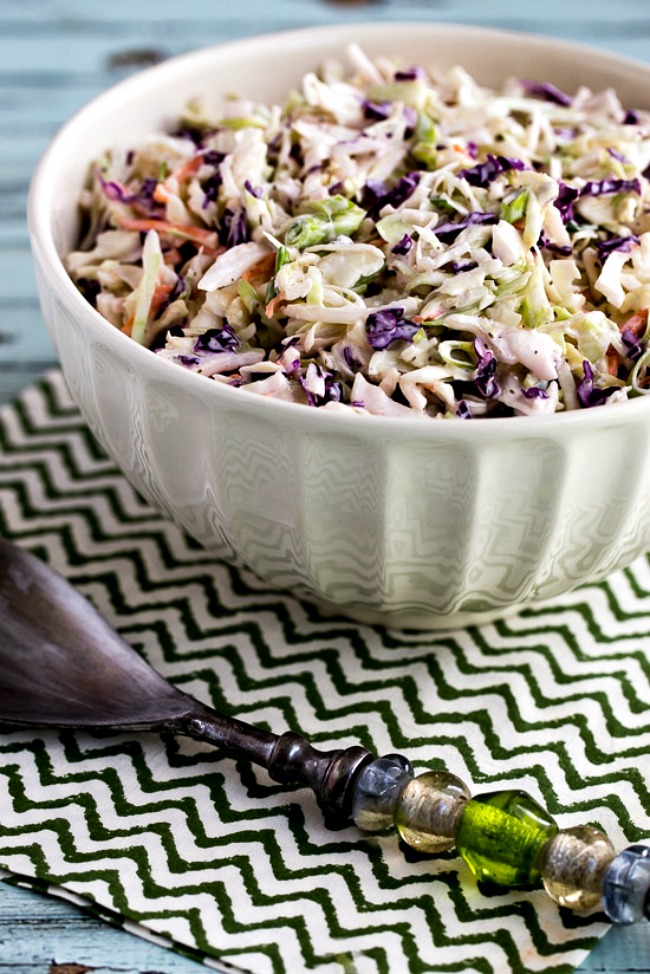 Yield: 6 servings, with extra dressing
Kalyn's Low Carb Coleslaw
Prep Time 15 minutes
Total Time 15 minutes
I'm crazy about any kind of salad that features cabbage, but this basic recipe for Kalyn's Low Carb Coleslaw is a cabbage salad recipe I make over and over.
Ingredients
Ingredients:
1 14 oz. pkg. coleslaw mix (see notes)
1/3 cup finely chopped red cabbage
1/4 cup thinly sliced green onion
Dressing Ingredients (see notes)
1/4 cup buttermilk
1/4 cup milk (or use all buttermilk for a little more tang)
1 cup mayo
1 1/2 T white wine vinegar
1 T fresh lemon juice
1 1/2 tsp. onion powder
1 tsp. celery seed
1/4 tsp. Veg-Sal (or use slightly less salt (see notes)
1/3 cup sweetener, or use a bit more or less, to taste. (see notes)
Instructions
Combine dressing ingredients. I did in a bowl with a wire whisk.
If you're not sure how sweet you like your coleslaw, mix the dressing with slightly less sweetener and then taste and decide whether you want to use the full amount.
At least 2 hours before serving, combine coleslaw mix, chopped red cabbage, and thinly sliced green onion. Pour enough dressing over to moisten all the cabbage and combine well.
Chill in refrigerator, then stir again just before serving. (You may need less than 1/2 the dressing for one bag of coleslaw mix. Keep the rest in the refrigerator for another time.)
Notes
Instead of coleslaw mix you can use 6-8 cups thinly sliced and chopped green cabbage For the lowest carb version use sliced and chopped fresh cabbage since coleslaw mix has a tiny amount of carrots.
This makes enough dressing for about two packages of coleslaw mix. Use more or less dressing to taste. Nutritional information is calculated based on a salad that uses half the dressing made in this recipe.
I am a huge fan of Vege-Sal (affiliate link), which adds a bit more flavor than traditional salt.I would use Monkfruit Sweetener (affiliate link), but use any low-carb sweetener you prefer. or use sugar if you don't care if the coleslaw is low in carbs. You can add some of the sweetener and then keep tasting until it seems right to you if you're not sure how sweet you like it.
Recipe created by Kalyn.
Nutrition Information:
Yield:
6
Serving Size:
1
Amount Per Serving:
Calories: 156
Total Fat: 14g
Saturated Fat: 2.3g
Unsaturated Fat: 11.4g
Cholesterol: 8.3mg
Sodium: 238mg
Carbohydrates: 6.5g
Fiber: 1.8g
Sugar: 13.2g
Protein: 1.7g
Nutrition information is automatically calculated by the Recipe Plug-In I am using. I am not a nutritionist and cannot guarantee 100% accuracy, since many variables affect those calculations.
Low-Carb Diet / Low-Glycemic Diet / South Beach Diet Suggestions:
Kalyn's Low-Carb Coleslaw should be great any low-carb or low-glycemic eating plan. The South Beach Diet would recommend using reduced-fat mayo, but truthfully I'd use full-fat mayo in mine, and I still wouldn't worry about eating this for any phase of the South Beach Diet (even with the teeny-tiny bit of carrots in the coleslaw mix.) For Keto you may want to chop your own cabbage to avoid those carrots!
Find More Recipes Like This One:
Use Salad Recipes to find more recipes like this one. Use the Diet Type Index to find recipes suitable for a specific eating plan. You might also like to follow Kalyn's Kitchen on Pinterest or on Facebook to see all the good recipes I'm sharing there.
We are a participant in the Amazon Services LLC Associates Program, an affiliate advertising program designed to provide a means for us to earn fees by linking to Amazon.com and affiliated sites. As an Amazon Associate, I earn from qualifying purchases.