26 Amazing Salads with Avocado
This round-up has 26 Amazing Salads with Avocado and all these tasty avocado salad recipes are low in carbs! And don't you think any salad with avocado is always a treat?
PIN the Salads with Avocado to try some later!
Today I'm sharing 26 Amazing Salads with Avocado! I think salads with avocado are so satisfying, and in the United States you can get good avocados pretty much any time of year.
Avocados are loaded with good fat but they do have some carbs, so for this collection I tried to be careful to choose salads where the carb count was low. And I was happy to end up with 26 amazing avocado salads from Kalyn's Kitchen and great blogs around the web, and these all sound like a wow to me!
What avocado salad recipes are featured here?
This collection has avocado salads with tomatoes, cucumber, shrimp, chicken, hearts of palm, asparagus, Halloumi cheese, eggs, tuna, crab, salmon, and more!
Want More Low-Carb Salads?
Want More Avocado Recipes?
How do you get the complete recipe?
Just click any recipe title to see the complete recipe on the original blog.As always, photos are copyrighted to the blog that posted the recipe.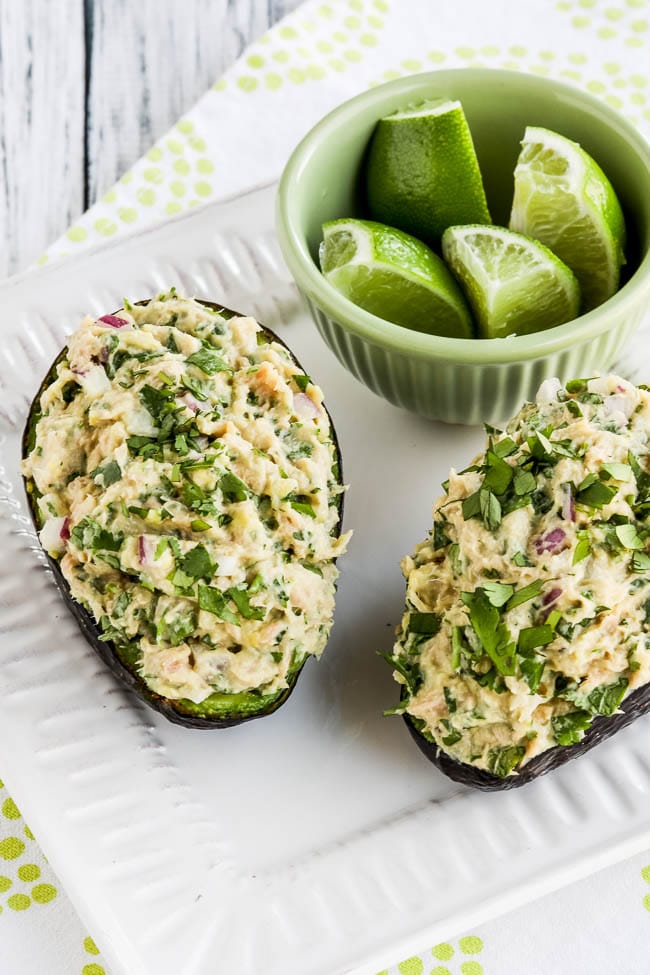 Tuna Stuffed Avocado from Kalyn's Kitchen has lime and cilantro for great flavor, or use thinly sliced green onion if you're not a cilantro fan. This has been a huge hit on the blog, and this looks fancy but it's really easy to make!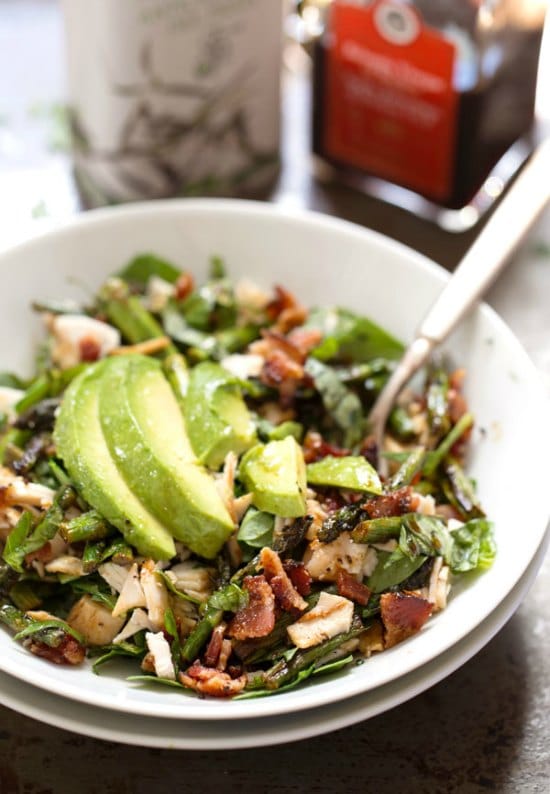 Chicken, Bacon, Avocado Salad with Roasted Asparagus from Pinch of Yum; with all those good ingredients this has to be good!
And I just updated the photos for this amazing Avocado Tomato Salad from Kalyn's Kitchen, and if you have garden fresh tomatoes that will only improve this delicious combination!
I love the sound of this Low-Carb Buffalo Chicken Salad Stuffed Avocado from Sugar-Free Mom!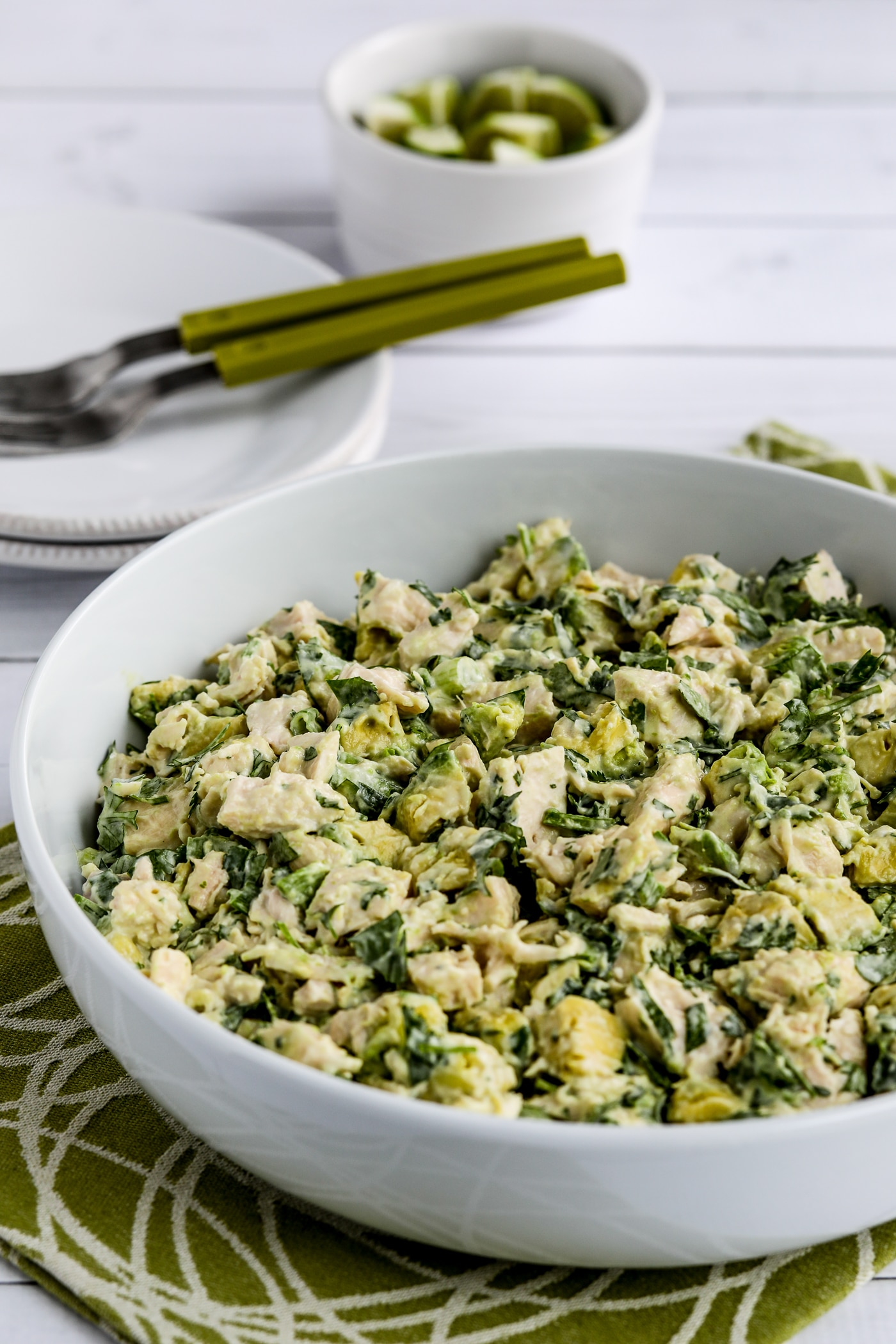 This Chicken and Avocado Salad with Lime and Cilantro is one of the most popular salads on Kalyn's Kitchen! And this recipe got a photo make-over recently!
I love Halloumi Cheese, so I'm drooling over this Cucumber Tomato Avocado Salad with Grilled Halloumi from Cookin' Canuck.

Tomato Cucumber Avocado Salad from Kalyn's Kitchen is a recipe I got from a reader and this simple but delicious recipe is super popular on the site!

I love everything about this Keto Salmon Avocado Salad from All Day I Dream About Food, and I'd love this for a light meal!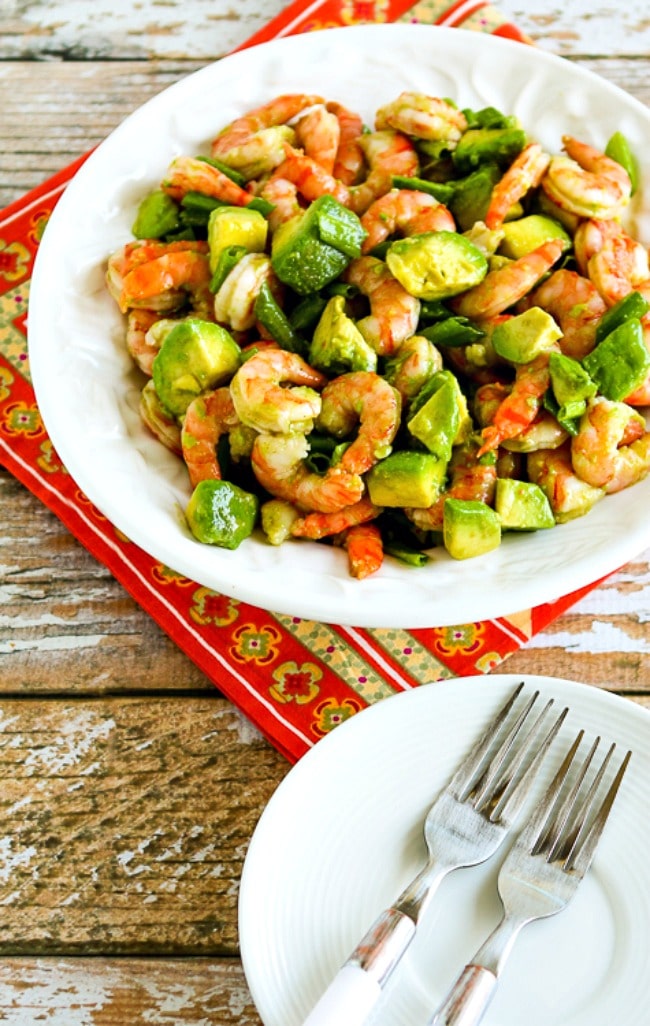 Shrimp and Avocado Salad from Kalyn's Kitchen is a recipe that's been popular for many years, and don't you think shrimp and avocado is a perfect combination?
There's no mayo in this Avocado Chicken Salad from Low-Carb Maven, and this is really low in carbs!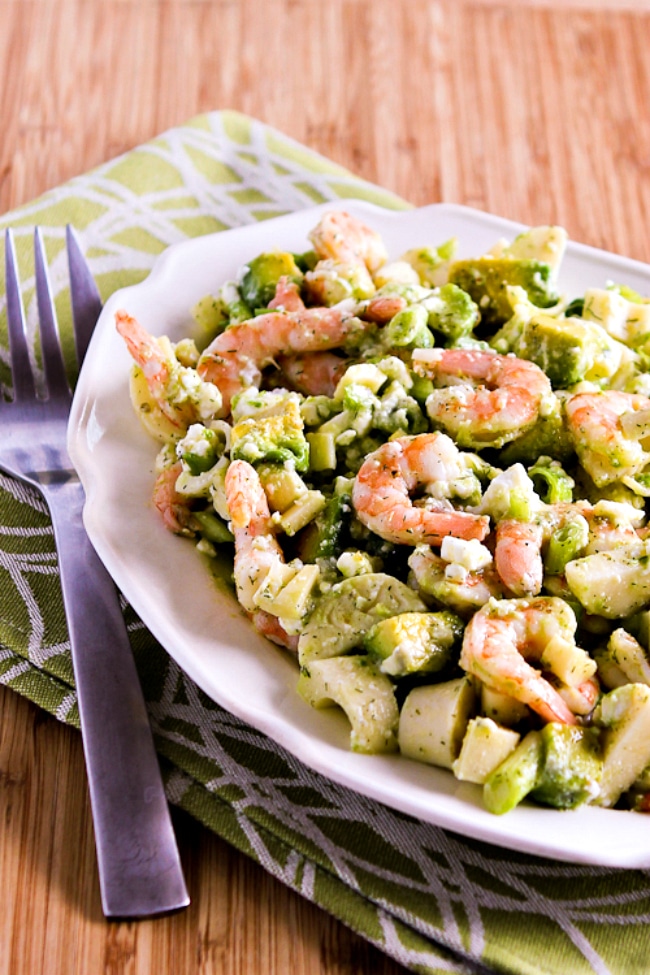 I would absolutely never get tired of this Lemony Shrimp Salad with Avocado, Heart of Palm, and Feta from Kalyn's Kitchen.
How could you go wrong with this Avocado Caprese Salad from Cook Eat Well! I love this idea.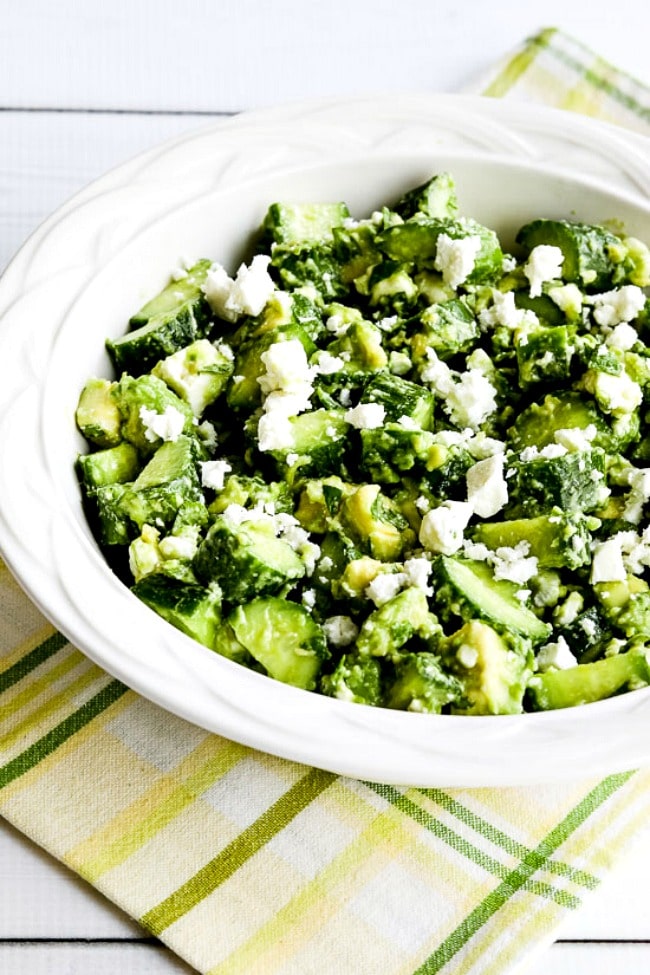 Cucumber Salad with Avocado and Feta from Kalyn's Kitchen is a favorite I make often when cucumbers are so good from the garden!
More amazing salads with Avocado:
Tell us about your favorite Salad with Avocado in the comments!
We are a participant in the Amazon Services LLC Associates Program, an affiliate advertising program designed to provide a means for us to earn fees by linking to Amazon.com and affiliated sites. As an Amazon Associate, I earn from qualifying purchases.