Keto Breakfasts with Avocado
For everyone who loves creamy delicious avocado, I'm updating this great collection of Keto Breakfasts with Avocado! And there are 16 different amazing breakfast ideas featured here.
PIN Keto Breakfasts with Avocado to try some later!
Avocados are a food that's widely available year round, and I love to use them when I want a treat that feels indulgent, but is really healthy. And I love avocado for breakfast, especially when I'm bored with the things I've been eating. And there are so many interesting ways to use avocado for breakfast! Check out this collection of Low-Carb and Keto Breakfasts with Avocado for some delicious ideas to add to your breakfast menus.
Not everyone loves avocados, I realize that but don't quite understand it. I think they're creamy and delicious and loaded with healthy fat, and pretty much any dish that includes avocado is going to be a hit with me. I found some fun options for the fellow avocado lovers, including a couple of ideas that combine avocado with salmon, which has to be one of the most perfect healthy combinations ever.
How do you get the full recipe?
Just click any recipe name to see the entire recipe on that blog. Photos are copyrighted to the blog that posted the recipe.
Want more low-carb and Keto recipe ideas?
Check out Recipe Round-Ups to find more low-carb weekly round-ups like this one.
Quite a few bloggers have tried variations of Eggs Baked in Avocado, but I love this one from my friend Zerrin at Give Recipe. I had fun hanging out with Zerrin when I went to Turkey in 2015!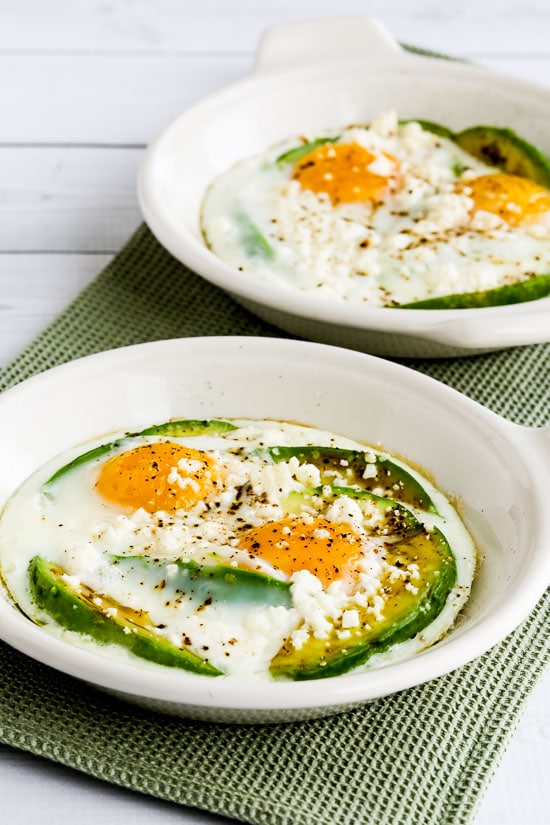 Baked Eggs with Avocado and Feta from Kalyn's Kitchen are an idea that just popped into my mind, and this was absolutely a winner!
And if you like eggs baked in avocado, how about Bacon Baked Egg in Avocado from Joyful Healthy Eats! Oh yes please!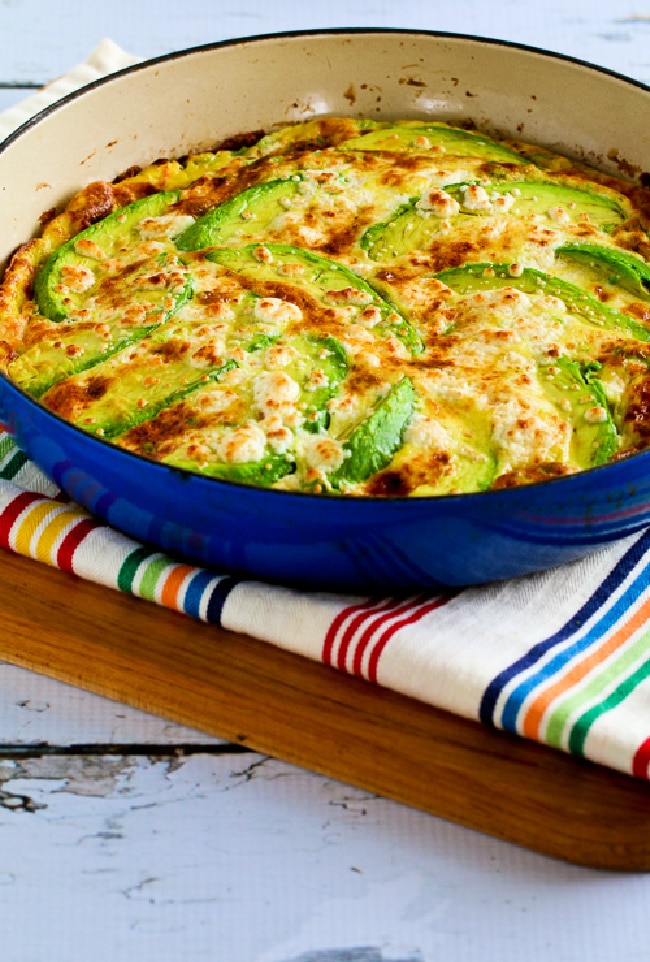 If you like Mexican flavors you'll like this Avocado Frittata with Cotija and Mozzarella Cheese from Kalyn's Kitchen.
I love the simplicity and flavors of this Sunnyside Up Egg with Avocado, Sriracha, and Crumbled Feta from The Iron You.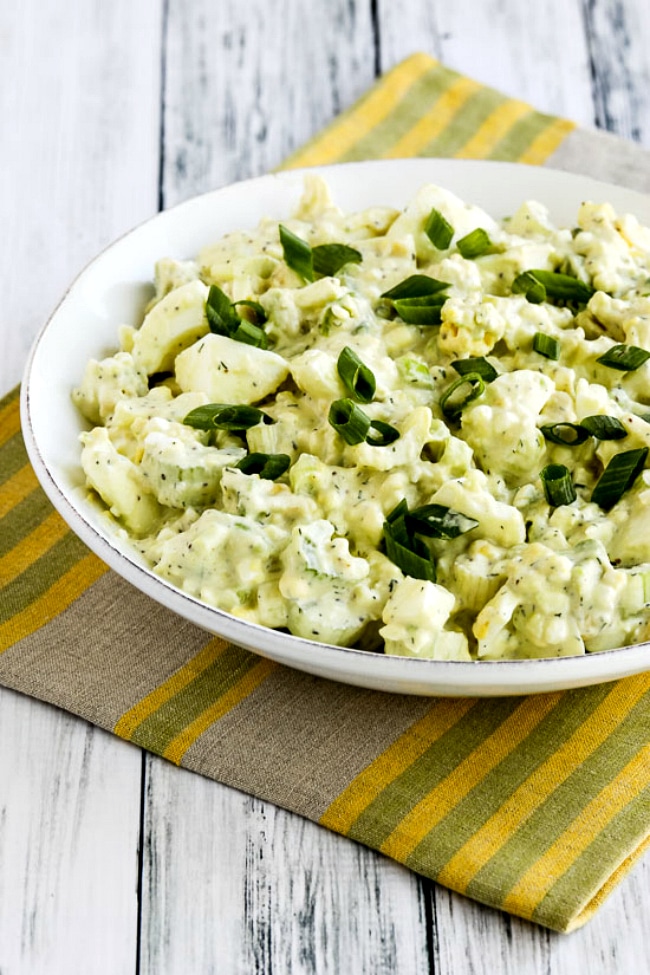 Avocado Egg Salad from Kalyn's Kitchen might be a little unconventional for breakfast, but I'd love this any time of day. There's cottage cheese for more protein, yum!
Avocado and Egg with Fresh Thyme from Foodness Gracious is another ultra simple combination with great flavors.
I love to cook eggs in a cast-iron pan, and this Baked Eggs Skillet with Avocado and Spicy Tomatoes from Kalyn's Kitchen is a recipe I've made many times.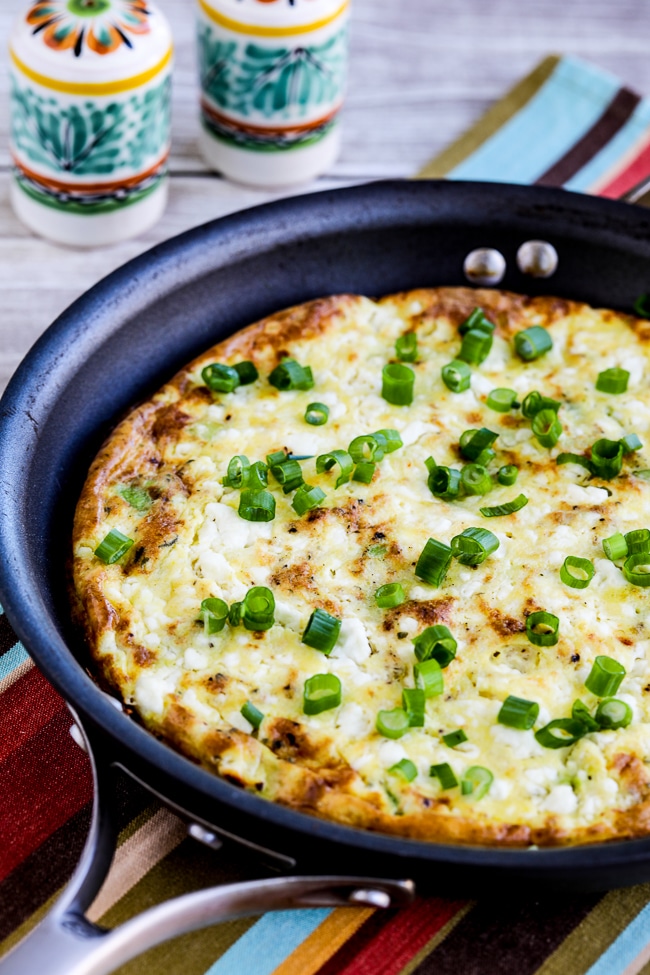 Feta Cheese and Avocado Frittata from Kalyn's Kitchen is delicious for a quick breakfast!
Poached Eggs over Avocado and Smoked Salmon from Cookin' Canuck is another great breakfast idea with salmon and avocado.
More Avocado for Breakfast:
We are a participant in the Amazon Services LLC Associates Program, an affiliate advertising program designed to provide a means for us to earn fees by linking to Amazon.com and affiliated sites. As an Amazon Associate, I earn from qualifying purchases.