Tomato Cucumber Avocado Salad
Tomato Cucumber Avocado Salad is from a reader named Lisa and the simple balsamic vinegar dressing makes these ingredients shine!
PIN the Tomato Cucumber Avocado Salad recipe to try it later!
There are a lot of salads with tomatoes and cucumbers on this blog and to me that combination just screams summer. But I also eat tomatoes and cucumbers all year (whenever I can get good flavorful tomatoes or cherry tomatoes and Persian cucumbers from Costco.) So when a reader from Hawaii named Lisa sent me her recipe for this Tomato Cucumber Avocado Salad that she called "dumb salad" and said it was something she made often, I was interested.
Lisa discovered this combination when she was going out of town and needed to use what was on hand, and I promise you, this simple salad that just combines cucumbers, tomatoes, green onion, avocado, and balsamic vinegar is not dumb at all! This recipe is low-carb, Keto, gluten-free, and vegan, and it's probably going to become a recipe you'll make over and over when you have avocado and just want an easy salad for a side dish.
Of course, only make this when you have fresh flavorful tomatoes, but I loved the combination of flavors, accented with just a little good sea salt and some coarse ground black pepper. And I also love the idea of a salad with no added oil except the "good fat" from the avocado.Lisa invited me to change it up a bit, but really I didn't change it much except to sub sliced green onions for the sweet onions she used.
I was making more than I'd eat right away, so I also tossed the avocado with just the tiniest bit of lemon juice to make sure it didn't go brown. Lisa's friends suggested adding lots of chopped herbs, and I'm thinking mint, basil, or parsley could also have a supporting role in this salad if you wanted to add them, but I just made the salad like Lisa does and happily gobbled it up for lunch!
What ingredients do you need for this recipe?
small Persian cucumbers or fresh garden cucumbers
fresh tomatoes or cherry tomatoes
green onion
avocado
fresh-squeezed lemon juice, I used my fresh-frozen lemon juice
good-quality balsamic vinegar
sea salt and fresh ground black pepper to taste
What type of Balsamic Vinegar did I use?
This simple salad has so few ingredients that you want to be sure every ingredient tastes great, so be sure to use good quality balsamic vinegar! But you don't need that expensive Balsamic Vinegar that's $40 a bottle for this recipe! I've made it many times with medium-priced Colavita Aged Balsamic Vinegar (affiliate link) and I think it tastes great. The Balsamic Vinegar does slightly color the other ingredients, so if you happen to have white balsamic vinegar (affiliate link) that would also be a great choice.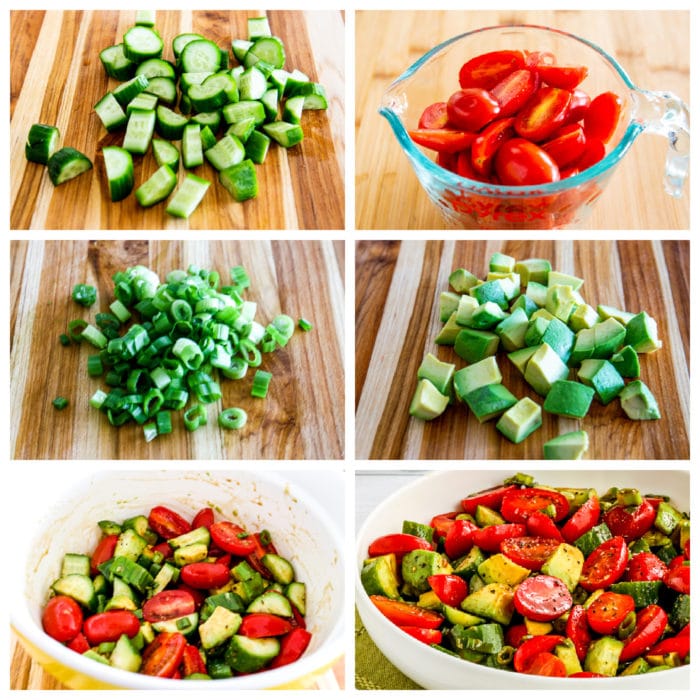 How to make Tomato Cucumber Avocado Salad:
(Scroll down for complete recipe including nutritional information.)
I used those small Persian cucumbers but you could also use one large European cucumber instead of three small ones.
I don't have garden tomatoes yet, so I used sweet Cherubs tomatoes from Costco. This is something I buy over and over. (Cherubs has never paid me or sent tomatoes, I just like their product!)
I cut the green onion in slices to make about 1/4 cup, use more or less to taste.
You need one perfectly ripe avocado, diced into smallish pieces.
I tossed the avocado with just a couple of teaspoons of lemon juice to keep the leftovers from turning brown, but I'm guessing 99% of the time you make this it will all be eaten right away, so feel free to skip this step.
Gently toss together the cucumbers, tomatoes, onion, and avocado, then dress with just enough good quality balsamic vinegar to coat the veggies.
Season to taste with good sea salt and fresh ground black pepper and enjoy!
More Salads with Tomatoes and Cucumbers:
Tomato, Cucumber, and Radish Salad
Spicy Tomato-Cucumber Salad with Peperoncini
Tomato and Cucumber Salad with Mint and Feta
Vegan Tomato Salad with Cucumber and Avocado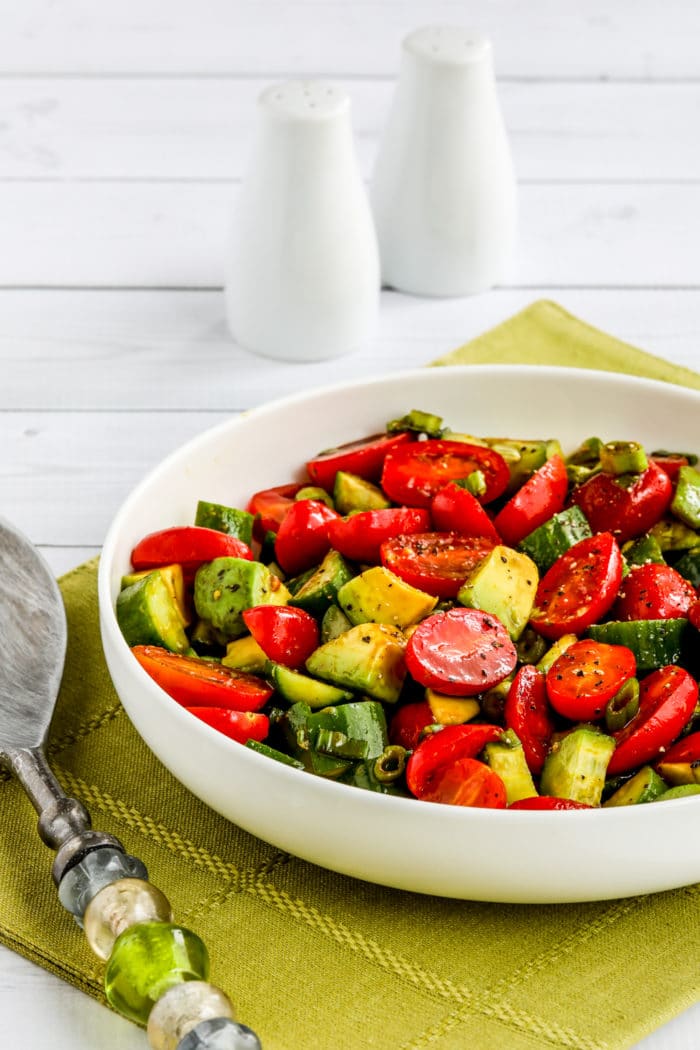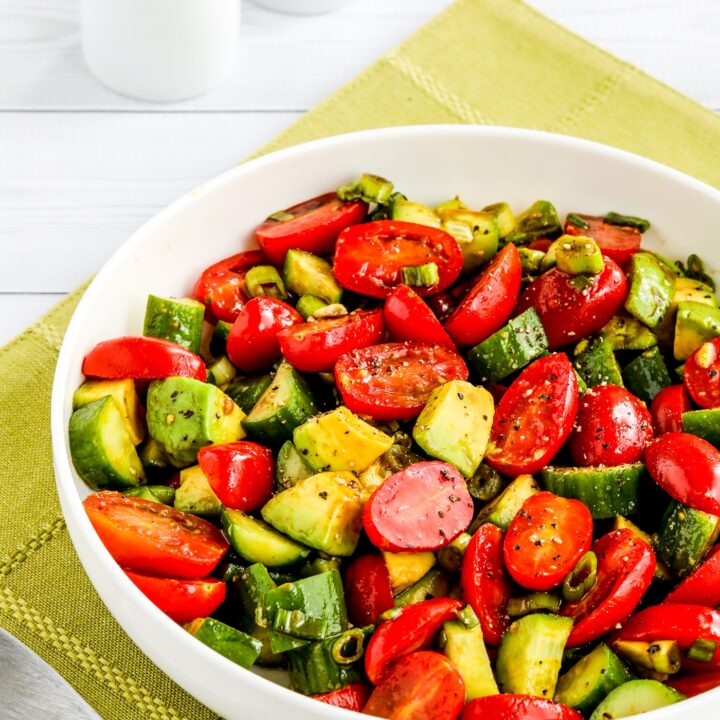 Yield: 4 servings
Tomato Cucumber Avocado Salad
Prep Time 20 minutes
Total Time 20 minutes
This simple and delicious salad I got from a reader named Lisa just has tomatoes, cucumbers, avocado, green onion, and balsamic vinegar, and this is definitely not a dumb idea for a tasty salad!
Ingredients
3 small Persian cucumbers (see notes)
1 cup diced tomato or cherry tomatoes
1/4 cup thinly diagonally sliced green onion
1 avocado
2 tsp. fresh lemon juice (optional, for tossing with avocado)
1 T good-quality balsamic vinegar
sea salt and fresh ground black pepper to taste
Instructions
Cut cucumbers in half lengthwise, then slice into half-moon slices. (I never peel Persian cucumbers, but if you use other cucumbers you might want to peel some of the skin off in stripes before you slice them.)
Dice tomatoes or cut cherry tomatoes in half to make one cup. (Only make this salad when you have flavorful fresh tomatoes.)
Slice green onion to make 1/4 cup, or more if you like onion.
Peel and cut up the avocado into small cubes. Toss with lemon juice if desired, optional.
Combine the cucumber, tomato, onion, and avocado in a plastic or glass bowl and gently toss together.
Add a small amount of balsamic vinegar, enough to barely coat the veggies, and toss again. (I used about a tablespoon of vinegar, which was plenty.)
Season to taste with your favorite sea salt and plenty of fresh-ground black pepper.
If you like it as much as I did, you probably won't have leftovers no matter how much you make!
Notes
You can also use one large European cucumber or two middle-sized garden cucumbers.
This recipe created by a reader named Lisa who lives on Maui.
Nutrition Information:
Yield:
4
Serving Size:
1
Amount Per Serving:
Calories: 120
Total Fat: 8g
Saturated Fat: 1g
Trans Fat: 0g
Unsaturated Fat: 6g
Cholesterol: 0mg
Sodium: 159mg
Carbohydrates: 13g
Fiber: 5g
Sugar: 5g
Protein: 3g
Nutrition information is automatically calculated by the Recipe Plug-In I am using. I am not a nutritionist and cannot guarantee 100% accuracy, since many variables affect those calculations.
Low-Carb Diet / Low-Glycemic Diet / South Beach Diet Suggestions:
This salad is perfect for most any low-carb or clean-eating plans, including Keto or Paleo. Everything in this salad is a perfect low-glycemic and low-carb ingredient for the original South Beach Diet. Avocado is a limited food for South Beach, so keep that in mind. This recipe does have some carbs in the tomatoes and avocado, but there is also fiber so the net carbs are lower than you might think. If you want a lower-carb option, use more cucumber in proportion to the tomato and avocado.
Find More Recipes Like This One:
Use the Salad Index to find more recipes like this one. Use the Recipes by Diet Type photo index pages to find more recipes suitable for a specific eating plan. You might also like to Follow Kalyn's Kitchen on Pinterest to see all the good recipes I'm sharing there.
Historical Notes for this Recipe:
I first posted this recipe in 2011 after a reader sent me the recipe. It was updated with better photos and a more search-engine-friendly recipe title in 2022.
We are a participant in the Amazon Services LLC Associates Program, an affiliate advertising program designed to provide a means for us to earn fees by linking to Amazon.com and affiliated sites. As an Amazon Associate, I earn from qualifying purchases.