Heart of Palm and Avocado Salad
Heart of Palm and Avocado Salad is amazingly good; use a bit more sliced green onion if you want to skip the optional cilantro! This salad is one of the best reasons I know to splurge on hearts of palm.
PIN this heart of palm salad to make it later!
Every now and then you come across a recipe that just knocks your socks off, and when we tested this Heart of Palm and Avocado Salad my nephew Jake and I went crazy over this simple salad with hearts of palm, avocado, lime, green onions, and cilantro.
And then through the years I made it a few times, sometimes leaving out the cilantro (for the cilantro avoiders in my family), and I decided it was just as good that way too. So make this with or without cilantro, whichever version sounds best to you!
The recipe came from my friend Suebob, who messaged it to me on Facebook along with a note saying she got it from a friend at Weight Watchers. Thanks Suebob; this amazingly simple salad is really a winner! And I'm adding it to Quick Recipes and Five Ingredient Recipes, which is where you can find the simplest and easiest recipes on my site!
What ingredients do you need for this recipe?
(This is only a list of ingredients; please scroll down for complete printable recipe. Or if you use the JUMP TO RECIPE link at the top of the page, it will take you directly to the complete recipe.)
What are Hearts of Palm?
Hearts of palm are a slightly-crunchy vegetable that's harvested from the center of domesticated palm trees. They used to be a controversial ingredient, but now harvesting methods don't damage the trees and wild palms are protected in many places. And Hearts of Palm are so delicious! Here's more about Hearts of Palm and how to use them.
Where can you buy Hearts of Palm?
Most grocery stores will sell Hearts of Palm, sold near the olives and artichokes in cans and jars, but they are often pricey at a regular grocery store. You can buy hearts of Palm at Amazon.com (affiliate link) and occasionally you'll find some there that are a bit more inexpensive. (Amazon even carries those two packs of big jars like I loved so much at Costco, but they were definitely more of a bargain at Costco, or course!)
How to make Heart of Palm and Avocado Salad:
(This is only a summary of the steps for the recipe; please scroll down for complete printable recipe. Or if you use the JUMP TO RECIPE link at the top of the page, it will take you directly to the complete recipe.)
Hearts of Palm come in cans and jars and are usually sold near the olives. Let the hearts of palm drain while you cut up the avocado.
I used sliced hearts of palm to make it extra easy, but they aren't hard to slice. If the ones you have a large, cut the slices in half.
Thinly slice the green onion (and chop cilantro if using.)
Cut the avocado into small pieces and toss with 2 T lime juice.
Mix together the diced avocado with the lime juice, sliced hearts of palm, sliced green onion, and chopped cilantro (if using).
Then stir in 1 more tablespoon of lime juice and season generously with salt. Enjoy!
I could eat this over and over and I'd never get tired of it!
More Heart of Palm Salads to Enjoy: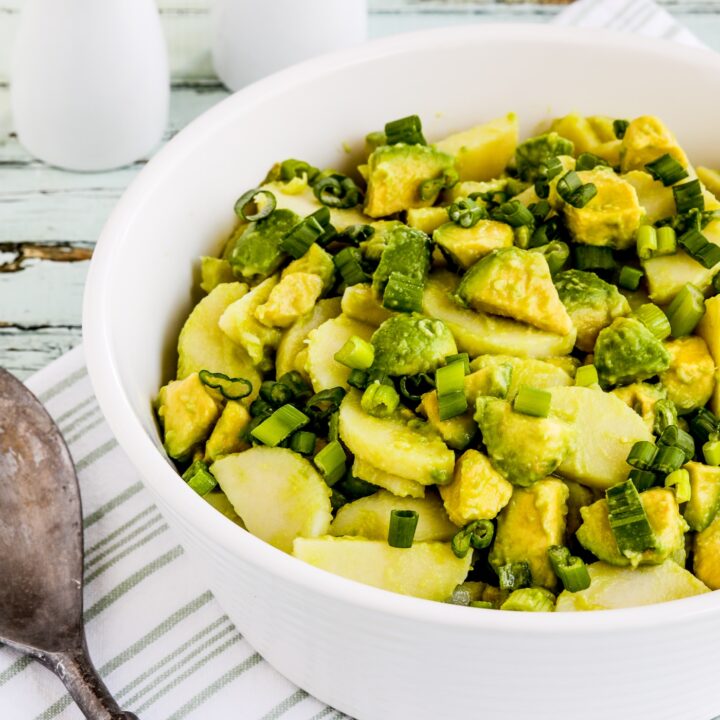 Yield: 6 side dishes
Heart of Palm and Avocado Salad
Prep Time 20 minutes
Total Time 20 minutes
Heart of Palm and Avocado Salad is an amazing combination of flavors, and if you aren't a cilantro fan this salad will be just as amazing without it.
Ingredients
two 14 oz cans hearts of palm (see notes)
2 avocados
2 T + 1 T fresh-squeezed lime juice (or more)
1/2 cup finely chopped fresh cilantro (optional)
1/4 cup thinly sliced green onion (or more if you're not using cilantro)
sea salt to taste for seasoning finished salad
Instructions
Drain the hearts of palm into a colander placed in the sink, and let them drain well while you cut the avocado.
Dice avocado and toss with the 2 tablespoons of lime juice. (Just use the bowl you're making the salad in.)
Cut the hearts of palm into slices about 1/2 inch thick, and if the slices are large cut in half to make half-moon shapes.
Thinly slice green onion and chop cilantro if using.
Add the sliced hearts of palm, sliced green onion, and chopped cilantro (if using) to the avocado and stir gently to combine.
Add the final tablespoon of lime juice (or a bit more if desired) and season the salad well with sea salt.
Serve immediately.
Notes
This would likely keep in the fridge for at least one day, but you probably won't have any left!
Hearts of Palm and avocados do have some carbs, but they are high in fiber so low in net carbs.
Recipe from Suebob with minor adaptation by Kalyn.
Nutrition Information:
Yield:
6
Serving Size:
1
Amount Per Serving:
Calories: 150
Total Fat: 11g
Saturated Fat: 2g
Trans Fat: 0g
Unsaturated Fat: 8g
Cholesterol: 0mg
Sodium: 735mg
Carbohydrates: 13g
Fiber: 8g
Sugar: 1g
Protein: 5g
Nutrition information is automatically calculated by the Recipe Plug-In I am using. I am not a nutritionist and cannot guarantee 100% accuracy, since many variables affect those calculations.
Low-Carb Diet / Low-Glycemic Diet / South Beach Diet Suggestions:
Heart of Palm and Avocado Salad is a great salad for low-carb and low-glycemic diets. All the low-carb ingredients in this salad are great for the original South Beach Diet, but avocados are a limited food so you should probably make this a side dish salad for South Beach, especially for Phase One.
Find More Recipes Like This One:
Use Salad Recipes to find more recipes like this one. Use the Recipes by Diet Type photo index pages to find more recipes suitable for a specific eating plan. You might also like to follow Kalyn's Kitchen on Pinterest, on Facebook, on Instagram, on TikTok, or on YouTube to see all the good recipes I'm sharing there.
Historical Notes for this Recipe:
This salad was first posted in 2012. It was updated with the recommendation that the cilantro can be optional in 2021 and last updated with more information in 2023.
We are a participant in the Amazon Services LLC Associates Program, an affiliate advertising program designed to provide a means for us to earn fees by linking to Amazon.com and affiliated sites. As an Amazon Associate, I earn from qualifying purchases.