20 Summer Tomato Salads
I've updated this collection of 20 Summer Tomato Salads, and this post has tomato salad recipes you'll make over and over. And when you have fresh garden tomatoes, that will make these amazing salads even better.
PIN 20 Summer Salads to try some later!
There's no other seasonal food I love more than ripe summer tomatoes, and when good tomatoes are available, I have to indulge in them even if they aren't that low in carbs. And for years I've been coming up with new tomato salad recipes almost every summer, so that's why this post now has 20 Summer Tomato Salads that are all salads I make over and over when it's fresh tomato season!
And if you're lucky enough to have a garden where you're growing fresh tomatoes, you'll definitely want to try lots of these recipes with your garden produce! I hope these Summer Tomato Salads might include one or two that will become favorites at your house!
Want even more summer tomato salad recipes?
You can use Tomato Recipes to find more recipes to use those garden tomatoes if you're lucky enough to have some! Or use Salad Recipes to see more than 200 tasty salads that are found on my blog.
I absolutely LOVE this Avocado Tomato Salad that has Feta cheese and an interesting tahini-balsamic vinaigrette! See some other suggestions in the post for cheese to use if you're not a fan of Feta.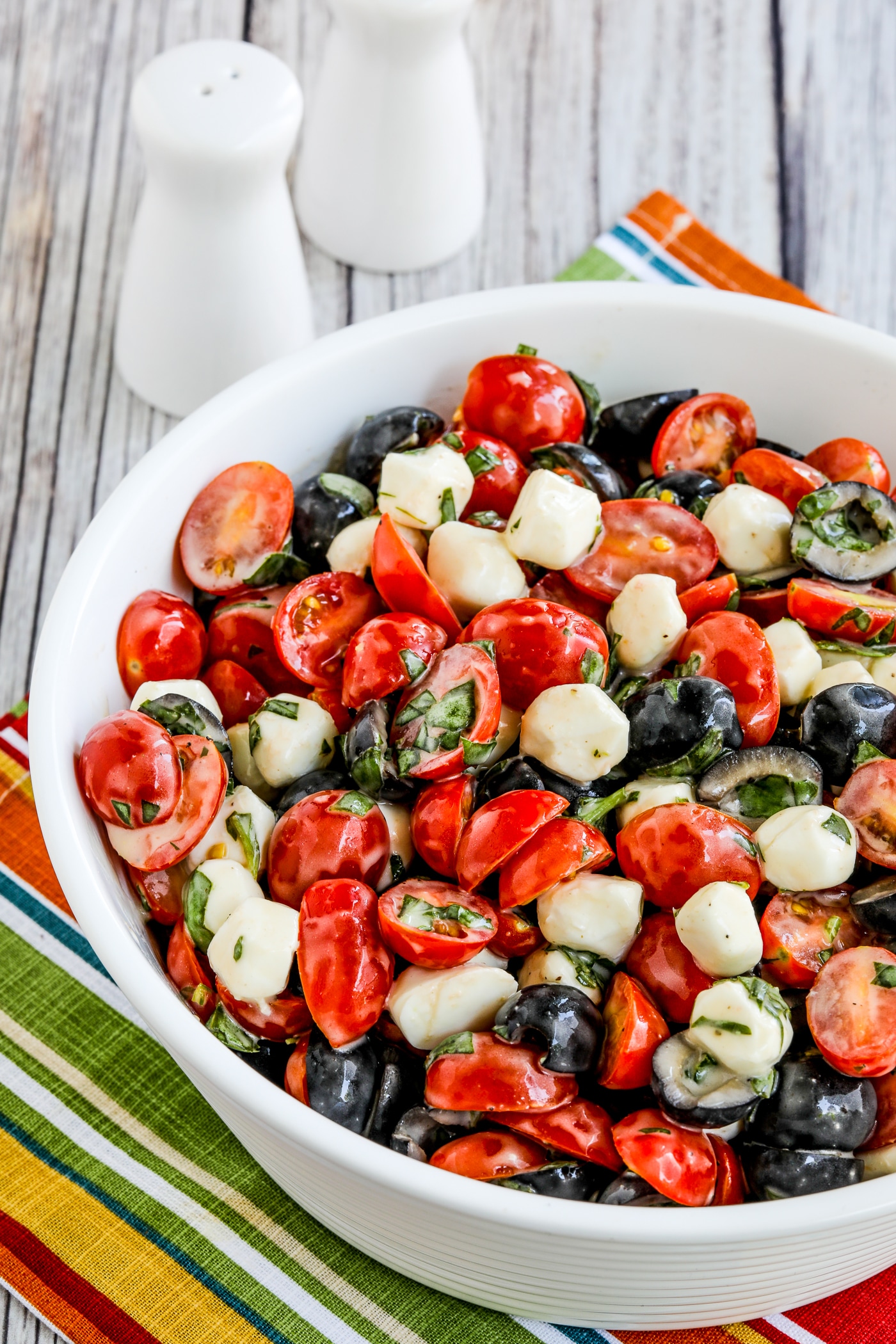 Tomato, Olive, and Fresh Mozzarella Salad uses those little balls of fresh mozzarella that are so good in salad, but if you can't find those just cut fresh mozzarella into cubes to make this tasty salad!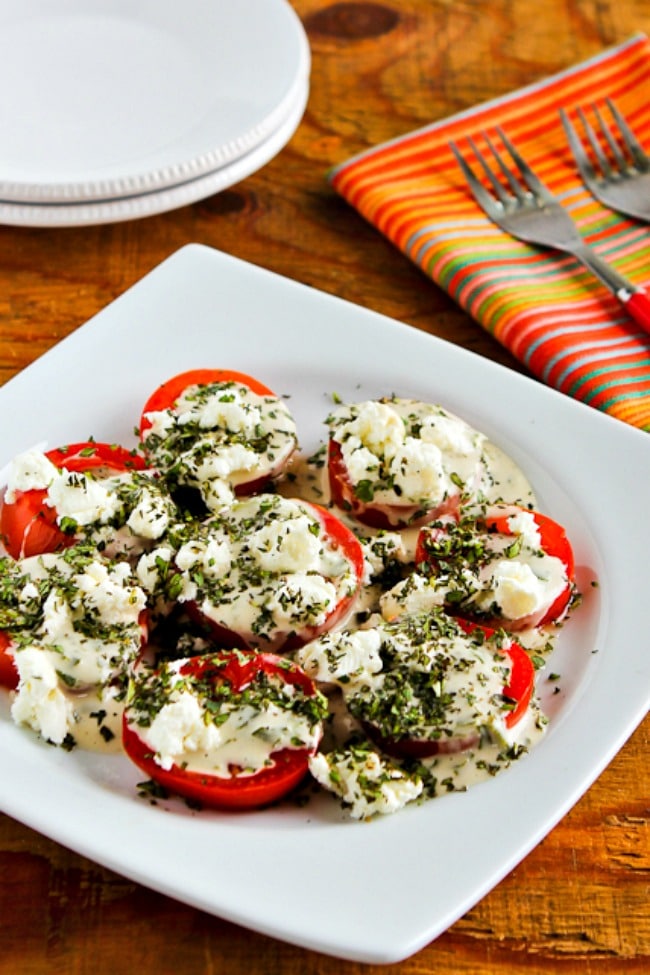 I make this Summer Tomato Salad with Goat Cheese all summer long!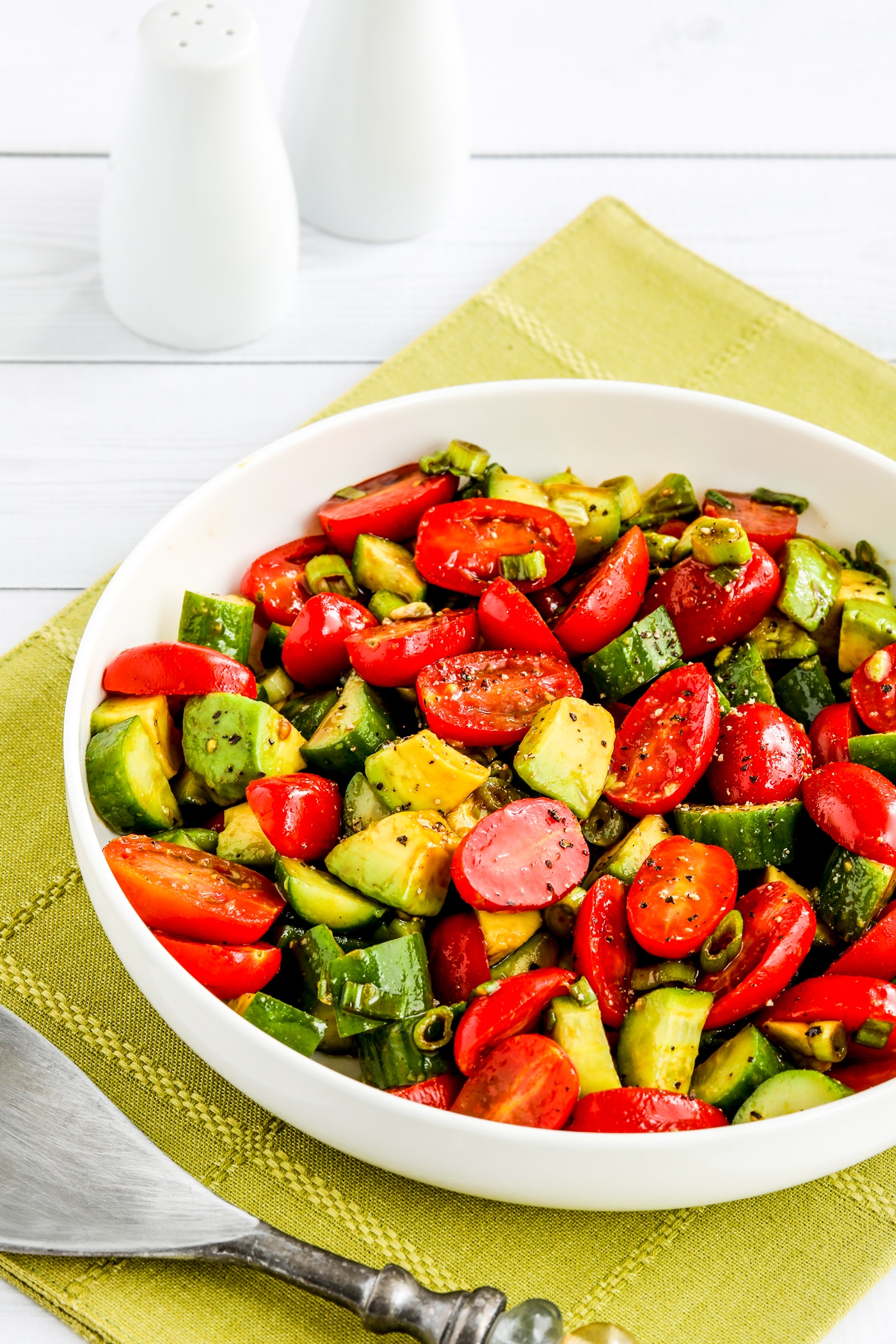 This Tomato Cucumber Avocado Salad came from a reader named Lisa and the simple balsamic vinegar dressing makes these ingredients shine!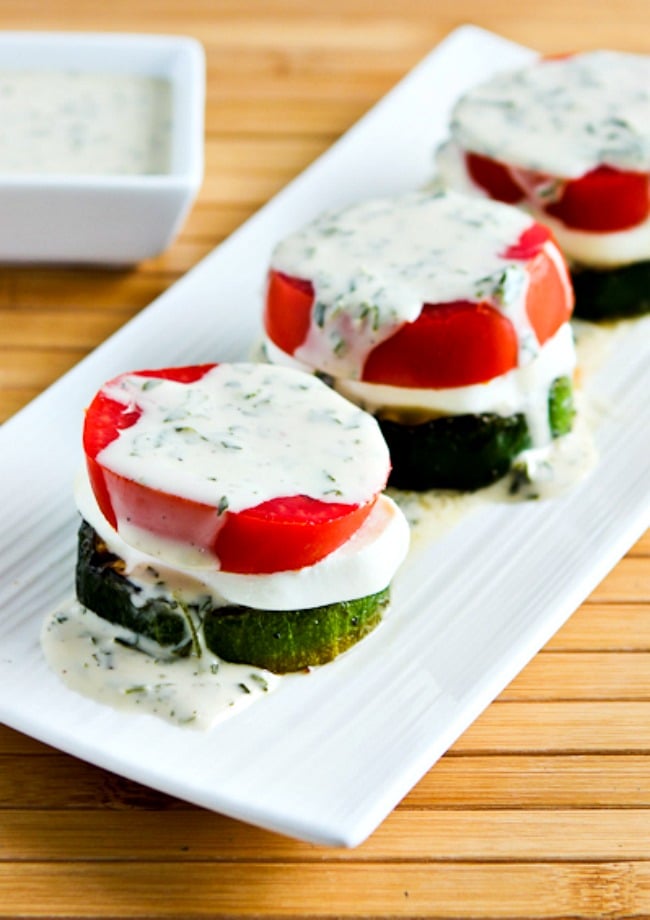 Another tomato recipe I make over and over is these Grilled Zucchini Caprese Stacks (with Basil Vinaigrette drizzled over the top.)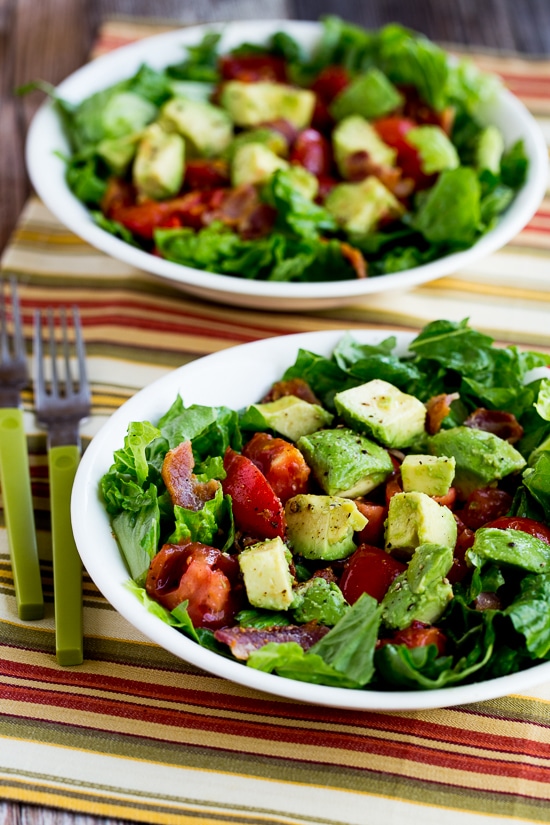 Bacon might be the first word in the title, but fresh garden tomatoes are also essential in this Bacon, Lettuce, Tomato, and Avocado Salad!
I love all the summer flavors in Green Bean and Tomato Salad, and if you have green beans from the garden that's even better!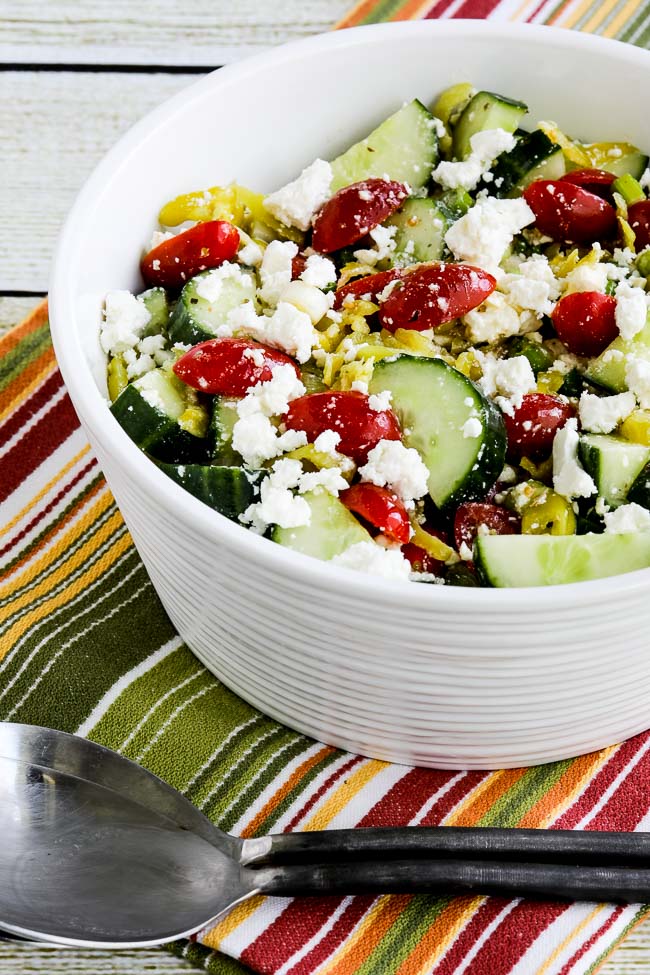 Tomato Cucumber Salad with Peperoncini is a relatively new salad, and I've made this over and over when I needed a pot-luck salad!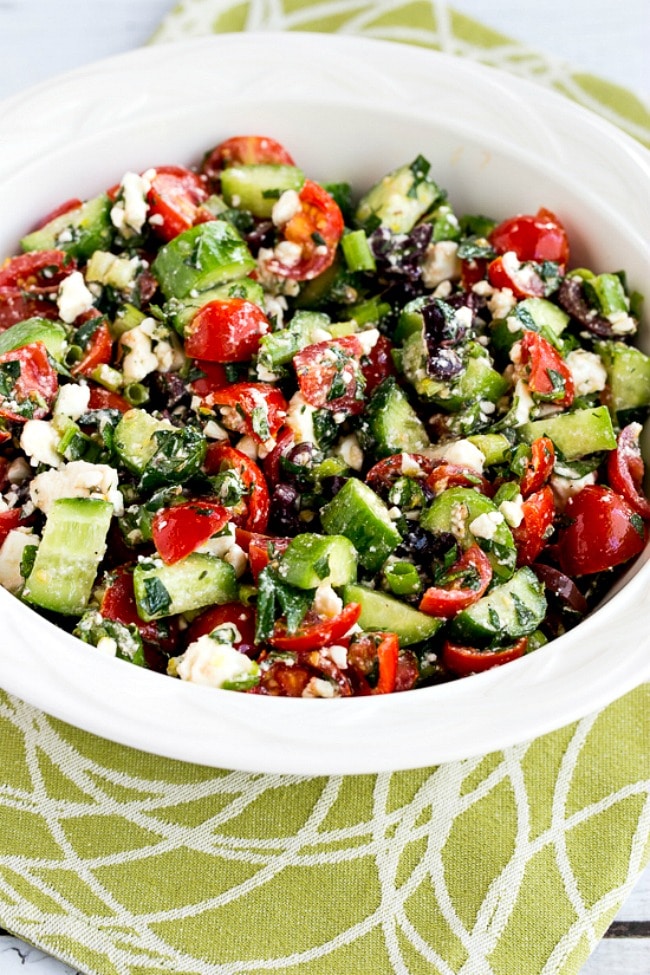 I'd never get tired of this Tomato Cucumber Salad with Mint and Feta!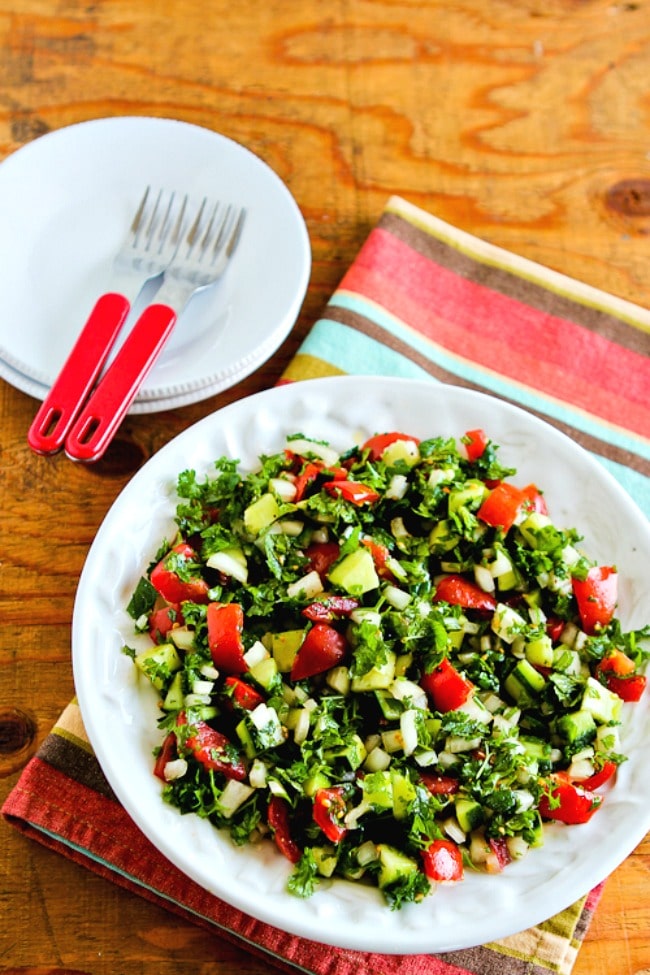 One of the tomato salads I've loved for years is the Middle Eastern Tomato Salad that I learned to make from my friend Massoud. You may have had this in a restaurant where it might be called Salad Shirazi, and salads with these ingredients are made all over the middle east.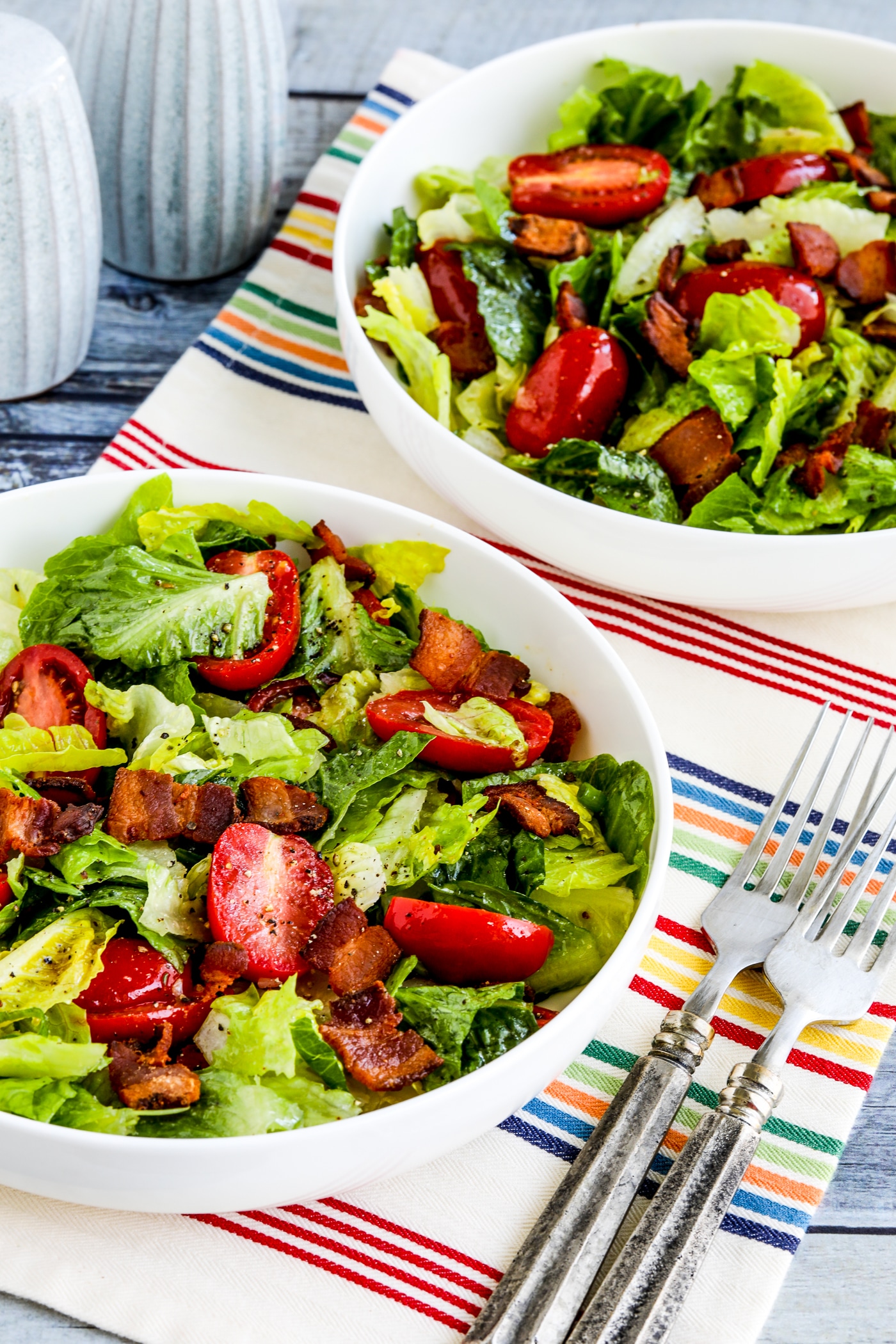 BLT Salad is tasty for low-carb lunch or a side dish, and this is great even when it's not quite garden tomato season yet!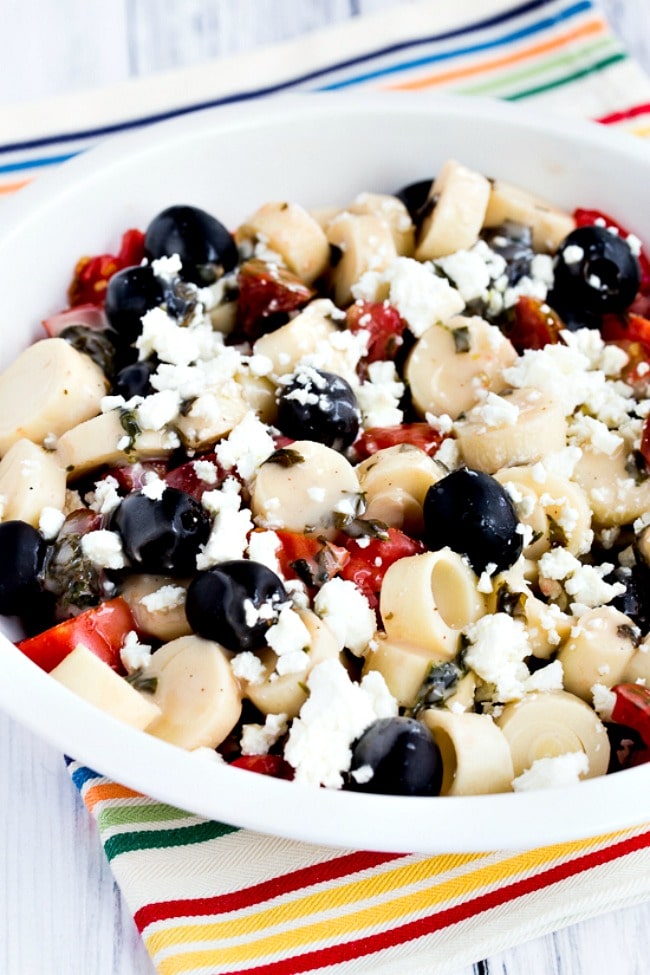 And this Tomato Salad with Hearts of Palm, Olives, and Feta is a salad I've been making since the early days of my blog!
Even More Tomato Salads to Enjoy!
Tomato, Egg, and Olive Salad with Gorgonzola Vinaigrette
Tomato, Avocado, and Tuna Salad
Marinated Tomatoes with Herb Dressing
Tomato, Cucumber, and Radish Salad
Tomato Salad with Cucumber, Avocado, and Cilantro
Bacon, Tomato, and Zucchini Salad with Feta
How long have I loved Summer Tomato Salads?
This tomato salad recipe collection started as a post in 2011 with ten tomato salads. Through the years I have added more favorite salads and updated lots of the photos. The post was last updated in 2022, and these are my current favorite salads for using garden tomatoes!
We are a participant in the Amazon Services LLC Associates Program, an affiliate advertising program designed to provide a means for us to earn fees by linking to Amazon.com and affiliated sites. As an Amazon Associate, I earn from qualifying purchases.