Favorite Summer Tomato Salads
I've updated my list of favorite summer tomato salads with so everyone with a garden can take full advantage of them before fresh tomato season is gone!
PIN Favorite Summer Salads to try some later!
Before I talk about Summer Tomato Salads I want to mention what a scary few days it's been in my life. At 1:00 a.m. on Thursday night I was awakened to someone pounding on my door saying "FIRE, you must leave immediately," and within a few hours this horrible fire was covering a big part of the mountain that's behind my house. It's been an emotional and disruptive few days. But I'm safe and my house is okay too, and I am feeling grateful to the amazing firemen, police, and other responders in my area who worked diligently to protect us and save our homes. Now let's talk about tomato salads!
There's no other seasonal food I love more than ripe summer tomatoes, and when good tomatoes are available, I have to indulge in them even if they aren't that low in carbs. I first shared my picks for Favorite Summer Tomato Salads years ago, but of course I've made a lot more tomato salads since then. That's partly why this post now has 20 Tomato Salads that I felt just had to be included!
I'm pretty sure I'm not the only low-carb eater who has to indulge in garden tomatoes when they're in season, so I hope these Summer Tomato Salads might include one or two that will become favorites at your house! You can use Tomato Recipes to find more recipes to use those garden tomatoes if you're lucky enough to have some!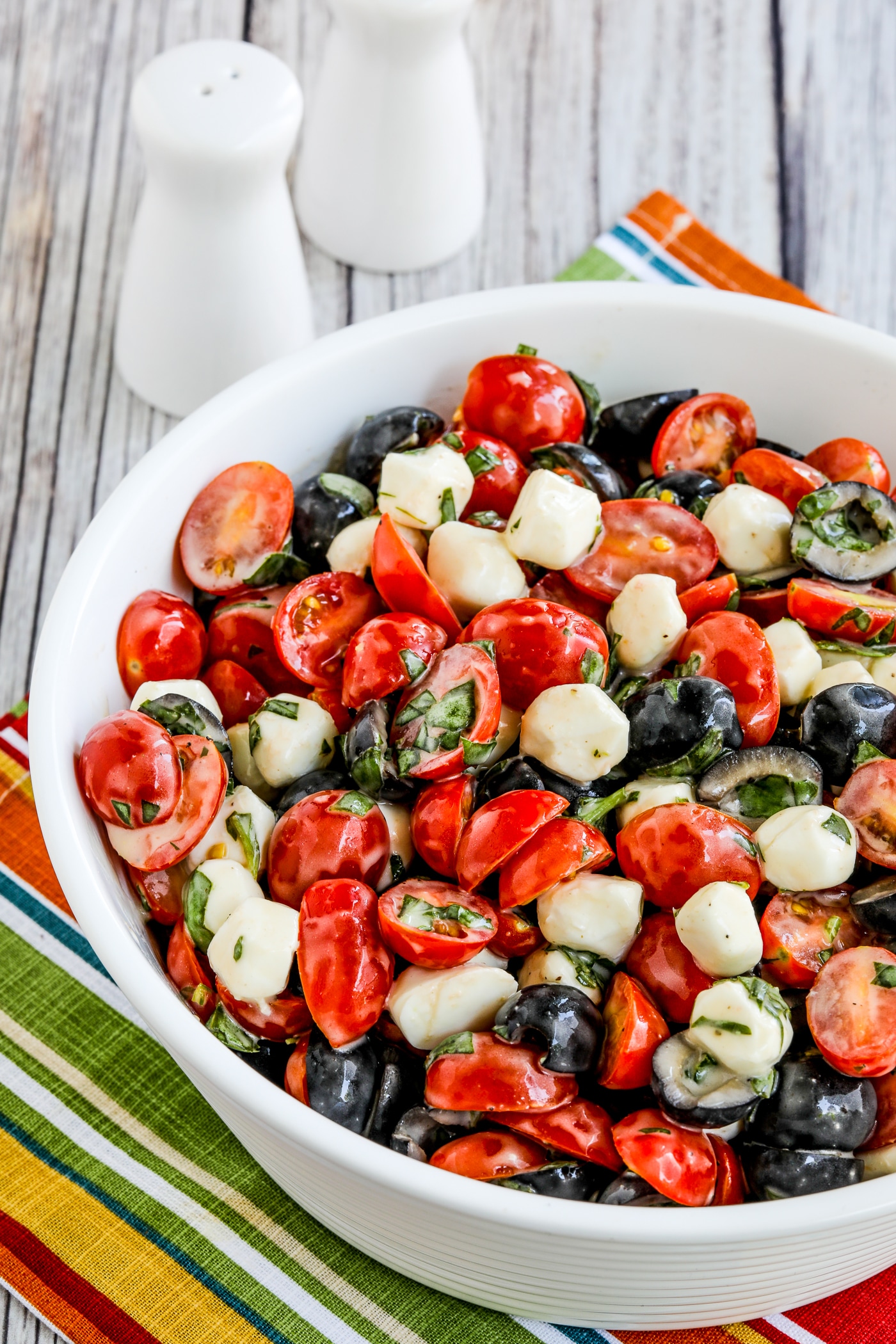 Tomato, Olive, and Fresh Mozzarella Salad uses those little balls of fresh mozzarella that are so good in salad, but if you can't find those just cut fresh mozzarella into cubes to make this tasty salad!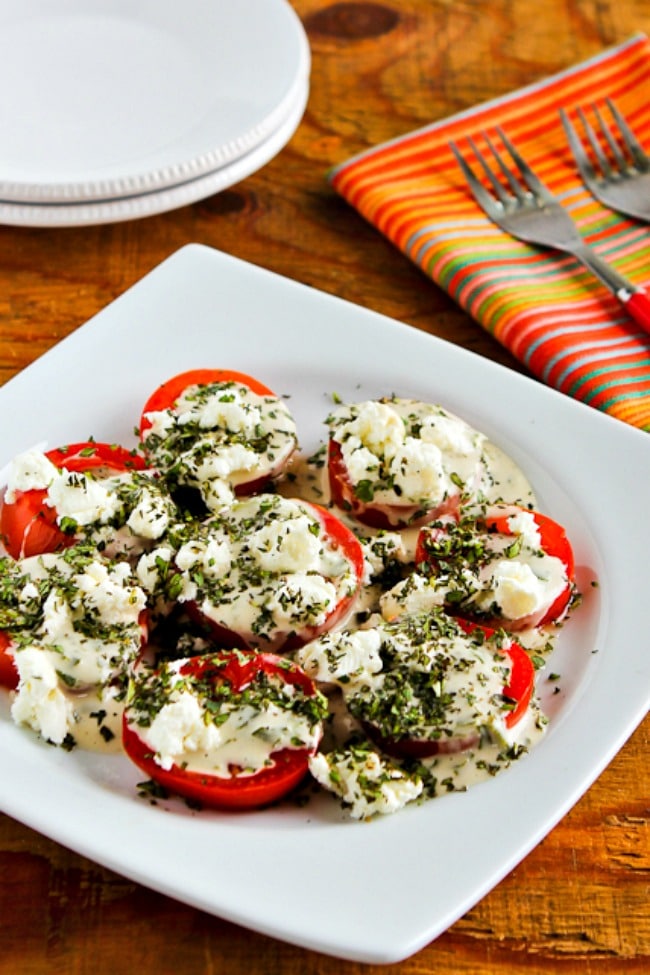 I make this Summer Tomato Salad with Goat Cheese all summer long!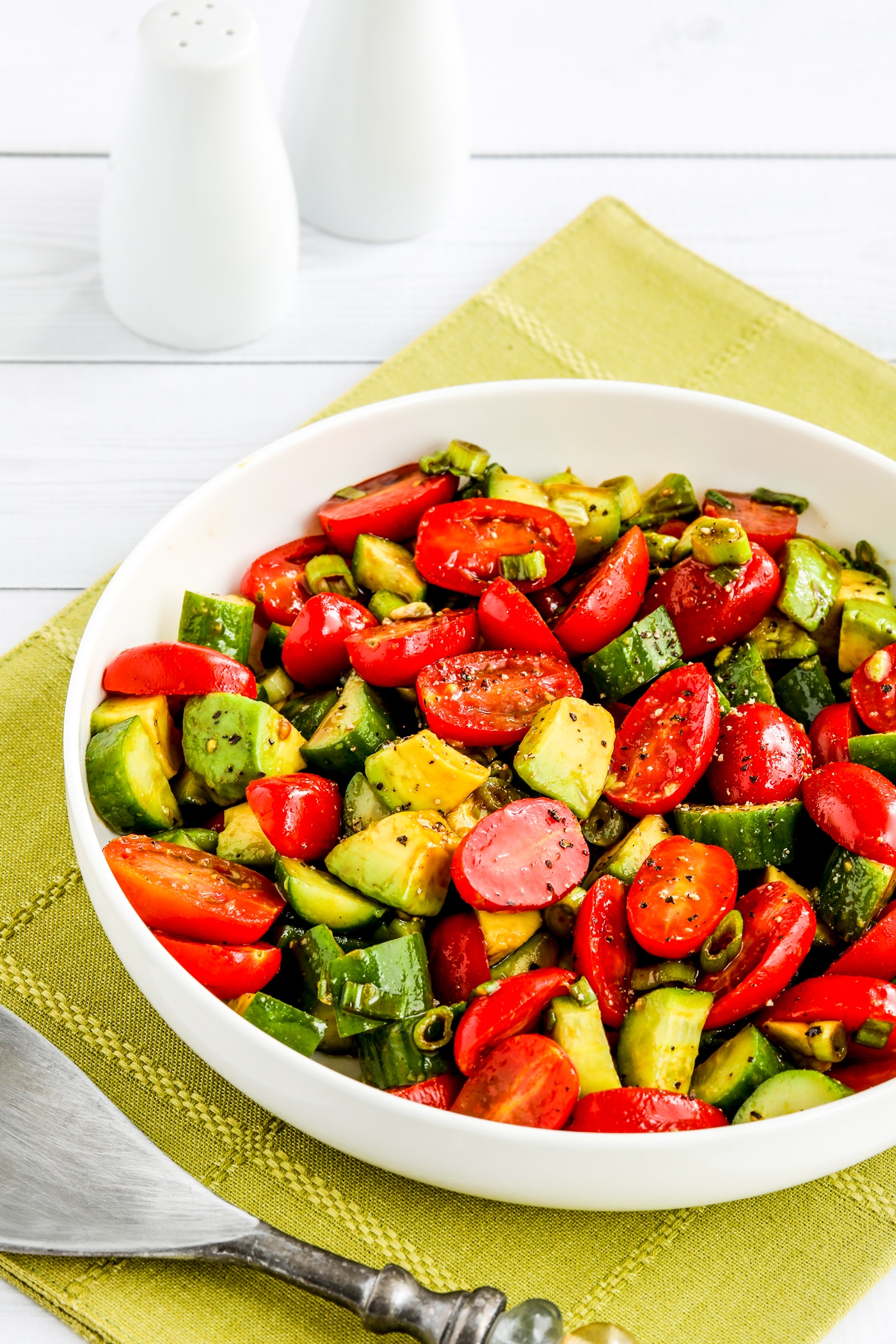 This Tomato Cucumber Avocado Salad came from a reader named Lisa and the simple balsamic vinegar dressing makes these ingredients shine!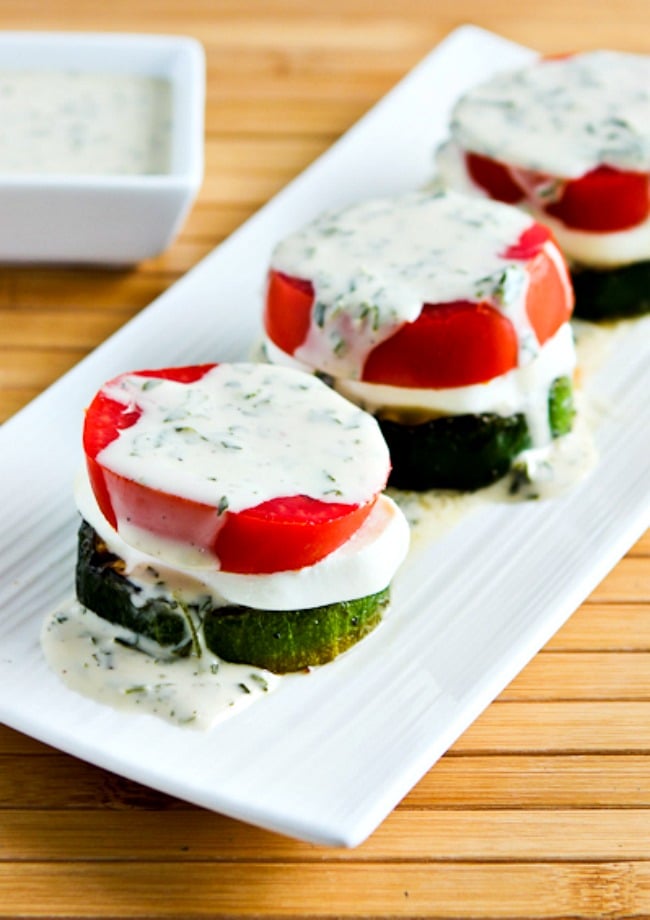 Another tomato recipe I make over and over is these Grilled Zucchini Caprese Stacks (with Basil Vinaigrette drizzled over the top.)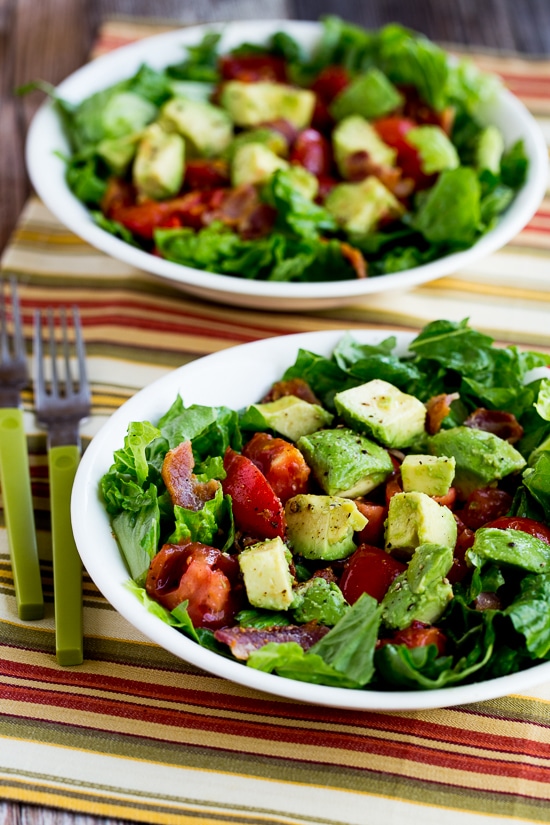 Bacon might be the first word in the title, but fresh garden tomatoes are also essential in this Bacon, Lettuce, Tomato, and Avocado Salad!
I love all the summer flavors in Green Bean and Tomato Salad, and if you have green beans from the garden that's even better!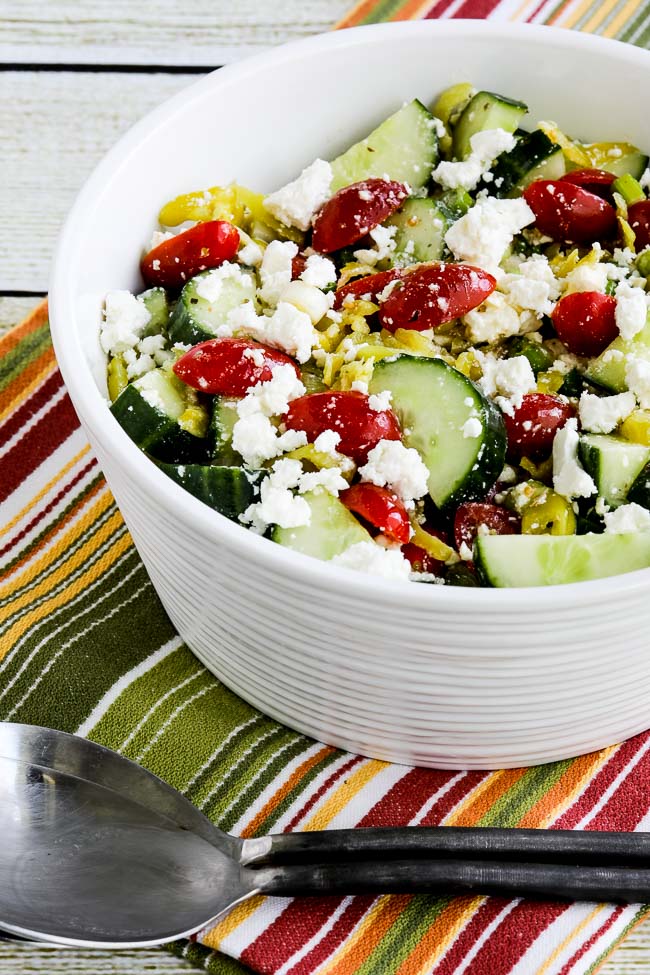 Tomato Cucumber Salad with Peperoncini is a new salad this summer, and I've made this over and over when I needed a pot-luck salad!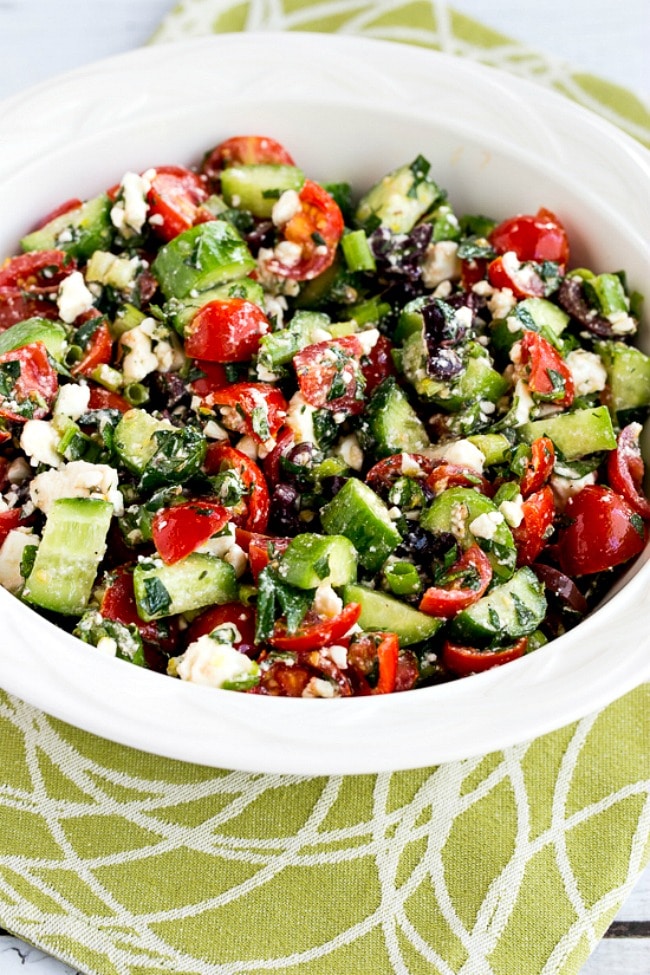 I'd never get tired of this Tomato Cucumber Salad with Mint and Feta!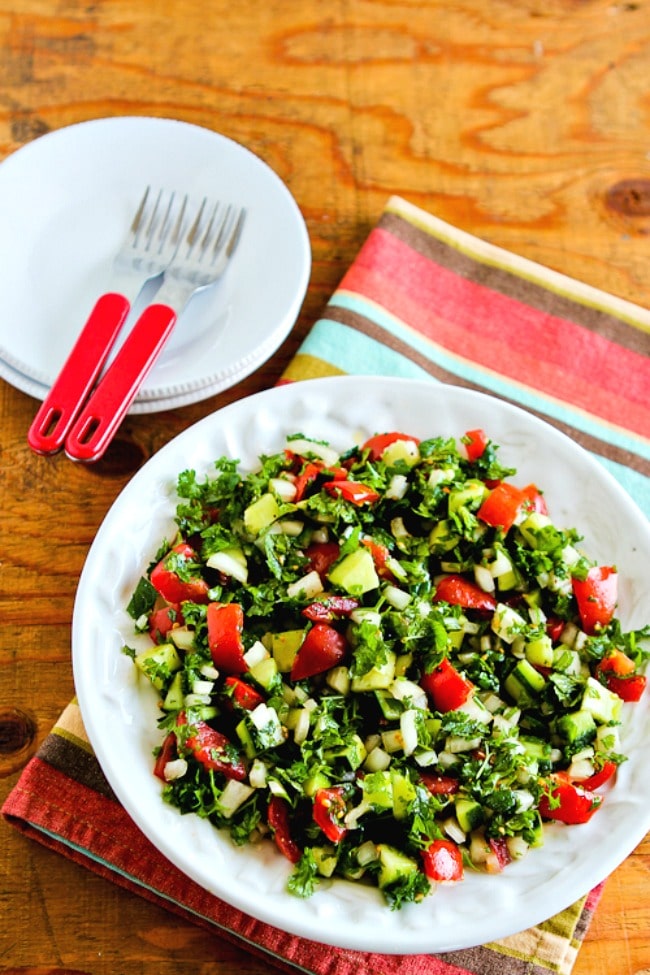 One of the tomato salads I've loved for years is the Middle Eastern Tomato Salad that I learned to make from my friend Massoud. You may have had this in a restaurant where it might be called Salad Shirazi, and salads with these ingredients are made all over the world.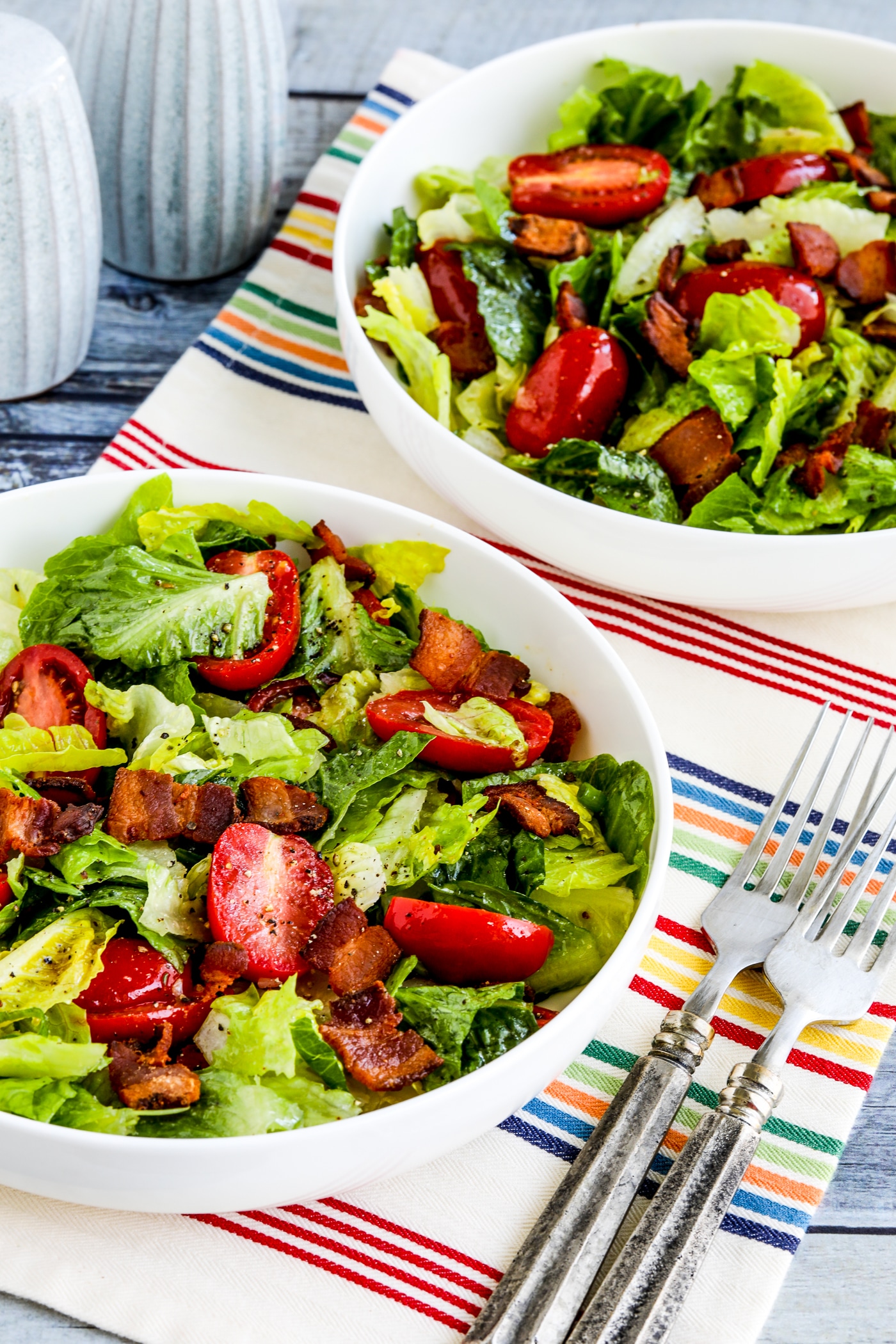 BLT Salad is tasty for low-carb lunch or a side dish, and this is great even when it's not quite garden tomato season yet!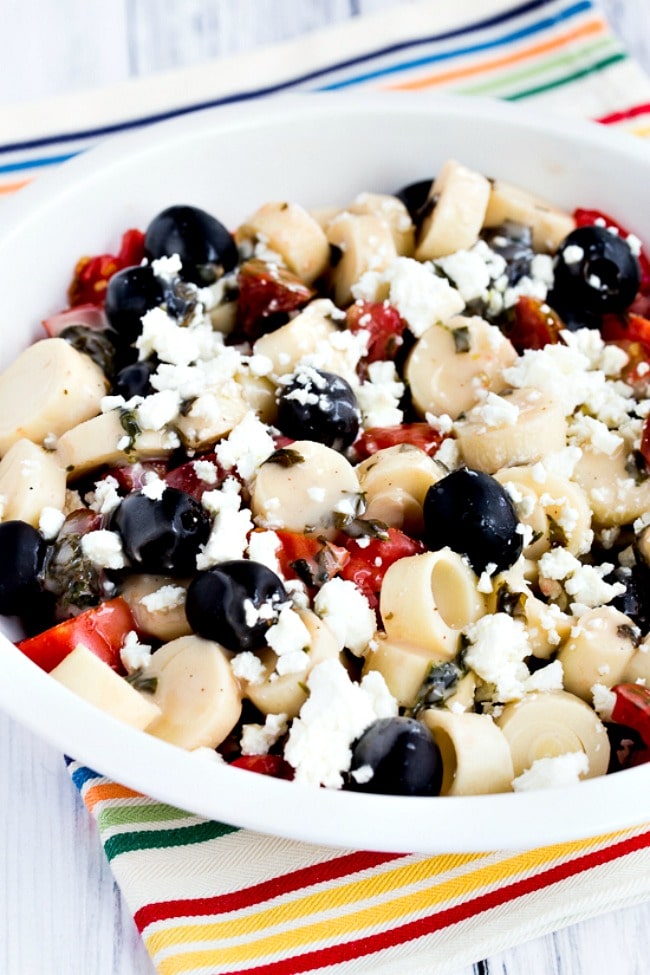 Tomato Salad with Hearts of Palm, Olives, and Feta is a salad I've been making since the early days of my blog!
Cherry Tomato Caprese Salad is a winner salad idea, especially if you can get red and yellow cherry tomatoes!
More Summer Salads with Garden Tomatoes!
Tomato, Egg, and Olive Salad with Gorgonzola Vinaigrette
Tomato, Avocado, and Tuna Salad
Green Bean Tomato Feta Salad
Marinated Tomato Salad with Herb Dressing
Tomato, Cucumber, and Radish Salad
Tomato Salad with Cucumber, Avocado, and Cilantro
Bacon, Tomato, and Zucchini Salad with Feta
We are a participant in the Amazon Services LLC Associates Program, an affiliate advertising program designed to provide a means for us to earn fees by linking to Amazon.com and affiliated sites. As an Amazon Associate, I earn from qualifying purchases.