Bacon, Lettuce, Tomato, and Avocado Salad (Video)
Bacon, Lettuce, Tomato, and Avocado Salad uses a trick of barely cooking the tomatoes to bring out the flavors when it's not quite fresh tomato season yet. And if you enjoy these flavors on a sandwich, you'll want to make this salad over and over!
PIN Bacon, Lettuce, Tomato, and Avocado Salad to try it later!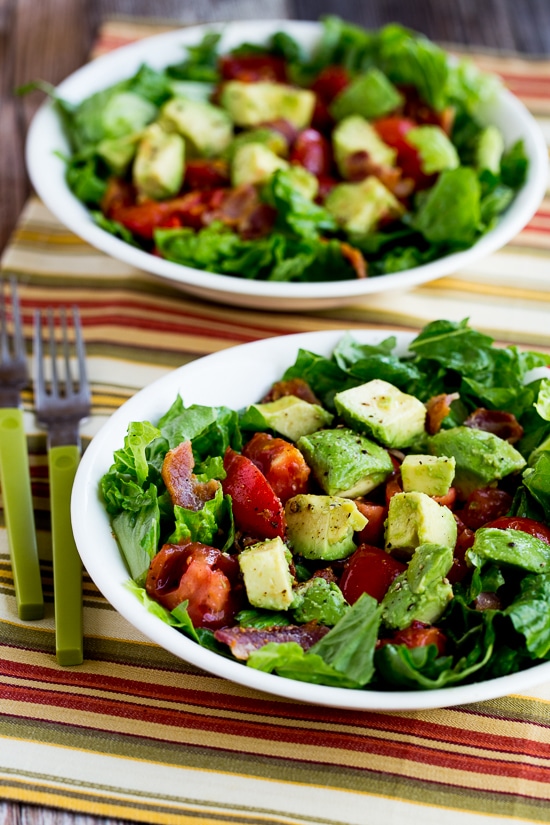 I bet I'm not the only tomato lover who longs for fresh tomato season and starts buying tomatoes in the store, even when I know they aren't going to be nearly as good as fresh garden tomatoes. Raise your hand if you're one of those people who crave tomatoes early in the summer. While nothing can really replace the flavor of a freshly-picked and vine-ripened tomato, if you have tomatoes that are pretty good, you can bump up the flavor a lot by barely cooking them, and that trick of warming up the tomatoes is the secret to the amazing flavor in this Bacon, Lettuce, Tomato, and Avocado Salad. And believe me when I say this salad was just as good as it looks! And we're right smack in that "craving summer tomatoes" time of year for summer 2018, so it seemed like a perfect time to remind you about this favorite salad.
And there's a fun story about the recipe. Back when I was a teacher/food blogger, a student gave me The Ultimate Low-Carb Cookbook (affiliate link) as a teacher gift, and a recipe in that book is where I learned to add more ripe tomato flavor to tomatoes by warming them. I still treasure the memory of what a thoughtful gift that was for a parent to give their child's teacher!
The salad that inspired this one didn't have avocado, and our version is flexible on the amount of bacon. But everything about this salad combination just screams SUMMER, and if you're longing for that fresh tomato flavor, I hope this will help you get through the next few weeks!
What ingredients do you need for this recipe?
romaine lettuce
tomatoes
avocado
fresh-squeezed lime juice, I used my fresh-frozen lime juice
bacon
olive oil
garlic puree or Minced Garlic (affiliate link)
red wine vinegar
salt and fresh ground black pepper to taste
How can you make this salad lower in carbs?
Obviously this is a salad for people who love tomatoes! But they do have some carbs, so if you want a salad with even fewer carbs just use a bit less tomatoes.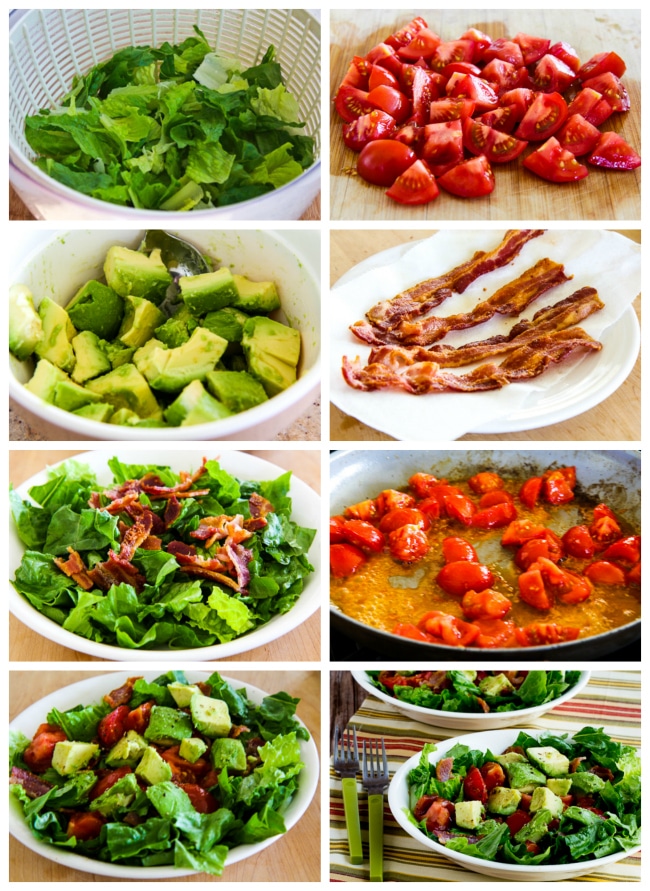 How to make this salad:
(Scroll down for complete recipe with nutritional information.)
Get the washed lettuce, diced tomatoes, and diced avocado ready.
Cook the bacon in a frying pan until it's very crisp, drain bacon on paper towels, and blot off the fat.
Divide the lettuce between two serving bowls, break bacon into pieces, and sprinkle over the lettuce.
Remove all but two teaspoons of the bacon fat and add olive oil; heat the oil, and cook tomatoes just one minute. (or skip the olive oil and use all bacon fat if you prefer.)
Then add the vinegar, stir once, and immediately remove the pan from the heat.
Pour tomatoes over the salad, and sprinkle diced avocado over the top.
Season the salad to taste with salt and fresh-ground black pepper and serve!
More Favorite Salads with Tomatoes and Avocados:
Low-Carb and Keto Salads with Avocado
Vegan Tomato Salad with Cucumber and Avocado
Favorite Summer Tomato Salads
Tomato, Avocado, and Feta Salad
Late Summer Tomato Salads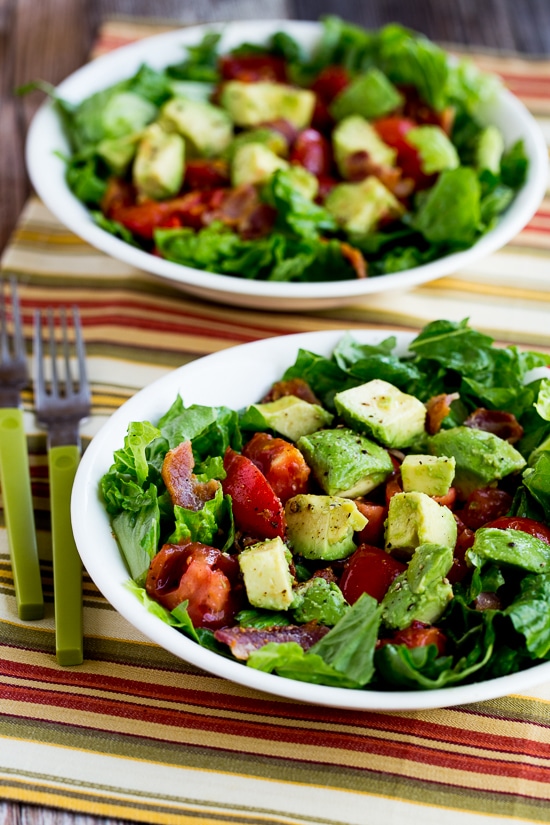 Yield: 2 salads
Bacon, Lettuce, Tomato, and Avocado Salad
Prep Time 15 minutes
Cook Time 8 minutes
Total Time 23 minutes
This Bacon, Lettuce, Tomato, and Avocado Salad is loaded with fresh ingredients and full of flavor.
Ingredients
4 cups chopped romaine lettuce
4 tomatoes (see notes)
1 small avocado, diced
1 tsp. fresh lime juice
4 slices bacon, cooked very crisp then crumbled (see notes)
1 T olive oil (see notes)
1/4 tsp. garlic puree
1 T red wine vinegar
salt and fresh ground black pepper to taste
Instructions
Tear up the lettuce and wash and spin dry in a salad spinner (affiliate link); then divide between two salad bowls.
Cut up the tomatoes and dice the avocado; then toss the avocado with the fresh lime juice.
Cook bacon in non-stick frying pan until it's very crisp.
Remove bacon to paper towels, blotting off fat.
Remove all but 2 teaspoons bacon fat from frying pan.
Crumble bacon over lettuce in salad bowls.
Add olive oil and heat for 30 seconds over medium high heat.
Add tomatoes and saute one minute.
Turn heat down to low, add garlic and black pepper, and cook 30 seconds more.
Add vinegar, stir to coat tomatoes, and immediately remove pan from heat.
Pour tomato mixture over lettuce and top with diced avocados.
Season with salt and more pepper as desired, and serve right away.
Notes
Use cherry tomatoes cut in half if you can't find good fresh tomatoes. Use more or less bacon to taste. Use all bacon fat and skip the olive oil if you prefer.
This salad had more carbs than I had anticipated, but if you want a lower-carb version use a bit less tomato.
Recipe inspired by a salad in The Ultimate Low-Carb Cookbook that I got as a teacher gift!
Nutrition Information:
Yield:
2
Serving Size:
1
Amount Per Serving:
Calories: 394
Total Fat: 30g
Saturated Fat: 6g
Trans Fat: 0g
Unsaturated Fat: 22.3g
Cholesterol: 23mg
Sodium: 706mg
Carbohydrates: 23g
Fiber: 12g
Sugar: 8g
Protein: 13g
Nutrition information is automatically calculated by the Recipe Plug-In I am using. I am not a nutritionist and cannot guarantee 100% accuracy, since many variables affect those calculations.
Low-Carb Diet / Low-Glycemic Diet / South Beach Diet Suggestions:
The South Beach Diet doesn't recommend bacon due to the saturated fat, but when it's tomato season I NEED bacon in my life. You can certainly use less bacon or use turkey bacon in this Bacon, Lettuce, Tomato, and Avocado Salad if you prefer. This salad does have some carbs, but it could be something to have as a treat for most low-carb diet plans.
Find More Recipes Like This One:
Use the Salads Index to find more tasty summer salads like this one. Use the Diet Type Index to find more recipes suitable for a specific eating plan. You might also like to Follow Kalyn's Kitchen on Pinterest to see all the good recipes I'm sharing there.
Historical Notes for this Recipe:
This recipe was first posted in 2016. It was last updated in 2021.
We are a participant in the Amazon Services LLC Associates Program, an affiliate advertising program designed to provide a means for us to earn fees by linking to Amazon.com and affiliated sites. As an Amazon Associate, I earn from qualifying purchases.