It's 2021 and Happy New Nutritional Information!
There's no doubt that 2020 was a tough year, but I'm proud that I managed to complete one of my most important blogging goals!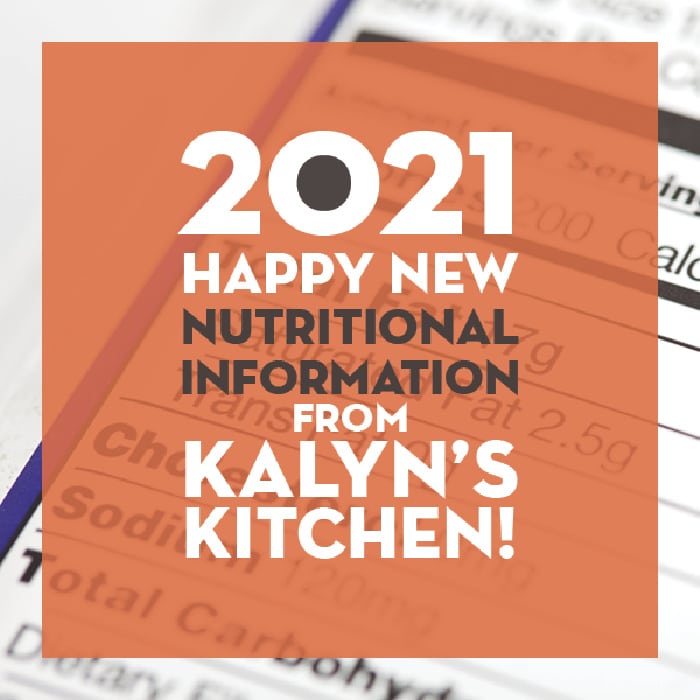 Welcome to 2021 everyone! I'm glad you're here and thrilled that to wish you Happy New Nutritional Information from Kalyn's Kitchen! Getting nutritional information on the recipes was a long process; I switched to WordPress in 2017 and spent two years editing formatting errors. In November 2019, I started working on nutritional information as promised, and I'm excited to announce that it's about 98% done! I know this will make my site more useful for many of you; thanks for your patience!
Thanks for gently letting me know if you find a mistake.
When I started editing the recipes to calculate nutritional info I found so many that weren't up to current standards, so some recipes needed a lot of editing! And after a while I got better at knowing how to write the ingredients so the nutritional information would calculate correctly, but I've found a few early ones with mistakes. I'm happy to recalculate if you find something that seems wrong, just e-mail me.
Recipe Ratings are Greatly Appreciated!
The new recipe card format that provides the nutritional information includes an option for Recipe Ratings, so if you leave a star rating when you've tried a recipe that's always greatly appreciated! This is a feature that I have mixed feelings about, but now it's pretty much a necessity since those ratings are included in search results.
There were a few recipes that didn't make the cut.
Google doesn't like what they call "unimproved content" and won't include it in search results. And since I've been blogging so long, there were old recipes on Kalyn's Kitchen that hadn't ever been updated. My brilliant blogging friend Stephanie made a spreadsheet for me that showed the yearly visits for each recipe, and I used that to decide which ones to remove. I left a printer-friendly recipe like this for some recipes that did have a few visitors, and some I just deleted. The good news is that if a recipe you liked is gone, I can usually find it on the old Blogger site where I stored recipes, so don't be afraid to write to me and ask me to send it to you.
My best dieting tip is to do Weekend Food Prep.
I don't give much diet advice on my site, but one habit I swear by is cooking or prepping food on the weekend so you have low-carb options ready for the week. My recipes that are suitable for this are found in a category called Weekend Food Prep. And the food prep habit I stick to most faithfully is making either Crunchy Low-Carb Chopped Salad or Kalyn's Power Salad Mix every weekend, and having that prepped salad in the fridge makes me feel ready to start the week!
I'm going to work on my bucket list a bit more!
In December I announced that I'm cutting back on my posting schedule (and if only the world could get back to normal, I'd love to start traveling again!) That means if you follow the blog by e-mail you'll never get more than three e-mails a week, and subscribing is always the best way to keep up with new recipes when they're added to the site. You can also follow me on Facebook, Instagram, Pinterest, Punchfork, and a new social media site called Publc.
Most of all, Happy New Year, and thanks for the support!
During 2020 I realized I was lucky to have a job where I already worked at home! And this year I felt so much gratitude for all of the readers who supported my blog and sent me nice feedback during a year when it was hard to stay motivated. I hope more than anything that 2021 is going to be a better year for all of us, Happy New Year everyone!
We are a participant in the Amazon Services LLC Associates Program, an affiliate advertising program designed to provide a means for us to earn fees by linking to Amazon.com and affiliated sites. As an Amazon Associate, I earn from qualifying purchases.