Asparagus with Tahini-Peanut Dipping Sauce
Roasted asparagus with tahini-peanut dipping sauce is a wonderful treat; skip the tahini and make the sauce with all peanut butter if you prefer!
PIN the recipe to try it later!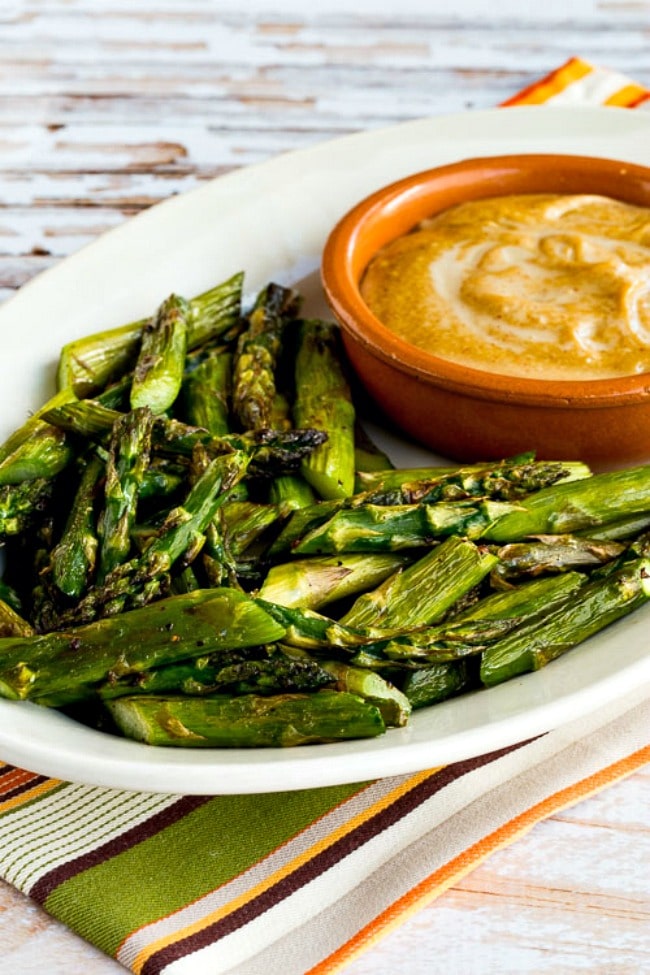 Do you keep buying asparagus over and over when it finally comes into season in the spring? Before I started blogging I wasn't nearly so much of an asparagus fan as I am now. When I fully entered the ranks of the food-obsessed and started reading lots of blogs I learned about roasted asparagus, grilled or pan-fried asparagus, and steamed asparagus. Since then I've been on a yearly spring quest to find as many new asparagus recipes as I can.
This Asparagus with Tahini-Peanut Dipping Sauce was a fantastic recipe that I first made back in 2012, so I'm guessing more than a few of my current readers never noticed it back in the archives. And you need to try this right away if you're an asparagus fan, so I'm updating the post and featuring it again today!
The sauce was slightly adapted from Chicken and Quickly Roasted Asparagus with Tahini Sauce which is a super popular main dish that includes asparagus, but the added peanut butter produced a thicker sauce and I used Golden Monkfruit Sweetener for a tiny bit of sweetness. This recipe is pretty flexible though, so read my thoughts in the recipe if you don't have tahini. But please try this; I bet you're going to love it! The recipe makes enough sauce for several pounds of asparagus, but have fun thinking of other things it would taste great with.
What ingredients do you need for this recipe?
What is Tahini?
Tahini is a paste made from ground sesame seeds, and it's used as a condiment or ingredient all over the middle easter, as well as parts of Africa. It's probably most well-known as an ingredient in hummus, and it's good in so many things. There are many good brands, but I'm a huge fan of Soom Tahini (affiliate link) and that's the kind I always choose.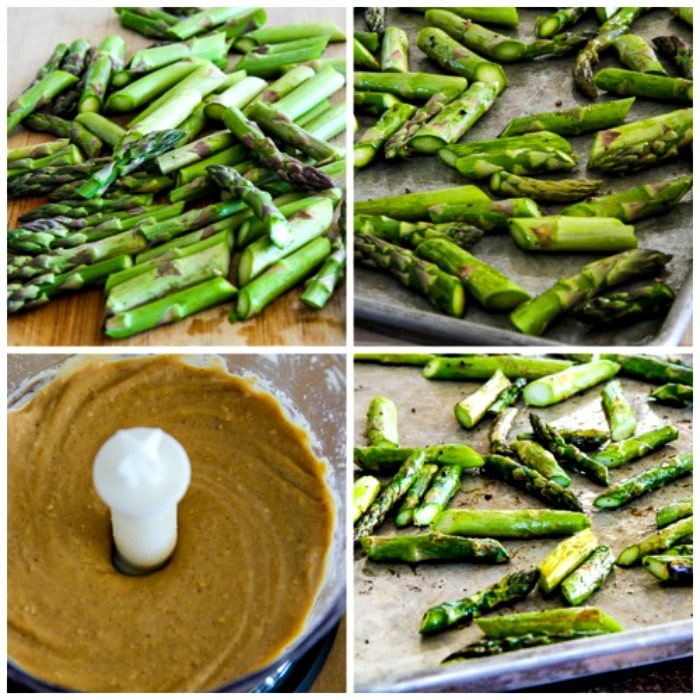 How to make this recipe:
(Scroll down for complete recipe with nutritional information.)
Trim the asparagus, cut diagonally into 2 inch pieces, toss with olive oil, and roast at 425F/220C about 15 minutes, or until it's done to your liking.
While the asparagus roasts, blend together the peanut butter, Tahini Sauce (affiliate link) (or more peanut butter), warm water, lemon juice, Golden Monkfruit Sweetener (affiliate link) or sweetener of your choice, Minced Garlic (affiliate link), and soy sauce to make the sauce.
That's it! Devour and enjoy!
Serve hot, and I promise this Asparagus with Tahini-Peanut Dipping Sauce will be a hit with everyone who tries it!
If you have leftover sauce to try it on broccoli, cauliflower, or green beans!
More Recipes to Make You Love Asparagus:
Grilled Asparagus with Parmesan ~ Kalyn's Kitchen
Easy Gluten-Free Broccoli and Asparagus Frittata ~ A Mind "Full" Mom
Baked Eggs and Asparagus with Parmesan ~ Kalyn's Kitchen
Roasted Asparagus with Mozzarella ~ Give Recipe
20 Favorite Low-Carb Asparagus Recipes ~ Kalyn's Kitchen
Three Cheese Asparagus Gratin ~ The Cookie Rookie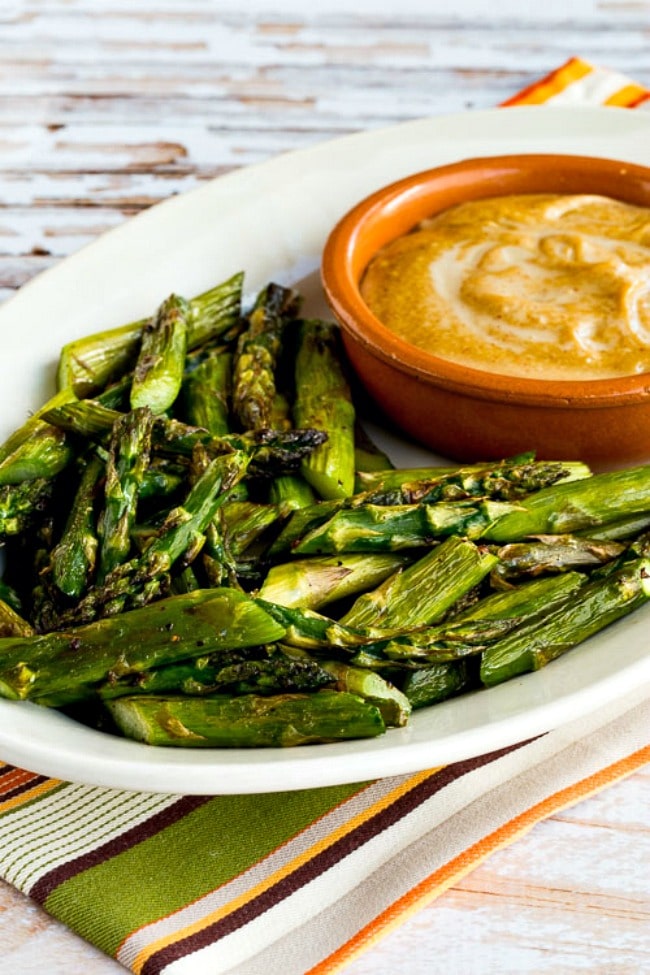 Yield: 4 servings
Asparagus with Tahini-Peanut Dipping Sauce
Prep Time 5 minutes
Cook Time 15 minutes
Total Time 20 minutes
The sauce is what makes this Asparagus with Tahini-Peanut Dipping Sauce so wonderfully satisfying!
Ingredients
Ingredients:
1 lb. asparagus, thick spears preferred for roasting
1 T olive oil
sea salt and fresh ground black pepper to taste (I didn't use much salt)
Sauce Ingredients:
(Recipe makes enough sauce for several pounds of asparagus, but have fun thinking of other things it would taste great with.)
2 T peanut butter (see notes)
1/4 cup well-stirred Tahini (see notes)
1/4 cup warm water
2 T fresh squeezed lemon juice
2 tsp. Golden Monkfruit Sweetener
1/2 tsp. ground garlic puree from a jar
2 tsp. soy sauce (see notes)
Instructions
Preheat oven to 425 F. Lightly spray a roasting pan with olive oil or non-stick spray.
Be sure asparagus is washed, then cut off the lower woody ends (usually only a few inches, snap one to see.) Cut asparagus into diagonal-sliced pieces about 2 inches long.
Put asparagus in plastic bowl and toss with olive oil, salt and pepper.
Arrange in single layer on baking sheet and roast, turning once or twice, until asparagus is starting to slightly shrivel and brown and is still a little crisp in the center, about 15 minutes.
While asparagus roasts, combine peanut butter, tahini, warm water, lemon juice, agave nectar (or other sweetener), garlic, and soy sauce in food processor, blender, or bowl attachment of an Immersion Blender (affiliate link). (If you use an immersion blender or blender, hold the lid down very tightly! I learned this the hard way.) Blend until ingredients are well combined.
Serve asparagus hot with sauce on the side for each person to dip asparagus into. Sauce can also be spooned over asparagus, but I loved dipping it, especially since this is a rich sauce.
Variations: I think this sauce would taste fantastic on roasted broccoli, cauliflower, or green beans too.
Nutrition Information:
Yield:
4
Serving Size:
1
Amount Per Serving:
Calories: 197
Total Fat: 16g
Saturated Fat: 2g
Trans Fat: 0g
Unsaturated Fat: 12g
Cholesterol: 0mg
Sodium: 351mg
Carbohydrates: 11g
Fiber: 4g
Sugar: 2g
Protein: 7g
Nutrition information is automatically calculated by the Recipe Plug-In I am using. I am not a nutritionist and cannot guarantee 100% accuracy, since many variables affect those calculations.
Low-Carb Diet / Low-Glycemic Diet / South Beach Diet Suggestions:
Made with natural peanut butter and an approved sweetener, this Asparagus with Tahini-Peanut Sauce is a great dish for any phase of the original South Beach Diet. The sauce is relatively high in fat, but sesame seeds and peanuts contain what South Beach considers to be good fat. If you use a sweetener that works for your plan, this should be good for most low-carb diet plans.
Find More Recipes Like This One:
Use Side Dishes to find more recipes like this one. Use the Diet Type Index to find recipes suitable for a specific eating plan. You can also Follow Kalyn's Kitchen on Pinterest to see all the good recipes I'm sharing there.
We are a participant in the Amazon Services LLC Associates Program, an affiliate advertising program designed to provide a means for us to earn fees by linking to Amazon.com and affiliated sites. As an Amazon Associate, I earn from qualifying purchases.