Shrimp and Avocado Salad (Video)
This easy Shrimp and Avocado Salad is ready in minutes, and the lime-cumin dressing makes it so tasty for a low-carb lunch or dinner.
PIN the Shrimp Avocado Salad to try it later!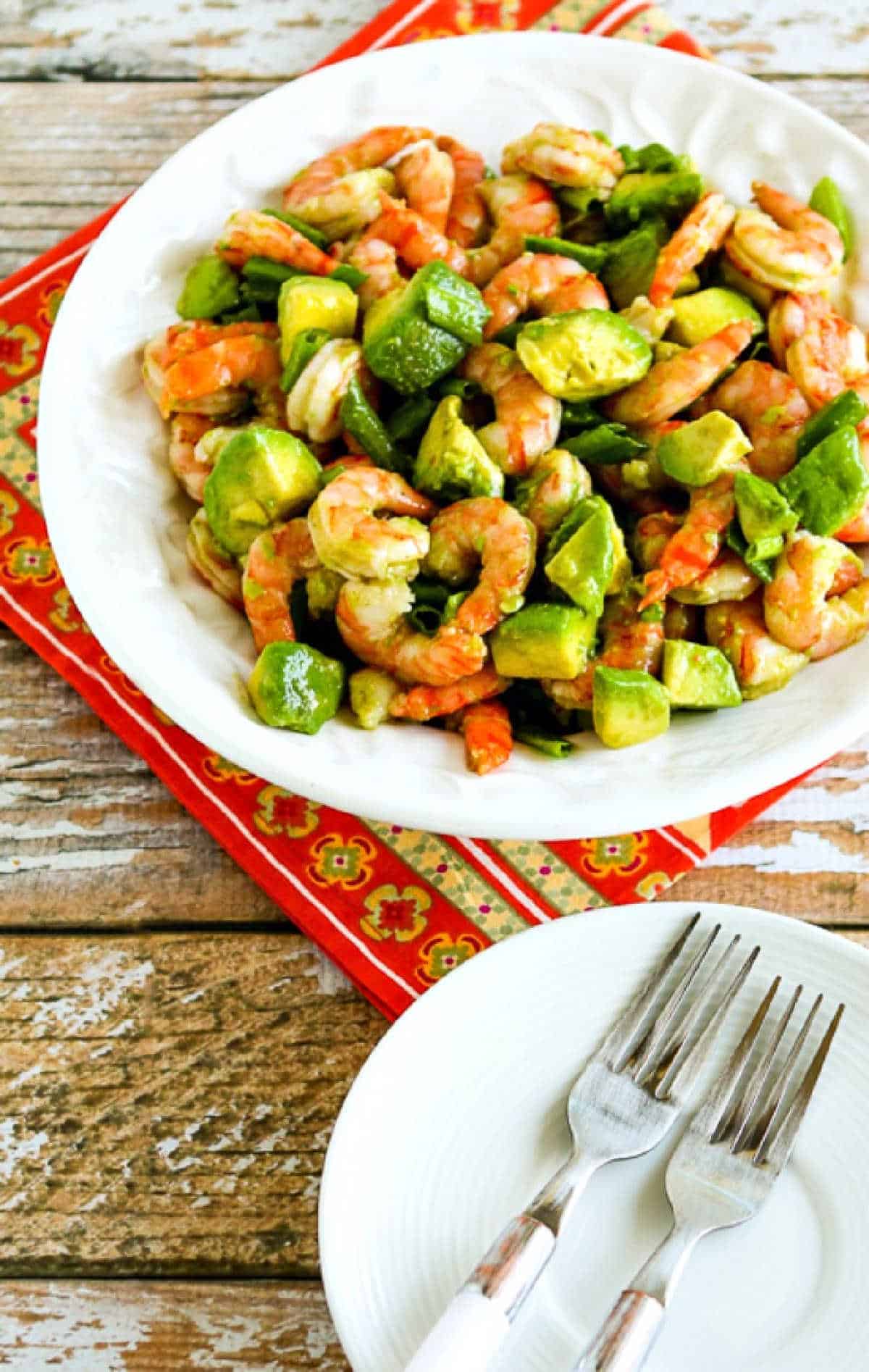 I first made this ultra-easy Shrimp and Avocado Salad when a couple of my nieces were doing Whole 30, and it became a hit on the blog almost immediately. Since then I've made this simple salad over and over when it was just too hot to cook.
And it's definitely HOT in Utah this time of year, so this salad seems like the perfect recipe to remind you about for Friday Favorites this week!
Of course shrimp and avocados are two of my very favorite foods, but it's the amazing dressing combination made with lots of fresh lime juice, olive oil, and just a touch of cumin that makes this salad such a wow!
I know shrimp is a bit of a budget splurge, but salads like this are the reason I keep frozen cooked shrimp in the freezer for those times when I just need a treat. Hope you enjoy trying it if you're also a shrimp fan!
What ingredients do you need for this recipe?
What size shrimp did I use for the Shrimp Avocado Salad?
I used 50-70 size frozen cooked shrimp for this recipe. That means there are 50-70 shrimp in a pound. You can definitely use larger shrimp if the budget allows!
Will the Shrimp Avocado Salad keep in the fridge?
This salad will keep for one day in the fridge, although it's definitely best when it's freshly made.
Want more Low-Carb Dinners with Shrimp?
Check out Low-Carb and Keto Shrimp Dinners for more tasty recipes with shrimp.
How to Make Shrimp and Avocado Salad:
(Scroll down for complete printable recipe with nutritional information.)
Thaw shrimp in the fridge; then drain well when you're ready to make the salad.
Whisk together the lime juice, ground cumin (affiliate link), salt, and olive oil to make the dressing.
Dice up two avocados and toss with about half the dressing.
Chop the green onions and add to the avocado with the drained shrimp.
Gently combine, adding as much more dressing as you prefer. That's all, enjoy!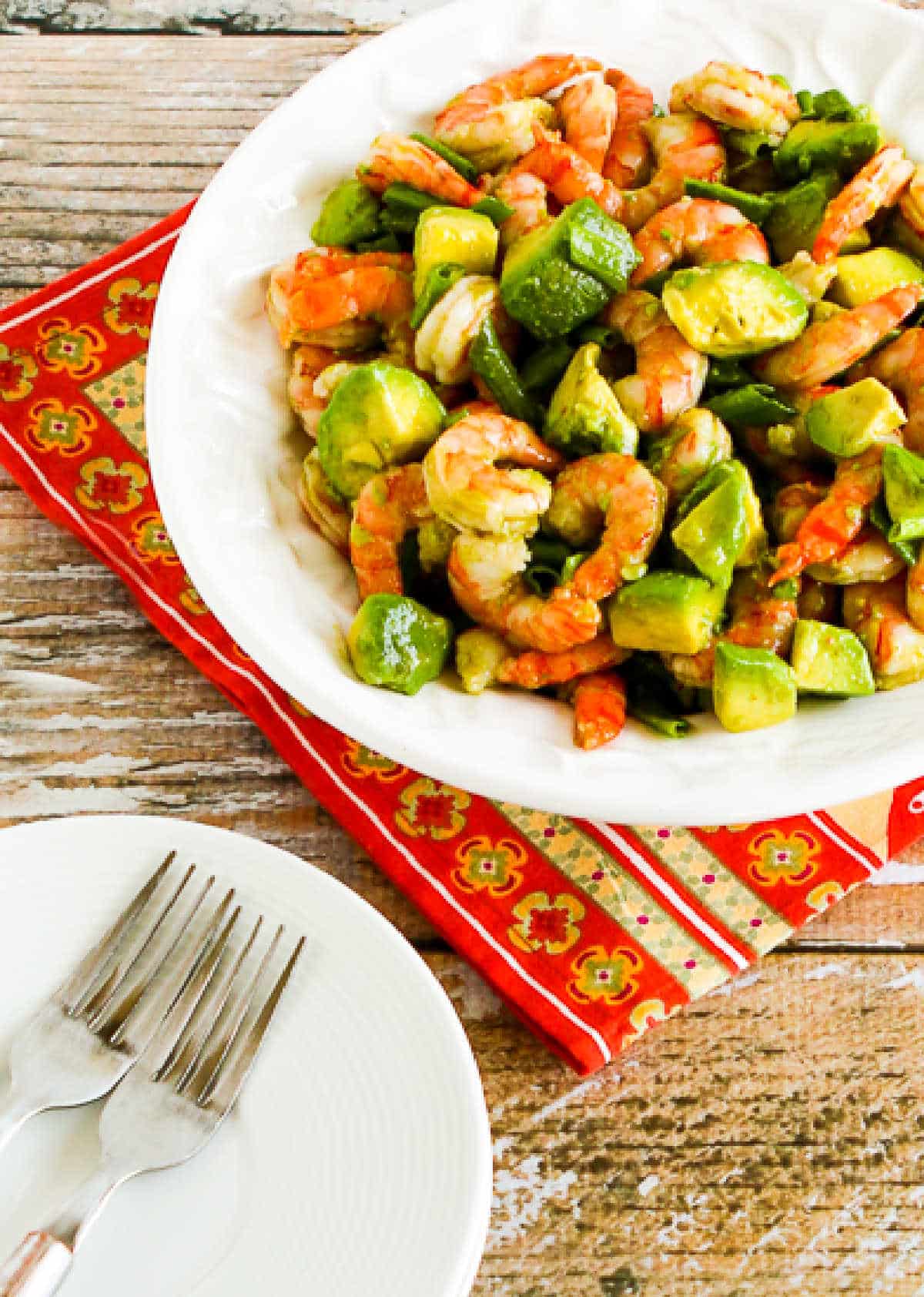 More Delicious Salads with Shrimp:
Cucumber Noodle Salad with Shrimp
Lemony Shrimp Salad with Avocado, Heart of Palm, and Feta
Family Favorite Shrimp and Macaroni Salad
Yield: 6 servings
Shrimp and Avocado Salad
Prep Time 20 minutes
Total Time 20 minutes
This easy Shrimp and Avocado Salad takes only minutes to make, and it's a low-carb treat for lunch or dinner.
Ingredients
1 lb. cooked frozen shrimp, thawed (see notes)
2 avocados, diced
3 T fresh-squeezed lime juice
1 tsp. ground cumin (or less if you're not a big cumin fan)
1/2 tsp. finely ground sea salt
3 T extra-virgin olive oil
6 green onions, thickly sliced
Instructions
Let shrimp thaw overnight in the fridge (or you can thaw them in the bag in cold water in the sink if you forget to plan ahead.)
Put thawed shrimp into a colander placed in the sink and let the shrimp drain well. (If you're in a hurry, drain shrimp and pat dry with paper towels.
Whisk together the lime juice, cumin, and salt, then whisk in the olive oil a little at a time to make the dressing.
Cut up the avocado into bite-sized chunks, put in a bowl large enough to hold all the ingredients, and toss with about half the dressing.
Cut the green onions into thick slices.
If the shrimp is still wet, pat dry with paper towels.
Add the green onions and drained shrimp to the avocados and gently combine, adding as much additional dressing as you prefer.
Season to taste with more salt if desired (I didn't add more.)
Notes
I used my fresh-frozen lime juice. I used 50-70 per pound size shrimp.
This will keep for a day in the fridge, although it's best freshly made.
Recipe created by Kalyn.
Nutrition Information:
Yield:
6
Serving Size:
1
Amount Per Serving:
Calories: 265
Total Fat: 18g
Saturated Fat: 3g
Unsaturated Fat: 14g
Cholesterol: 160mg
Sodium: 918mg
Carbohydrates: 9g
Fiber: 5g
Sugar: 1g
Protein: 19g
Nutrition information is automatically calculated by the Recipe Plug-In I am using. I am not a nutritionist and cannot guarantee 100% accuracy, since many variables affect those calculations.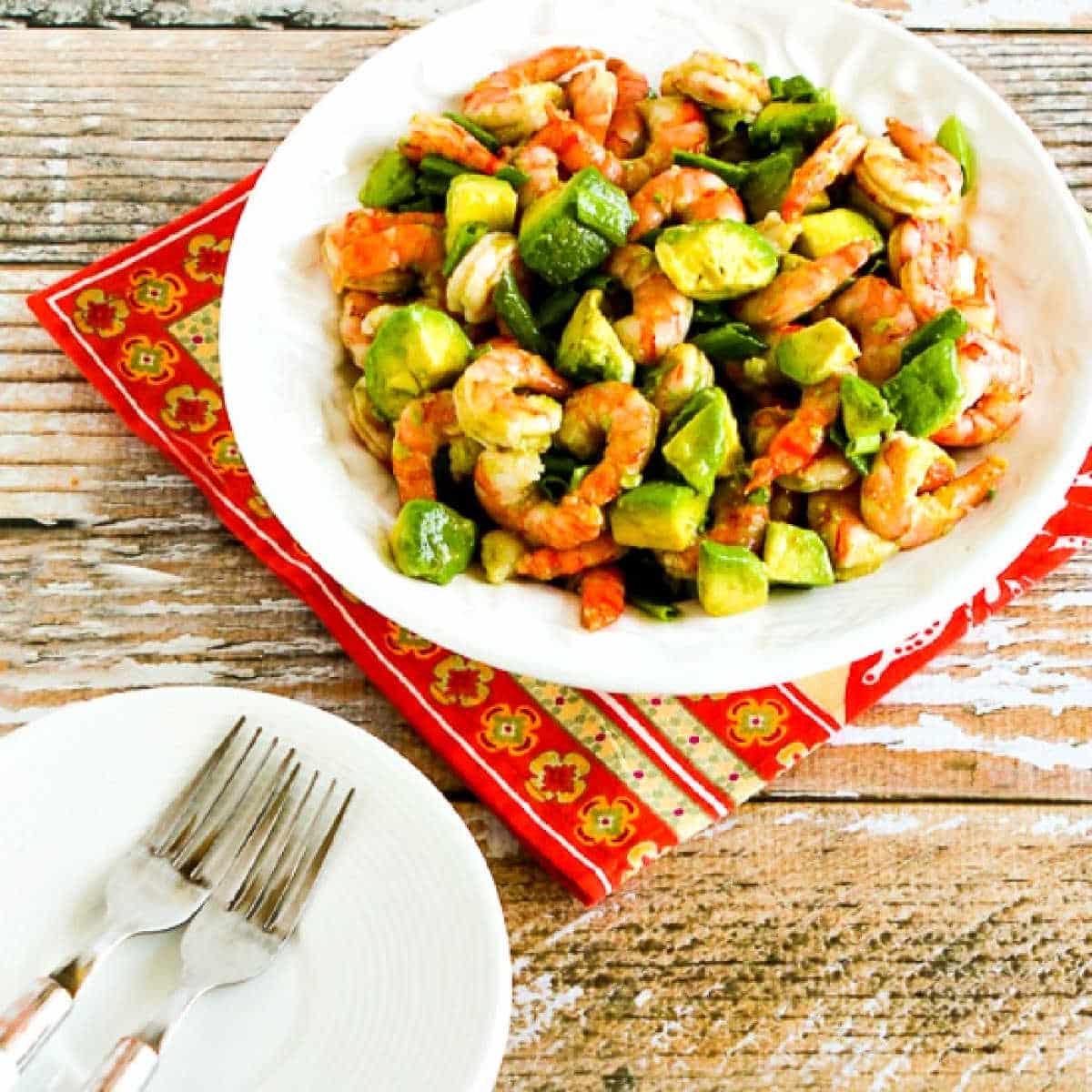 Low-Carb Diet Low-Glycemic Diet / South Beach Diet Suggestions:
Shrimp and Avocado Salad is great for low-carb or Keto diets, and although avocados are a limited food for Phase One of the South Beach Diet they're loaded with healthy fat, and I'd certainly eat this for phase one on South Beach as long as you don't overdo it on the portion size.
Find More Recipes Like This One:
Use Salad Recipes to find more recipes like this one. Use the Diet Type Index to find recipes suitable for a specific eating plan. You might also like to follow Kalyn's Kitchen on Pinterest, on Facebook, on Instagram, or on YouTube to see all the good recipes I'm sharing there.
Historical Notes for this Recipe:
This recipe was first posted in 2014. It was last updated with more information in 2022.
We are a participant in the Amazon Services LLC Associates Program, an affiliate advertising program designed to provide a means for us to earn fees by linking to Amazon.com and affiliated sites. As an Amazon Associate, I earn from qualifying purchases.