How to Make Juicy Grilled Chicken Breasts
If you'd like to know How to Make Juicy Grilled Chicken Breasts, this post has my popular tips for perfect grilled chicken! And grilling season is here so I'm including links for 10 favorite low-carb grilled chicken recipes for you to try this summer.
PIN the tips for Juicy Grilled Chicken Breasts to try it later!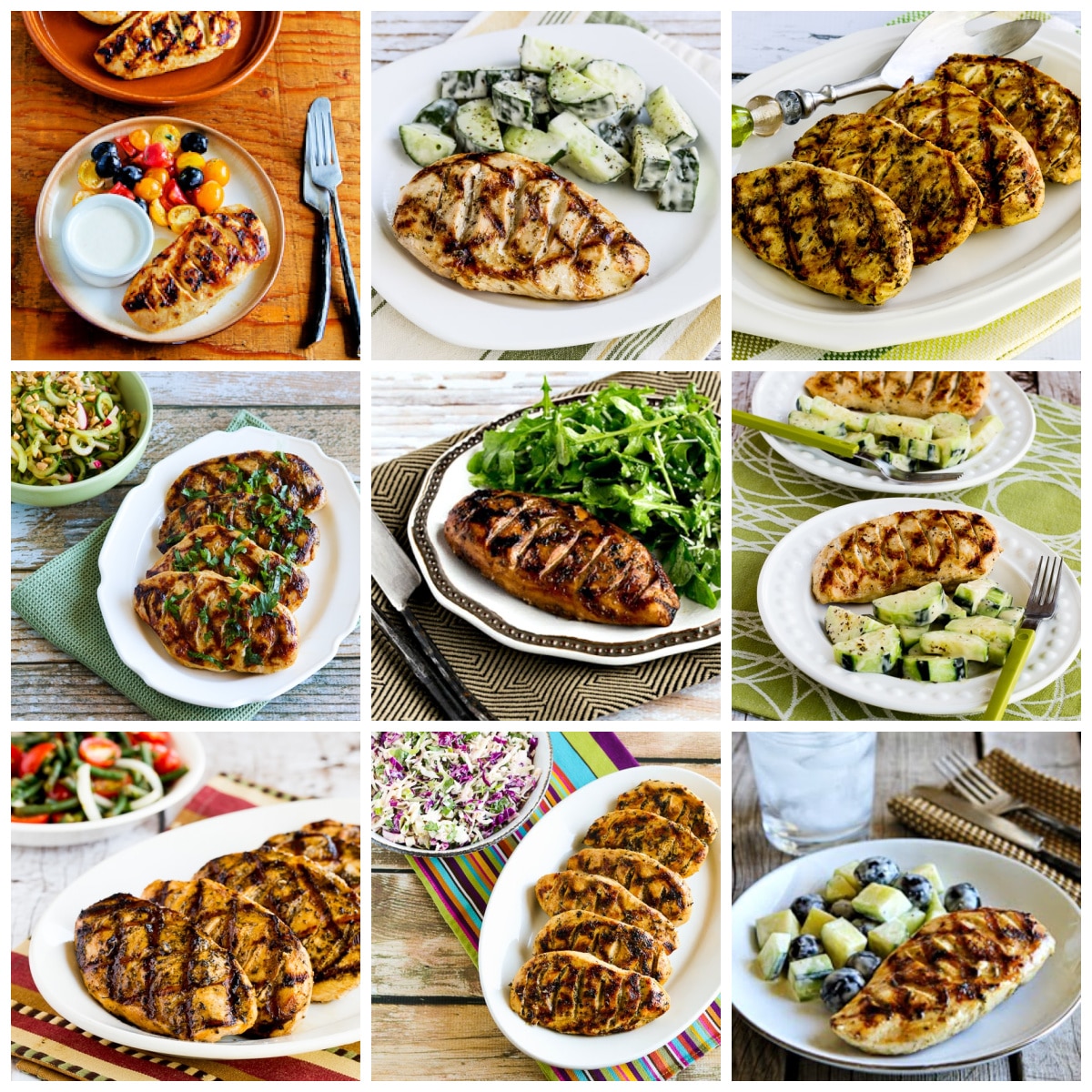 Grilling season is my favorite time of year, and juicy grilled chicken is something I love to make all summer long. But grilled chicken breasts take some attention to details to make sure they turn out perfectly juicy and tender without drying out.
This popular post has five easy steps to help you make Juicy Grilled Chicken Breasts that are perfect every time. For years I've been using a chicken breast marinade and then grilling the chicken with great results, despite the recipes I see that say you should only use bone-in chicken with skin on the grill.
When I catered houseboat trips for over ten years, juicy grilled chicken breasts were one of the dinners I always made at the lake, and there were many requests for the recipes that produced the perfect grilled chicken.
And of course I shared my tips for grilled chicken breasts with many of my Lake Powell clients through the years. And this method for producing juicy grilled chicken has been popular with the readers of Kalyn's Kitchen too; hope you enjoy!
Why Do You Need Special Tips for Grilling Chicken Breasts?
Chicken breasts don't have much fat, so you can't just take a chicken breast out of the package, throw it on the grill, and have it turn out moist and delicious. For good results with boneless and skinless chicken, you need to use techniques designed to keep the chicken juicy. This post has all my my tips for grilled chicken breasts that will stay moist and juicy on the grill!
Can you make grilled chicken breasts without an Outdoor Grill?
I love to make grilled chicken in the summer when I can cook outside on the deck, but if you don't have an outdoor grill or it's not grilling weather any of these grilled chicken recipes can also be cooked on a stove-top grill pan with ridges, or in an electric griller such as a George Foreman Grill. (links are affiliate links) Use Grilling Recipes to find more recipes for food on the grill, no matter which type of grilling device you're using.
Five Steps for Juicy Grilled Chicken Breasts.
Step One: Trim chicken breasts to remove undesirable parts.
Trim each chicken breast carefully to remove fat and tendons and then trim the underneath side of the chicken (tenders side) to make the entire breast close to the same thickness. If there's a long thin piece on one end, trim it off. (Of course you're saving these trimmed-off pieces in the freezer to make chicken stock.)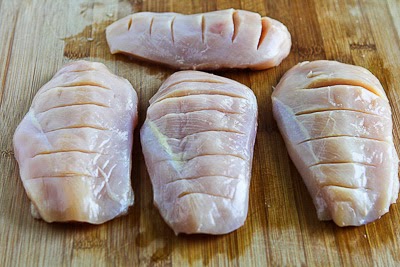 Step Two: Cut slits in the chicken help it cook evenly.
Carefully cut small crosswise slits down the length of each chicken breast, being careful not to cut all the way through. This will help the chicken cook more evenly, let the marinade cover more surface of the meat, and it also looks nice when the chicken is cooked.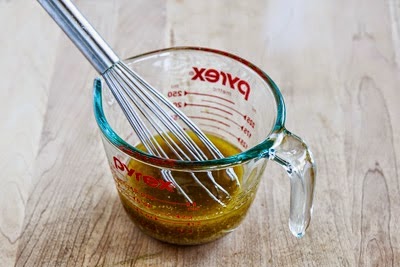 Step Three: Use a chicken marinade with oil, acidic ingredients, and flavorings.
I think marinades for chicken breasts need a generous amount of oil to keep the chicken moist. Most of my recipes have a 2:1 ratio of oil to acidic ingredients. I most often use olive oil, but depending on the other ingredients, you can use peanut oil or any type of vegetable oil. I usually use lemon juice or some type of vinegar for the acidic ingredient. Other marinade ingredients that I frequently use include garlic, onion, shallots, ginger, herbs, mustard, curry powder, soy sauce, sesame oil, Worcestershire sauce, and chile powder.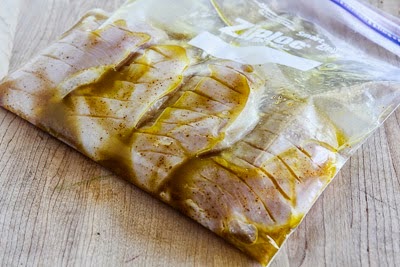 Step Four: Marinate chicken breasts in refrigerator at least several hours.
I like to marinate chicken 6-8 hours, and when I taught school I used to marinate chicken breasts in the refrigerator all day while at work, then cook them when I get home. However, if you're pressed for time, several hours is what I'd consider the minimum amount of time to get the flavoring and moistening benefits that come from marinating.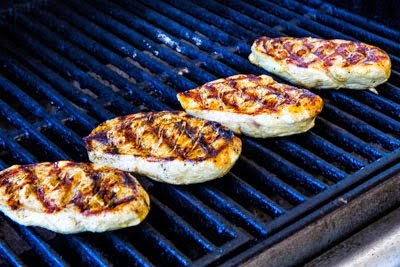 Step Five: Judge timing for grilled chicken breasts by how the chicken looks and feels (or use a meat thermometer).
Marinated chicken breasts need to cook until the chicken completely cooked through, but cooking too long will make it dry and tough. I cook chicken breasts at medium-high on my well-used grill. I judge when the chicken is done by the touch and how the chicken looks.
Chicken should feel firm to the touch, but not hard, when it's done. The outside of the chicken should be lightly browned on both sides. You can also use an Instant-Read Meat Thermometer (affiliate link) to check the temperature (USDA recommended temperature is 165 F for chicken breasts.) Cooking time will depend on the temperature of the chicken, how hot the grill is, the thickness of the chicken breasts, and even weather conditions if you're cooking outside.
Favorite Juicy Grilled Chicken Breast Recipes: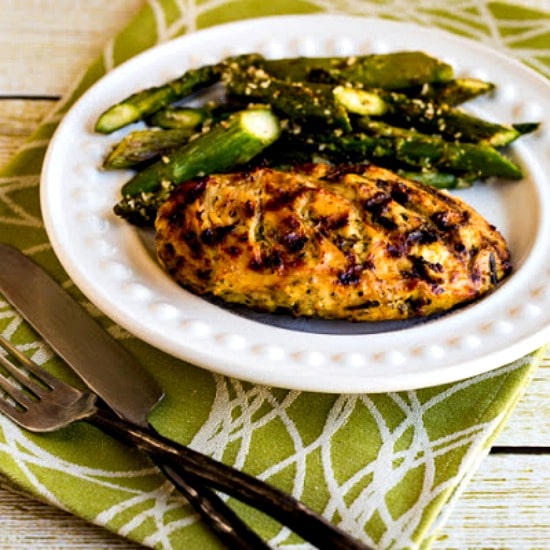 Rosemary Mustard Grilled Chicken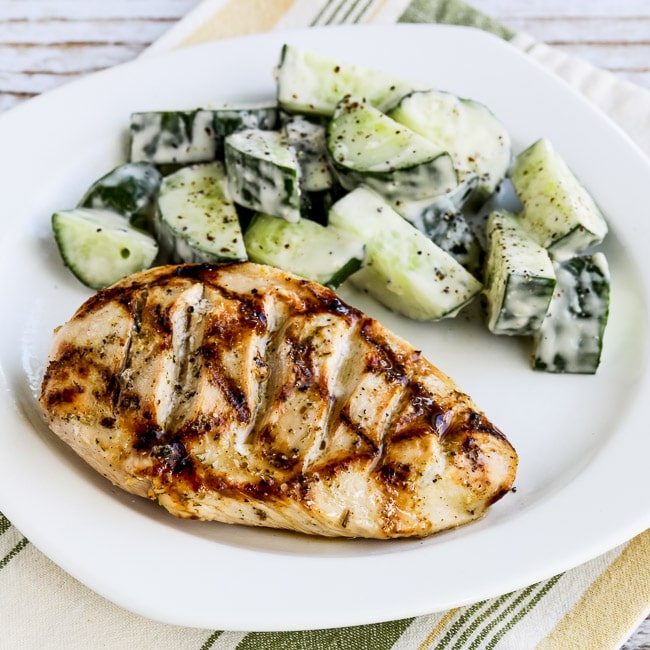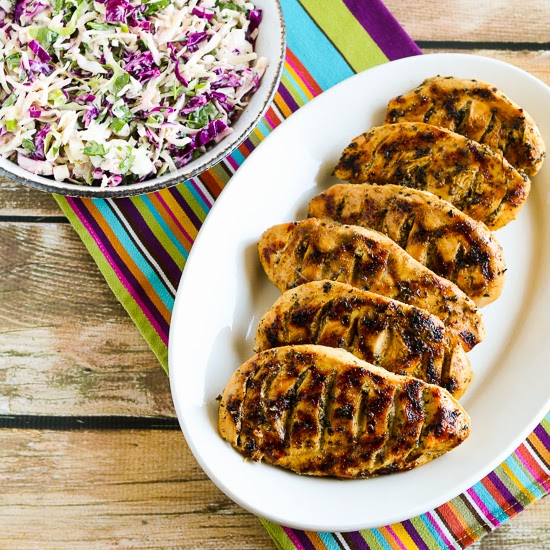 Garlic, Lemon, and Herb Grilled Chicken Breasts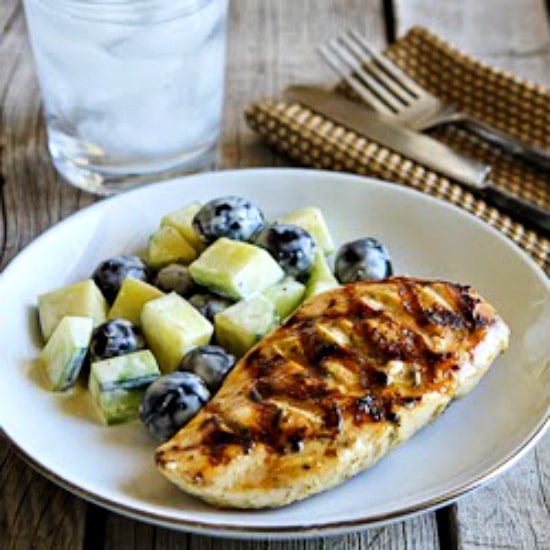 Grilled Chicken with Lemon and Capers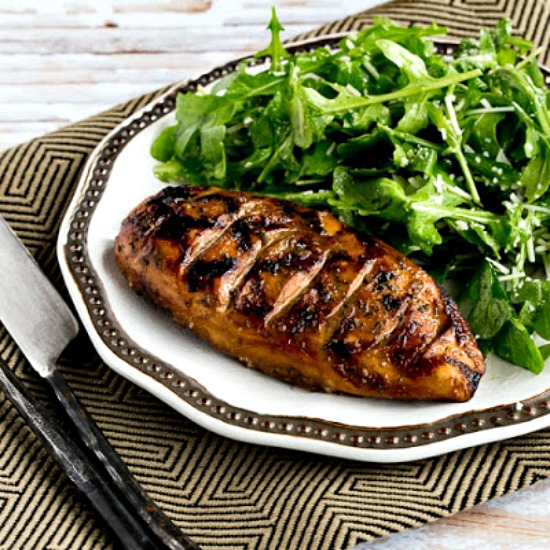 Grilled Chicken with Balsamic Vinegar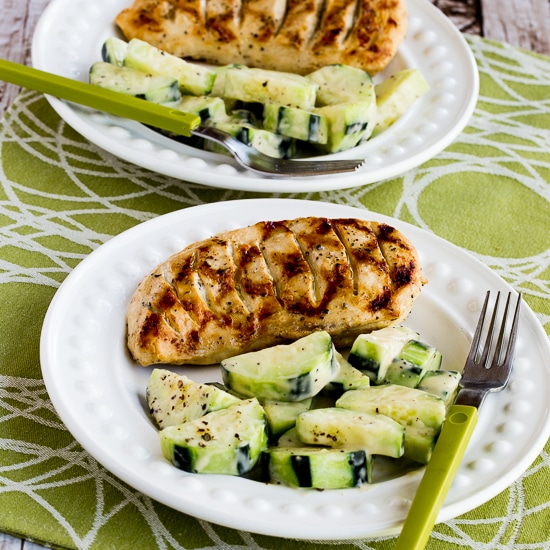 Completely Foolproof 100% Delicious Grilled Chicken(super easy!)
Savory Low-Carb Marinade for Chicken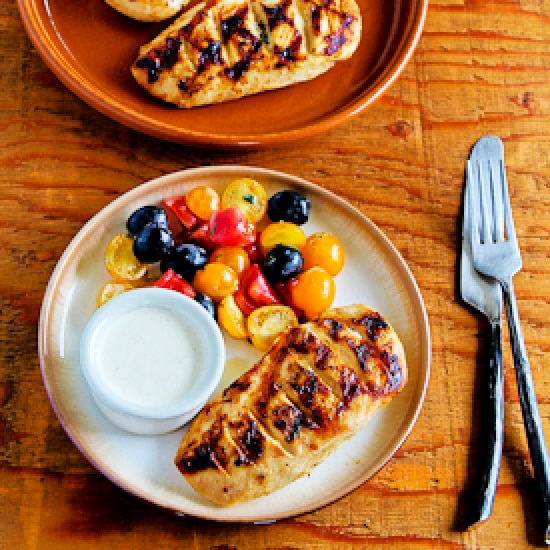 Grilled Chicken with White Barbecue Sauce
Grilled Chicken with Tarragon-Mustard Marinade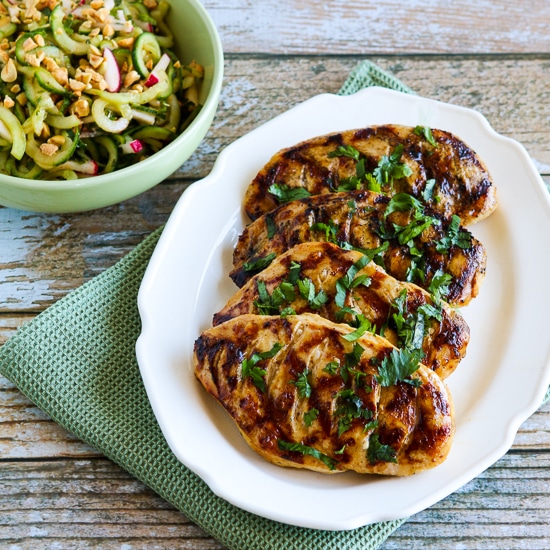 Historical Notes for the juicy grilled chicken breasts:
My tips for making juicy grilled chicken were first posted in 2009. Since that time thousands and thousands of Kalyn's Kitchen readers have told me how their chicken turns out perfectly following this method! The post was last updated with more information in 2023.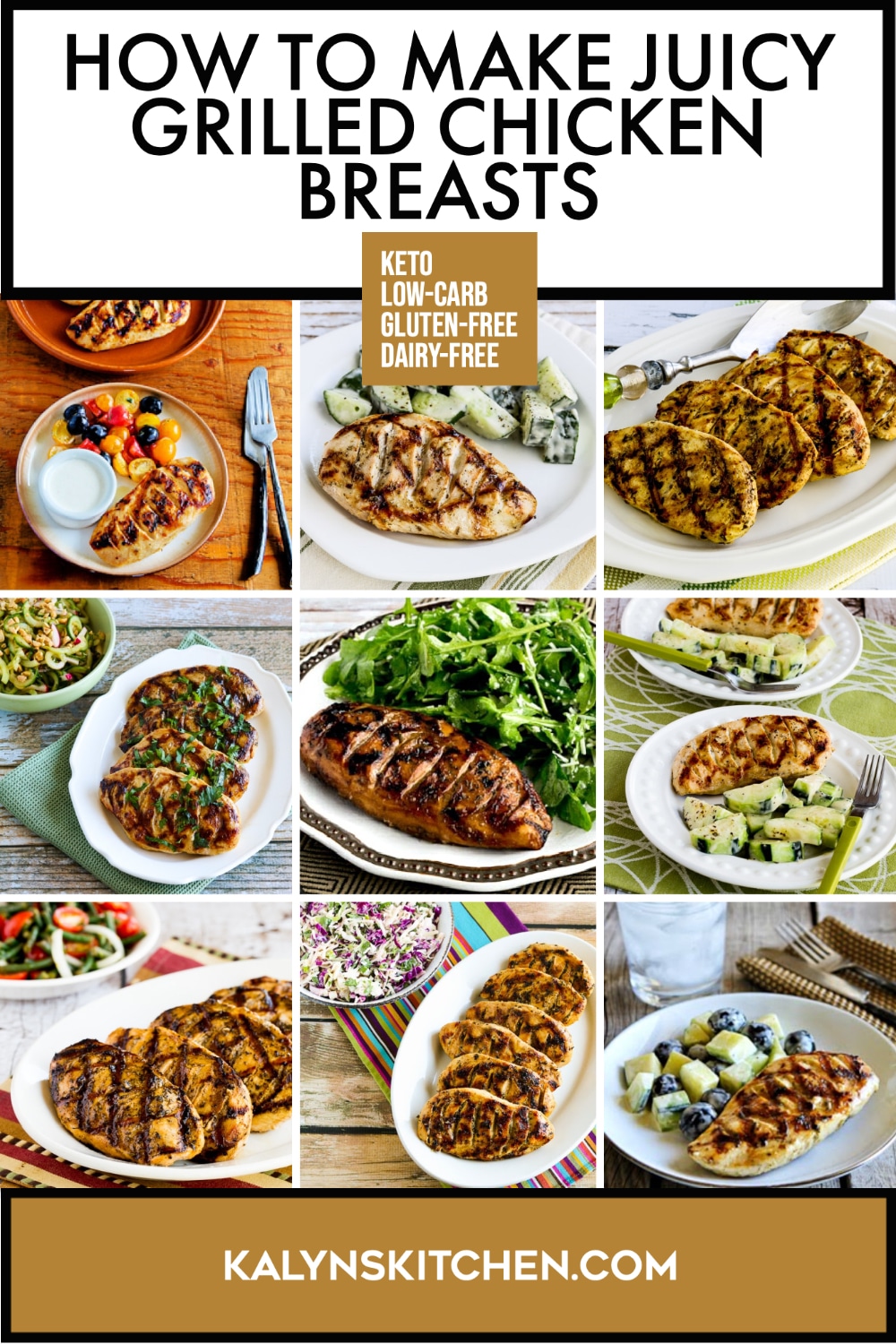 We are a participant in the Amazon Services LLC Associates Program, an affiliate advertising program designed to provide a means for us to earn fees by linking to Amazon.com and affiliated sites. As an Amazon Associate, I earn from qualifying purchases.