Grilled Cuban Flank Steak
Flank steak is delicious when it's marinated in Cuban flavors and grilled, and this tasty Grilled Cuban Flank Steak is a perfect idea for a low-carb meal.
PIN the Cuban Flank Steak to make it later!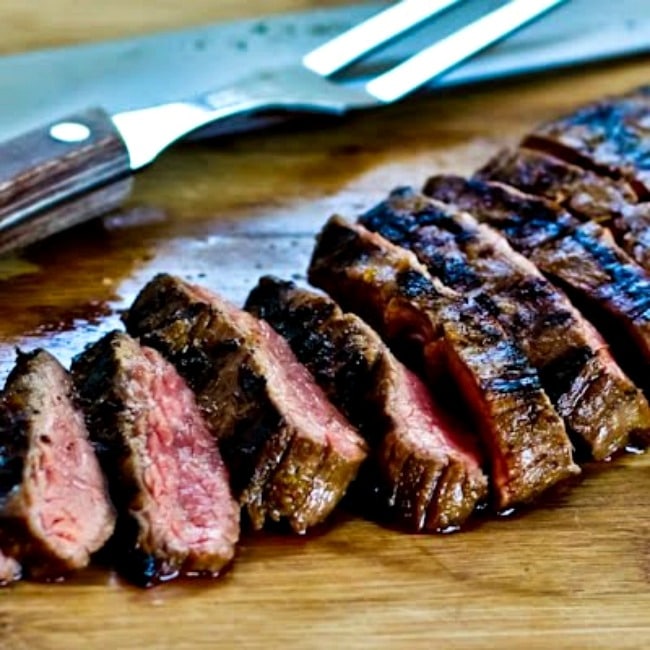 In one of my previous lives, before I became a food blogger and a carb-conscious eater, I used to be president of my local teacher's association, aka the teacher's union. This was a demanding high-pressure job that I sometimes loved, sometimes hated, but one thing I did enjoy about the job was the chance to travel. I went all over the U.S. for meetings, and it was in Miami Beach that I had my first experience with Cuban food.
I loved the way beef and pork were marinated in lime juice in the Cuban cuisine, so a few years ago I tried to re-create that flavor in this flank steak, and it was a winner with the folks I tried it out on! Grilled Cuban Flank Steak is one of my most-used ways to cook beef on the grill. If you're grilling for beef-lovers, I can promise this will be a hit!
What ingredients do you need for this recipe?
What is flank steak?
Flank steak is actually a piece of meat from the abdominal muscles of the cow and it's very lean, which is why this is a cut of beef that's perfect to be marinated. It's also best cooked quickly over high heat. When the flank steak is done, it should be sliced against the grain of the meat.
What if you don't have an outdoor grill?
If you don't have an outdoor grill (or it's not grilling weather) these tasty recipes for beef, flank steak can definite be cooked at high heat on a stove-top grill pan with ridges or George Foreman Grill. (affiliate links)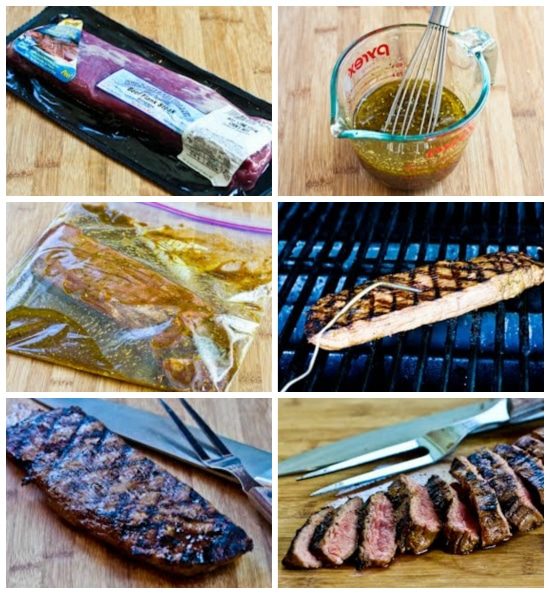 How to make this recipe:
(Scroll down for complete printable recipe including nutritional information.)
You can't read the price, but this lean flank steak I got at my local market was a bargain.
Combine fresh lime juice, olive oil, cumin, oregano, onion powder, garlic powder, soy sauce, Chipotle chile pepper (or hot sauce), and lime zest (if using).
Put the steak in a Ziploc bag or plastic container with a tight-fitting lid, pour in marinade, and marinate in the refrigerator for 8 hours (or up to 24 hours.)
When it's time to cook, let meat come to room temperature while you oil the grill and preheat to medium high.
Then grill to desired temperature, 140-145 for medium rare or 155-160 for medium.
Flank steak is best when it's not cooked above medium. I use an Instant Read Meat Thermometer (affiliate link) to check the temperature.
When meat is done, let it rest for 5 minutes before you slice it.
Cut meat into thin slices and serve with fresh lime pieces on the side to squeeze over the meat when you eat it. (I could have cut mine a little thinner but that didn't stop us from devouring it!)
Make it a Low-Carb Meal:
For a low-carb meal this would taste great with Bacon, Tomato, and Zucchini Salad with Feta or Grilled Zucchini Greek Salad.
More Recipes for Flank Steak:
Marinated Flank Steak ~ Kalyn's Kitchen
Grilled Marinated Flank Steak ~ Simply Recipes
Low-Carb Flank Steak Tacos ~ Kalyn's Kitchen
Grilled Flank Steak with Ponzu and Honey Glaze ~ The Perfect Pantry
Marinated Flank Steak ~ Sarah's Cucina Bella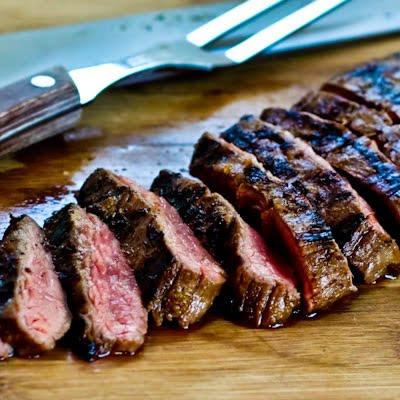 Yield: Makes 6 servings
Grilled Cuban Flank Steak
Prep Time 8 hours
Cook Time 12 minutes
Total Time 8 hours 12 minutes
Flank steak is delicious when it's marinated in Cuban flavors and grilled!
Ingredients
1 large piece of flank steak (this recipes makes enough marinade for 3 pounds of meat)
Marinade Ingredients:
1/3 cup fresh lime juice
1/4 cup olive oil
1 tsp. ground cumin
1 tsp. dried oregano
1 tsp. onion powder
1 tsp. garlic powder
1 T soy sauce (see notes)
1/2 tsp. ground chipotle chile powder (or use your favorite hot sauce)
2 tsp. lime zest (optional)
Instructions
Combine marinade ingredients. Put flank steak into a ziploc bag and pour marinade in, seal bag, and marinate all day in refrigerator. (You can marinate up to 24 hours if desired.)
Take meat out of refrigerator and let it come to room temperature before grilling.
Oil the grill with a paper towel dipped in olive oil, then preheat gas or charcoal barbecue grill to medium-high (you can only keep your hand there for a few seconds.)
Grill meat to desired doneness, approximately 4-5 minutes per side for rare to medium rare or 6 minutes for medium. I wouldn't cook flank steak more than medium or it will be tough.
Cooking time will depend on the thickness of your flank steak, the best way to judge the doneness is to use an Instant Read Meat Thermometer (affiliate link), cooking to 140-145 for medium rare or 155-160 for medium. (The meat in the photo was cooked about 5 minutes per side.
Remove meat from grill and let rest about 5 minutes. (You can cover with foil to keep it warm if needed.)
Slice across the grain and serve hot, with slices of fresh lime to squeeze on the meat.
Notes
You can sub coconut aminos for the soy sauce for a Paleo version of this.
Recipe created by Kalyn.
Nutrition Information:
Yield:
6
Serving Size:
1
Amount Per Serving:
Calories: 117
Total Fat: 10g
Saturated Fat: 2g
Trans Fat: 0g
Unsaturated Fat: 8g
Cholesterol: 11mg
Sodium: 156mg
Carbohydrates: 2g
Fiber: 0g
Sugar: 0g
Protein: 4g
Nutrition information is automatically calculated by the Recipe Plug-In I am using. I am not a nutritionist and cannot guarantee 100% accuracy, since many variables affect those calculations.
Low-Carb Diet / Low-Glycemic Diet / South Beach Diet Suggestions:
Grilled Flank Steak is a perfect main dish for any type of low-carb eating plan or any phase of the original South Beach Diet. If you're making this for the South Beach Diet, remember the guideline to choose meat with less than 10% fat.
Find More Recipes Like This One:
Use Grilling Recipes to find more recipes like this one. Use the Diet Type Index to find more recipes suitable for a specific eating plan. You might also like to Follow Kalyn's Kitchen on Pinterest to see all the good recipes I'm sharing there.
Historical Notes for this Recipe:
This recipe was first posted in 2006. It was last updated in 2021.
We are a participant in the Amazon Services LLC Associates Program, an affiliate advertising program designed to provide a means for us to earn fees by linking to Amazon.com and affiliated sites. As an Amazon Associate, I earn from qualifying purchases.