Amazing Low-Carb and Keto Beef Steak on the Grill
It's grilling season and here are ideas for Amazing Low-Carb and Keto Beef Steak on the Grill; if you like steak you'll make these recipes over and over!
PIN the grilled steak recipes to try some later!
I think we should officially celebrate grilling season with this collection of Amazing Low-Carb and Keto Beef Steak on the Grill! My house has a nice deck where the grill is covered, but even so I'm always so happy when it's finally warm enough to really enjoy cooking outside. I've already cooked on my grill twice this year, and I'm excited to test out more grilling recipes!
And if you check the category for Grilling you can tell I love most any kind of grilled food, but for meat-eaters, nothing can quite compare to beef steak cooked on the grill, right? This collection has some of my favorite grilling recipes for beef from Kalyn's Kitchen and a few recipes from my blogging friends, and every steak recipe I'm sharing here has something special that kicks it up a notch! And any of these would taste great with the Perfect Grilled Zucchini I shared last week. Happy grilling everyone!
All photos are copyrighted to the blog that posted the recipe. Just click the recipe title under any photo to see the complete recipe on that blog. And happy grilling everyone!
What if I Don't Have an Outdoor Grill?
If it's not quite grilling weather or you don't have an outdoor grill, you can also cook these low-carb and Keto steak recipes on a stove-top grill pan with ridges or George Foreman Grill with good results. (affiliate links)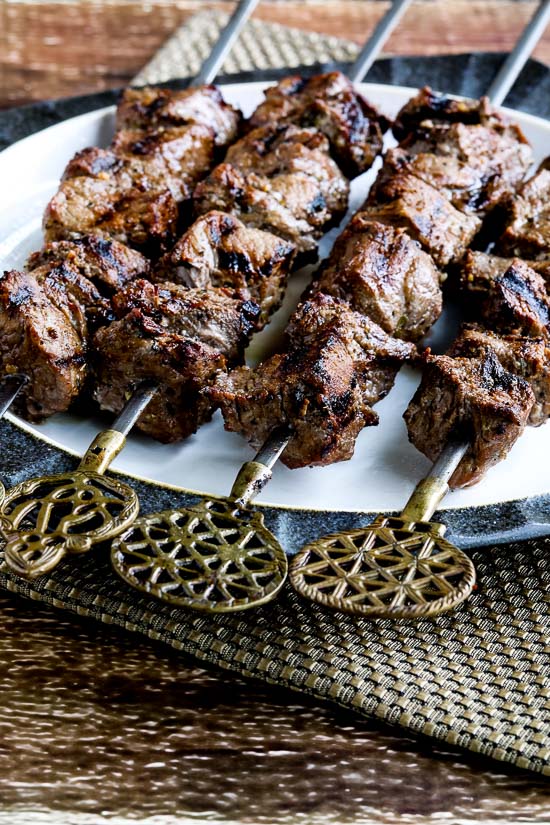 You can use various cuts of beef steak like tri-tip, London broil, top sirloin, or top loin to make these Low-Carb Marinated Beef Kabobs from Kalyn's Kitchen. I used to make these often when I was catering houseboat trips, and now I use the lovely Kabob skewers I bought in Turkey!
For a steak recipe that's Keto and Paleo, don't you think this Marinated Skirt Steak with Cilantro Lime Ghee from Cook Eat Paleo looks like a delicious dinner?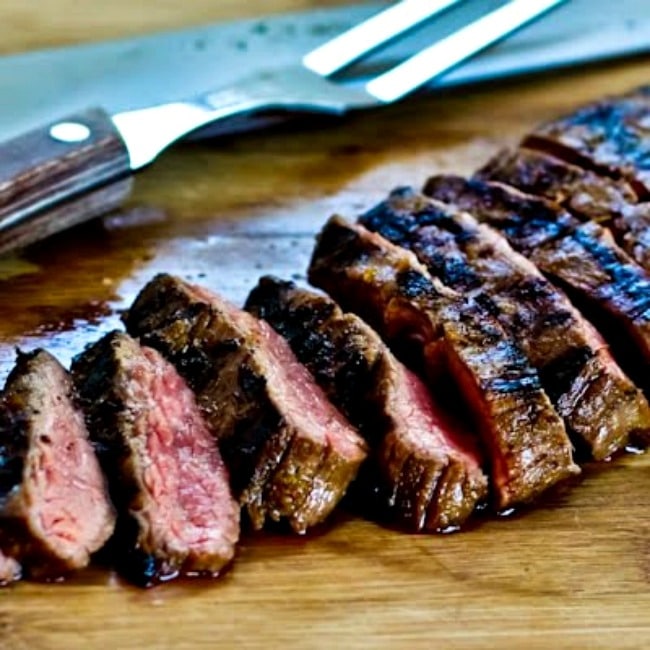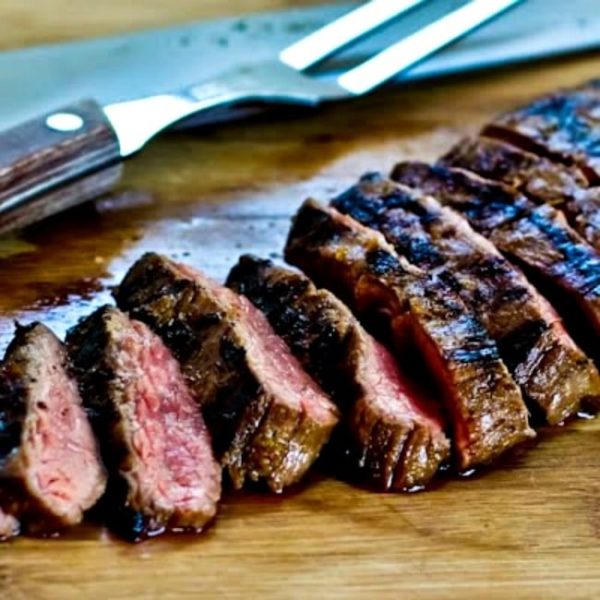 I learned to love Cuban food when I traveled to Miami several times, and this Grilled Cuban Flank Steak from Kalyn's Kitchen is one of my absolute favorites. This is a recipe I make at least a few times every summer!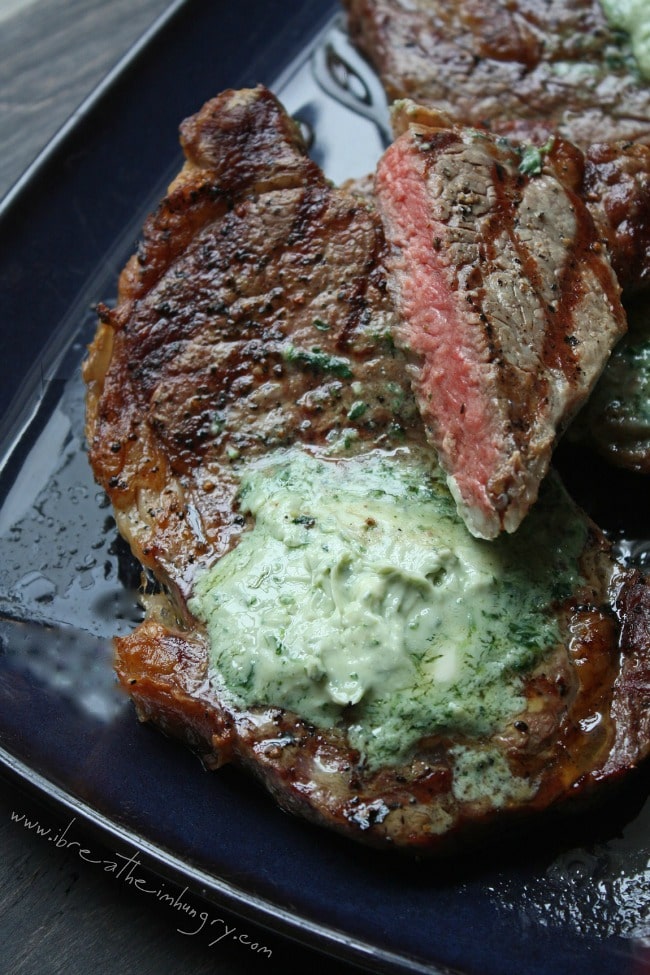 Ribeye is a delicious well-marbled steak that's perfect for Keto eaters, and I'm drooling over this Grilled Ribeye with Gorgonzola Butter from I Breathe I'm Hungry.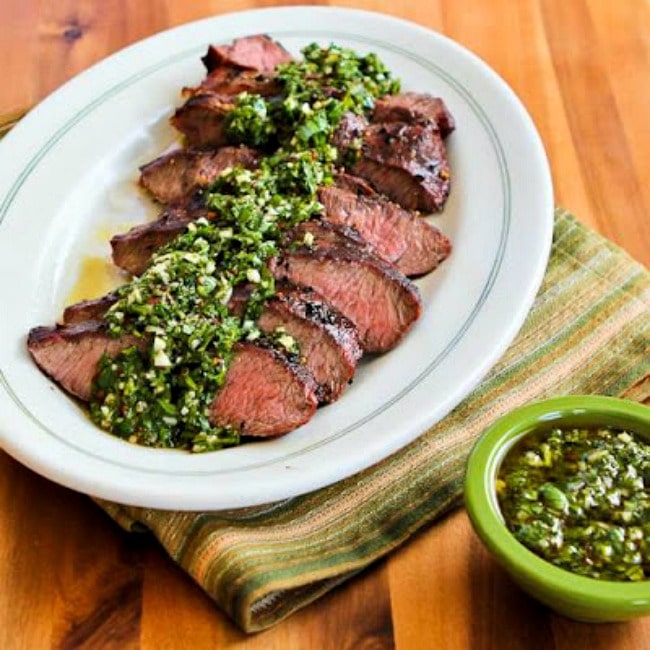 Flatiron Steak is a fun cut of meat that sometimes goes on sale, and this Grilled Flatiron Steak with Chimichurri Sauce from Kalyn's Kitchen will definitely wow your guests!
I love the Asian flavors in this Spicy Asian Grilled Sesame-Soy Flank Steak from my friend Lydia at The Perfect Pantry.
Steak fans who also like mushrooms are going to drool over these Steak and Mushroom Kabobs from Kalyn's Kitchen.
How could you go wrong with this delicious-looking Grilled Steak with Rosemary Parmesan Butter from All Day I Dream About Food? Yes, please!
This recipe for Marinated and Grilled Flank Steak from Kalyn's Kitchen desperately needs a new photo, but I couldn't leave it out. I'm pretty sure this was the first steak recipe on my blog, and I still love the recipe!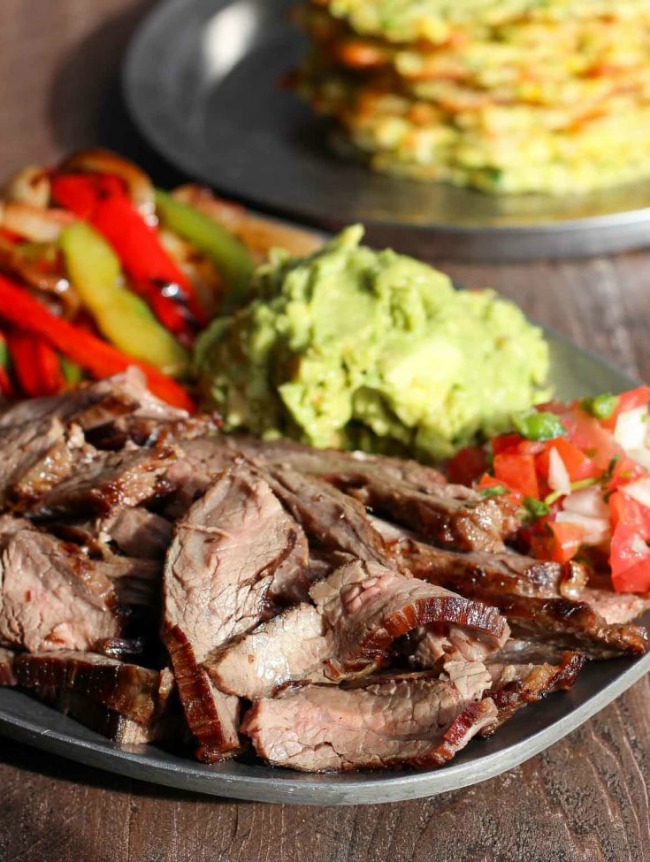 Steak Fajitas with Traditional Marinade from Low-Carb Maven looks like an absolutely spectacular idea for a summer dinner!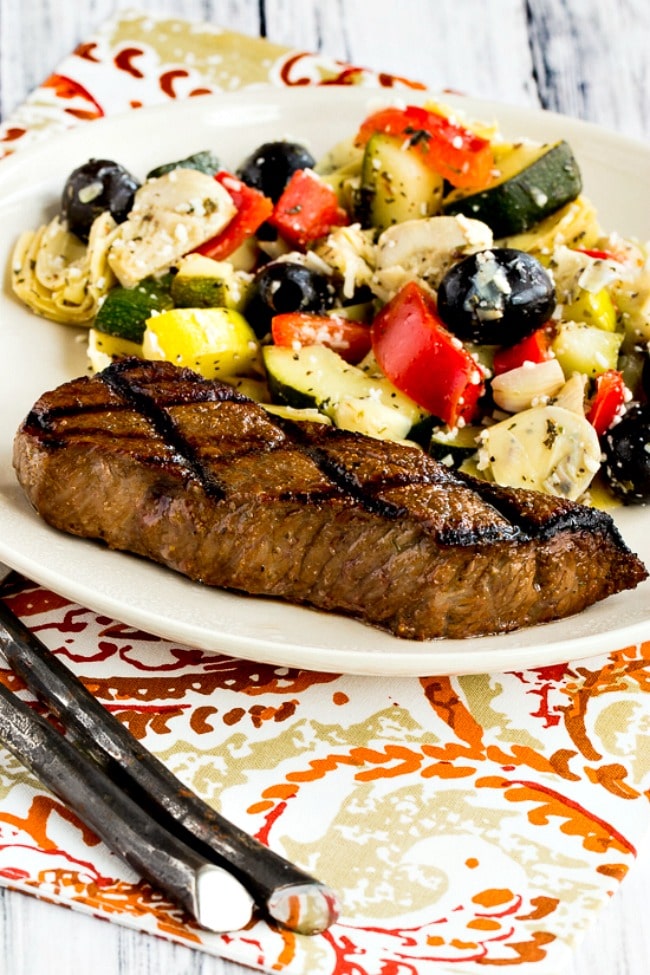 A former neighbor named Carol gave me this recipe for Carol's Easy Steak Marinade and it's the perfect marinade for any kind of steak. I've lost touch with her through the years; wish we could have dinner together again.
And finally, no collection of Keto steak recipes would be complete without bacon-wrapped steak and these Bacon-Wrapped Top Sirloin Medallions from Melissa's Southern Style Kitchen look absolutely wonderful!
What's your favorite low-carb Beef Steak recipe to cook on the grill?
We are a participant in the Amazon Services LLC Associates Program, an affiliate advertising program designed to provide a means for us to earn fees by linking to Amazon.com and affiliated sites. As an Amazon Associate, I earn from qualifying purchases.