Keto Beef, Pork, and Lamb On the Grill
Here's a great collection of Keto Beef, Pork, and Lamb On the Grill for all the meat-eaters who love to cook on the grill!
PIN these recipes for meat on the grill to try some later!
It's grilling season and Father's Day is nearly here, so for for all the dads who love grilled meat I'm sharing a great collection of Keto Beef, Pork, and Lamb on the Grill! Even dads who don't care at all about watching carbs will find plenty to love in this collection of recipes for meat on the grill.
And there are more than 20 different recipes here to choose from, so there should be something for everyone, and all these meat-lover's grilling recipes are absolutely delicious!
Want more ideas for cooking on the grill?
I'm a huge fan of grilling and if you're also a grilling enthusiast, my blog has a big category for Grilling Recipes. Or you can use recipe round-ups to find more low-carb recipe round-ups like this one.
What if you don't have an outdoor grill?
If you don't have an outdoor grill (or it's not grilling weather) these tasty recipes for beef, pork, or lamb can all be cooked on a stove-top grill pan with ridges or George Foreman Grill as well. (affiliate links)
How do you get the complete recipe?
Just click or tap any recipe title to see the complete recipe on Kalyn's Kitchen.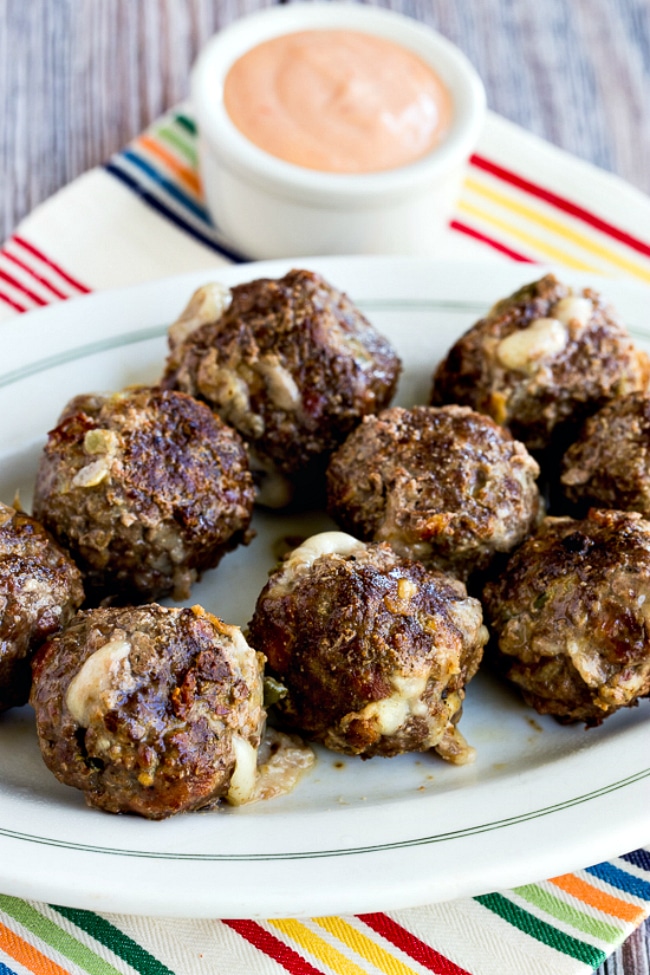 I'm pretty sure that most bacon cheeseburger fans could get into these Bacon Cheeseburger Meatballs!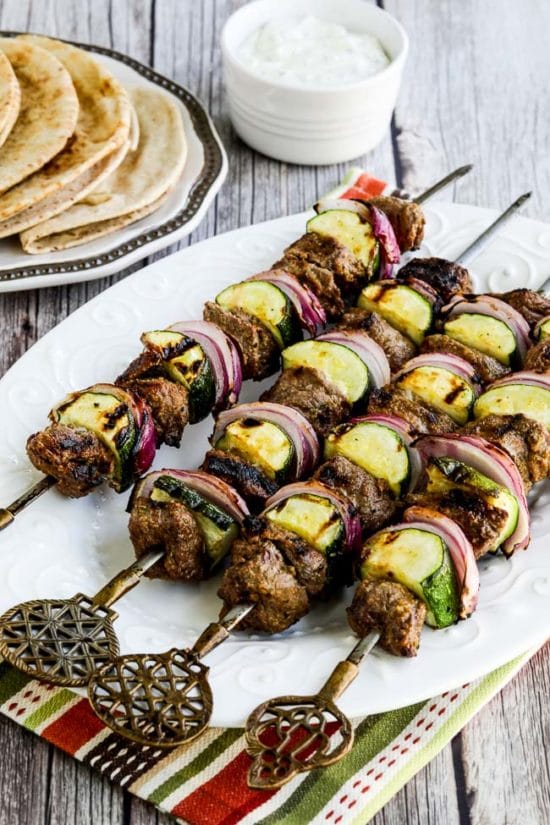 I love these Low-Carb Lamb Shish Kabobs and cooking lamb on a kabob mixed with vegetables is a great way to make it more budget-friendly!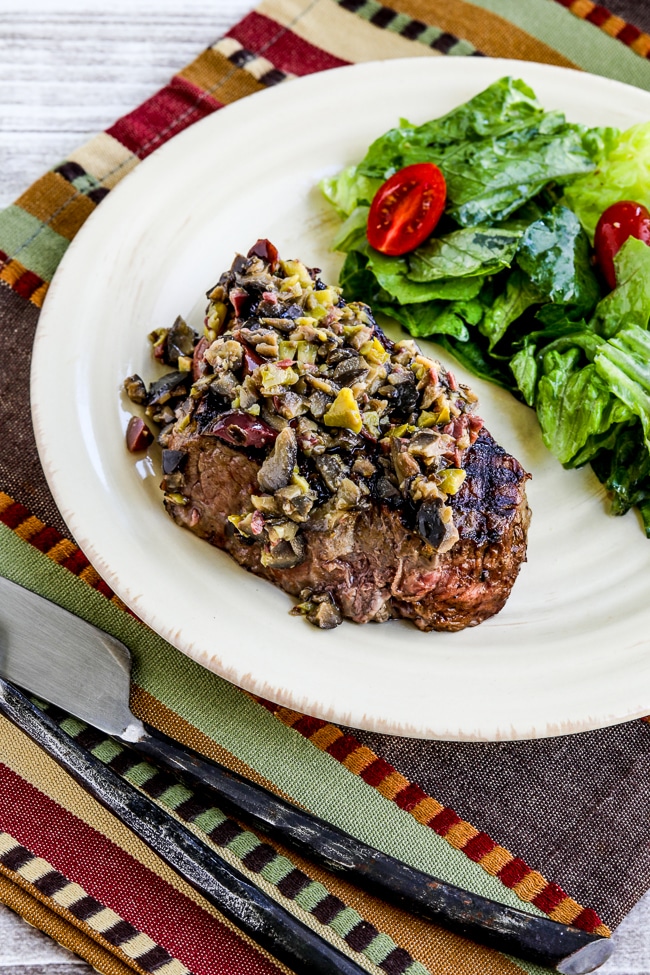 This Pan-Grilled Steak with Olive Sauce is going to be a hit with anyone who likes steak and olives, and of course this can also be cooked on a grill pan as well as on any type of outdoor grill!
Greek Lamb Souvlaki is a classic Greek dish, and this grilled lamb is amazing served with The World's Best Tzatziki Sauce.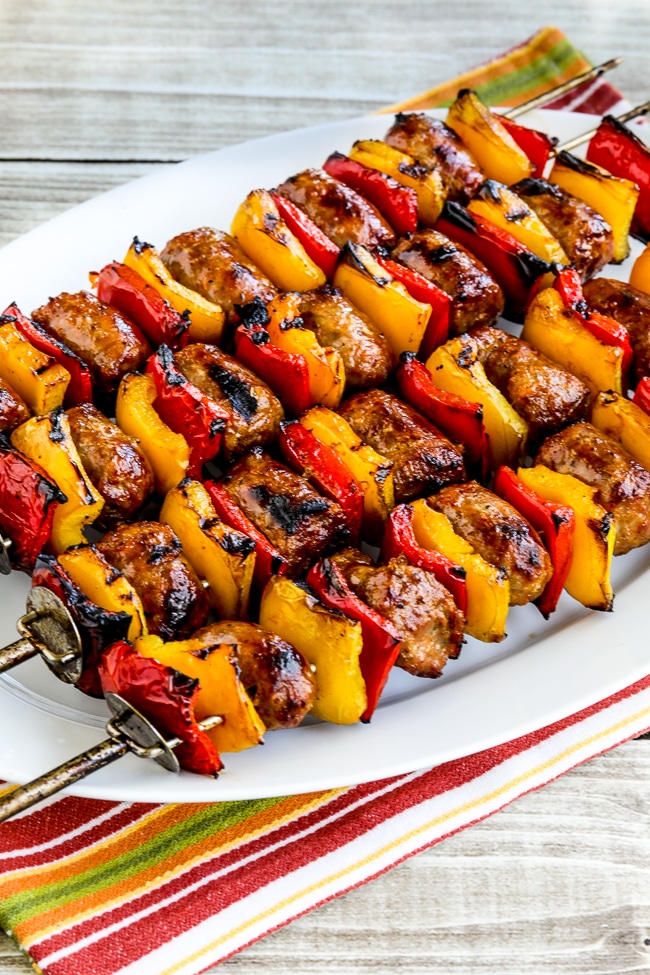 I used pork Italian Sausage for this delicious recipe for Grilled Sausage and Peppers!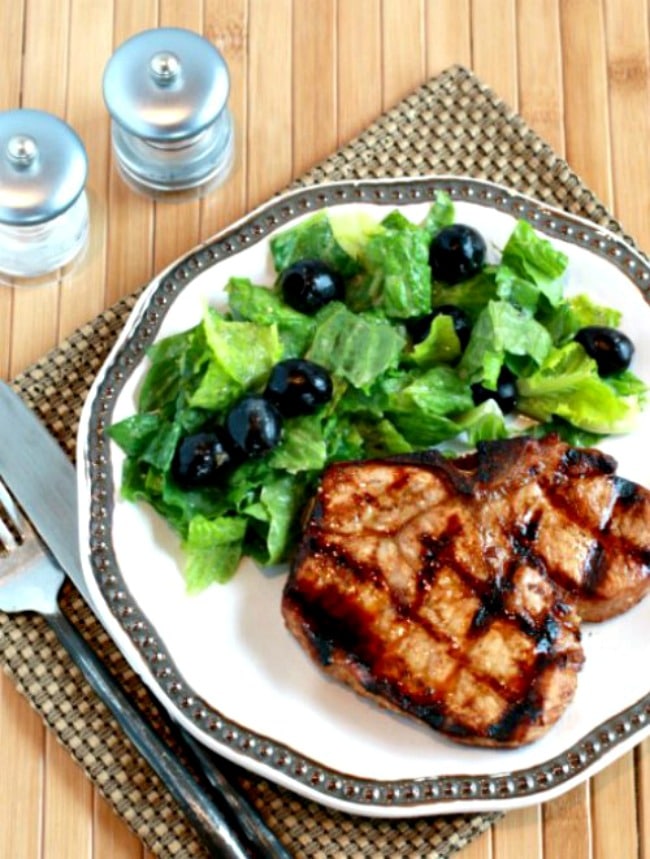 One of my Lake Powell clients once called these Grilled Ginger-Soy Pork Chops "the world's best pork chops" and anyone who likes pork will enjoy this recipe!
Steak and Mushroom Kabobs are definitely a tasty dish to cook on the grill!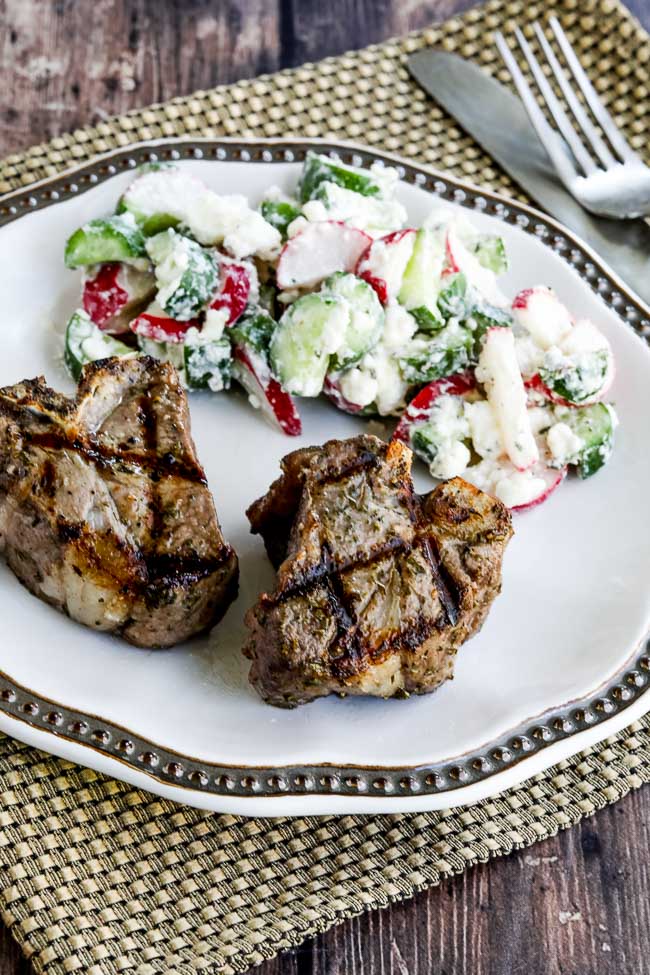 I'm a huge fan of lamb chops for a special meal, and these Grilled Lamb Chops with Garlic and Herbs will be a hit with anyone who likes lamb!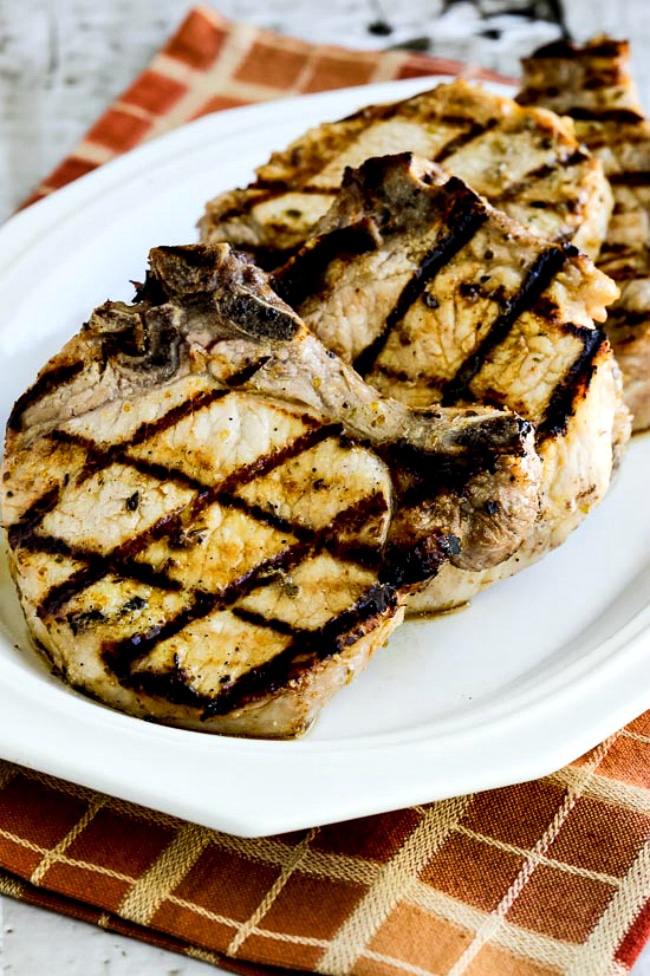 Another option for pork chops is these tasty Greek Pork Chops. People who like Greek flavors are going to love this recipe!
These Marinated Beef Kabobs are a great way to cook beef that's more interesting than just a plain steak.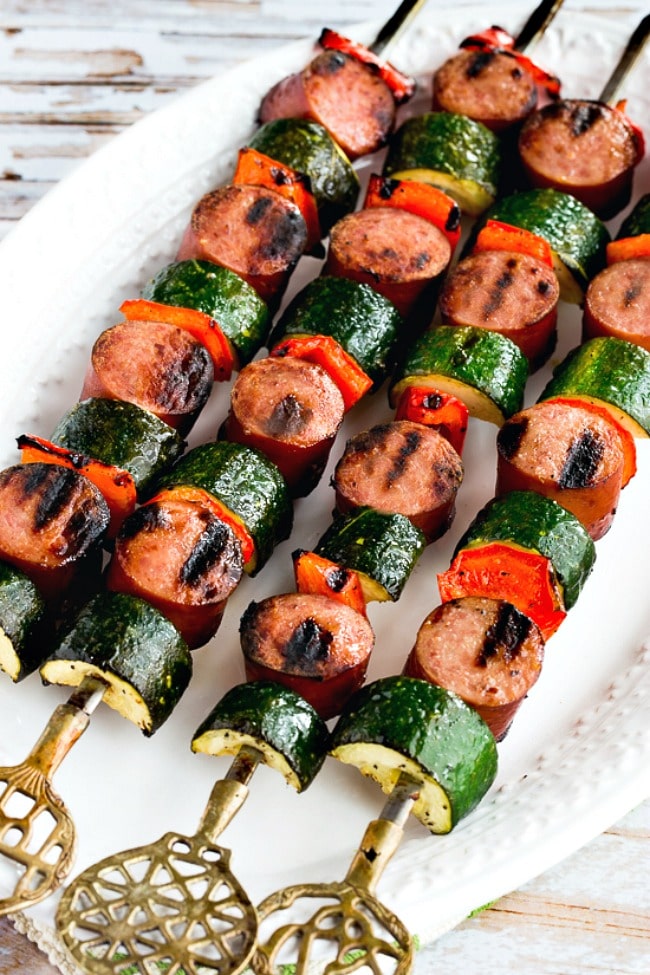 Use any kind of sausage you prefer for this recipe for the World's Easiest Kabobs with Grilled Zucchini and Sausage.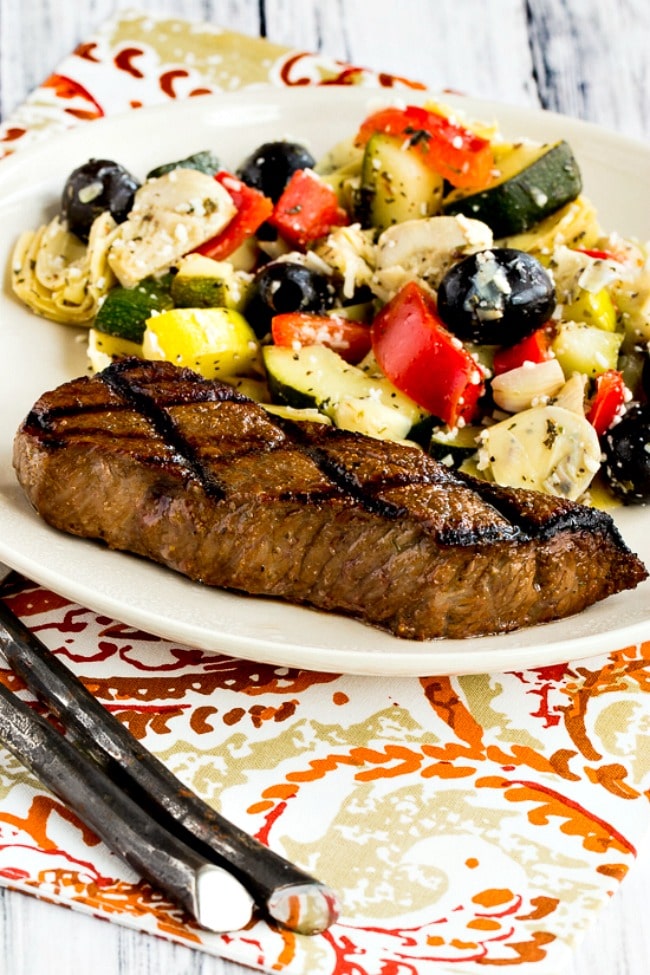 Carol's Easy Steak Marinade is a great recipe for beef lovers; here it is used on grilled Tri-Tip!
More Grilled Beef, Pork, and Lamb:
We are a participant in the Amazon Services LLC Associates Program, an affiliate advertising program designed to provide a means for us to earn fees by linking to Amazon.com and affiliated sites. As an Amazon Associate, I earn from qualifying purchases.