20 Keto Cauliflower Casserole Recipes
Today I'm updating this collection of Keto Cauliflower Casserole Recipes that has delicious low-carb dinner ideas using cauliflower. And of course I love cauliflower, so I think all of these cauliflower casseroles are perfect for a low-carb or Keto meal!
PIN the Cauliflower Casserole Recipes to make some later!
It's casserole weather in Utah, and I love to make casseroles for a dinner you cook once and eat leftovers for another meal. And even though I hate the cold weather, I do love cold weather food, and this collection of 20 Keto Cauliflower Casserole Recipes has some of my personal favorite casseroles that use cauliflower or cauliflower rice.
And there are some tasty-sounding casseroles with cauliflower from my food blogging friends as well. Based on feedback I've gotten, some of these casseroles with cauliflower have so many great flavors going on that you might even be able to sneak them past the cauliflower-avoiders in your life! I hope you enjoy trying some new ways to turn cauliflower into a delicious low-carb dinner!
Why do I love casseroles so much?
I love low-carb casseroles for the way they provide dinners that make enough that you can have the casserole for dinner with leftovers to take to work for lunch or eat for another dinner later in the week! And unless you have a really big family (or several teenage boys) most of these low-carb casseroles with cauliflower will make enough for at least two meals. That's why casseroles are so perfect for Weekend Food Prep!
How do you get the complete recipe?
Just click any recipe title in this post to see the complete cauliflower casserole on the blog that posted the recipe. All photos are copyrighted to the original blog.
Want more ideas for low-carb dinners?
You can use Recipe Round-Ups to find more low-carb recipe collections like this one! And enjoy!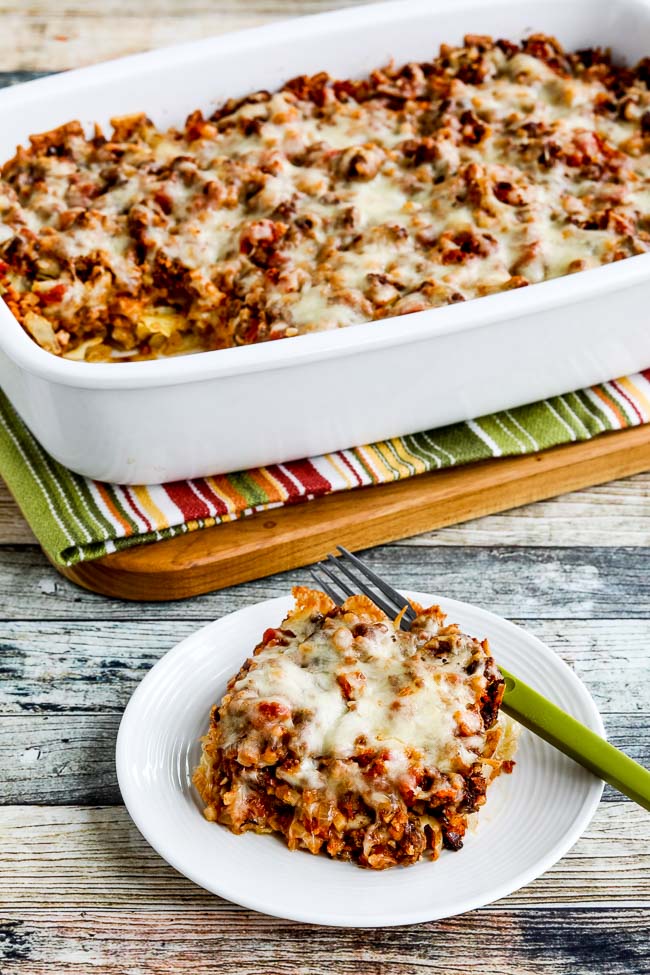 Low-Carb Deconstructed Stuffed Cabbage Casserole is a low-carb version of an ultra-popular casserole recipe on my blog!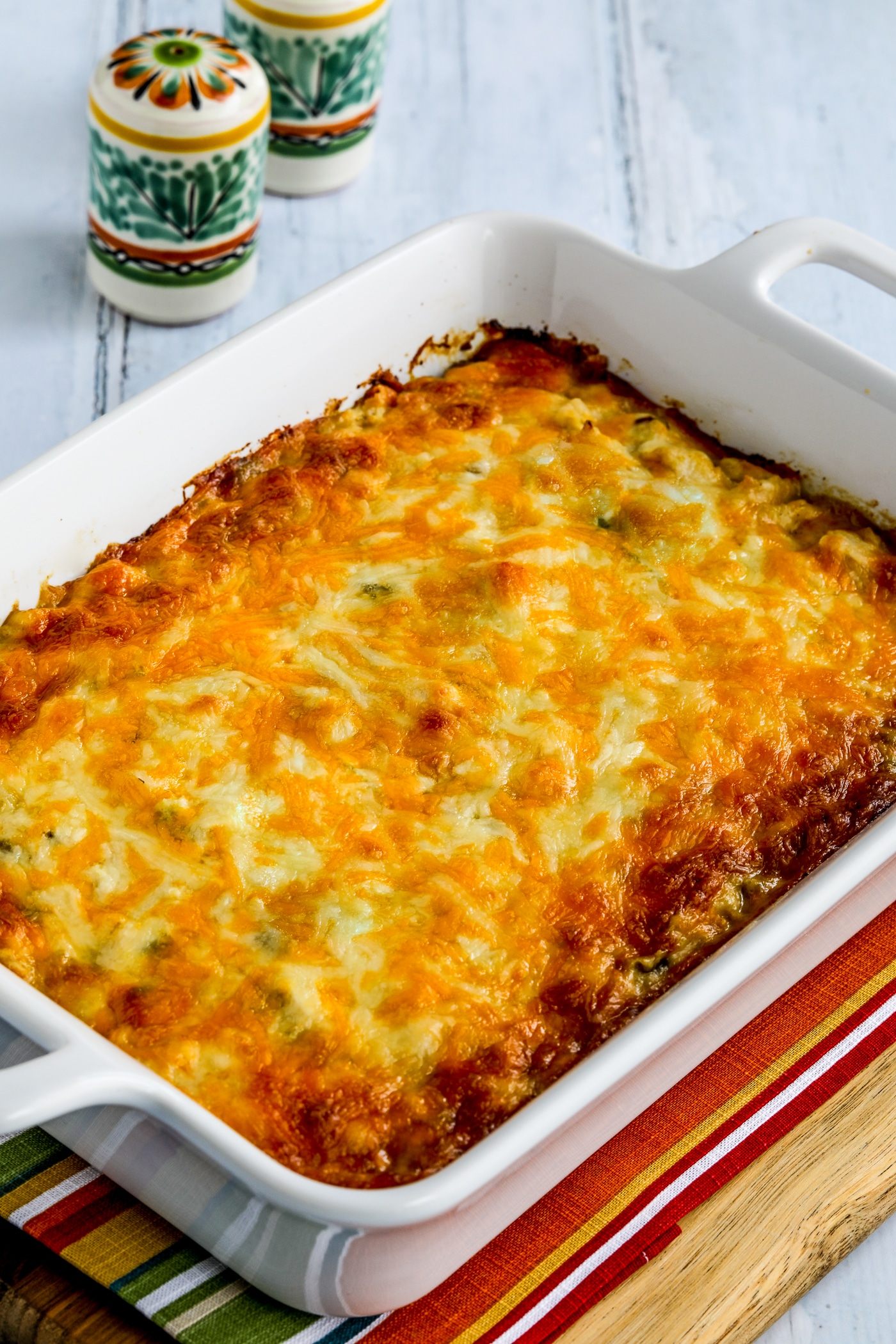 This Layered Mexican Casserole with Chicken and Cauliflower Rice is a relatively new casserole recipe that's been hugely popular on the blog!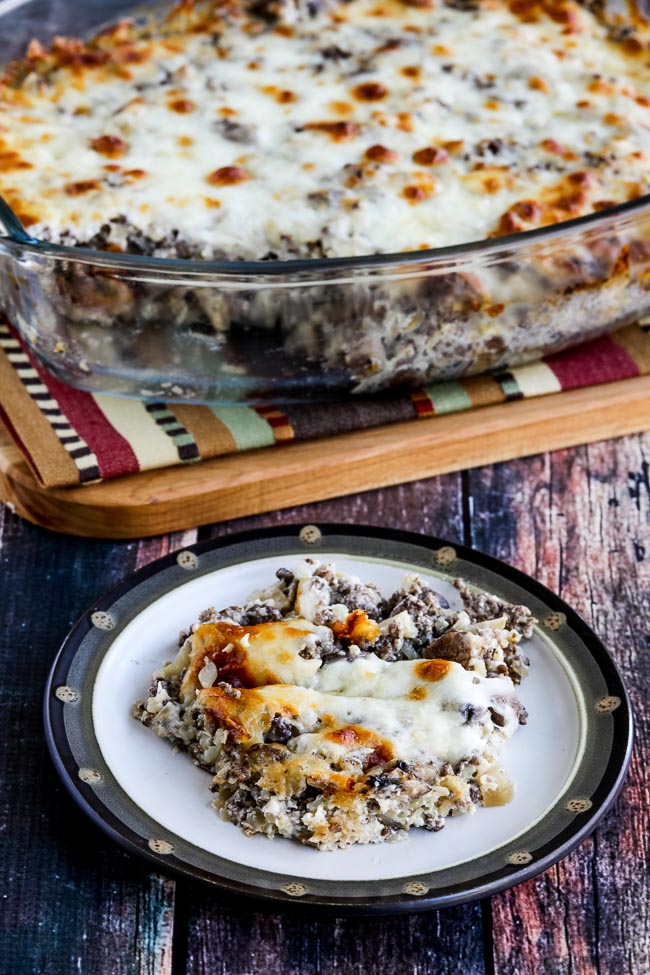 Every low-carb eater who loves Beef Stroganoff flavors is going to go crazy over this Ground Beef Stroganoff Casserole that uses cauliflower rice, and this is another wildly popular casserole on the blog.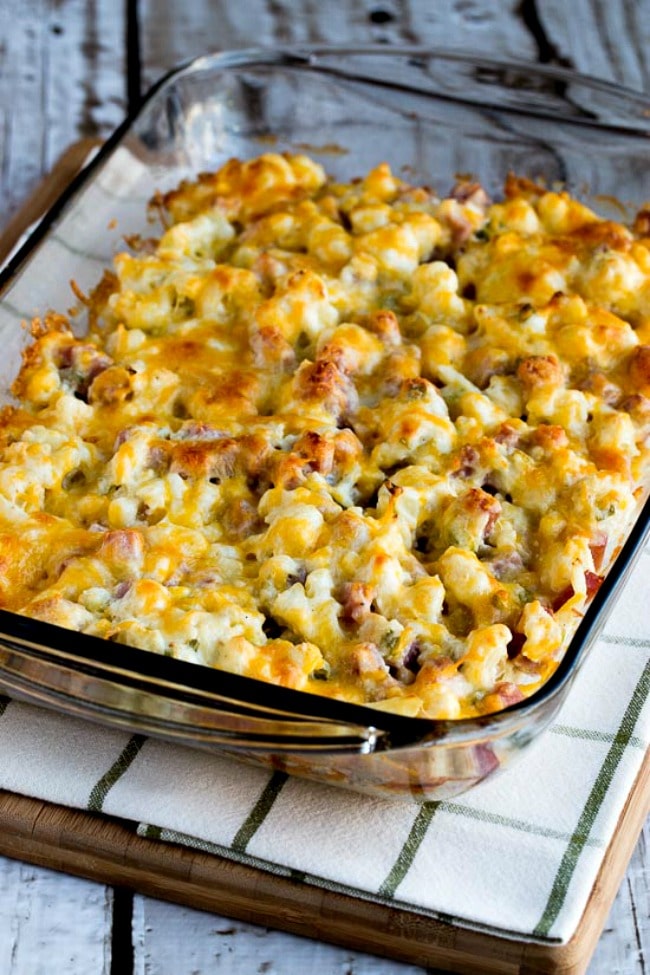 Ham and Cauliflower Casserole au Gratin has also been wildly popular on the blog, even for families with kids!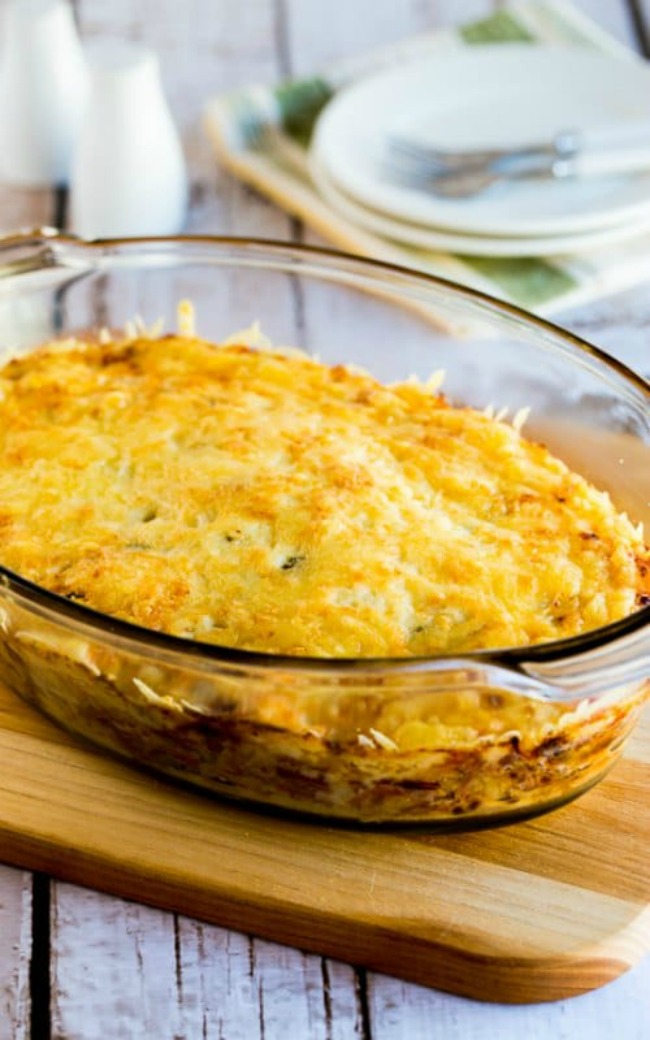 This tasty Low-Carb Reuben Bake has all the flavors people love in Reuben Sandwiches baked into a casserole!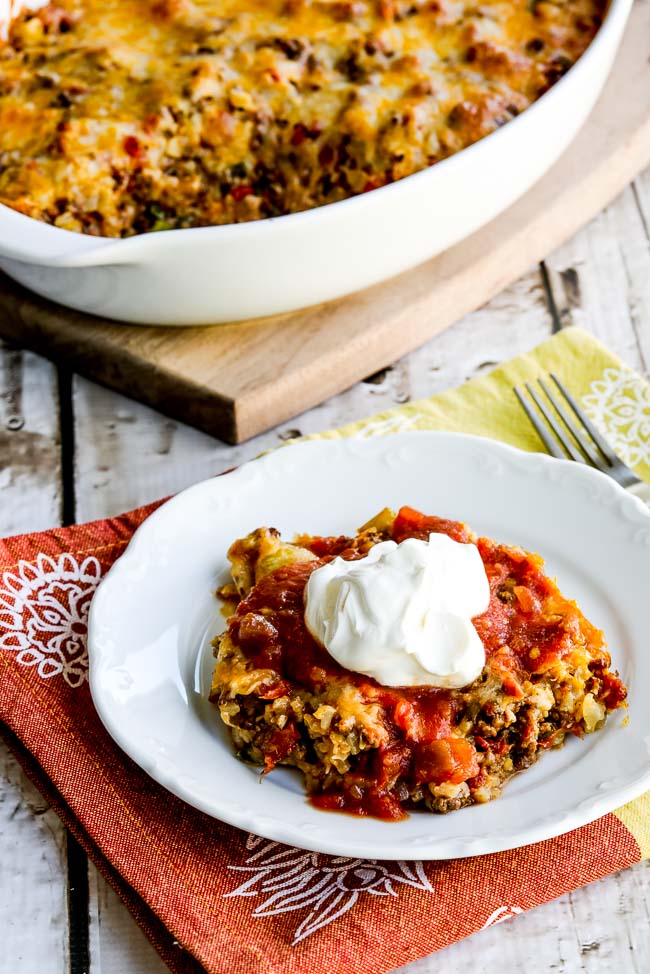 This Cheesy Low-Carb Taco Casserole is a recipe that's been popular even with people who "don't like cauliflower" and your kids might not even guess this has cauliflower rice!
Whenever you're lucky enough to end up with some leftover turkey, make this Low-Carb Turkey Casserole that has mushrooms, Mozzarella, and cauliflower rice! Or make this tasty casserole with chicken.
Chicken Broccoli Curry Casserole with Cauliflower Rice uses frozen broccoli and frozen cauliflower rice to make this quick and easy to get on the table!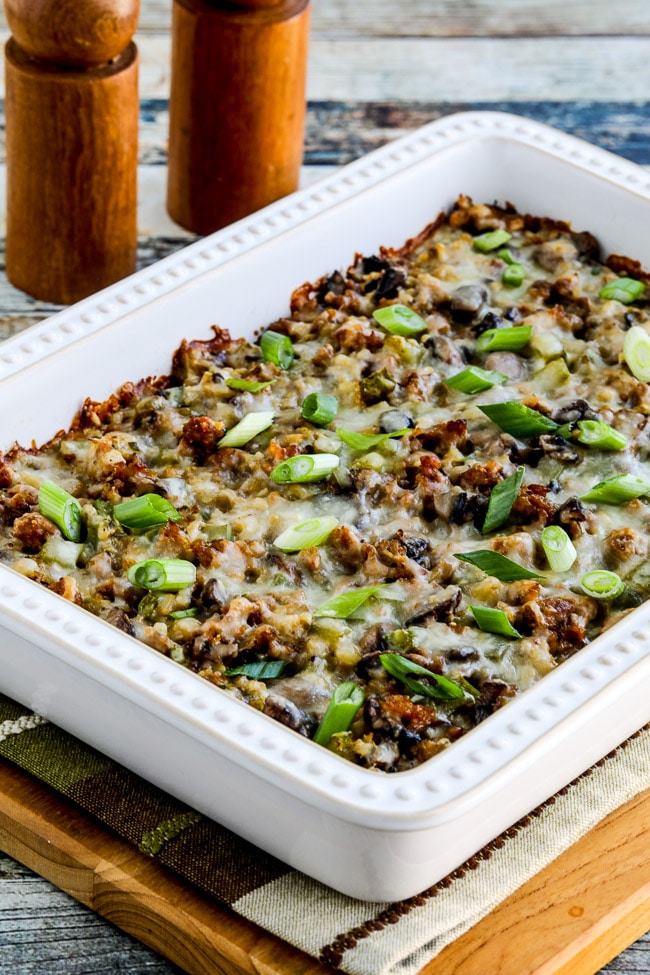 This Cauliflower Rice Sausage Casserole was inspired by a favorite casserole that uses brown rice, and this recipe has a lot of fans!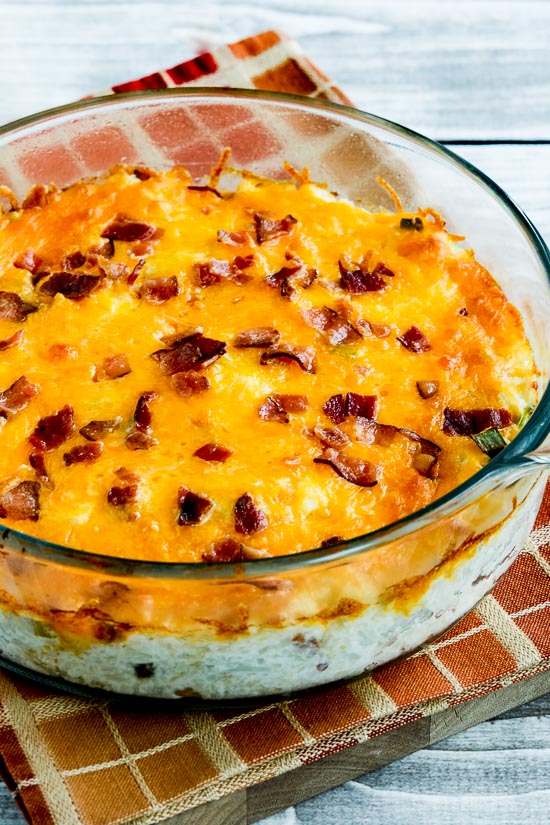 And I couldn't talk about low-carb and Keto casseroles with cauliflower without including this hugely popular Twice-Baked Cauliflower! This might even be the most popular cauliflower recipe on my blog.
More Cauliflower Casserole Recipes:
(A few of these recipes are slightly higher in carbs.)
More Low-Carb Recipe Collections with Cauliflower:
We are a participant in the Amazon Services LLC Associates Program, an affiliate advertising program designed to provide a means for us to earn fees by linking to Amazon.com and affiliated sites. As an Amazon Associate, I earn from qualifying purchases.