Keto Grilled Chicken Recipes
Here's an amazing collection of Keto Grilled Chicken Recipes so hopefully you can make some grilled chicken over the weekend!
PIN the Keto Grilled Chicken Recipes to try some later!
This blog has a lot of Grilling Recipes, and truthfully I love just about anything that's cooked on the grill. I have a nice outdoor deck with a gas grill, and I absolutely love inviting people over all summer long and cooking food on the grill.
And grilled chicken is a long-time summer tradition that's always so enjoyable for me, so I'm enticing you to fire up the grill with this round-up of Keto Grilled Chicken Recipes that spotlights some of my favorites. And there are also some ideas for grilled chicken from other blogs that look especially good to me.
And even if you're not following the Keto Diet, your family is still going to love these Keto grilled chicken recipes, I promise! There are 20 different grilled chicken recipes here, so I hope you find at least one you'd like to try!
Tips for Juicy Grilled Chicken Breasts:
When I make grilled chicken breasts, I always use my tips from the post on How to Make Juicy Grilled Chicken Breasts, and that post has been really popular through the years. And I always have chicken breasts in the freezer, so juicy grilled chicken breasts are something I cook over and over all summer long.
How do you get the complete recipe?
Just click any recipe name to see the complete recipe on the original site. All photos are copyrighted to the blog that originally posted the recipe.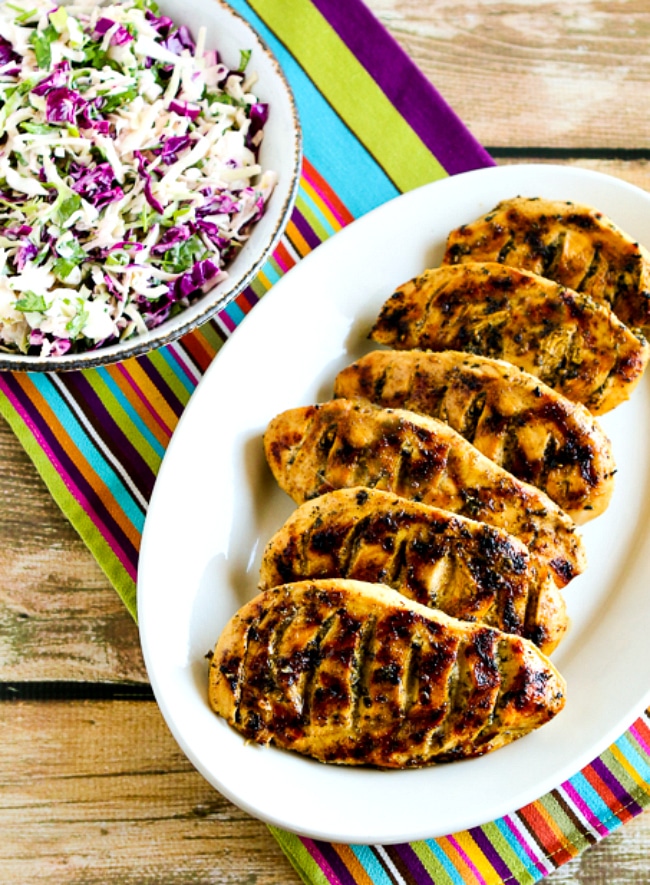 Garlic, Lemon, and Herb Grilled Chicken Breasts from Kalyn's Kitchen is a recipe I've made many times for dinner guests, and all my friends go crazy over this grilled chicken! In this photo it's being served with Spicy Mexican Slaw, which is another recipe that's always a hit.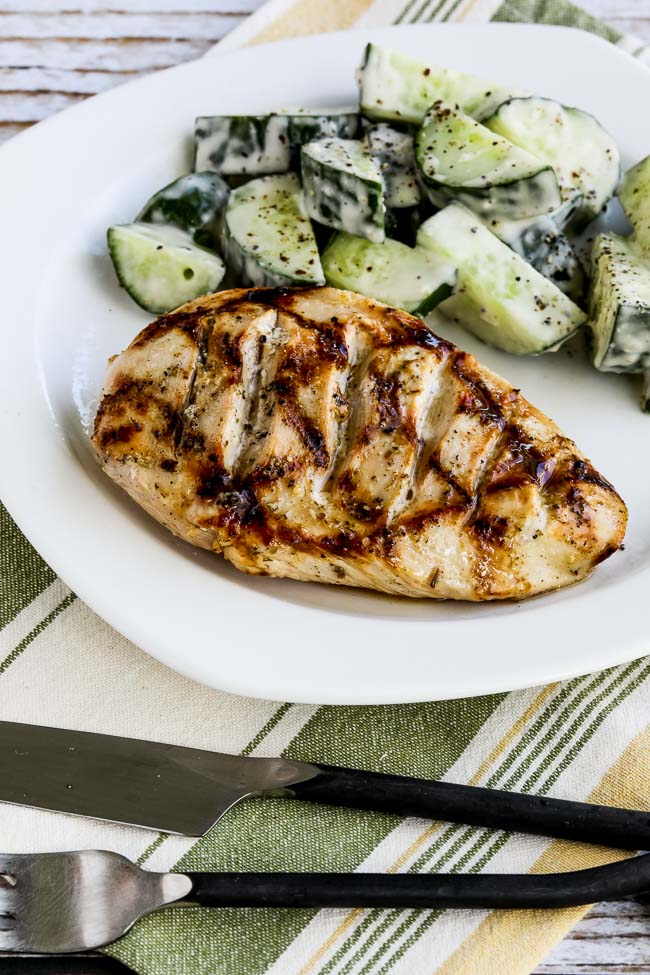 I love this Very Greek Grilled Chicken from Kalyn's Kitchen and this recipe has been viewed millions and millions of times, and it's definitely amazing! And of course I'd always serve this with my favorite American Greek Salad.
A grilled chicken recipe I know I'd love is this Grilled Chicken with Chimichurri Sauce from Cook Eat Well! If you like this recipe you might also like to try my Grilled Flat Iron Steak with Chimichurri Sauce.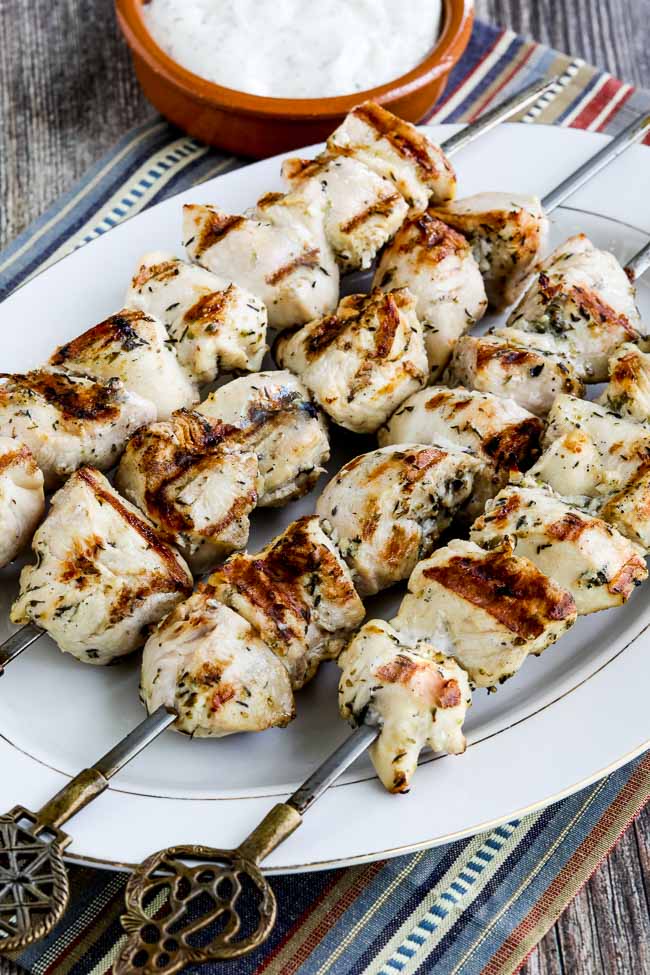 Another take on chicken with Greek origins is this Chicken Souvlaki from Kalyn's Kitchen. This is a classic Greek dish that I loved from the first time I tried it, and this recipe has been super popular!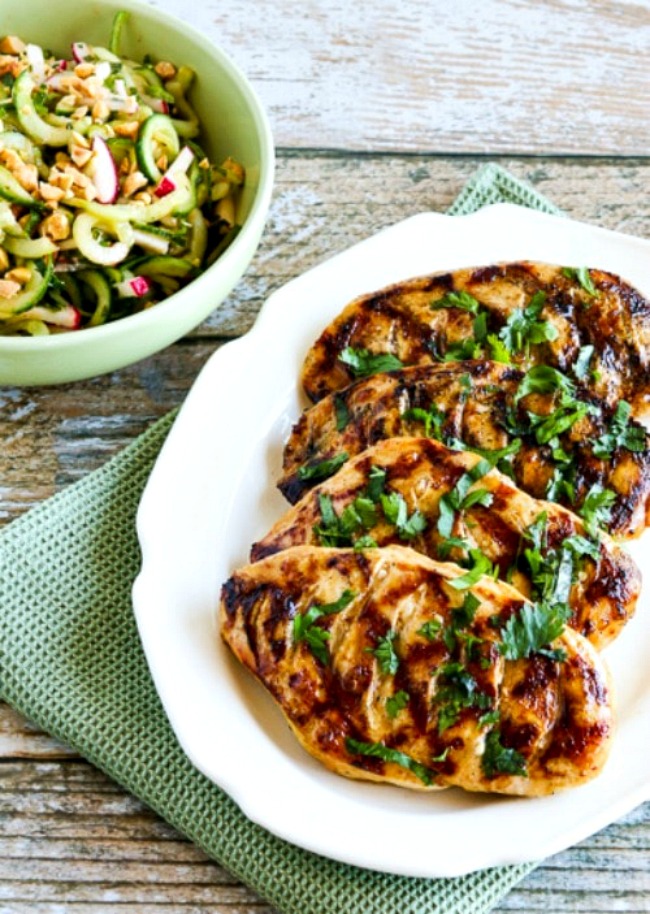 Grilled Fusion Chicken from Kalyn's Kitchen has a great blend of flavors and this is a recipe I've enjoyed for years! And when I featured this recently on the Kalyn's Kitchen Facebook Page, a reader commented that it was one of her favorites as well!
I haven't tried grilling chicken wings, but just look at these Homemade Indian Tikka Chicken Wings from Low-Carb Maven!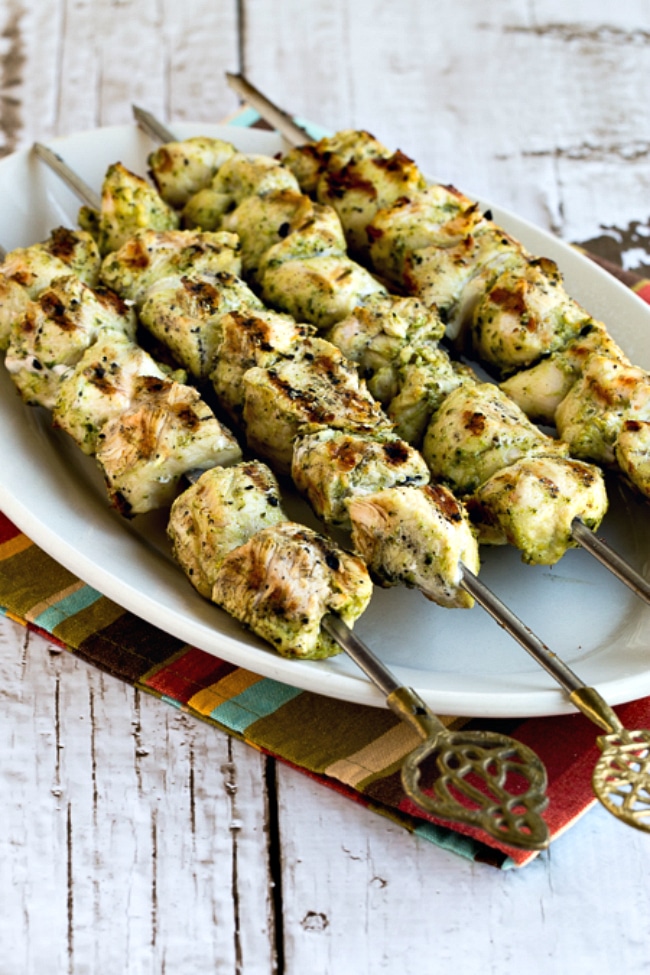 Lemon Pesto Chicken Kabobs from Kalyn's Kitchen are ultra easy and so delicious! And I always have my favorite pesto in a jar in the fridge, so I can make this any time!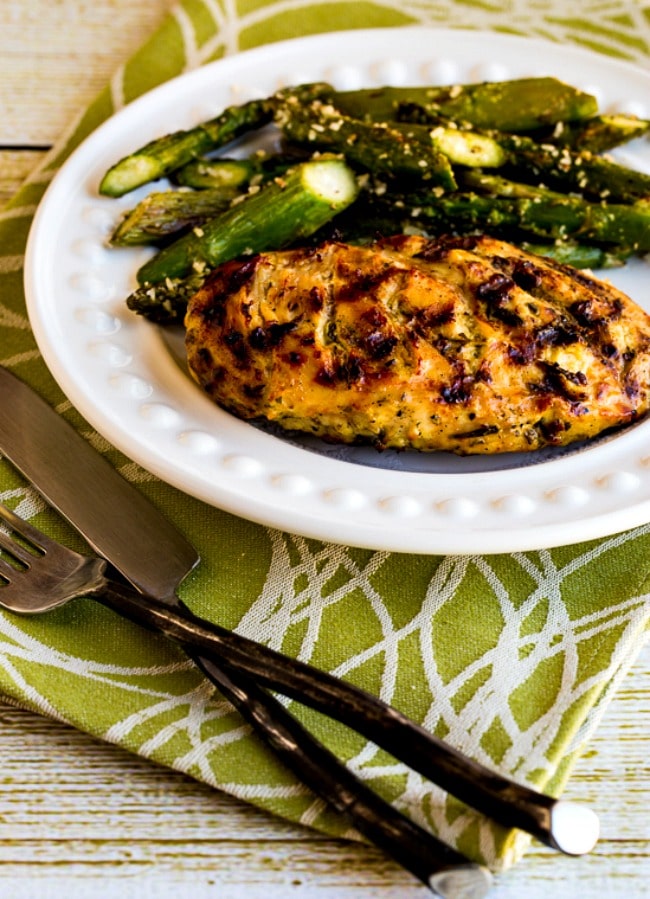 Rosemary Mustard Grilled Chicken from Kalyn's Kitchen is something I've made often for family events. And if you'd like to try this idea with Tarragon instead of Rosemary, try my Grilled Chicken with Tarragon Mustard Marinade.
Doesn't Mediterranean Topped Grilled Chicken from Emily Bites look like a perfect low-carb meal!
Grilled Chicken with Lemon and Capers from Kalyn's Kitchen has some of my favorite flavors! (I'd love this with Roasted Cauliflower Salad for a double dose of capers!)
Something that sounds perfect for Keto is Grilled Chicken Breasts with Chive Herb Butter from FoodieCrush.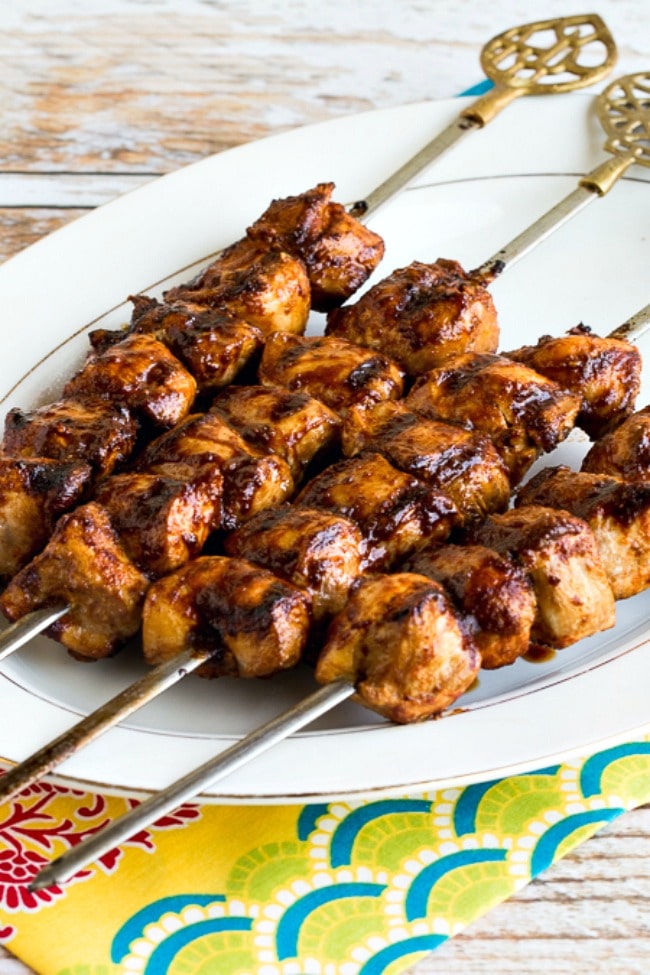 And finally anyone who likes spicy Sriracha Sauce is going to love these Sriracha-Glazed Grilled Chicken Kabobs from Kalyn's Kitchen! (Serve with Asian Cabbage Salad if you want even more Sriracha!)
More Keto Grilled Chicken to Try:
We are a participant in the Amazon Services LLC Associates Program, an affiliate advertising program designed to provide a means for us to earn fees by linking to Amazon.com and affiliated sites. As an Amazon Associate, I earn from qualifying purchases.