Low-Carb and Keto Grab-and-Go Breakfasts
Low-Carb and Keto Grab-and-Go Breakfasts can really help on those busy mornings when you need a low-carb breakfast in a hurry!
PIN Low-Carb and Keto Grab-and-Go Breakfasts!
For years I'd eat breakfast in the car on the way to my job as a fourth grade teacher, which is how I ended up with so many recipes on the blog for breakfasts to make ahead and grab in the morning. So if you're rushing off to work every day and need breakfast, here are Low-Carb and Keto Grab-and-Go Breakfasts with all my favorite ideas for breakfast on the run!
And even now that I'm eating breakfast at home (and more people are working at home), I'm always happy if I have something made ahead in the fridge that I can grab, quickly warm, and eat for a quick no-fuss breakfast. These are the breakfast options I make over and over, hope you enjoy!
This collection has plenty of breakfasts you eat with your hands and some you might eat with a fork for if you were home, but all of them could be eaten out of hand wrapped in a paper towel if needed.
What baking cups do I use for muffins?
I wrote a post about the Silicone Baking Cups I like most for egg muffins, cottage cheese breakfast muffins, and other sweet and savory muffins, and this is the size I use most often (affiliate link), although some older recipes show a smaller size.
What pan do I use for breakfast tarts?
The Mini Tart Pan (affiliate link) I use for the breakfast tarts and mini frittatas is something I love, but if you don't have a pan like that use the largest muffin cups you have. If you use a silicone baking cup or muffin pan you may have to adjust the cooking time for those recipes.
Egg Muffins for Breakfast: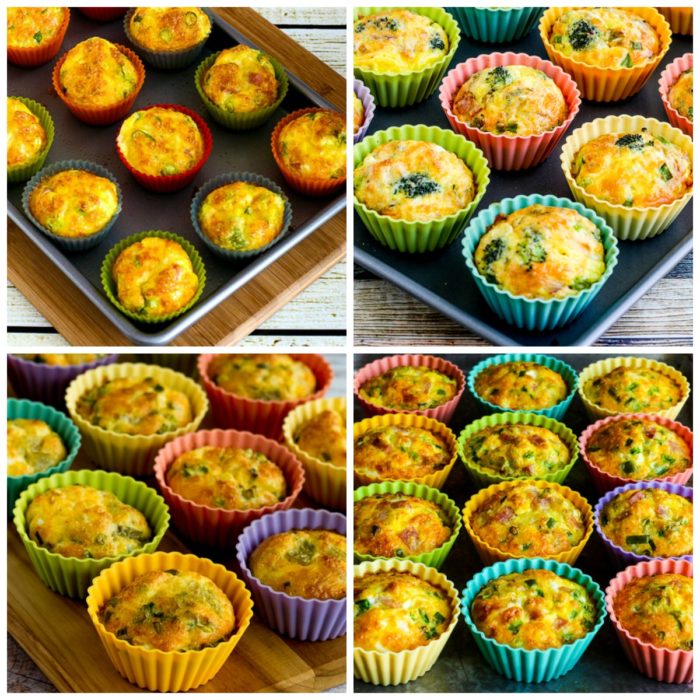 The first grab-and-go breakfast I ever shared on my blog was these Keto Egg Muffins, and when I taught school I used to eat them quite often in the car on the way to work! That link will take you to the Egg Muffins Master Recipe for making egg muffins from what you have on hand.
If you prefer to follow a specific recipe, check out my Keto Egg Muffins with Broccoli, Bacon, and Cheese, Egg Muffins with Ham, Cheese, and Bell Pepper, or Green Chile and Cheese Egg Muffins.
Cottage Cheese Breakfast Muffins: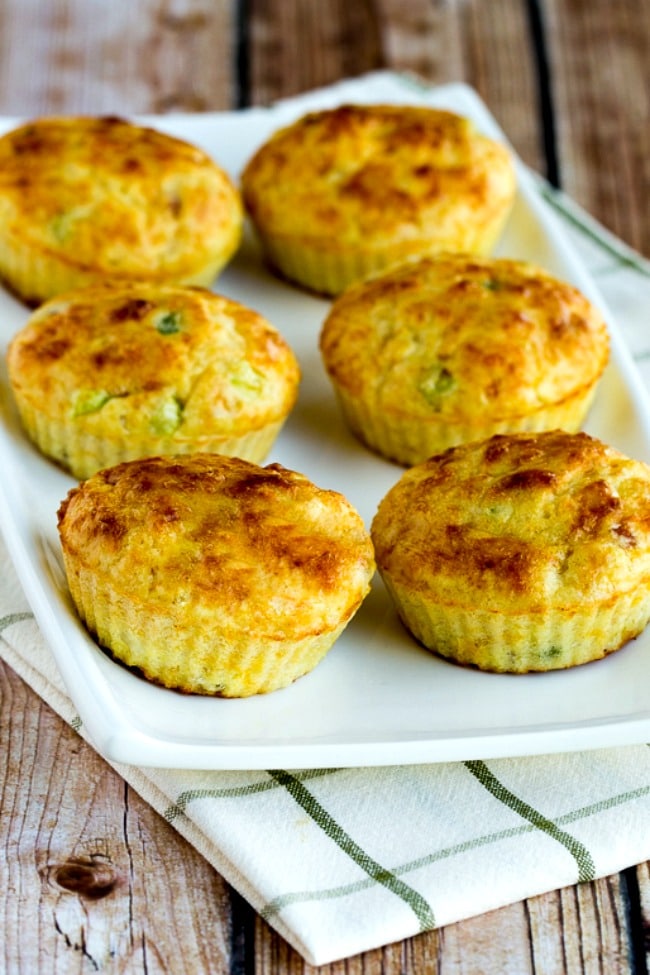 I have three variations on the blog for these Cottage Cheese Breakfast Muffins, so you can tell they're one of my favorites. Above you see Cottage Cheese Breakfast Muffins with Ham and Cheddar, which is what I make whenever I have leftover ham.
There are also Cottage Cheese Breakfast Muffins with Bacon or Cottage Cheese Breakfast Muffins with Mushrooms and Feta if you want a vegetarian option. (The cottage cheese muffin recipes all have a low-carb option with a tiny amount of white whole wheat flour or a keto option using Flaxseed Meal or Hemp Seeds to replace the flour.)
Sweet and Savory Muffins for Breakfast: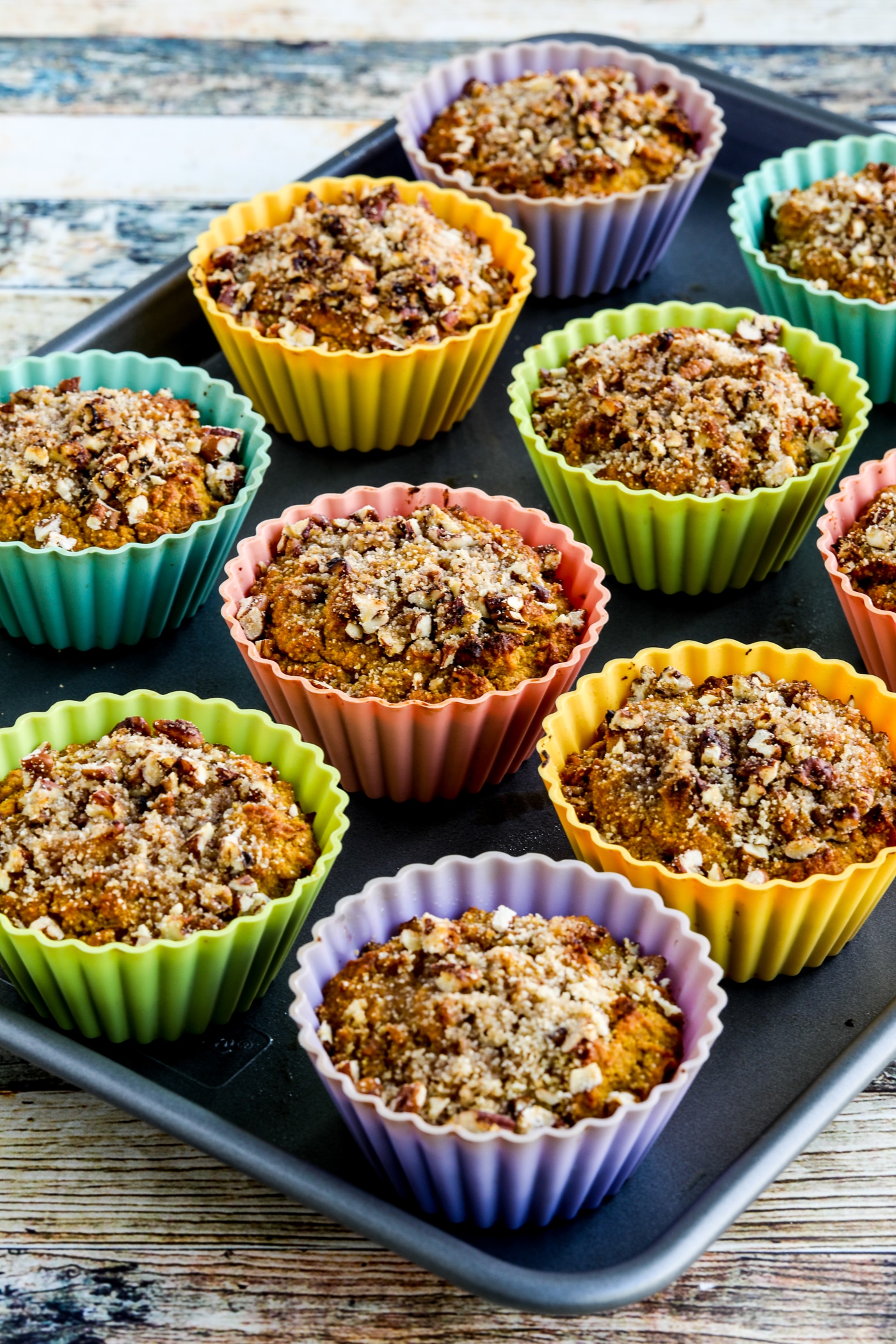 Everyone who loves pumpkin will want to make these Almond Flour Pumpkin Muffins for breakfast all year long! I love to store these in the fridge and just warm up one or two for a quick breakfast!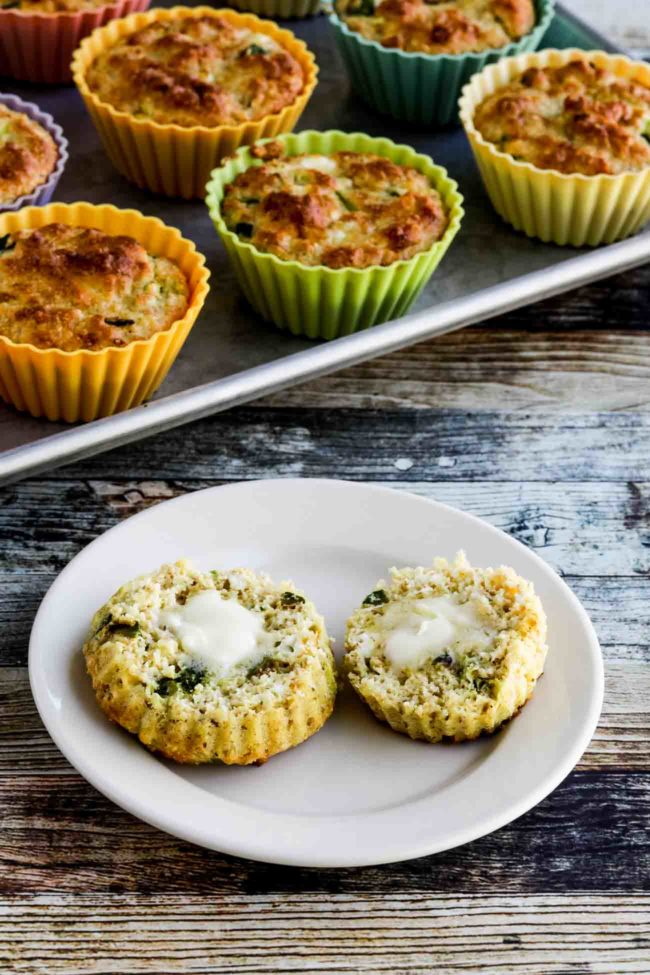 People who like savory muffins for breakfast will love these Flourless Breakfast Muffins with Zucchini and Feta which is an updated version of a cottage cheese and egg muffin that had quinoa flakes. After a few years I learned no one has that and adapted the recipe to use flaxseed meal!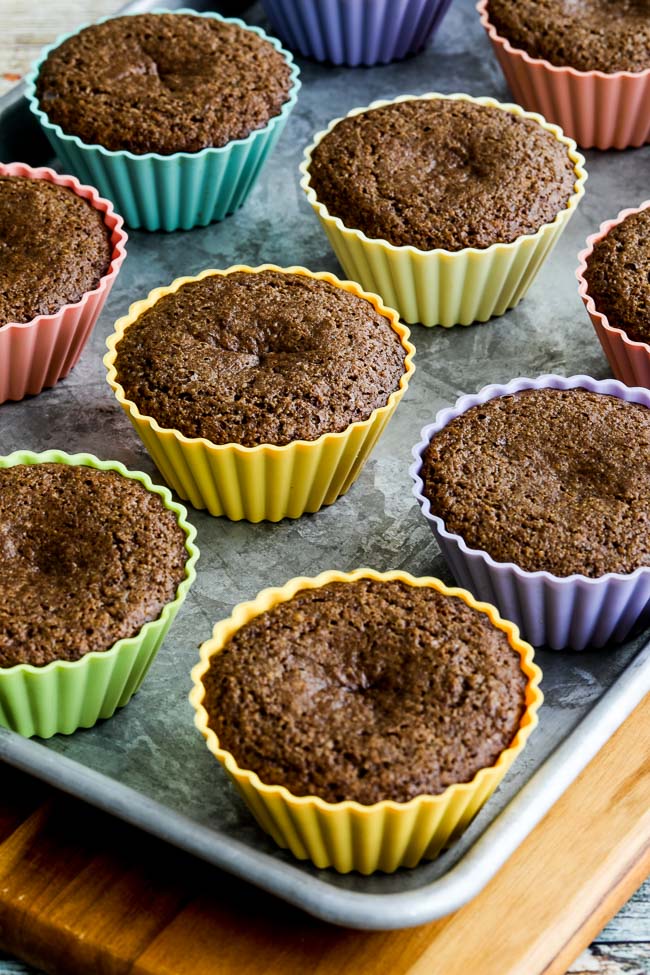 I ate Donna's Low-Carb Breakfast Muffins for days and day while I tested the recipe and loved these for an easy breakfast. I like them best warmed and spread with butter but they're even good cold and perfect to eat in the car on the way to work!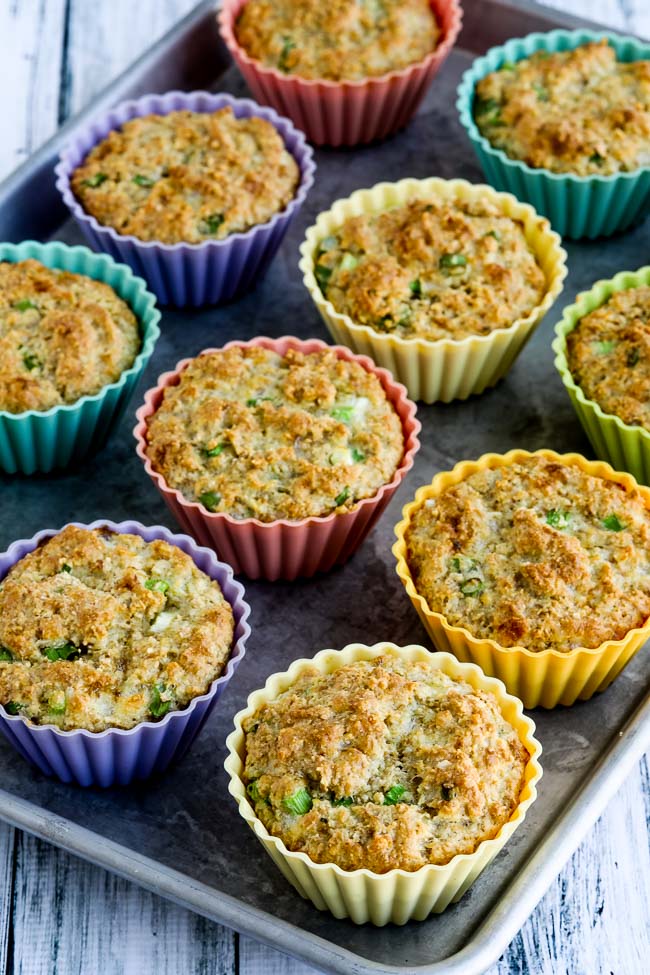 Low-Carb High-Fiber Savory Muffins are a tasty savory muffin you can eat for breakfast, lunch, or dinner, but I eat them most for breakfast, warmed, cut in half, and spread with some butter, YUM!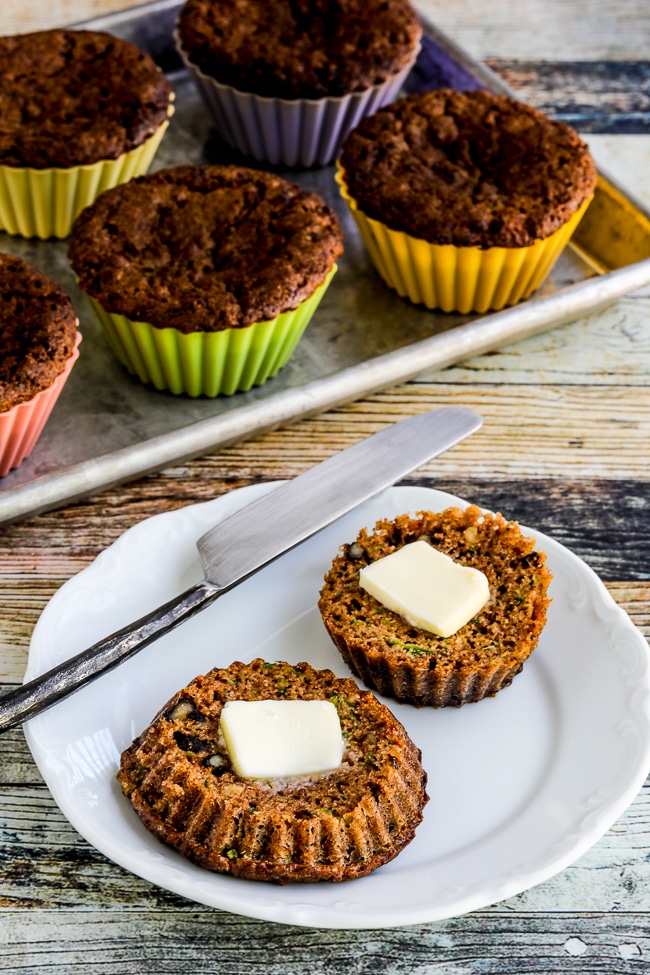 Flourless Zucchini Muffins are a delicious muffin made with zucchini and almond flour and this muffin is also gluten-free. I used to make these with a small bit of brown sugar, but now I'd use Golden Monkfruit Sweetener (affiliate link) for the lowest carbs.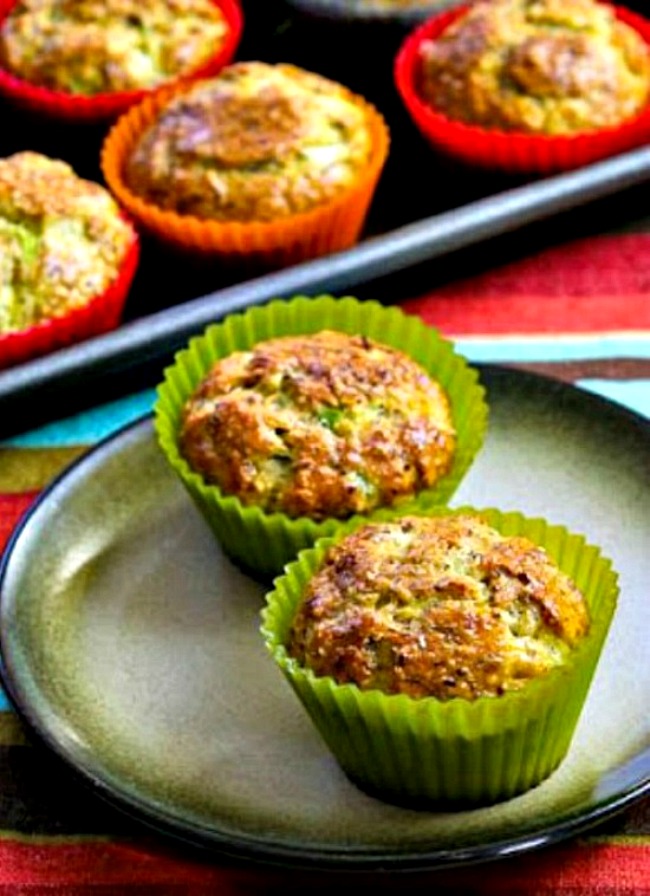 These interesting Flourless Savory Breakfast Muffins have almond meal, hemp seeds, Parmesan, flaxseed meal, nutritional yeast, eggs, cottage cheese, baking powder and some seasonings. These may not be for everyone, but I love them and I have some readers who also really like this recipe!
Low-Carb Bread for Breakfast: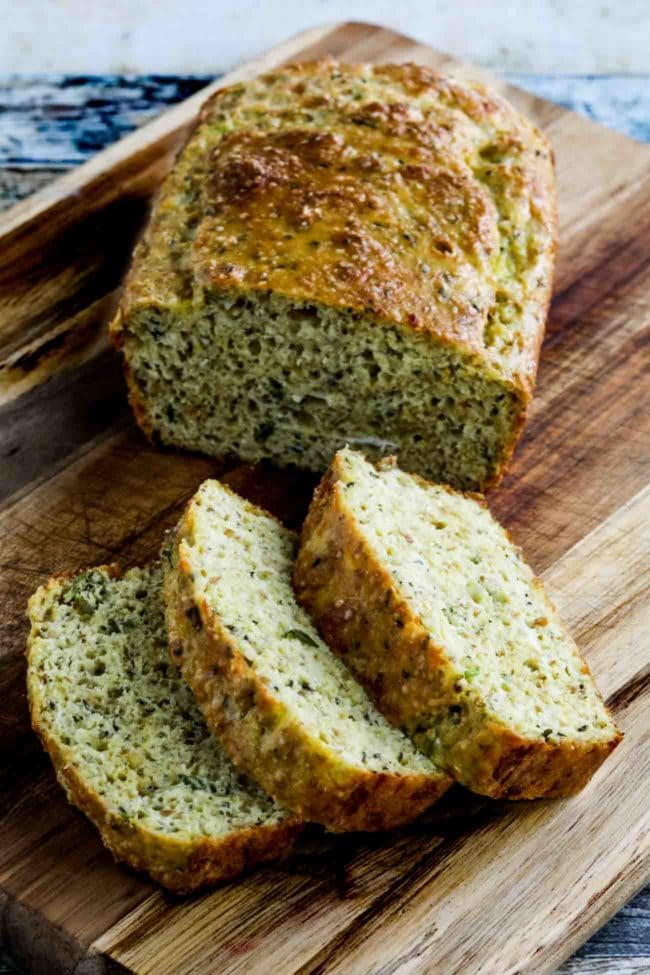 This Almond Flour Savory Bread is low-carb and gluten-free and this is something I've been making a lot recently. I'd love a couple of slices of this (toasted and spread with some butter) for a quick low-carb breakfast!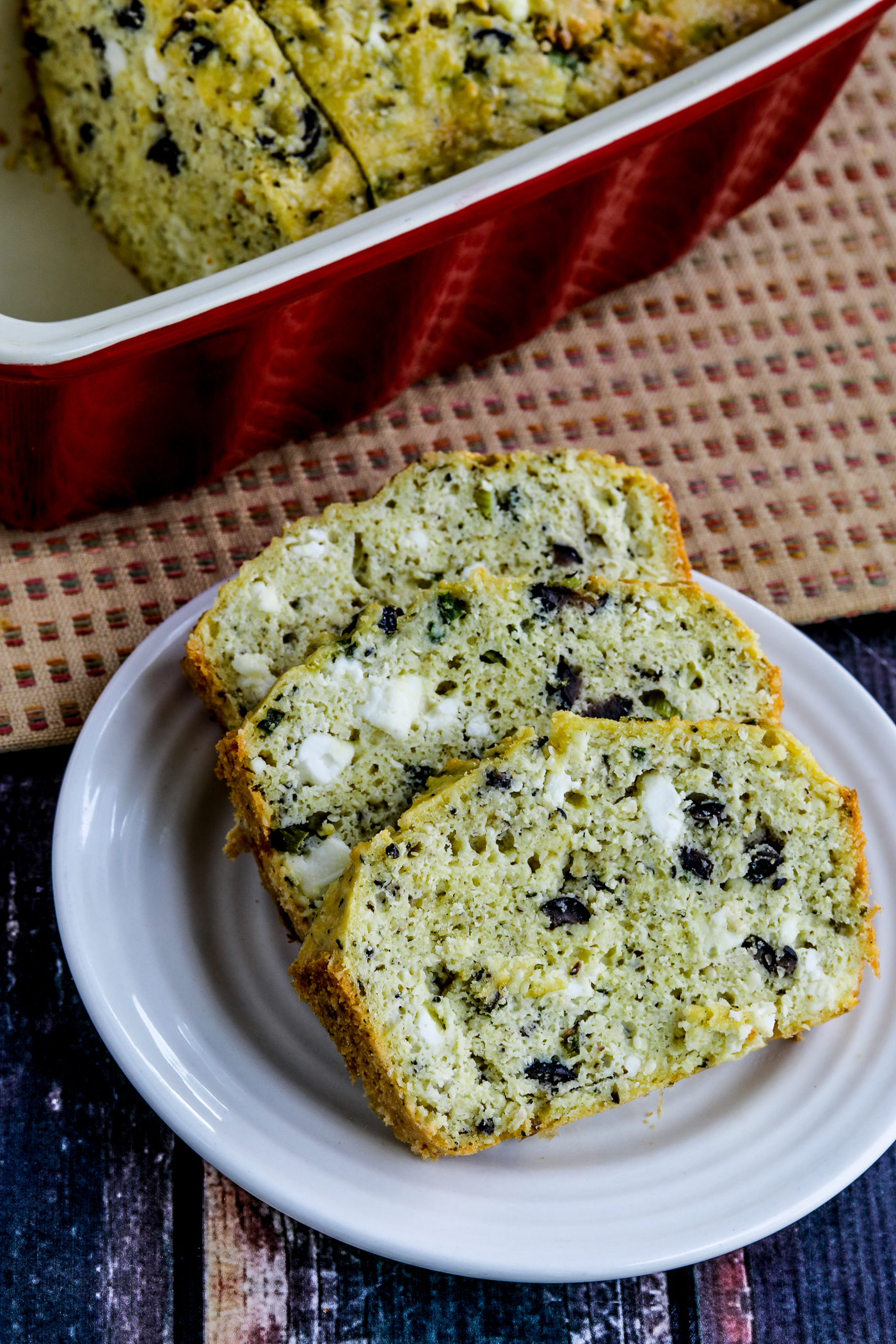 People who enjoy olives and like savory breakfast will love this Olive Bread that's also so tasty toasted and eaten for a grab and go breakfast!
Breakfast Tarts and Mini-Frittatas:
When I got an amazing Mini Tart Pan (affiliate link) I went crazy making a variety of breakfast tarts and mini-frittatas. If I'm home I'll use a fork to eat these but but they can definitely be wrapped in a paper towel and eaten with your hands too. (Use large muffin cups if you don't have a tart pan.) The photo above shows Crustless Breakfast Tarts with Mushrooms, which are one of my favorites and earliest breakfast tart recipes.
I've also got tasty recipes for Mini Frittatas with Broccoli and Three Cheeses, Southwestern Crustless Breakfast Tarts, Mini Frittatas with Mushrooms, Cottage Cheese, and Feta, Crustless Breakfast Tarts with Asparagus and Goat Cheese, and Cheesy Zucchini Breakfast Tarts. If you decide to invest in a Mini Tart Pan, those recipes will give you lots of options for using it!
What's your favorite grab-and-go breakfast recipe? Tell us about it in the comments!
We are a participant in the Amazon Services LLC Associates Program, an affiliate advertising program designed to provide a means for us to earn fees by linking to Amazon.com and affiliated sites. As an Amazon Associate, I earn from qualifying purchases.