Ground Beef Gyro Meatball Lettuce Wraps (Video)
Ground Beef Gyro Meatball Lettuce Wraps have all the flavors of Gyros without the pita bread, and these are delicious with Tzatziki Sauce!
PIN Ground Beef Gyro Meatball Lettuce Wraps to try some later!
This recipe for Ground Beef Gyro Meatball Lettuce Wraps is for everyone who loves the complex flavors of Greek Gyros, but it's especially for my brother Mark who's such a lover of Greek food. It took me quite a few tries to get the seasoning for the Gyro meatballs just right, but since then I've made this regularly, so it's definitely worthy of recommending for a Friday Favorites pick this week!

It was the Homemade Gyro Meat recipe from The Spice House that helped us get these meatballs perfectly seasoned. We used slightly less Greek seasoning than that recipe called for, since it's salty, but the combination of flavors was fantastic.
What ingredients do you need for this recipe?
What if you don't have Greek Seasoning?
Greek Seasoning is an herb and spice blend that's available in most stores. But if you don't want to buy it, is usually contains salt, garlic powder, Oregano (preferably Greek oregano), Marjoram, and dried lemon peel. Some brands also contain onion, parsley and black pepper. The most essential ingredient is Oregano; if you have that just add a pinch of the other ingredients you do have.
What tips can make the Gyro Meatball Lettuce Wraps easier to make?
If making meatballs seems labor intensive, you can also just brown the ground beef and season it with the spices. And feel free to use purchased Tzatziki Sauce too if that will help you get this on the table. (Or remember my trick that I shared when I posted Greek Salmon with Tzatziki Sauce and ask your favorite Greek restaurant if you can buy some Tzatziki!)
How to make these lettuce wraps with Greek Meatballs:
(Scroll down for complete printable recipe including nutritional information.)
Coarsely chop 1/2 of an onion and then chop it in the food processor until it's finely chopped.
Add the Greek Seasoning (affiliate link), ground cumin (affiliate link), and garlic powder and buzz a couple more times so the seasonings are well combined.
Mix the onion-spice mixture into the lean ground beef.
We used a plastic tablespoon to scoop out the meat and rolled it into 20 smallish meatballs.
We cooked the meatballs in a stove-top grill pan over medium-high heat.
While meatballs cook, chop up some cherry tomatoes to go in the lettuce wraps.
You'll also need Tzatziki sauce, which you can buy (or use my recipe and make the Worlds Greatest Tzatziki Sauce.)
We used iceberg lettuce, two leaves together for each wrap, and put three meatballs into each one.
Then put a generous amount of Tzatziki sauce and some chopped tomatoes over the meatballs, fold over the lettuce and eat!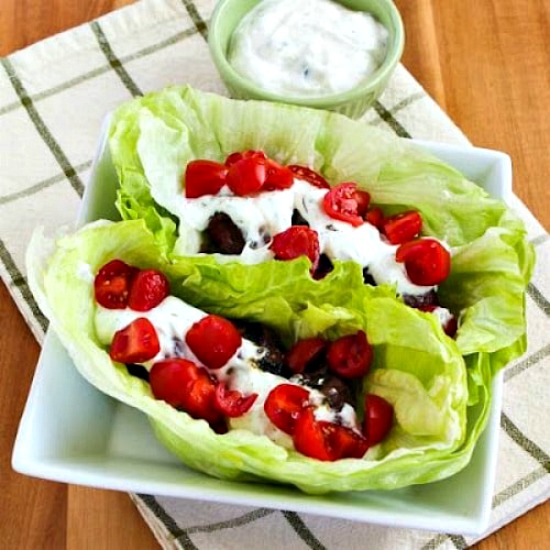 Want More Lettuce Wrap Dinner Ideas?
If you're a fan of lettuce wraps for an easy low-carb dinner, check out my collection of Low-Carb Lettuce Wraps!
More Recipes with Greek Flavors:
Yield: 7 lettuce wraps
Ground Beef Gyro Meatball Lettuce Wraps
Prep Time 25 minutes
Cook Time 12 minutes
Total Time 37 minutes
Ground Beef Gyro Meatball Lettuce Wraps have all the amazing flavors found in Gyros, without the pita bread.
Ingredients
1 lb. ground beef
1/2 onion, finely chopped in food processor
1 T Greek seasoning (see notes)
1/2 tsp. ground cumin
1/2 tsp. garlic powder
1 tsp. olive oil, for brushing grill pan
1 large head iceberg lettuce
3/4 cup Tzatziki Sauce (see notes)
1/2 cup chopped cherry tomatoes
Instructions
Coarsely chop the onion; then put it in the food processor and pulse until onion is finely chopped.
Add the Greek Seasoning (affiliate link), ground cumin (affiliate link), and garlic powder and pulse a few more times until the seasonings are well blended with the onion. (You can also do this by hand, but it's easier in the food processor.)
Put the ground beef into a bowl, add the onion-spice mixture, and use your clean hands to mix the spices into the meat.
Then use a tablespoon-sized measuring spoon to scoop out the meat and form into meatballs. (I got 20 meatballs.)
Brush a stove-top grill pan or frying pan with olive oil, then heat the pan over medium high heat and cook the meatballs, turning often, until they are well browned and completely cooked through (about 10-12 minutes.)
Cut out the core of the lettuce and cut the lettuce head into two halves, then break the leaves apart, making each lettuce cup out of two leaves.
Put three meatballs into each lettuce cup, top with Tzatziki sauce, and sprinkle over chopped tomatoes.
The Gyro meatballs were great after they had been in the fridge overnight.
I wouldn't recommend microwaving them; I just heated them in a mini-frying pan on the stove.
Nutrition Information:
Yield:
7
Serving Size:
1
Amount Per Serving:
Calories: 220
Total Fat: 14g
Saturated Fat: 5g
Unsaturated Fat: 7g
Cholesterol: 60mg
Sodium: 764mg
Carbohydrates: 4g
Fiber: 1g
Sugar: 3g
Protein: 19g
Nutrition information is automatically calculated by the Recipe Plug-In I am using. I am not a nutritionist and cannot guarantee 100% accuracy, since many variables affect those calculations.
Low-Carb Diet / Low-Glycemic Diet / South Beach Diet Suggestions:
When these lettuce wraps are made with lean ground beef, this is suitable for any phase of the original South Beach Diet. It's also suitable for other low-carb eating plans, which would prefer beef with more fat and maybe slightly fewer tomatoes.
Find More Recipes Like This One:
Use Lettuce Wraps to see more recipes like this one! Use the Diet Type Index to find more recipes suitable for a specific eating plan. You might also like to Follow Kalyn's Kitchen on Pinterest to see all the good recipes I'm sharing there.
We are a participant in the Amazon Services LLC Associates Program, an affiliate advertising program designed to provide a means for us to earn fees by linking to Amazon.com and affiliated sites. As an Amazon Associate, I earn from qualifying purchases.