20 Amazing Low-Carb Bowl Meals
These 20 Amazing Low-Carb Bowl Meals are dinners served in a bowl that are easy and perfect for a week-night meal. And this collection has fun and tasty ideas for family-friendly dinners with a variety of flavors!
PIN the low-carb bowl meals to try a recipe later!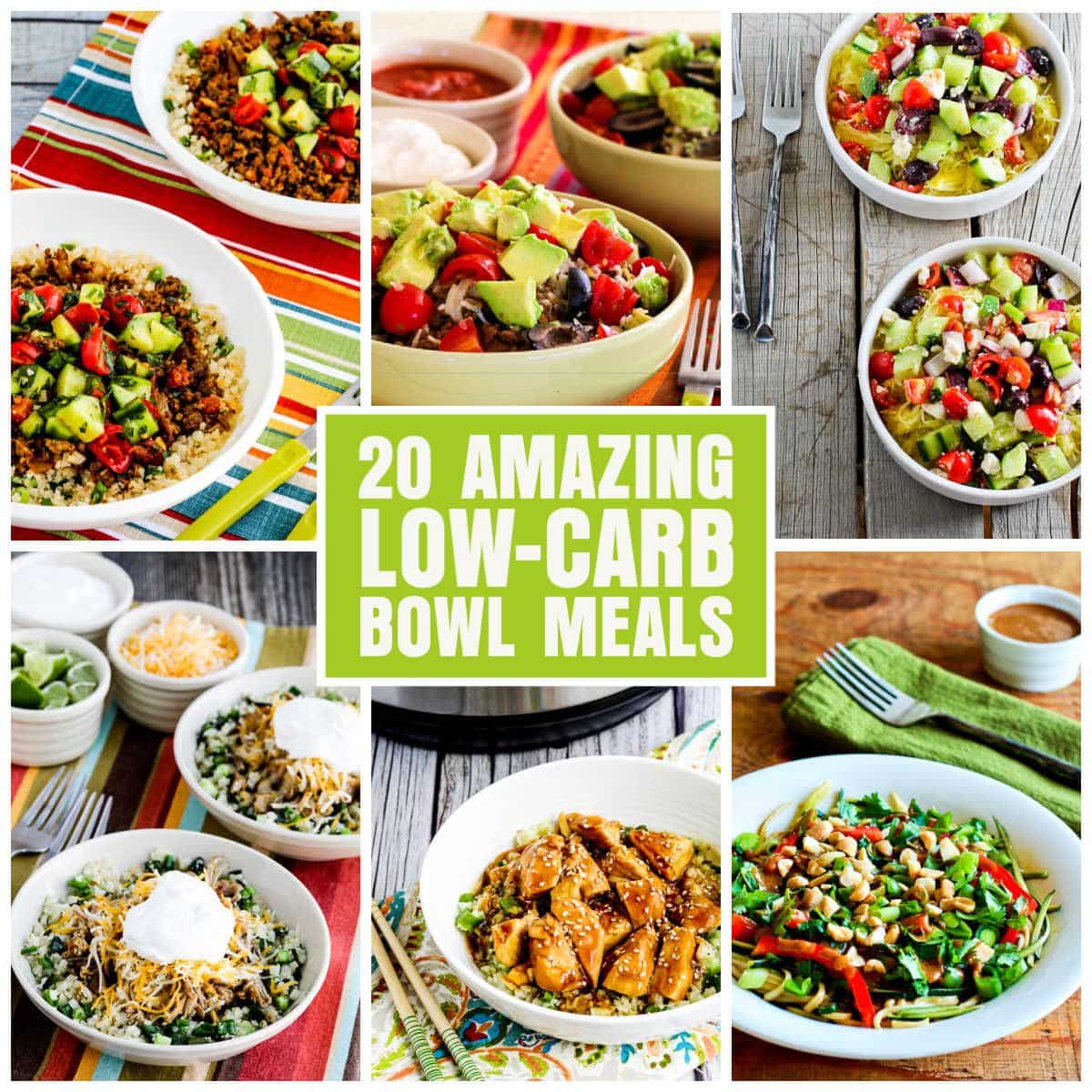 These 20 Amazing Low-Carb Bowl Meals are meal-in-a-bowl dinners with a variety of ingredients. I love bowl meals, and this kind of dish is great when you're cooking for a family because everyone can assemble the bowl with the ingredients they prefer.
And most of the 20 low-carb bowl meals featured here are easy to make! There are bowl meals that use the slow cooker or the Instant Pot, and some that don't need anything except a stove. And this is a pretty international collection, with some great flavors going on.
And since you don't assemble the bowl until you're going to eat it, so some of these bowl meals are going to work perfectly to eat some now, then take some for lunch the next day, unless you have a big family who eats it all in one meal! Hope you enjoy trying some of my favorite bowl meals!
What ingredients are used for the base of the bowl meals?
I make my bowl meals low in carbs by using something like cabbage slaw, cauliflower rice, spaghetti squash or Zucchini Noodles as the bottom layer, and interesting combinations of meat and veggies layered on top to finish the bowl. If you like one of those base ingredients better than others, feel free to mix up the bowl combinations any way you prefer! And you can serve the toppings for the bowl meal plain or inside a tortilla or pita bread for some family members if they'd like that better!
Want even more ideas for tasty Bowl Meals?
Check out the category for Bowl Meals to see even more tasty ideas for meals that are served in a bowl!
Instant Pot Teriyaki Chicken features tasty chicken with Asian flavors served over cauliflower rice for a tasty dinner in a bowl! This recipe also has some other fun suggestions for serving the chicken.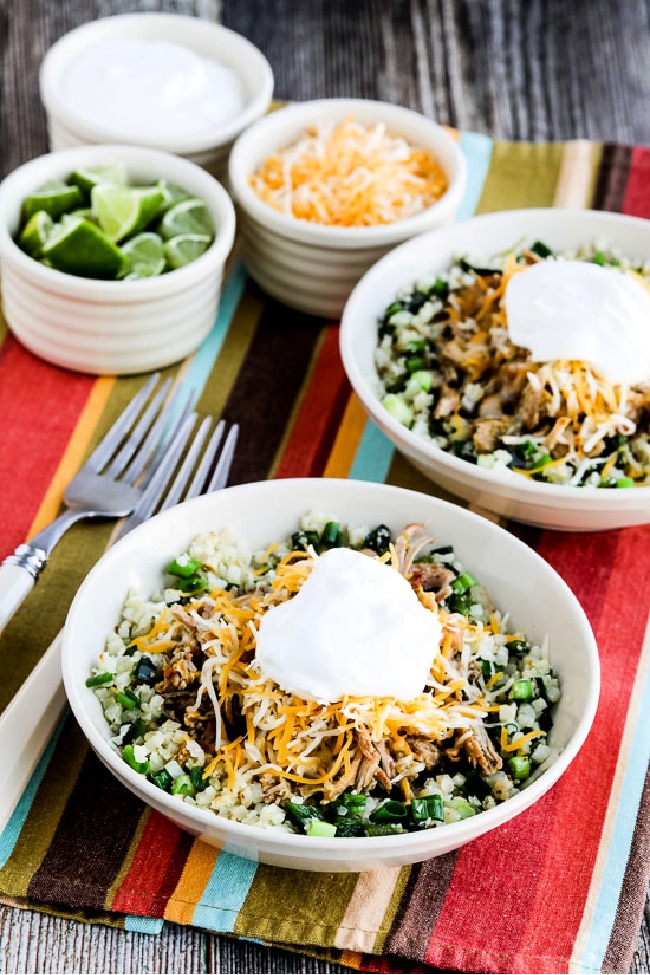 A favorite bowl meal on the blog is this delicious Green Chile Pork Taco Bowl. You can make the pork in the Instant Pot or in the slow cooker, whichever you prefer.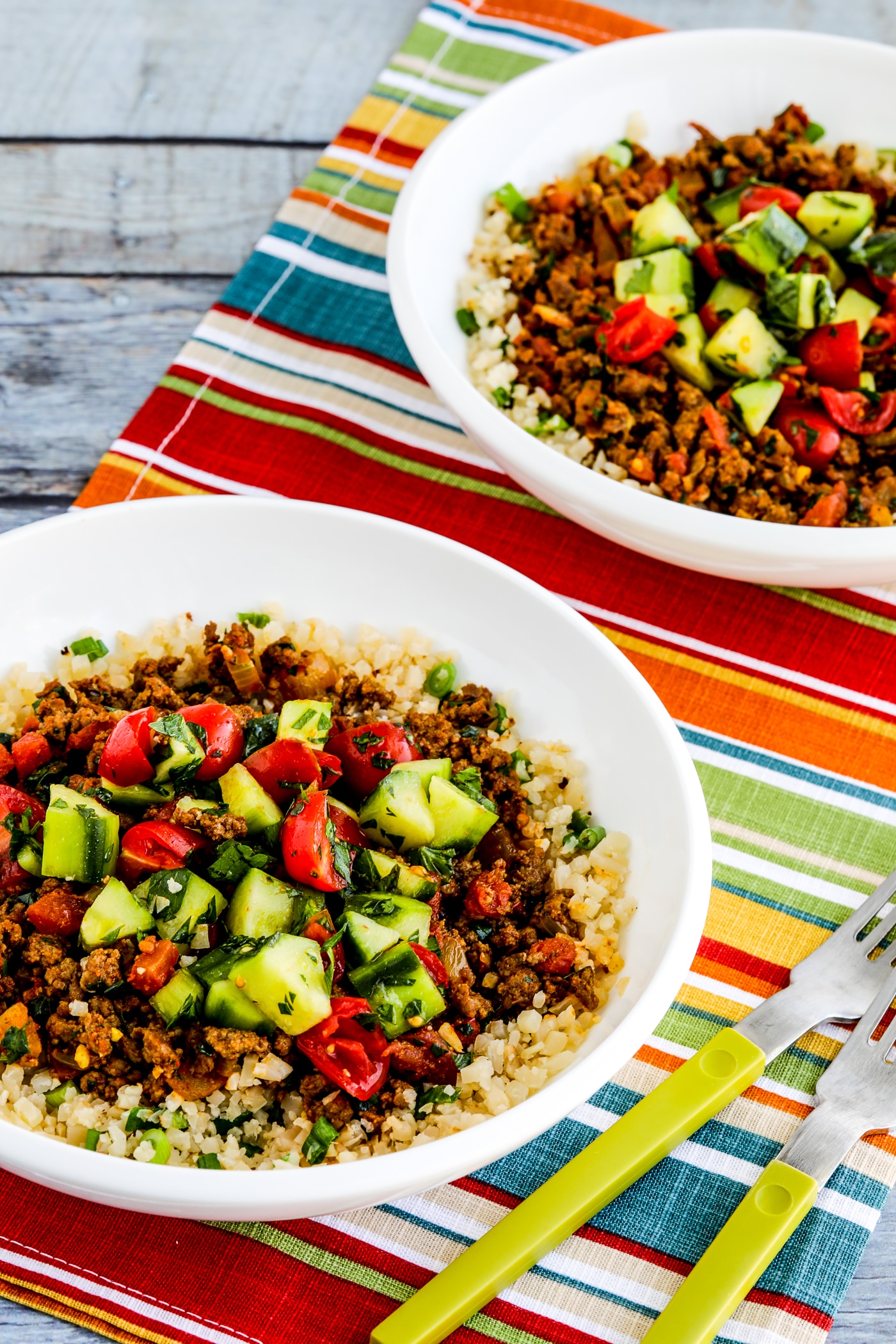 These Middle Eastern Ground Beef Bowls are a newer bowl meal on the blog, and this is absolutely a winner!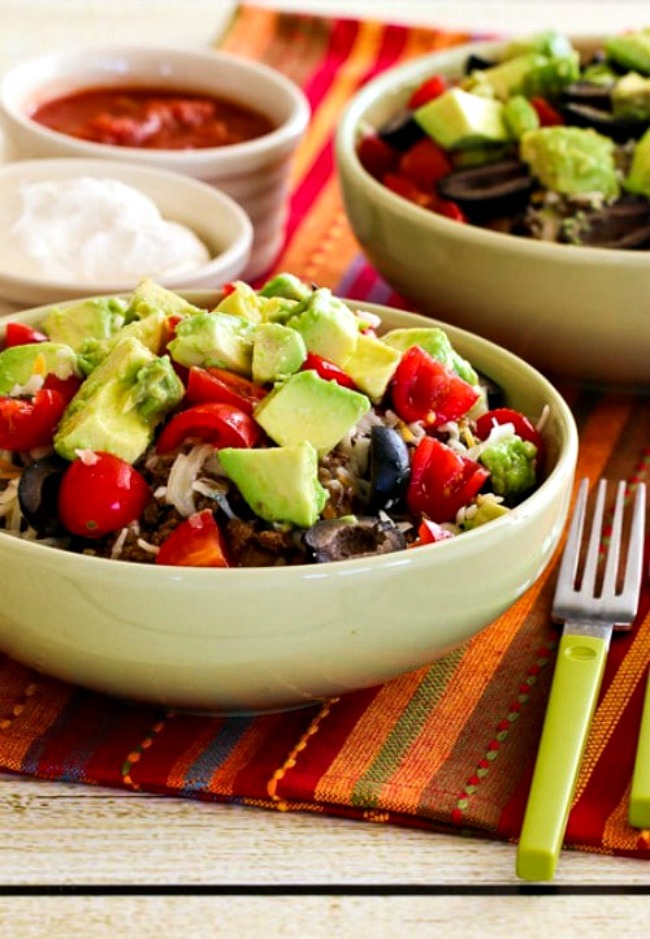 This recipe for Spaghetti Squash Taco Bowls has all the things you'd enjoy on beef tacos serving on a bowl of spaghetti squash!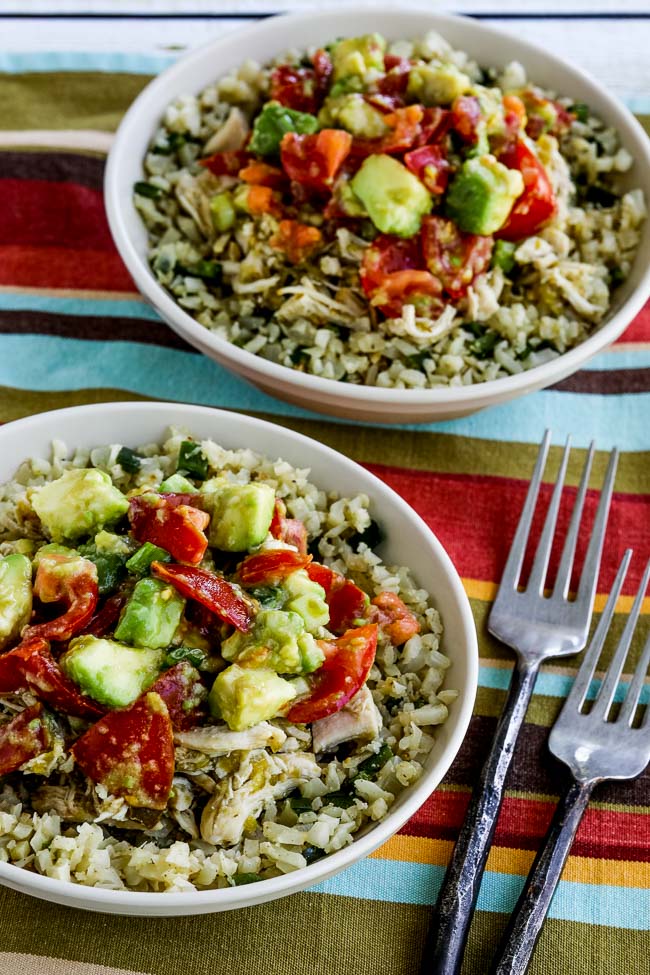 This Green Chile Chicken Burrito Bowl is a delicious Instant Pot dinner that the whole family is going to like! There's also a link to a slow cooker version that has black beans, but you could leave those out if you prefer making it in the slow cooker.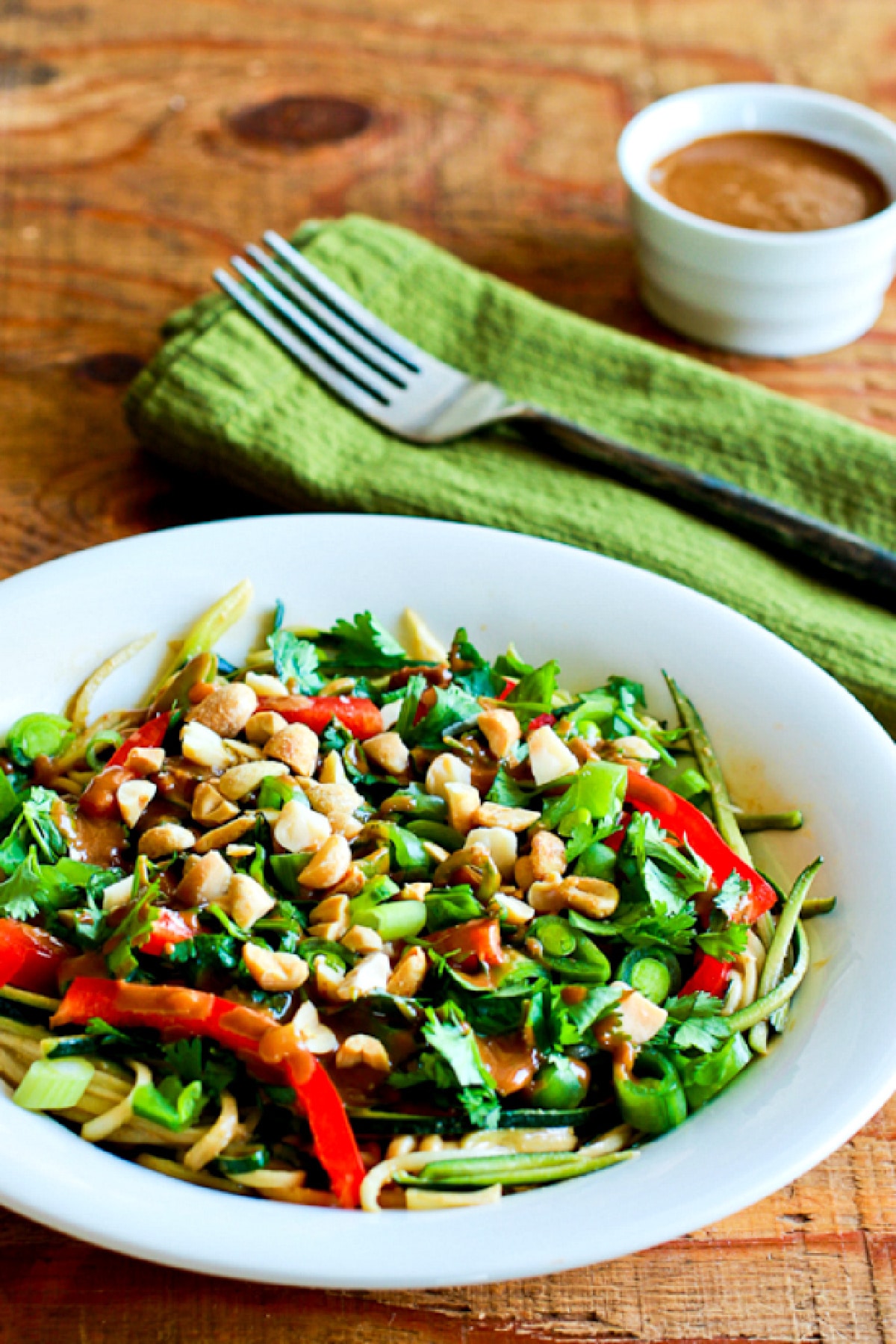 If you'd like a bowl meal that's vegetarian, this Zucchini Noodle Bowl with Peanut Sauce is a delicious choice!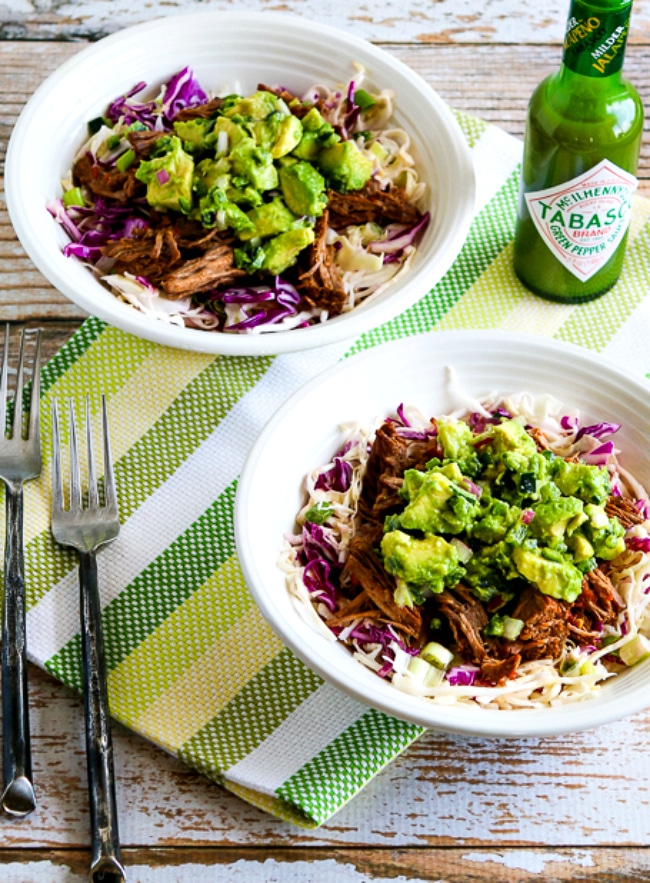 Green Chile Shredded Beef Cabbage Bowl is an amazing dinner, and you can make this in the slow cooker or the Instant Pot. This is another option where the beef would be great in tortillas for family members who aren't fans of cabbage.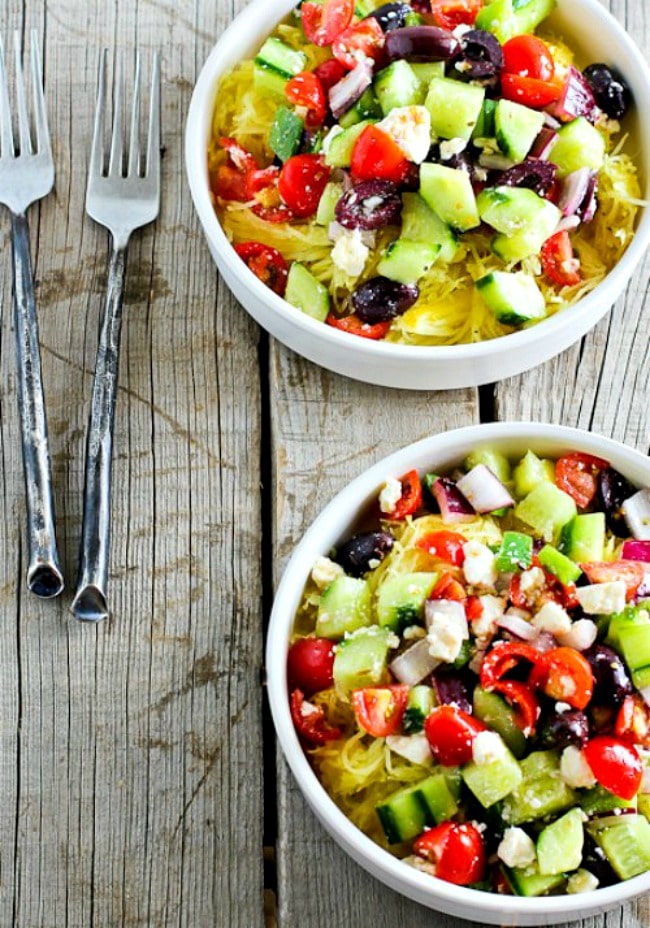 This Greek Salad Spaghetti Squash Bowl is a perfect idea for anyone who likes Greek Salad, and we loved the way the dressing runs down and flavors the spaghetti squash.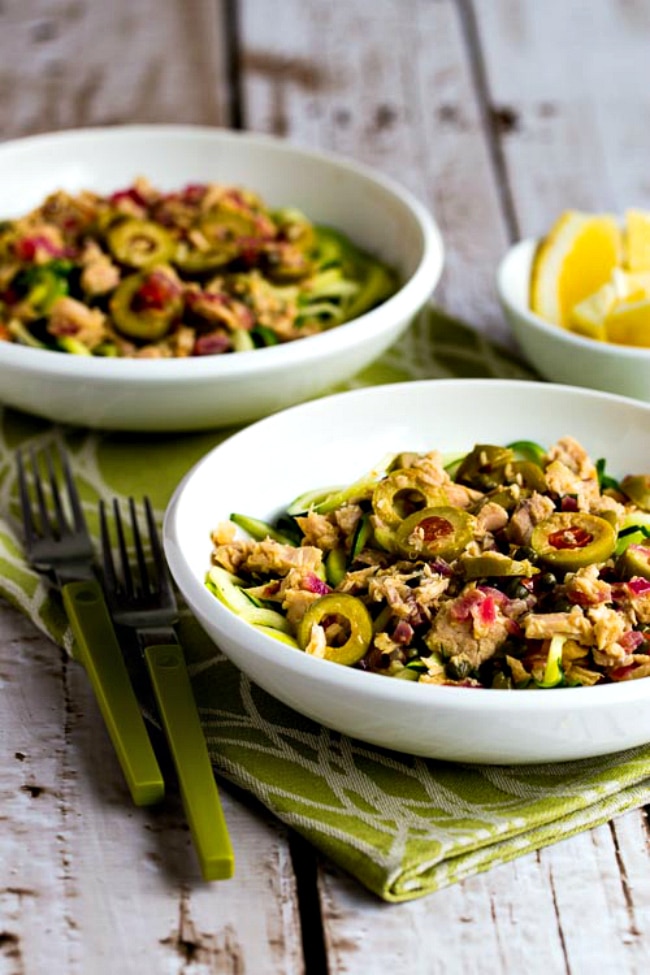 Zucchini Noodles with Tuna and Green Olives are a dinner idea that combined my love for Genova Tuna Packed in Olive Oil (affiliate link) and green olives, and if you like both those ingredients I promise you'll love this for a quick dinner idea!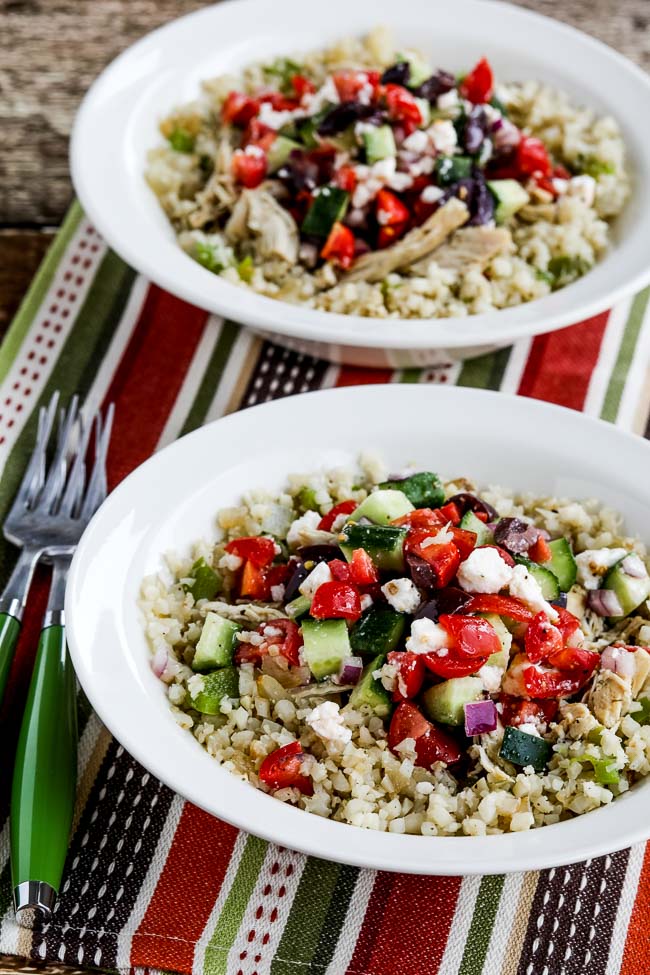 And finally, this Instant Pot Cauliflower Rice Greek Chicken Bowl has all the flavors you love in Greek Chicken and Greek Salad, combined with cauliflower rice. And you can make Slow Cooker Cauliflower Rice Greek Chicken Bowl if you prefer.
More Low-Carb Bowl Meals to Try:
Want More Low-Carb Dinner Recipes?
We are a participant in the Amazon Services LLC Associates Program, an affiliate advertising program designed to provide a means for us to earn fees by linking to Amazon.com and affiliated sites. As an Amazon Associate, I earn from qualifying purchases.