Growing Green Onions (and other Things I'm Thinking About!)
Growing Green Onions is easy and fun; and this is a great way to keep stocked up on green onions when you can't go to the store that often!
PIN Growing Green Onions to find it later!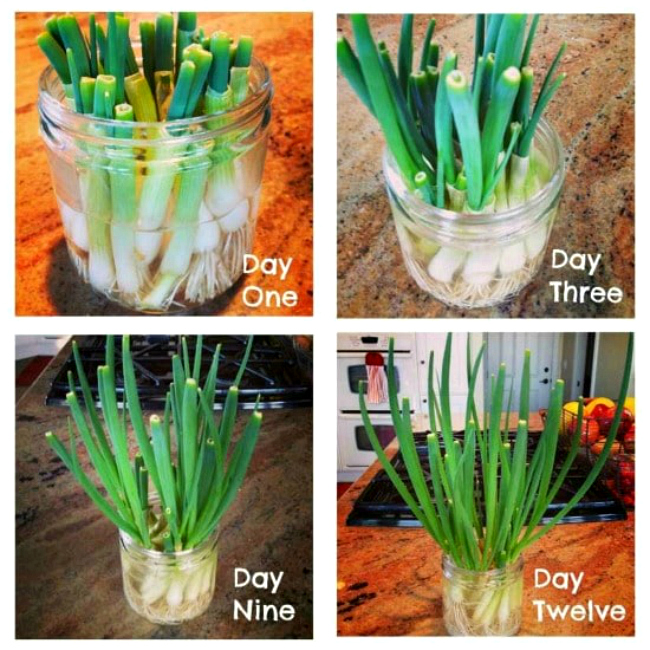 If you're following me on Facebook, Twitter, or Instagram, a few years back I shared this experiment with Growing Green Onions, which was fun but also surprisingly quick and productive! Back in those days I had regular posts in a category called Things I'm Thinking About where I'd share random tips, travel photos, and sometimes just things I found on the web that I thought readers might find interesting.
Through the years I haven't kept up with that feature too well, but when I came across this post with tips for growing green onions I realized how many people probably haven't seen this post about how to grow green onions! And I decided it would be fun to start sharing more Things I'm Thinking About occasionally when I find something worth sharing.
Keep reading for more details about how we grew the green onions you see in the photos; I was actually quite surprised at how quickly they grew! And there are a few green onion tips in the comments too.
How to Grow Green Onions on the Counter: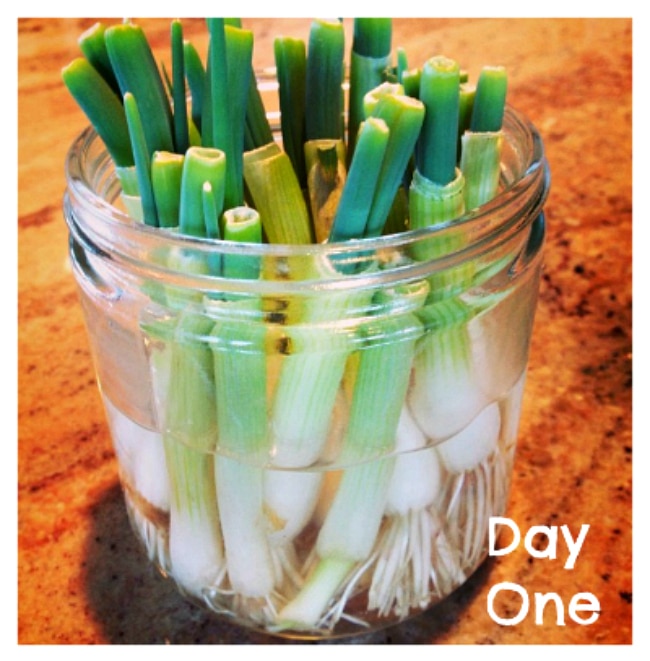 The first step in growing green onions is finding a short squatty jar where you can pack in quite a few green onions and get them to not be buried too low in the jar. I used a jar from Better than Bouillon Roasted Chicken Base (affiliate link), I'm always pretty vigilant about re-using those jars.
I wanted to use some of the green onion before I tried re-growing them, so I cut off the root end so it was about 3-4 inches long.
Then just put green onions in the jar, fill the jar with water and let them grow!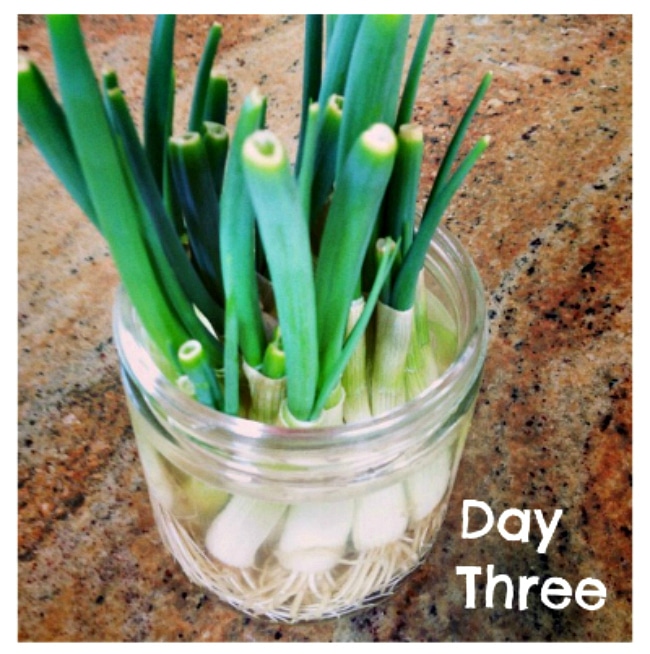 I don't know if it was completely necessary, but I replaced the water every 2-3 days.
Here's how the green onions looked on day three; are you as surprised as I was by how much they had grown?
Of course you can start snipping off the tops any time you'd like, but I was documenting the total growth so I didn't do that.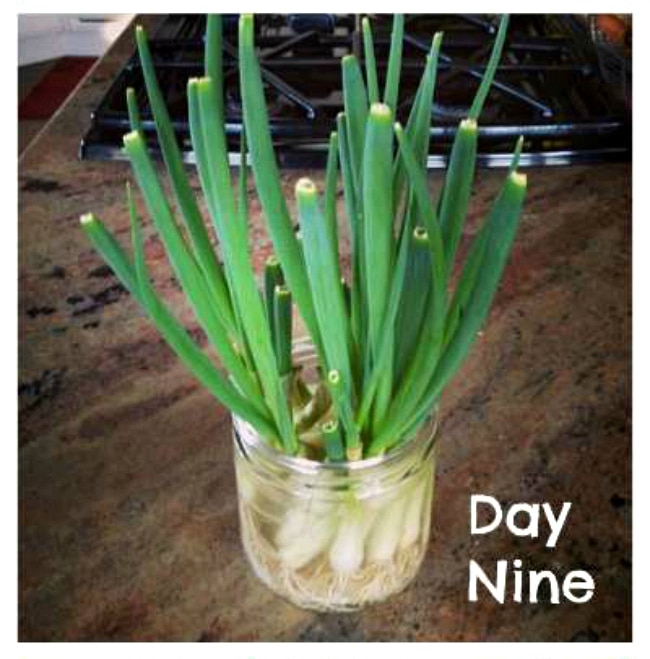 I guess I got distracted and didn't take a photo on day six, but by day nine the growth was pretty impressive.
Most people would probably start using the green onions by this time. You can take a few out, snip off some of the ends with Kitchen Shears (affiliate link), and put the root back into the jar to grow again.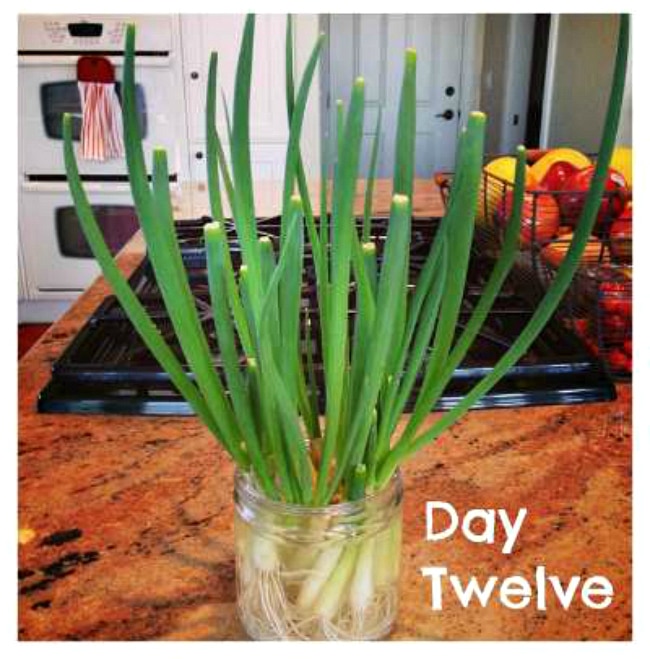 And look at the amazing green onion crop I had after twelve days!
You can trim off most of the long green top, put green onions back into fresh water, and completely grow them again a second time.
I found that once they had grown two green tops, the green onions didn't produce much the third time. Maybe you will have started a second batch by then!
And I'll never run out of green onions again!
Recipes that Make Me Love Green Onions:
I'm a HUGE fan of green onions, and you can enter "green onions" into the search bar to see all my recipe idea using them. Here are a few recipes where I'd never skip the green onions:
Roasted Cauliflower Rice Medley with Pine Nuts
Easy Cauliflower Rice with Garlic and Green Onion
Heart of Palm and Avocado Salad
Chicken Salad with Green Olives
Feta Cheese and Avocado Frittata
More things I'm thinking about:
Apparently everyone is looking for bread recipes! I haven't succumbed to temptation and made bread yet, but I've been thinking about getting the bread machine out of the basement or maybe making some White Whole Wheat Bread with Olive Oil! But I'll probably end up making this Low-Carb Gluten-Free Almond Flour Savory Bread. Have you made any bread?
I'm a huge fan of Brene Brown, and even have one of her books on my nightstand right now! So I was completely doing the fan-girl squeal when people on Twitter told me she mentioned me on her podcast with Glennon Doyle! Apparently she's a fan of my Spicy Lime Coleslaw and I couldn't be more honored to know she is enjoying one of my recipes.
We are a participant in the Amazon Services LLC Associates Program, an affiliate advertising program designed to provide a means for us to earn fees by linking to Amazon.com and affiliated sites. As an Amazon Associate, I earn from qualifying purchases.