Grilled Zucchini Pizza Slices (Video)
Grilled Zucchini Pizza Slices are a low-carb and gluten-free pizza option that just might satisfy that pizza craving. And this tasty five-ingredient recipe for zucchini pizza is probably going to be a hit with the whole family!
Click here to PIN the Zucchini Pizza!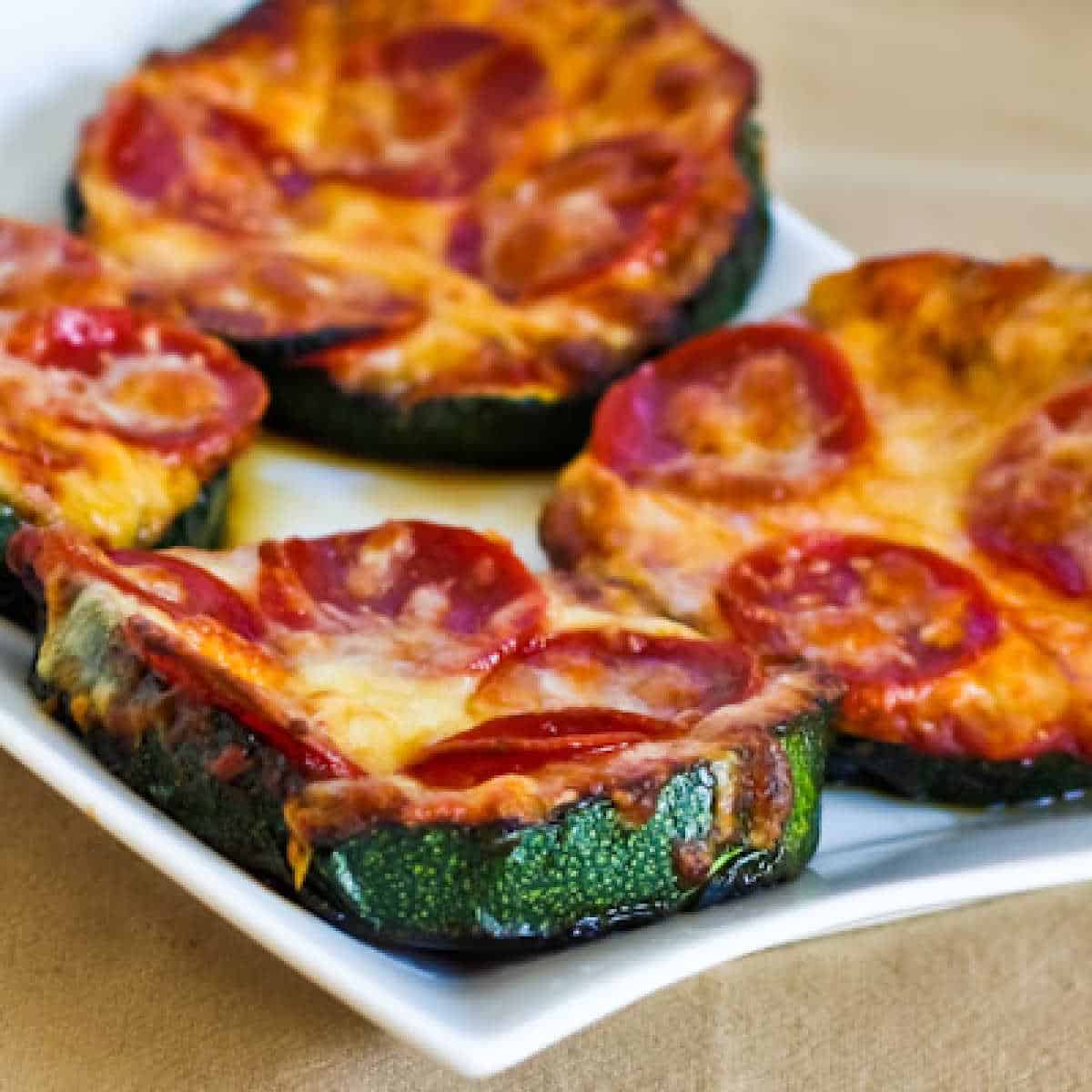 These Grilled Zucchini Pizza Slices have not only been hugely popular on the blog, but they're perfect to make when those giant zucchinis start to show up overnight in the garden. This zucchini pizza is a great way to fight that pizza craving, and it can be loaded with pepperoni and cheese without the carbs.
The idea for grilled zucchini as a base for low-carb Zucchini Pizza is one of those cooking ideas that just start swirling around in my head, and sometimes I'm never sure if I thought of it or saw it somewhere else. But when I decided to arrange a marriage between Grilled Zucchini and my sister Val's Broiled Zucchini with Mozzarella and Pepperoni, I loved this result, with the offspring having some serious pizza personality.
This is definitely one of my Recipes for Extra Large Zucchini, and I cut big slices of zucchini that were nearly 4 inches across and about 3/4 inch thick to make this. If you don't have a huge zucchini to slice for the pizza base, use smaller zucchini sliced lengthwise. And if pepperoni is not your jam, use any toppings you prefer on the zucchini pizza you make!
What ingredients do you need for this recipe?
(This is only a list of ingredients; please scroll down for complete printable recipe. Or if you use the JUMP TO RECIPE link at the top of the page, it will take you directly to the complete recipe.)
large zucchini slices
olive oil
Rao's Pizza Sauce (affiliate link)
Mozzarella cheese
pepperoni
What other toppings can you use on zucchini pizza?
This is only a recipe in the very loosest sense of the word, because anything you like on pizza could be cooked on top of a thick slice of grilled or broiled zucchini. I'm a pepperoni girl, so of course I had to have that, but the topping options are endless here. Things like mushrooms, peppers, or sausage would need to be precooked. You could use roasted red pepper, olives, or Canadian Bacon right out of the package.
Can you make the Grilled Zucchini Pizza without an outdoor grill?
If you don't have an outdoor grill or it's too cold to grill outside, you can definitely make this zucchini pizza on a Stovetop Grill Pan (affiliate link).
More low-carb recipes with pizza flavors:
Want even more ideas for low-carb pizza?
Check out my huge round-up of Low-Carb Pizza Recipes for lots more low-carb, Keto, and gluten-free ideas with pizza flavors.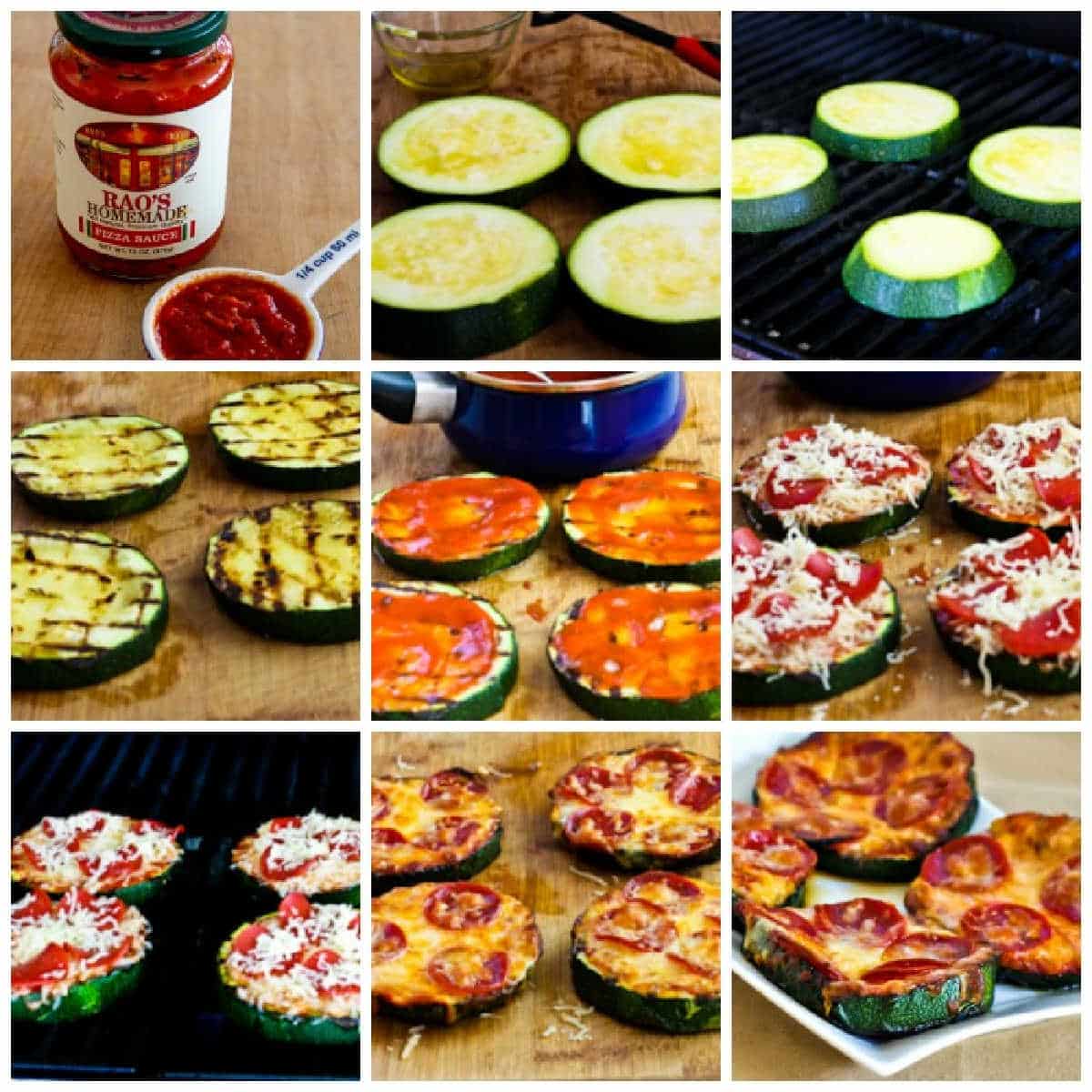 How to Make Grilled Zucchini Pizza Slices:
(This is only a summary of the steps for the recipe; please scroll down for complete printable recipe. Or if you use the JUMP TO RECIPE link at the top of the page, it will take you directly to the complete recipe.)
I 'm a fan of Rao's Pizza Sauce (affiliate link) which only has 3 carbs in 1/4 cup, but I found another sauce from my neighborhood grocer that was also pretty low in sugar. You're only using one tablespoon of sauce on each zucchini slice. (I think Basil Pesto or some type of white sauce would also taste great on this.)
I used an over-sized 8-Ball zucchini to make my pizza the first time, but now I'm a fan of making this with those overly-large zucchinis that show up in the fall. (I wouldn't use the enormous zucchinis that are mostly seeds inside.) If you don't have a zucchini that can make large enough slices, I would cut it lengthwise.
Cut slices of zucchini that are 3-4 inches across and about 3/4 inch thick, then brush both sides lightly with olive oil.
Grill the zucchini slices on one side for about 7-8 minutes, or until there are some grill marks and the zucchini is starting to get tender. (If the slice has one side that's larger, grill that side first so it's the top of the pizza.) If you don't have a grill, this could definitely be cooked under the broiler.
I put 1 T pizza sauce on the top of each zucchini slice, but you might want a tiny bit more, depend on how big your slices of zucchini are. You can heat the sauce if you'd like, but next time I wouldn't bother.
Then put other toppings as desired on top of the sauce. I added one tablespoon of Mozzarella cheese, about 4 slices of pepperoni, and then a slight sprinkle of additional cheese. (You can see there was no food stylist for this shot. Sorry about the messy photo, but you get the idea.)
Then put the topped pizzas back on the grill (or under the broiler) and cook for 7-8 minutes more (or probably less time for broiling.)
Remove pizza from the grill and serve hot!
These photos show four pizzas that I made to take photos, but the recipe is for eight Zucchini Pizza Slices. I am considering two slices to be a serving.
The zucchini pizza will be a hit with zucchini-loving adults who like pizza. I'm not sure if kids who were real picky about veggies would eat this, but I'm guessing quite some kids will like it.
More Ideas for Zucchini from Kalyn's Kitchen: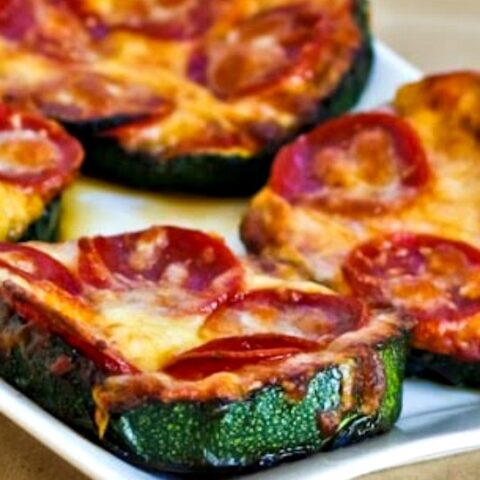 Yield: 4 servings
Grilled Zucchini Pizza Slices
Prep Time 10 minutes
Cook Time 14 minutes
Total Time 24 minutes
Grilled Zucchini Pizza Slices are a healthier way to satisfy that pizza craving, and this zucchini pizza is perfect to make with overly-large zucchini that shows up in the fall.
Ingredients
8 large round zucchini slices (about 3-4 inches across and 3/4 inch thick)
3 T olive oil
8 T Rao's Pizza Sauce
12 T grated Mozzarella cheese
32 slices pepperoni (see notes)
Instructions
Oil the grill grates (I use a bit of oil on a paper towel), then preheat grill to medium-high.
Cut a large zucchini into thick slices about 3/4 inch thick. (I first used 8-Ball zucchini, which made lovely round slices, but now I've made this many times with large late-season zucchini that makes slices about 4 inches across. If you don't have a zucchini that makes large round slices, you can cut the zucchini into lengthwise slices. I wouldn't use enormous zucchini with large seeds for this recipe.)
Grill the zucchini slices 7 minutes total, or until there are some grill marks on the bottom side and it's starting to be tender. (The second side will get cooked after you add the toppings.)
If the zucchini has a side that's slightly larger, grill that first so it will be the "top."
If desired, you can heat the sauce while the zucchini grills. (I did, but next time I wouldn't bother.)
Remove zucchini from the grill, putting them grilled-side up on a cutting board you can use to take them to the kitchen.
Add 1 tablespoon sauce to each zucchini slices.
Then top with one tablespoon Mozzarella cheese cheese
Put 4 slices pepperoni over the cheese (or other toppings as desired.)
Put a tiny bit more cheese over the pepperoni.
Put loaded zucchini slices back on the grill and cook 7 minutes on the second side with the grill lid closed. (Check them every few minutes to see when the cheese is melted and the toppings are lightly browned.)
Remove zucchini pizzas from grill and serve hot.
I doubt this would reheat that well, but if anyone has leftovers and tries reheating it I'd love to hear how it works.
Notes
You can use any pizza toppings of your choice. I love pepperoni, but you can also use sauteed mushrooms, Canadian bacon, cooked sausage, caramelized onions, sliced olives, anchovies, sauteed bell peppers, or any other toppings you'd enjoy on pizza.
I thought about using grilled zucchini as a base for pizza for a while, and this recipe was the happy result.
Nutrition Information:
Yield:
4
Serving Size:
2 slices
Amount Per Serving:
Calories: 289
Total Fat: 24g
Saturated Fat: 7g
Trans Fat: 0g
Unsaturated Fat: 15g
Cholesterol: 32mg
Sodium: 502mg
Carbohydrates: 10g
Fiber: 3g
Sugar: 6g
Protein: 11g
Nutrition information is automatically calculated by the Recipe Plug-In I am using. I am not a nutritionist and cannot guarantee 100% accuracy, since many variables affect those calculations.
Low-Carb Diet / Low-Glycemic Diet / South Beach Diet Suggestions:
Using grilled zucchini instead of a crust makes Grilled Zucchini Pizza Slices a low-carb pizza option, and this should work for low-carb and Keto diets, especially with full-fat cheese and pepperoni. You need to use toppings that aren't too high in fat if you're making this for the original South Beach Diet.
Find More Recipes Like This One:
Use Grilling or Pizza to find more recipes like this one. Use the Diet Type Index to find recipes suitable for a specific eating plan. You might also like to follow Kalyn's Kitchen on Pinterest, on Facebook, on Instagram, on TikTok, or on YouTube to see all the good recipes I'm sharing there.
Historical Notes for this Recipe:
This recipe for slices of grilled zucchini made into pizza was first posted in 2010, and it's literally been a hit ever since then! The recipe was updated in 2014 and was last updated with more information in 2023.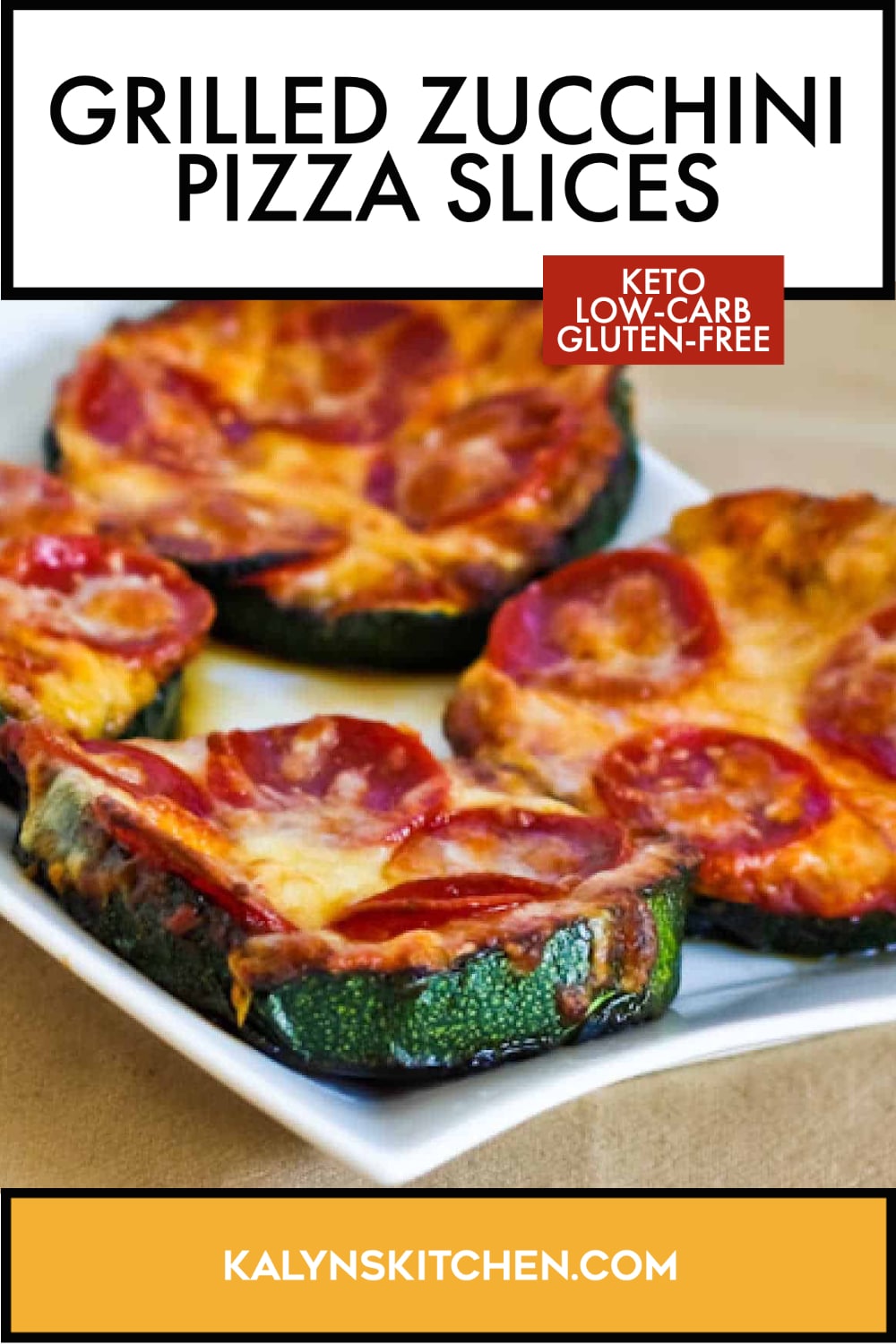 We are a participant in the Amazon Services LLC Associates Program, an affiliate advertising program designed to provide a means for us to earn fees by linking to Amazon.com and affiliated sites. As an Amazon Associate, I earn from qualifying purchases.