Cauliflower Crust Pizza
Cauliflower Crust Pizza can be cooked on the grill, but you can also make it in the oven if it's not grilling season. I love mushrooms and olives to make this a vegetarian cauliflower crust pizza, but use any toppings you prefer!
PIN Cauliflower Crust Pizza to try it later!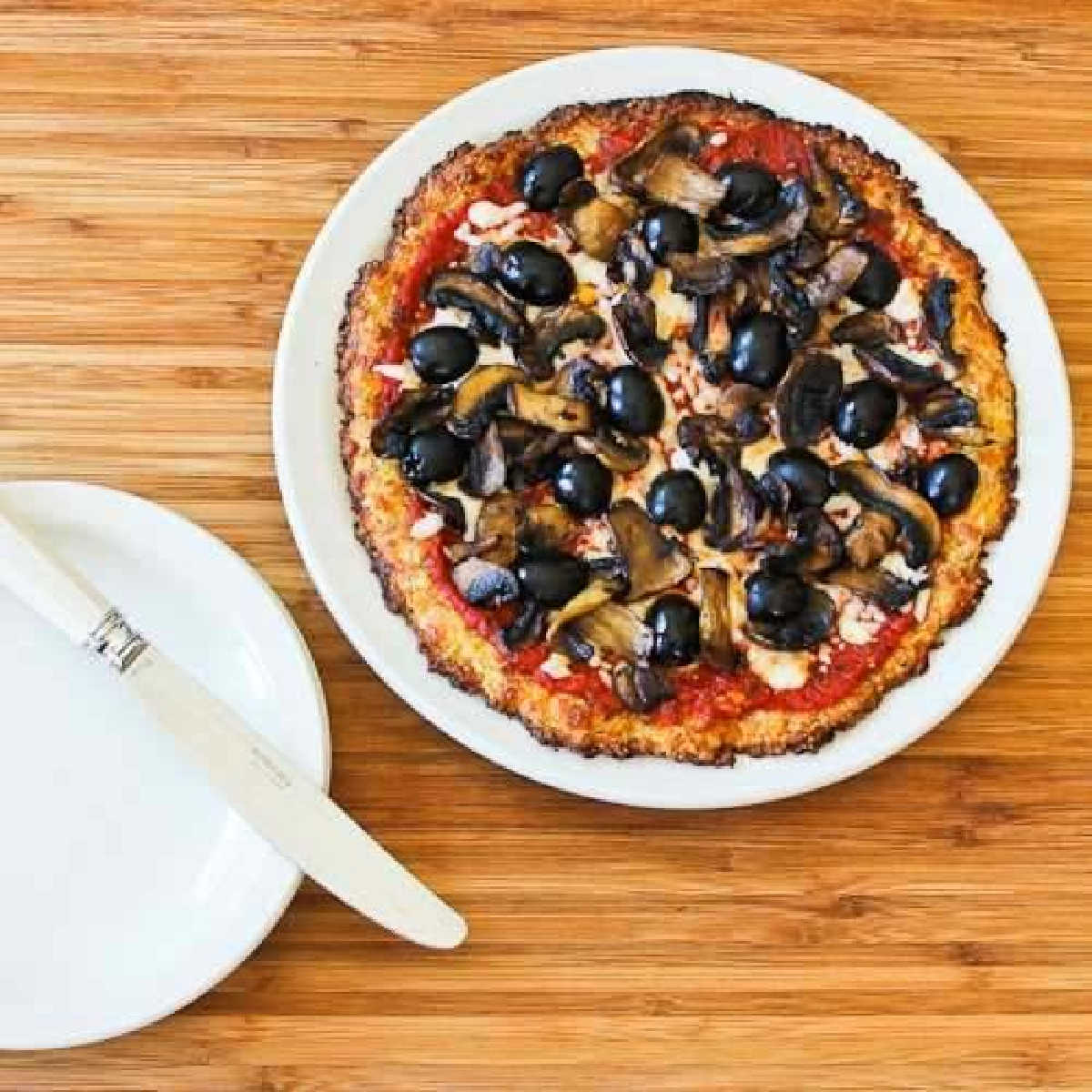 Last year I started noticing cauliflower pizza showing up on healthy cooking blogs, but I didn't pay much attention to the idea until a few readers wrote and said they were sure I would love it. One person sent me a link to this recipe from Eat. Drink. Smile. and that's the one my nephew Jake and I used as our starting point when we decided to experiment with Cauliflower Crust Pizza.
It took us three different tries and the addition of both almond meal and grated Parmesan cheese to get a low-carb cauliflower crust pizza that we thought was about as crispy and bread-like as you could get when the main ingredient was cauliflower, but we both loved this final version of vegetarian pizza with a cauliflower crust.
I'm not sure this will ever replace regular pizza for some people, but if you'd like to try a pizza crust that's low-carb, gluten-free, and more nutritious than regular crust made with flour, I think you'll be pleased with this version. And we made a vegetarian pizza, but of course you can use any toppings you prefer on this low-carb pizza crust.
What ingredients do you need?
What Equipment Do You Need for Cauliflower Crust Pizza?
I have a pizza stone for the grill (affiliate link) and that seemed like the perfect way to cook pizza when it was hot outside, but the inspiring version was cooked in the oven so that will work too. Cooking times will be slightly longer if you don't use a pizza stone. You'll want to use a very hot oven, especially if you're not using a pizza stone. If you have an oven with a convection setting, that would be great for this recipe.
Want more Low-Carb Ideas with Pizza Flavors?
Check out Low-Carb Pizza Recipes for lots more low-carb and Keto pizza ideas, including more ideas for pizza with cauliflower crust!
How to Make Cauliflower Crust Pizza:
(Scroll down for complete printable recipe, including nutritional information.)
Before you start to make the crust, start heating your pizza stone on the grill or in the oven. (If you don't have a pizza stone, just heat the grill or oven.)
You only need one cup of cauliflower for a crust, but we were going to make several versions, so we buzzed 1/2 large cauliflower in the food processor until it was finely chopped.
Put 1 cup finely chopped cauliflower in the microwave and cook until the cauliflower is soft, 7-8 minutes for my microwave.
I had a coarsely-grated mozzarella blend, so I used the food processor to chop it up so it would mix into the other crust ingredients better. (This is way more cheese than the amount used for one pizza!)
Combine the cooked cauliflower, cheese, almond meal, grated Parmesan, oregano, garlic powder, salt and a beaten egg to make the crust.
Spray a sturdy cookie sheet with nonstick spray and then use your fingers to form the crust, spreading it as thin as you can get it.
When your grill or oven temperature reaches 450F/230C, start cooking the crust (on the pizza stone if you have one. (If you're cooking on the grill without a pizza stone, heat the entire grill and then turn the heat off on one side too cook the crust.)
While the crust cooks, cook the mushrooms and slice the olives.
Take the crust out when it's firm and lightly browned. Cover the crust with desired toppings. We used low-sugar Rao's Pizza Sauce (affiliate link), a small amount of finely grated Mozzarella, sauteed mushrooms, and black olives.
I put the pizza back on the grill for about 5 minutes more to melt the cheese and heat the toppings, but if you're cooking in the oven you can do this under the broiler.
Make it a Low-Carb Meal:
For a low-carb meatless meal this cauliflower crust pizza would taste great with Ottolenghi's Perfect Lettuce Salad or American Greek Salad.
More Low-Carb Pizza You Might Like: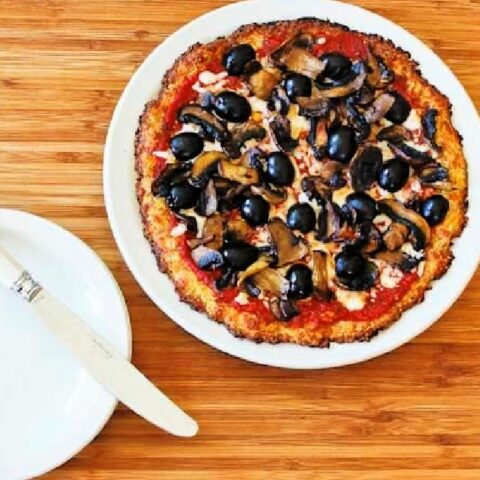 Yield: 2 servings
Cauliflower Crust Pizza
Prep Time 25 minutes
Cook Time 20 minutes
Total Time 45 minutes
This Low-Carb Cauliflower Crust Pizza can be cooked on the grill or in the oven, and you can use any toppings you prefer on this cauliflower crust pizza!
Ingredients
Crust Ingredients
1 cup finely chopped cauliflower (chop in food processor or grate with a cheese grater)
1/2 cup finely grated mozzarella cheese
5 T almond flour
3 T finely grated Parmesan cheese
1 tsp. dried oregano
1/2 tsp. garlic powder
pinch of salt
1 egg, beaten
Pizza Toppings
1/4 cup Rao's Pizza Sauce (see notes)
3 T finely grated mozzarella cheese
4 oz mushrooms, sliced and cooked
2 tsp. olive oil
1/4 cup olives, sliced in half (or more)
Instructions
Turn on the oven or grill, place the pizza stone inside (if using), and preheat grill or oven to 450F/230C. (If you don't have a pizza stone I might let the temperature get slightly higher.)
Use a food processor or the large side of a cheese grater to finely chop the cauliflower, until it resembles small kernels of rice.
Put the cauliflower into a bowl and microwave until it's cooked through and soft, about 7-8 minutes. (Don't add water; the cauliflower will release moisture.)
While the cauliflower cooks, slice the mushrooms, heat the oil in a large frying pan, and cook mushrooms until they're soft and cooked through. Slice olives in half lengthwise.
If you don't have finely grated Mozzarella, I would buzz it a few times in the food processor so it's more finely grated.
In a small bowl, combine the cooked cauliflower, 1/2 cup finely grated mozzarella, almond meal, Parmesan cheese, dried oregano, garlic powder, and salt.
Beat the egg with a fork and then mix it into the other ingredients, combining them well.
Spray a heavy cookie sheet with non-stick spray. Form the crust ingredients into a ball and place on the cookie sheet, then use your fingers to form the crust, spreading it out as thin as you can get it.
Put the cookie sheet on the pizza stone in the oven or on the grill and cook with the door or lid shut until the crust is firm and lightly browned, about 13-15 minutes. (If you're cooking this crust on the grill without a pizza stone, you will need to preheat the entire grill, then turn off one side and cook the pizza on that side, using indirect heat from the side that's still turned on. This will probably add a little to the cooking time.)
When the crust is done, spread with pizza sauce, sprinkle with cheese, and arrange cooked mushrooms and sliced olives on top.
Put pizza back on the grill to melt the cheese and warm the toppings, or turn the oven to broil and cook it under the broiler for about 3-4 minutes.
Serve hot. This reheats well, and is even good cold for breakfast!
Nutrition Information:
Yield:
2
Serving Size:
1
Amount Per Serving:
Calories: 395
Total Fat: 29g
Saturated Fat: 9g
Unsaturated Fat: 18g
Cholesterol: 130mg
Sodium: 764mg
Carbohydrates: 13g
Fiber: 6g
Sugar: 3.9g
Protein: 20g
Nutrition information is automatically calculated by the Recipe Plug-In I am using. I am not a nutritionist and cannot guarantee 100% accuracy, since many variables affect those calculations.
Low-Carb Diet / Low-Glycemic Diet / South Beach Diet Suggestions:
This Cauliflower Crust Pizza would be an approved recipe for most low-carb and low-glycemic diet plans as long as you use low-sugar pizza sauce. For the original South Beach Diet there's quite a bit of fat in this pizza from mozzarella cheese, Parmesan cheese, almond meal, and olives, so you might consider this a "once-in-a-while-treat" and only have half the pizza shown here for phase one or two.
Find More Recipes Like This One:
Use Pizza Recipes to find more recipes with Pizza flavors. Use the Diet Type Index to find recipes suitable for a specific eating plan. You might also like to follow Kalyn's Kitchen on Pinterest, on Facebook, on Instagram, or on YouTube to see all the good recipes I'm sharing there.
Historical Notes for this Recipe:
Cauliflower Crust Pizza was first posted in 2012. The recipe was last updated with more information in 2022.
We are a participant in the Amazon Services LLC Associates Program, an affiliate advertising program designed to provide a means for us to earn fees by linking to Amazon.com and affiliated sites. As an Amazon Associate, I earn from qualifying purchases.