Low-Carb and Keto Grilled Zucchini Recipes
Nothing says summer like Grilled Zucchini, and this post has Low-Carb and Keto Grilled Zucchini Recipes you'll make over and over. Even if you end up having too much zucchini, you won't run out of ideas with these 20 creative ways to cook it on the grill!
PIN the Grilled Zucchini Recipes to try some later!
I know how zucchini can take over the garden, so I hope this post with Low-Carb and Keto Grilled Zucchini Recipes is coming at the perfect time for vegetable gardeners. And if you don't have a garden, Farmers Market zucchini is a good option for garden-fresh zucchini.
But even if you (gasp) have to buy zucchini at the store, it will be worth buying some for these ideas for low-carb zucchini cooked on the grill in a variety of ways! There are 20 different amazing ideas here for cooking zucchini on the grill. Happy zucchini season everyone; are you making something with zucchini this weekend?
How many recipes will you find here for Grilled Zucchini?
This round-up has my favorite grilled zucchini recipes from Kalyn's Kitchen of course, plus ten more links for amazing-looking zucchini ideas from other bloggers.
Want even more low-carb recipes for using zucchini?
If you're really loaded with zucchini and want more ways to cook it, check out The Top Ten Low-Carb Zucchini Recipes or 50 Amazing Zucchini Recipes.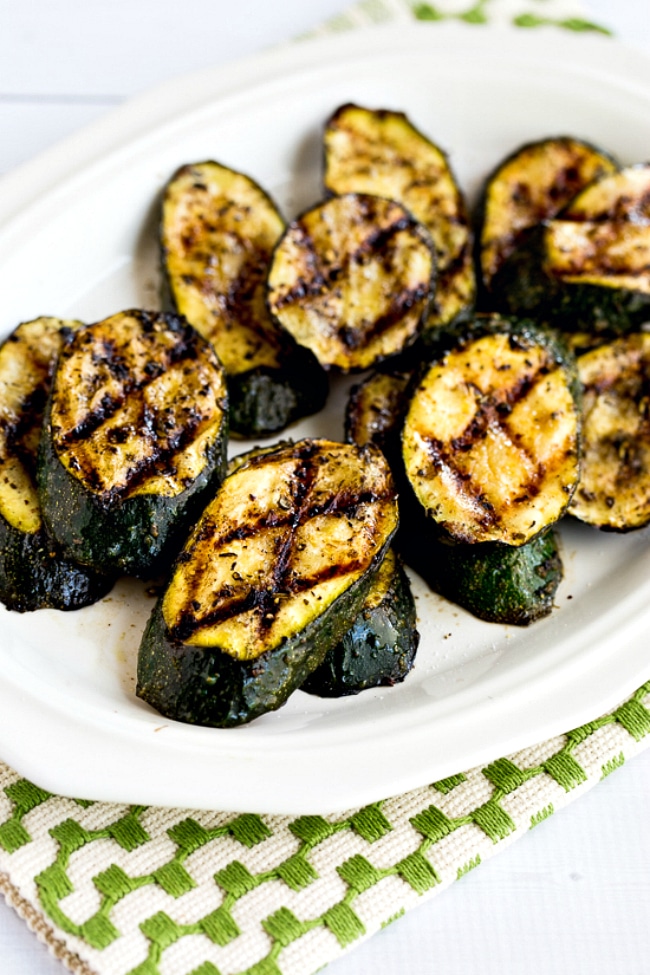 Let's start with the basics. This post on How to Grill Zucchini has been hugely popular, and you can't go wrong with this recipe for a simple zucchini side dish to accompany any kind of grilled meat, chicken, or fish.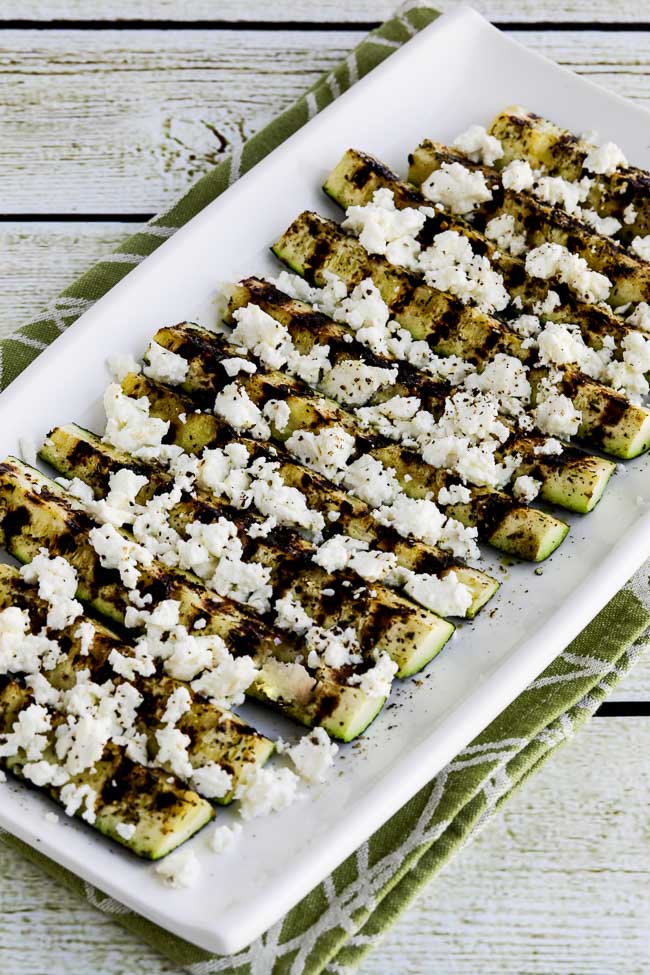 Grilled Zucchini plus Feta cheese is an inspired combination, and we swooned over this Easy Grilled Greek Zucchini!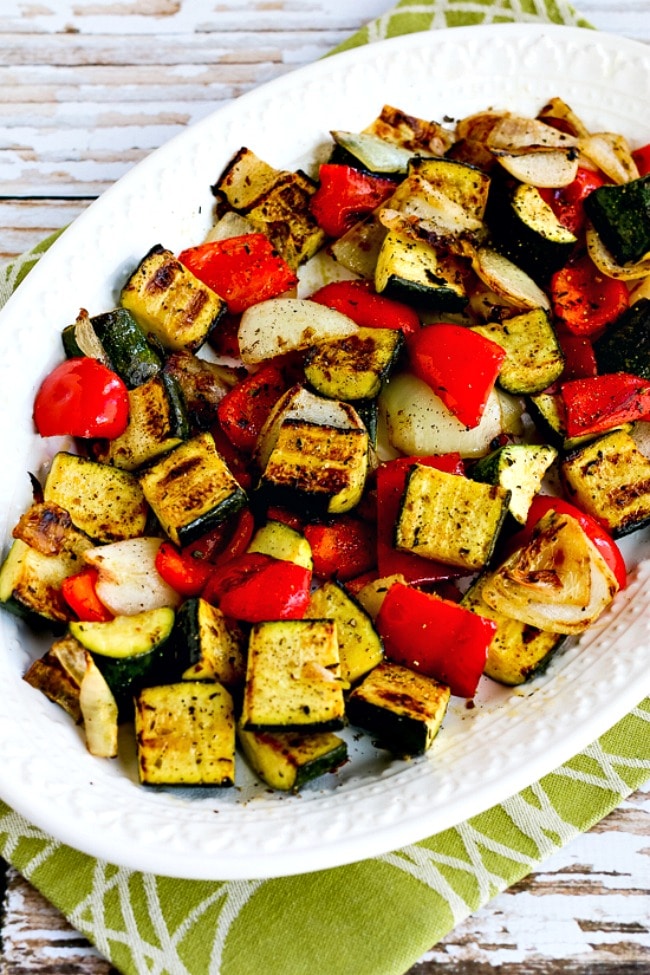 This recipe for the Easy Grilled Vegetables is a summer side dish I've been making for years and years! You can vary the vegetables you use here, but I don't think I'd ever leave out the zucchini.
Grilled Zucchini Greek Salad has those Greek Salad flavors so many people love with pieces of grilled zucchini replacing the cucumbers!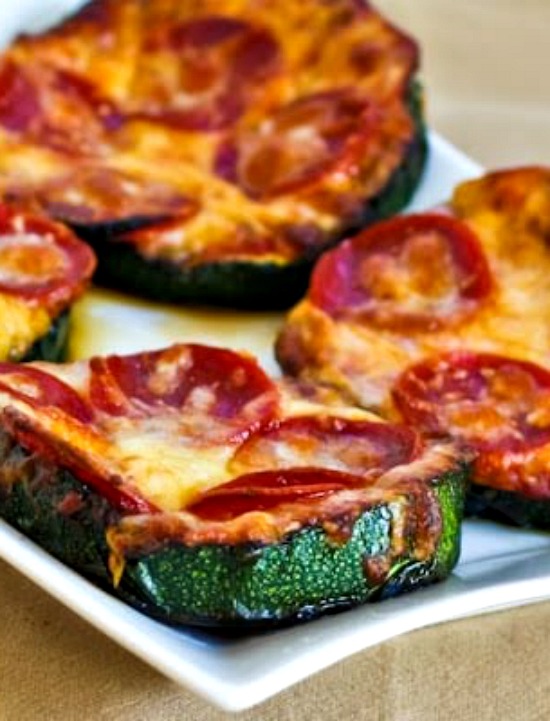 It's a very old photo, but I promise these Grilled Zucchini Pizza Slices will be a hit, and this is the perfect way to use oversize zucchini. If you don't have those, just cut zucchini into slices going lengthwise.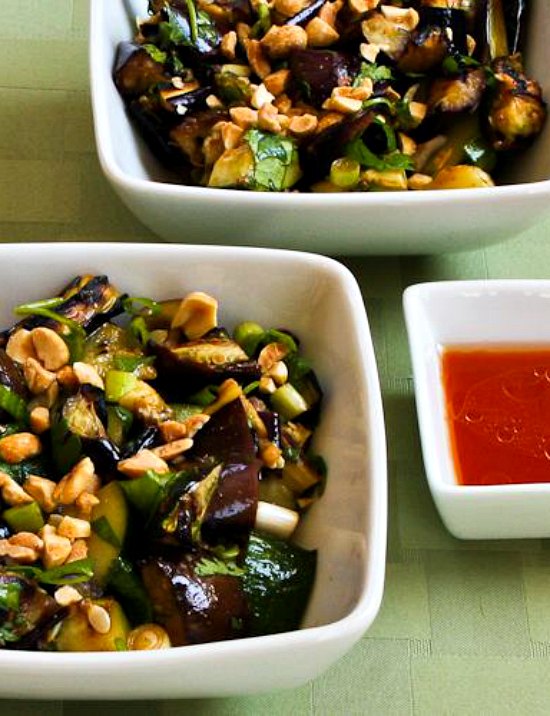 Thai Eggplant and Zucchini Salad is another amazing salad idea with grilled zucchini, and if you like Thai food you'll love this recipe!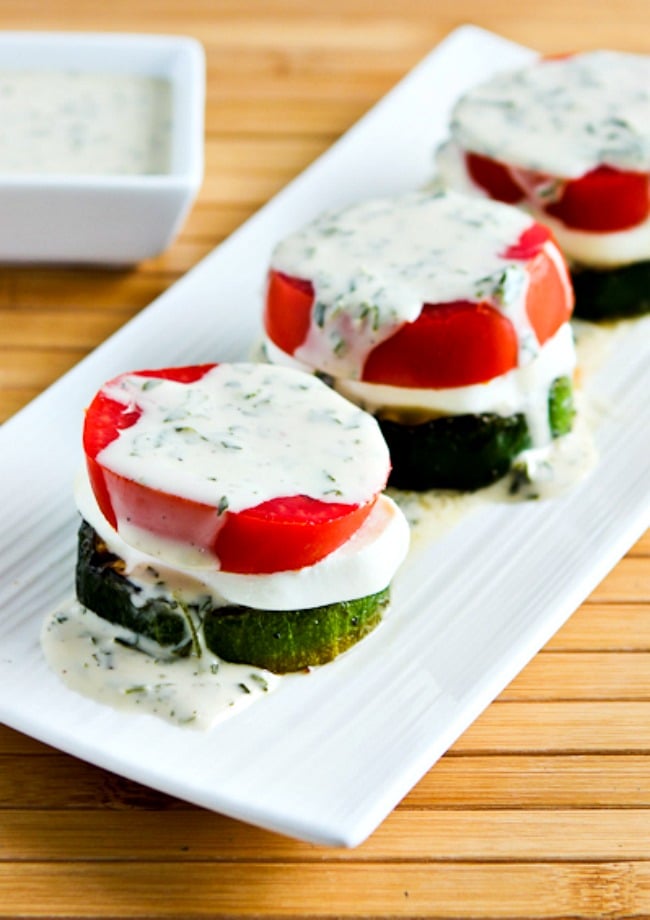 Grilled Zucchini Caprese Salad is going to be popular with everyone who loves Caprese Salad, and you can slice tomatoes thinner for fewer carbs if you prefer.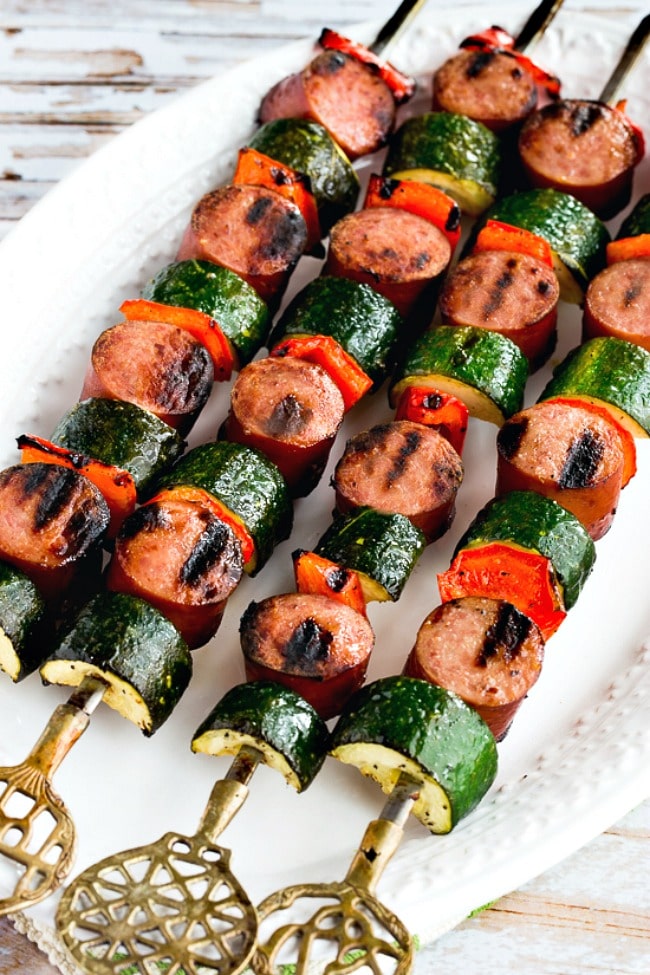 As long as you check the sausage to avoid added sugar, these Easy Kabobs with Zucchini and Sausage are perfect for a low-carb summer dinner and it doesn't get much easier than this!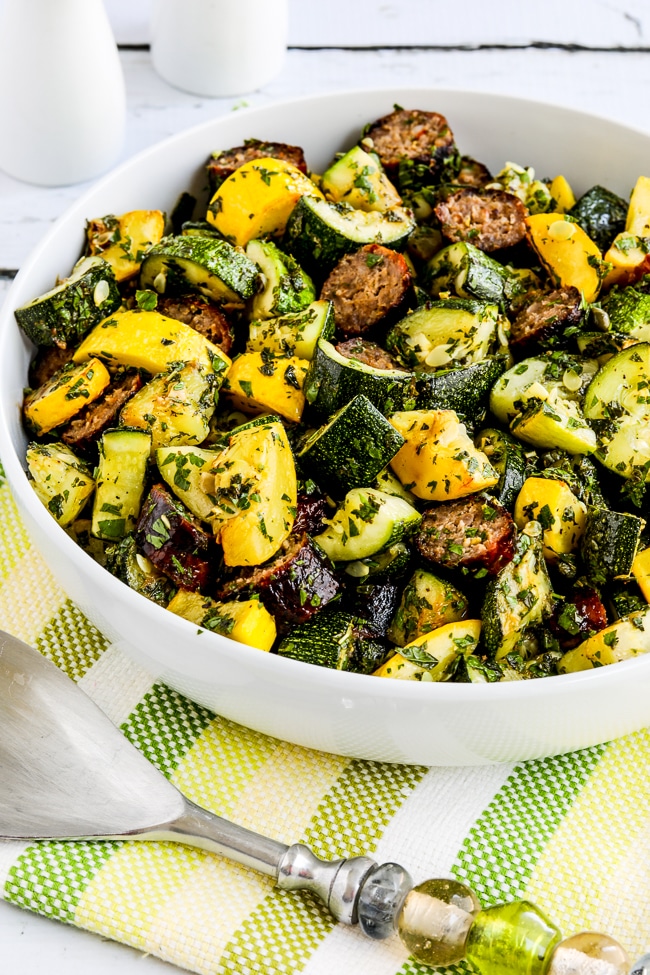 Grilled Sausage and Summer Squash with Lemon and Herbs is an amazing dinner idea, especially if you have lots of summer herbs in the garden!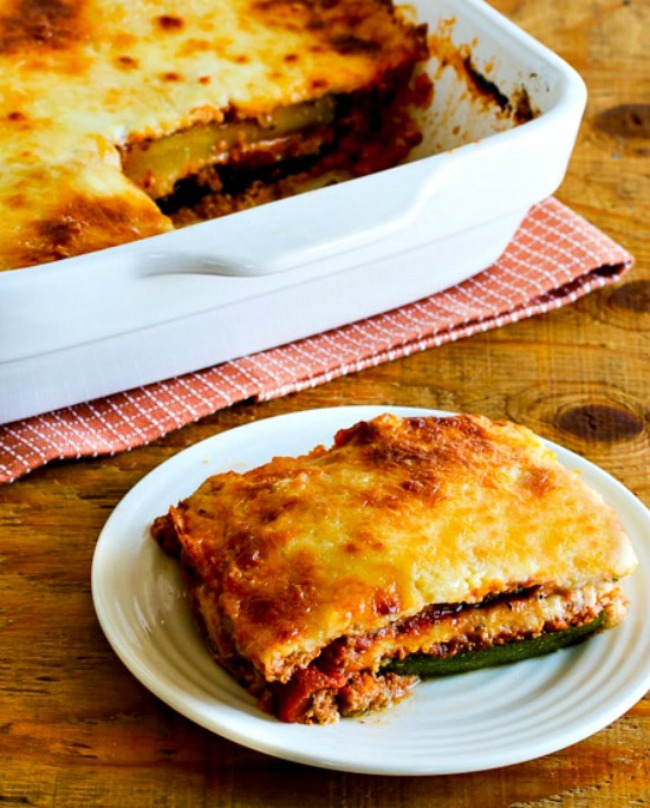 And finally, grilling the thick slices of zucchini keeps this Grilled Zucchini Lasagna from being watery, and this is so delicious when the weather gets cooler but you still have zucchini.
Low-Carb and Keto Grilled Zucchini from My Friends:
Still Want More Zucchini Recipes?
You can use Zucchini Recipes to see all the recipe with Zucchini on my site!
We are a participant in the Amazon Services LLC Associates Program, an affiliate advertising program designed to provide a means for us to earn fees by linking to Amazon.com and affiliated sites. As an Amazon Associate, I earn from qualifying purchases.