Napa Cabbage Asian Slaw (Video)
Napa Cabbage Asian Slaw is one of my go-to salads to make for parties, and I promise this will be a hit with everyone! If you're not a cilantro fan, use a little more thinly sliced green onion in this tasty low-carb salad.
PIN this amazing Asian Slaw to make it later!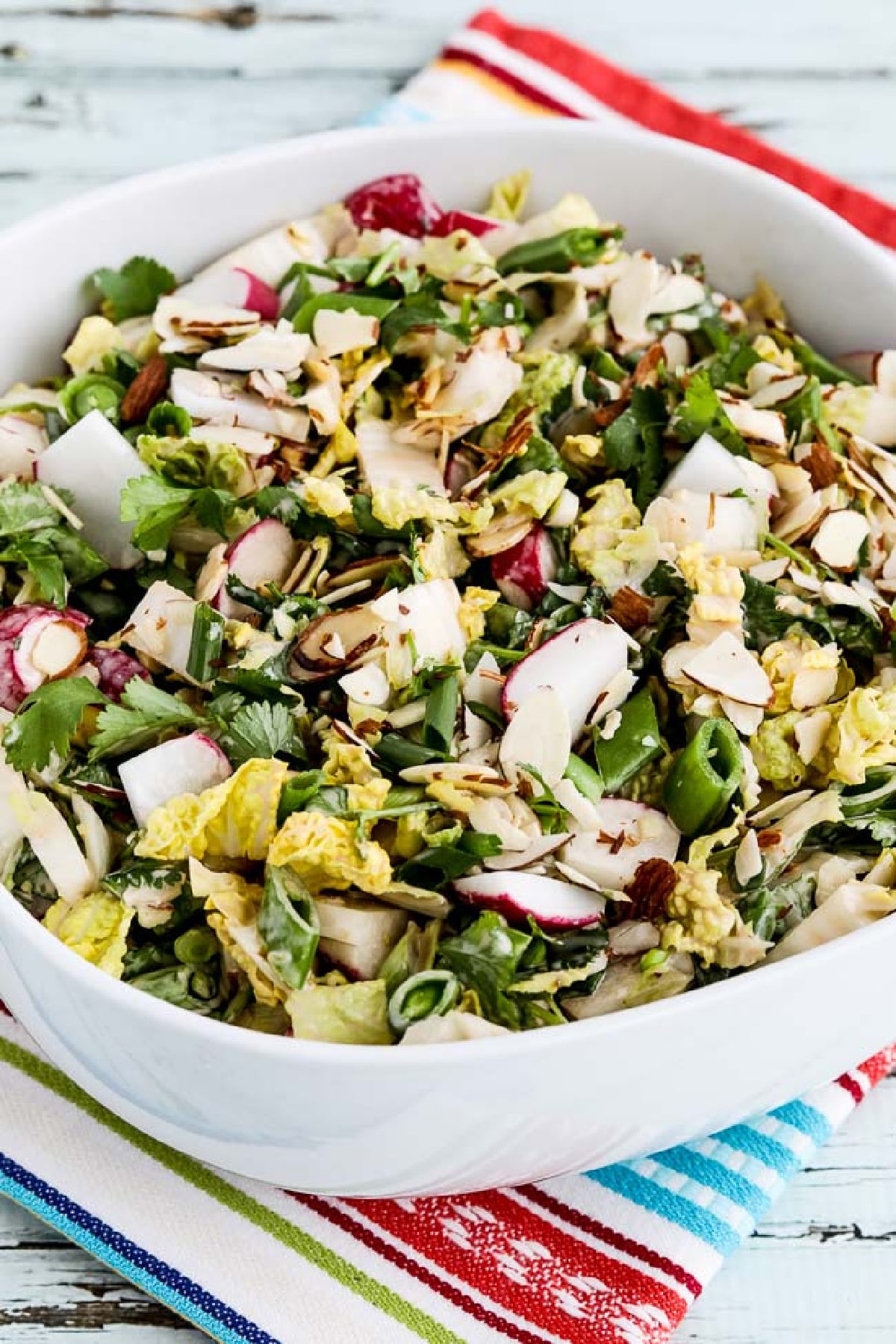 Years ago I spotted this Napa Cabbage Asian Slaw recipe in The Sunset Cookbook and made a slightly adapted version of it right away. The salad turned out to be a big hit on the blog, despite the original photos which were a bit boring.
It was also a hit with my huge extended family, although when I make this salad for a Denny Family Party, I always have to make two bowls (with or without cilantro) so everyone can enjoy it. And I've made this salad quite a few times for friends as well. No matter who I serve it to, this low-carb Napa cabbage slaw is always a hit.
Salads like this that are a jumble of ingredients can be a challenge to photograph well. But recently I decided to make the salad and see if I could get some photos that really showed off how tasty it was!
And I am happy to have better photos, and even though Napa Cabbage is probably not on sale during March in the same way that regular green cabbage is, I'm featuring this as the last recipe in the string of Cabbage Recipes I've been crushing on this month! I hope everyone who likes these flavors will try this favorite salad!
What Ingredients do you need for this recipe?
What Dressing is used for this Napa Cabbage Slaw?
Personally I'd say it's the slightly sweet and sour soy-mayo dressing with so many Asian ingredients that makes this salad such a wow, so you might want to make extra dressing if you like the sound of that.
What if you don't like cilantro?
If you don't like cilantro, or you have family members who don't like it I recommend adding a little more thinly-sliced green onion to the salad, and it will be just as tasty!
Who else is a fan of cabbage salads?
I'm a huge fan of cabbage salads, and you can see my favorites in a collection of Low-Carb and Keto Cabbage Salads.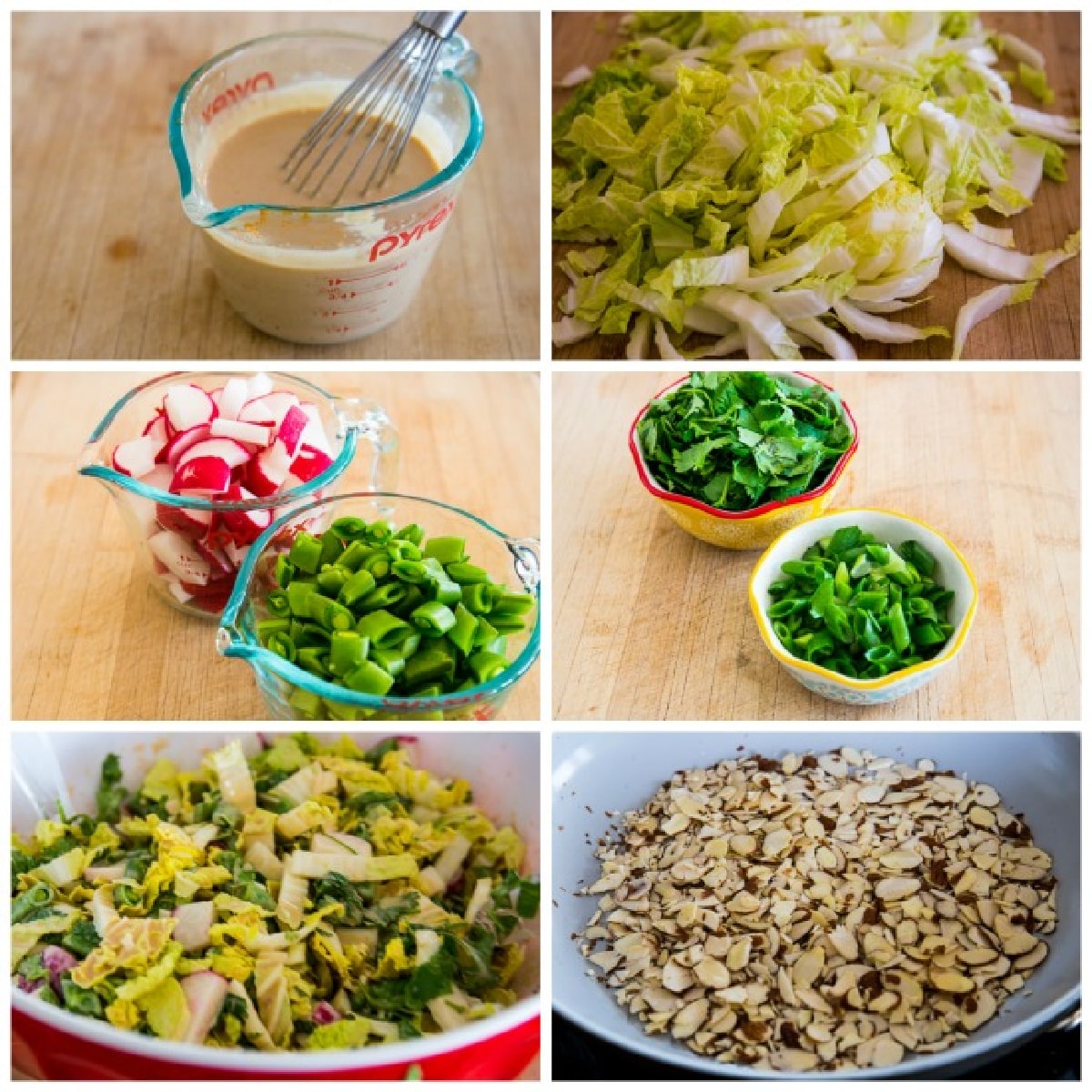 How to Make Napa Cabbage Asian Slaw:
(Scroll down for complete printable recipe, plus nutritional information.)
The original recipe made 14 cups, so I cut it down quite a bit to get this version which makes about 6 servings. The slightly-spicy soy-mayo based dressing is one of the things that make this salad, And I prefer the salad with lots of dressing so I recommend doubling the dressing amounts.
Start with one small head of Napa cabbage, about 3-4 cups of thinly shredded cabbage.
I trimmed both ends of the sugar snap peas and then sliced them thinly on the diagonal.
My radishes were fairly large so I trimmed the ends, sliced them in half lengthwise, and then sliced them in half-moon shaped slices.
I also sliced up a bunch of green onions, and chopped the cilantro.
Toss together the Napa cabbage, sugar snap peas, radishes, green onions (and cilantro if using), then toss with enough dressing to coat the ingredients.
Toast the sliced almonds in a dry pan over high heat for 1-2 minutes (just until the nuts start to become fragrant; watch them closely so they don't get too brown.)
Add the nuts and gently toss again.
This is best served right away, and you probably won't have any leftovers to worry about anyway!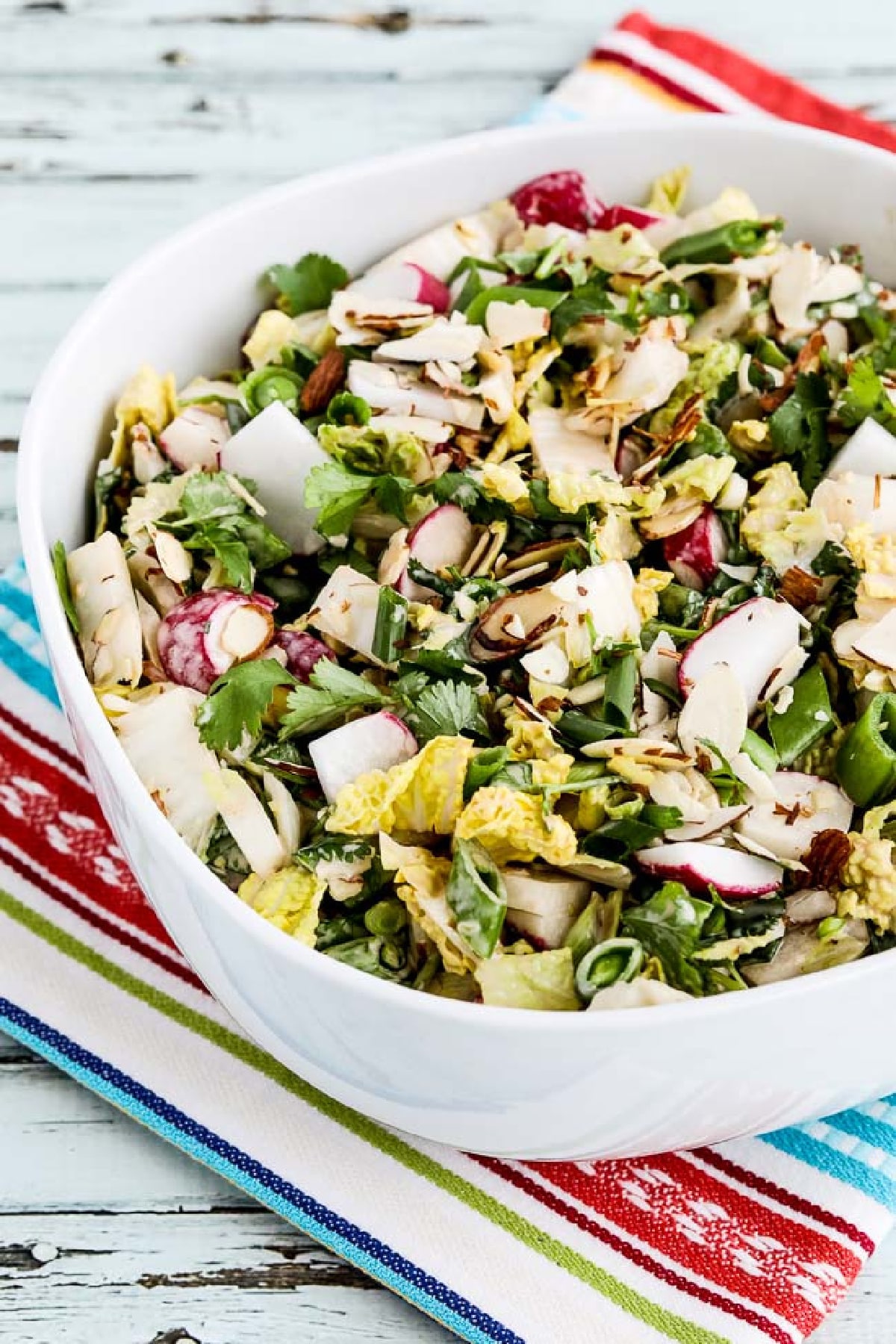 Make it a Low-Carb Meal:
This tasty slaw made with Napa cabbage would be a delicious side dish for Sriracha-Glazed Grilled Chicken Kabobs, Low-Carb Grilled Fusion Chicken, Grilled Chicken with Balsamic Vinegar, Air Fryer Pork Chops, or Chicken with Peanut Sauce.
More Tasty Salads with Cabbage:
Vietnamese Chicken Salad with Cabbage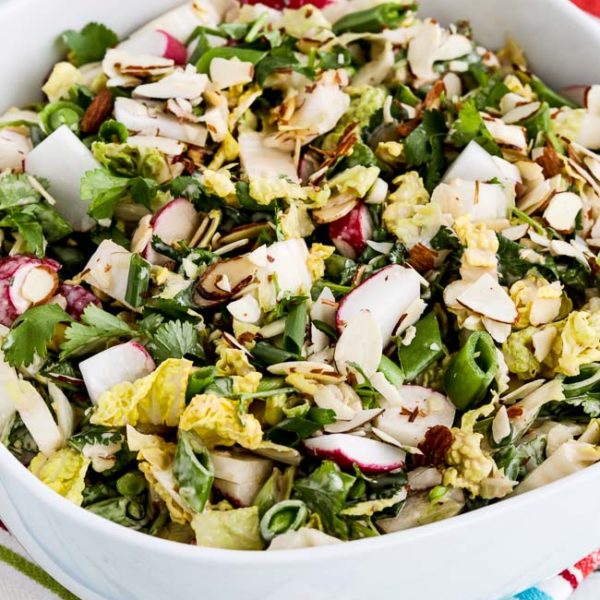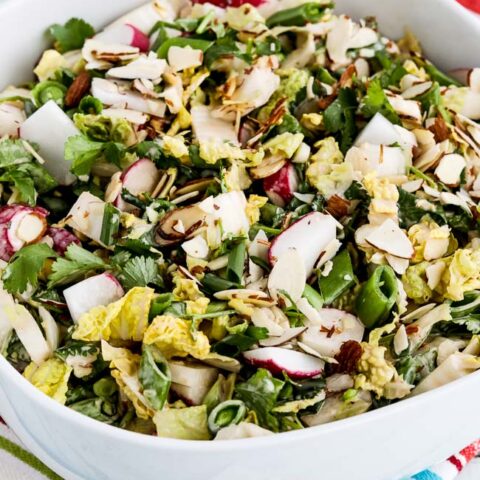 Yield: 6 generous servings
Napa Cabbage Asian Slaw
Prep Time 25 minutes
Cook Time 2 minutes
Total Time 27 minutes
Napa Cabbage Asian Slaw is a perfect party salad and this will be a hit with everyone!
Ingredients
Ingredients:
1 small head Napa cabbage, thinly sliced then coarsely chopped (see notes)
1 C thinly and diagonally-sliced sugar snap peas
1 C radishes, sliced into half-moon shapes
1/2 cup sliced green onion
1/2  cup chopped cilantro (see notes)
1/2 cup sliced almonds, toasted
Dressing Ingredients:
1 T white wine vinegar or white balsamic vinegar
1 T Golden Monkfruit Sweetener, or sweetener of your choice (see notes)
1 tsp. soy sauce or Gluten-Free Soy Sauce (see notes)
1/2 tsp. crushed garlic puree or minced garlic
1/4 tsp. Asian sesame oil
1/4 tsp. ground ginger puree or minced ginger
1/4 tsp. Sriracha sauce or other hot sauce (more or less to taste)
1/3 cup mayo
Instructions
Thinly slice Napa cabbage, then coarsely chop to make about 4 cups shredded cabbage.
Trim both ends of sugar snap peas, then thinly slice on the diagonal to make 1 cup sliced peas.
Trim both ends of radishes and wash if needed, then cut in half lengthwise and cut into half-moon slices.
Slice green onions to make 1/2 cup.
If using cilantro, wash, spin dry or dry with paper towels, and then chop enough to make 1/2 cup chopped cilantro, or a bit more won't hurt.
Put Napa cabbage, sugar snap peas, radishes, green onions (and cilantro if using) into salad bowl.
In a bowl or glass measuring cup stir together the white wine vinegar, sweetener, soy sauce, garlic puree, sesame oil, ginger puree, and Sriracha sauce (affiliate link). I recommend doubling the dressing; it is good on so many things!
Whisk in the mayo until ingredients are well combined.
Toss salad ingredients, add enough dressing to coat ingredients, and toss again.
Toast the sliced almonds in a dry pan over high heat for 1-2 minutes (just until the nuts are fragrant).
Add almonds to the salad and toss gently.
Serve immediately. At my house this never lasts long enough to know whether it will keep in the refrigerator!
Notes
You need about 4 cups shredded Napa cabbage. Cilantro is optional, but if you're a cilantro fan I would use it. I would prefer Monkfruit Sweetener (affiliate link) for this recipe. Use Gluten-Free Soy Sauce (affiliate link) if you need the salad to be gluten-free.
This recipe adapted slightly from a salad recipe found in The Sunset Cookbook.
Nutrition Information:
Yield:
6
Serving Size:
1
Amount Per Serving:
Calories: 159
Total Fat: 14g
Saturated Fat: 2g
Unsaturated Fat: 12g
Cholesterol: 5mg
Sodium: 165mg
Carbohydrates: 6g
Fiber: 2g
Sugar: 2g
Protein: 4g
Nutrition information is automatically calculated by the Recipe Plug-In I am using. I am not a nutritionist and cannot guarantee 100% accuracy, since many variables affect those calculations.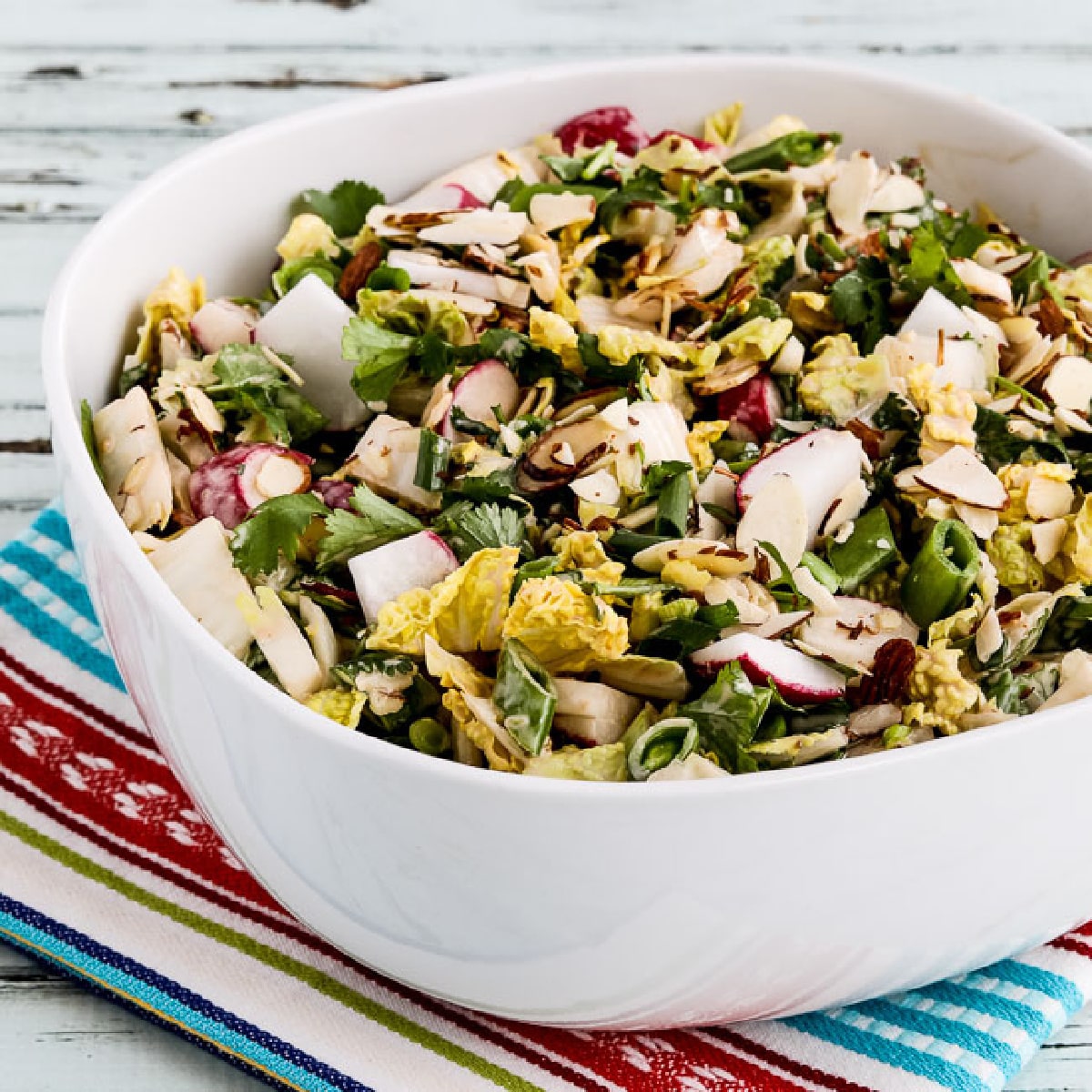 Low-Carb Diet / Low-Glycemic Diet / South Beach Diet Suggestions:
If it's made with an approved sweetener, this Napa Cabbage Asian Slaw would be approved for low-carb and Keto eating plans, and for any phase of the original South Beach Diet. Light mayonnaise would be recommended for South Beach, but honestly I personally wouldn't worry about using full-fat mayonnaise for better flavor, since there isn't a huge amount of mayo compared to the crunchy salad ingredients, and other low-carb diets would prefer full-fat mayo.
Find More Recipes Like This One:
Use Salad Recipes to find more recipes like this one. Use the Diet Type Index to find recipes suitable for a specific eating plan. You might also like to follow Kalyn's Kitchen on Pinterest, on Facebook, on Instagram, or on YouTube to see all the good recipes I'm sharing there.
Historical Notes for This Recipe:
This recipe was first posted in March 2011. It was updated with better photos and a step-by-step video March 2019, and updated again with more information in 2022.)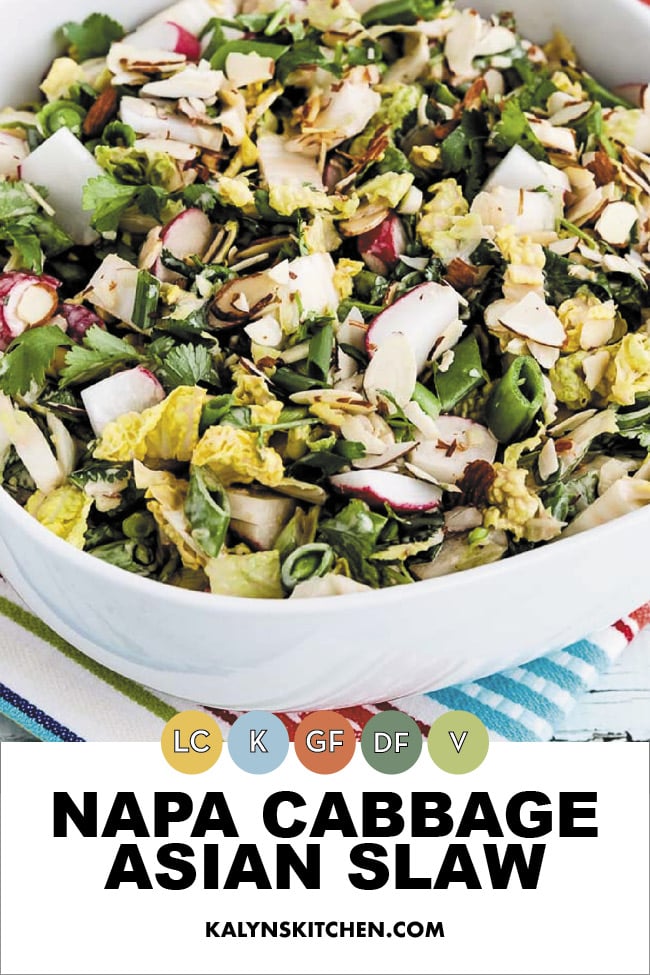 We are a participant in the Amazon Services LLC Associates Program, an affiliate advertising program designed to provide a means for us to earn fees by linking to Amazon.com and affiliated sites. As an Amazon Associate, I earn from qualifying purchases.