Basil Pesto with Lemon
Basil Pesto with Lemon is the pesto recipe I've been using for years, and this post also has ideas for using basil pesto! And this perfect way to use your fresh basil is low-carb, Keto, and gluten-free.
PIN Basil Pesto with Lemon to make it later!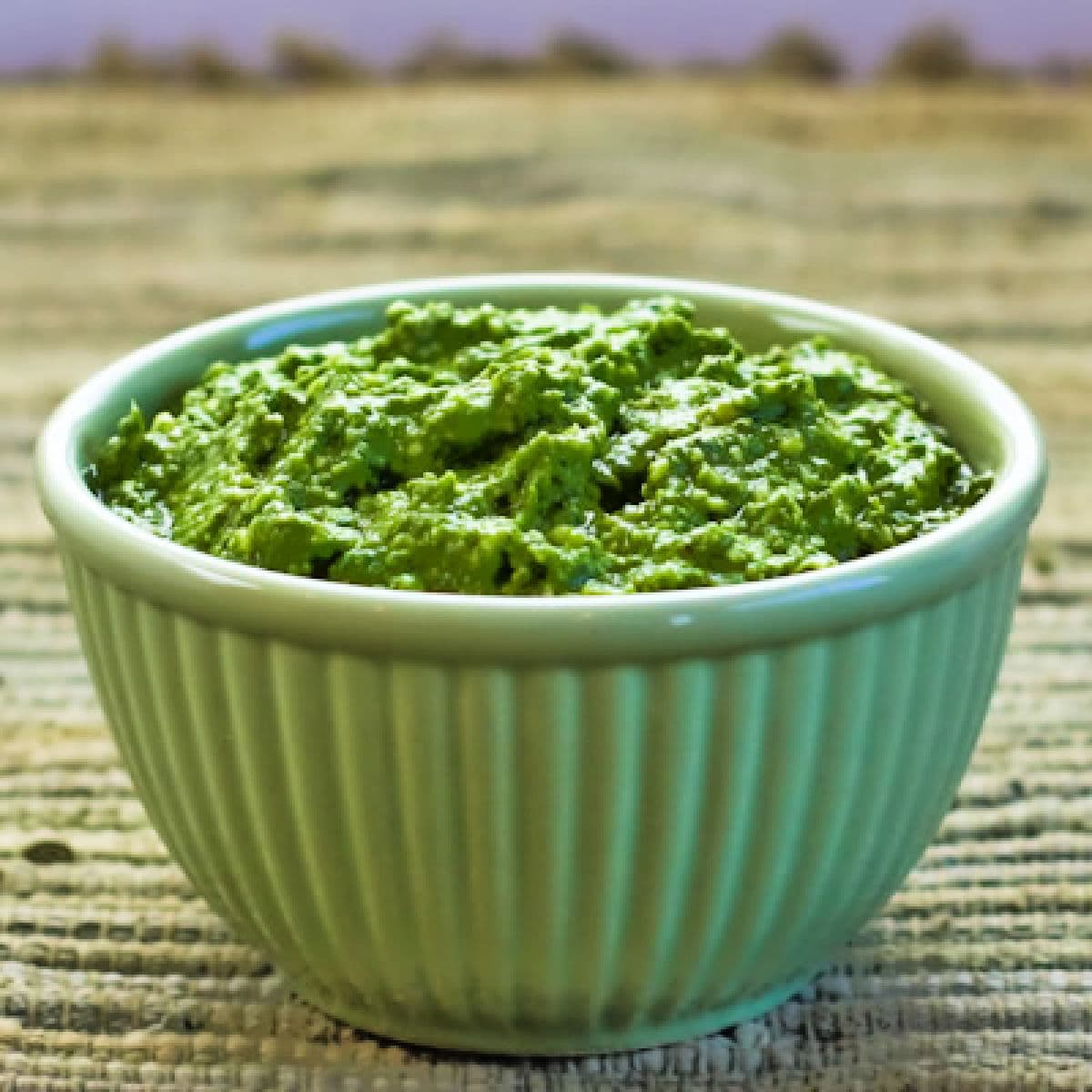 This recipe for Basil Pesto with Lemon makes me remember the first time I tasted basil pesto, which was simply called pesto back in the days before this type of uncooked Italian sauce started being made from many different herbs or vegetables! My first basil pesto experience was with a guy named Steve, who not only was a fantastic cook, but who had a food processor! This was years before I thought of purchasing such an exotic cooking tool, but now I can't imagine living without it.
Since then, I've made many types of pesto, and I make basil pesto every year when the garden is bursting with midsummer basil. Many years ago I had the winning idea of adding some fresh-frozen lemon juice to my basil pesto, and I'd never make it again without the lemon, which brightens up the flavor and keeps the pesto bright green much longer in the fridge.
This ultra popular recipe for Basil Pesto with Lemon is my Friday Favorites post for this week, and a reminder to everyone who's growing basil that it's time to be trimming the basil and making pesto! And if you really have a lot of basil it's time to be freezing fresh basil as well!
What ingredients do you need for this recipe?
(This is only a list of ingredients; please scroll down for complete printable recipe. Or if you use the JUMP TO RECIPE link at the top of the page, it will take you directly to the complete recipe.)
What is Pesto?
According to Wikipedia on Pesto, Pesto is a sauce made from garlic, pine nuts, salt, basil leaves, and hard cheese such as Parmesan cheese or Pecorino Cheese, all blended with olive oil. It originated in Italy where is used to be made with a big mortar and pestle, but now most pesto is made in a food processor. Traditional pesto always used pesto but now there are endless pesto recipe variations and many types of pesto sold in jars as well.
Tips for Freezing Basil Pesto with Lemon:
One of my favorite tricks when I make a lot of pesto is to freeze it in ice cube trays, get old ones from the thrift store! Then when the pesto is frozen, pop the cubes out of the trays, vacuum-pack it with a FoodSaver (affiliate link) into a plastic bag, and store in the freezer, and you've got fresh-tasting pesto to enjoy all winter! You can also just put the cubes of pesto into a Ziploc bag if you don't have a FoodSaver, but it keeps better when it's vacuum packed.
Basil Pesto Variations:
When you don't have enough basil to make a whole batch of pesto or just want a variation you might like Spinach Basil Pesto or Kale and Basil Pesto. And if you live where you get garlic scapes in the spring, Garlic Scape Pesto with Chard is a run pesto variation.
Steps for Making Basil Pesto with Lemon:
(This is only a summary of the steps for the recipe; please scroll down for complete printable recipe. Or if you use the JUMP TO RECIPE link at the top of the page, it will take you directly to the complete recipe.)
If you're using basil from the garden, start by rinsing it and drying well. I use a salad spinner (affiliate link), but you can also rinse it in the sink and dry with paper towels.
The 2 cups of basil used in this recipe means a 2 cup measuring cup packed with as much basil as you can fit into it.
Put the basil and garlic cloves into the food processor (affiliate link) and process with steel blade until basil and garlic are chopped, adding 1/2 cup olive oil through the feed tube.
Add pine nuts, grated Parmesan cheese, and fresh squeezed or fresh-frozen lemon juice and process until well blended, about 1-2 minutes more.
Season the pesto to taste with a bit of sea salt and some freshly ground black pepper.
I store pesto in a glass jar in the refrigerator, where it will last for more than a week, but it can also be frozen.
Ten Recipes for Using Basil Pesto:
Want even more recipes using pesto?
If you want even more ideas for using pesto, check out Low-Carb and Keto Recipes with Pesto where you'll find both summer and winter recipe ideas with pesto!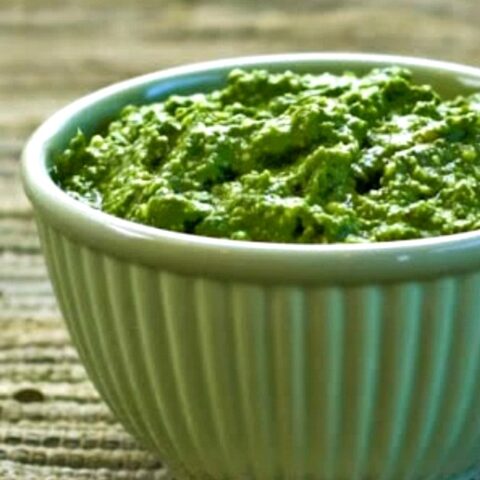 Yield: Makes about 12 servings
Basil Pesto with Lemon
Prep Time 20 minutes
Total Time 20 minutes
Basil Pesto with Lemon is the perfect summer sauce and this freezes beautifully if you have an abundance of fresh basil.
Ingredients
2 cups fresh basil leaves (packed into measuring cup)
3-4 cloves fresh garlic, peeled and sliced
1/2 cup extra-virgin olive oil (choose a a flavorful olive oil for pesto)
1/2 cup pine nuts
3/4 cup coarsely grated Parmesan cheese
1/4 cup fresh squeezed lemon juice
sea salt and fresh ground black pepper to taste
Instructions
Wash basil leaves if needed and spin dry or dry with paper towels.
Put basil leaves and sliced garlic into food processor that's been fitted with the steel blade and process until basil and garlic is finely chopped, adding oil through the feed tube as you process. (You may need to take off the lid and scrape the sides with a rubber scraper if you have a hard time getting the basil all chopped.)
Add pine nuts, Parmesan cheese, and lemon juice to the chopped basil mixture and process 1-2 minutes more, until the pesto is mostly pureed and well mixed. (I like to keep it slightly chunky, but you can make it as finely pureed as you wish.)
Season to taste with salt and fresh ground black pepper and pulse a few times more.
Store basil pesto in the refrigerator in a glass jar, where it will keep for more than a week.
Pesto can also be frozen. Many cooking experts recommend leaving out the cheese if you're going to freeze it, and then adding the cheese when you thaw the pesto. (I've done it both ways and haven't noticed that much difference.)
Notes
You will need a food processor to make this. There are many brands, but I love my Cuisinart Food Processor. (affiliate link)
Nutritional information is calculated based on a serving size of bout 2 tablespoons.
This recipe inspired by many basil pesto recipes through the years, with the idea of adding lemon juice something Kalyn has been committed to for quite a few years.
Nutrition Information:
Yield:
12
Serving Size:
1
Amount Per Serving:
Calories: 148
Total Fat: 15g
Saturated Fat: 3g
Trans Fat: 0g
Unsaturated Fat: 11g
Cholesterol: 5mg
Sodium: 164mg
Carbohydrates: 3g
Fiber: 1g
Sugar: 0g
Protein: 3g
Nutrition information is automatically calculated by the Recipe Plug-In I am using. I am not a nutritionist and cannot guarantee 100% accuracy, since many variables affect those calculations.
Low-Carb Diet / Low-Glycemic Diet / South Beach Diet Suggestions:
Basil Pesto is a perfect fresh herb sauce for low-carb or Keto Diets. Pesto is high in fat, but it's generally used in fairly small amounts, which would make this suitable for any phase of the original South Beach Diet.
Find More Recipes Like This One:
Use Fresh Herbs or Sauces to find more recipes like this one. Use the Diet Type Index to find recipes suitable for a specific eating plan. You might also like to follow Kalyn's Kitchen on Pinterest, on Facebook, on Instagram, on TikTok, or on YouTube to see all the good recipes I'm sharing there.
Historical Notes for this Recipe:
My favorite recipe for Basil Pesto with Lemon was first posted in 2010! The recipe was last updated with more information in 2023.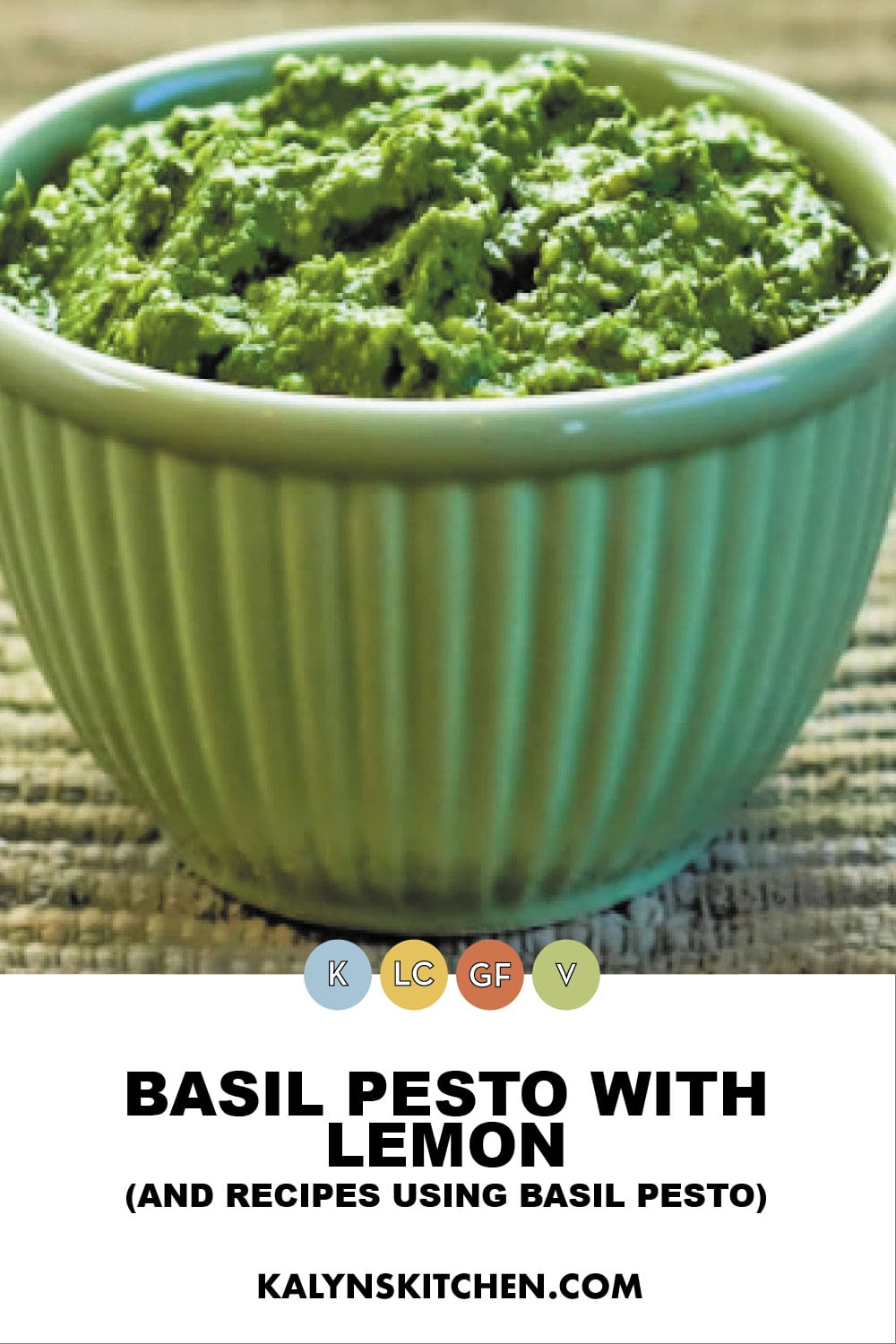 We are a participant in the Amazon Services LLC Associates Program, an affiliate advertising program designed to provide a means for us to earn fees by linking to Amazon.com and affiliated sites. As an Amazon Associate, I earn from qualifying purchases.