Kale and Basil Pesto with Lemon and Parmesan
Kale and Basil Pesto with Lemon and Parmesan is a great idea if you have too much kale or not enough basil. Eat over grilled chicken, fish or veggies for a low-carb meal.
PIN Kale and Basil Pesto with Lemon and Parmesan!
This recipe for Kale and Basil Pesto with Lemon and Parmesan is a Public Service Announcement for all those lucky people who are growing kale in their gardens. I actually made the pesto in these photos last September when my garden at the old house was bursting with kale. Since I was giving kale away to anyone who stopped by, the abundance of kale led me to experiment with using it as an ingredient in pesto.
Kale is a strong flavor, so I froze my pesto in this mini-muffin tin, and each little ball of pesto was about three tablespoons, just the right amount to stir into a soup or toss with some pasta or rice. If you have kale growing in your garden, or if your CSA or Farmer's Market gives you more kale than you know what to do with this summer, I highly recommend making this as soon as possible. And it's also a great way to stretch out the basil if you want to make pesto but don't have that much basil yet.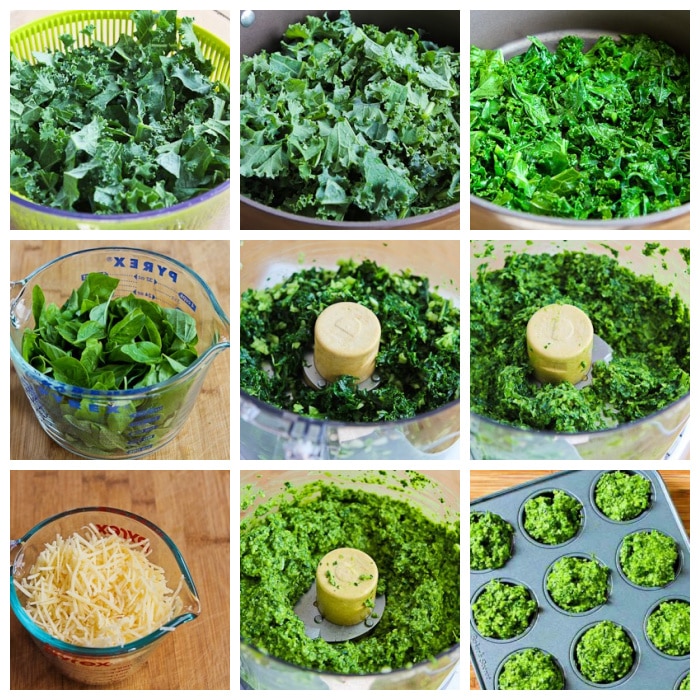 How to Make Kale and Basil Pesto:
(Scroll down for complete recipe with nutritional information.)
Start with 4 cups of chopped kale leaves, packed tightly into the measuring cup. Give the kale a good wash in the salad spinner.
Then heat a couple of teaspoons of olive oil in a large non-stick frying pan, and add the kale.
Cook kale just 2-3 minutes, until it's wilted like this.
I used 2 cups of basil leaves, not packed quite as tightly as the kale.
Add the kale and garlic to the food processor and process until both are finely chopped. (I didn't use pine nuts in this pesto, but if you wanted some I would add them now.)
Then add the basil and process while you add the olive oil and lemon juice through the feed tube.
I used a cup of shredded Parmesan. (If you only have finely-grated Parmesan I'd use a little less.) Add the Parmesan and salt to taste and process until it's as smooth as you'd like it.
Freeze the pesto in ice cube trays or mini-muffin trays so you have small cubes of Kale and Basil Pesto to add to dishes whenever you want a little touch of greens flavor.
(When the balls of pesto are frozen, I seal them inside plastic bags with my FoodSaver.)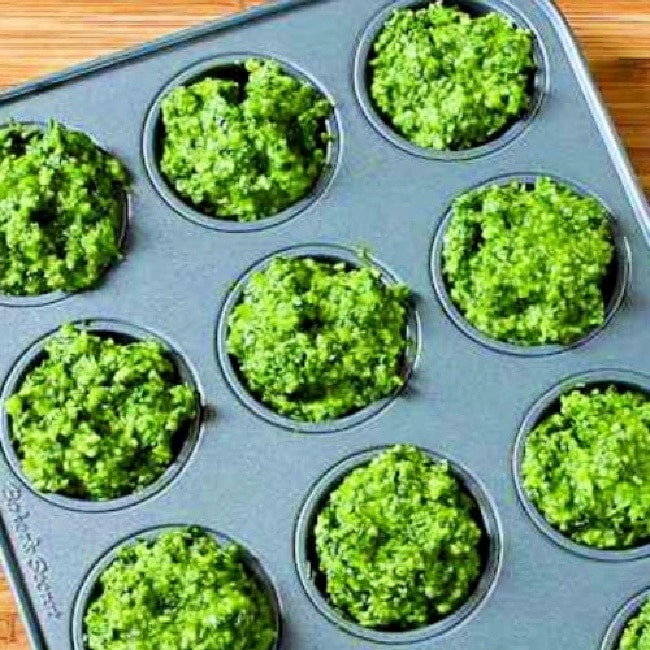 Who Else Made Pesto with Kale?
Pasta with Kale Pesto, Shrimp, and Tomato ~ The Perfect Pantry
Kale Almond Pesto ~ Food Loves Writing
Kale Pesto for Quick Summer Meals ~ Always Order Dessert
Kale Pesto ~ Christine Cooks
Kale Pesto ~ Sarah's Cucina Bella
Yield: 12 servings
Kale and Basil Pesto with Lemon and Parmesan
Prep Time 15 minutes
Cook Time 3 minutes
Total Time 18 minutes
This Kale and Basil Pesto with Lemon and Parmesan is great served over grilled chicken, fish or veggies, and this is a tasty pesto variation.
Ingredients
4 cups (tightly packed) chopped kale leaves
2 tsp. + 1/4 cup extra-virgin olive oil
8 large cloves garlic (to taste; I like this heavy on the garlic)
2 cups basil leaves
3 T fresh squeezed lemon juice (see notes)
1 cup coarsely grated Parmesan (see notes)
salt to taste (I used about a 1/2 teaspoon of salt.)
Instructions
Coarsely chop the kale leaves and measure out 4 cups of packed chopped kale.
Give the kale a good wash in the salad spinner if it needs it and spin dry .
Heat 2 tsp. olive oil in a large non-stick frying pan.
Saute the kale just until it wilts, about 2-3 minutes over medium heat.
Put the wilted kale and garlic into the food processor (using the steel blade.)
Chop until it's finely chopped.
Then add the basil leaves, put the lid on the food processor.
Add the olive oil and lemon juice through the feed tube while you process the mixture.
When it's fairly well combined, add the coarsely grated Parmesan and salt and process until the pesto is as smooth as you'd like it (about 1 minute for me.)
This pesto can be frozen in ice-cube trays or small mini-muffin tin cups. I put the frozen cubes of pesto into plastic bags and seal with my FoodSaver Vacuum Sealer (affiliate link).
The Kale and Basil pesto is a delicious addition to soups or salad dressings, stirred into hot rice or cooked beans, or it can be eaten with pasta.
Notes
You'll need a food processor to make this recipe successfully. I use my Cuisinart Food Processor (affiliate link) that I've had for many years. I use my fresh-frozen lemon juice for this recipe. If you only have fine-grated Parmesan, I would use a little less.
Nutritional information calculated on 3 tablespoons serving size.
Recipe created by Kalyn.
Nutrition Information:
Yield:
12
Serving Size:
1
Amount Per Serving:
Calories: 92
Total Fat: 7g
Saturated Fat: 2g
Trans Fat: 0g
Unsaturated Fat: 5g
Cholesterol: 7mg
Sodium: 209mg
Carbohydrates: 5g
Fiber: 1g
Sugar: 1g
Protein: 3g
Nutrition information is automatically calculated by the Recipe Plug-In I am using. I am not a nutritionist and cannot guarantee 100% accuracy, since many variables affect those calculations.
Low-Carb Diet / Low-Glycemic Diet / South Beach Diet Suggestions:
Pesto is not used in large amounts, so even though this Kale and Basil Pesto recipe has a generous amount of cheese, I would eat it for any phase of the original South Beach Diet and it's also great for other low-carb eating plans.
Find More Recipes Like This One:
Use Fresh Herbs to find more recipes like this one. Use the Recipes by Diet Type photo index pages to find more recipes suitable for a specific eating plan. You might also like to Follow Kalyn's Kitchen on Pinterest to see all the good recipes I'm sharing there.
We are a participant in the Amazon Services LLC Associates Program, an affiliate advertising program designed to provide a means for us to earn fees by linking to Amazon.com and affiliated sites. As an Amazon Associate, I earn from qualifying purchases.