Kalyn's Kitchen Picks: Hemp Hearts (and recipes with them!)
This post is all about why I love Hemp Hearts for a low-carb ingredient, and it shares recipes using hemp hearts! And I'm officially making them one of my featured Kalyn's Kitchen Picks!
PIN this post about Hemp Hearts to find it later!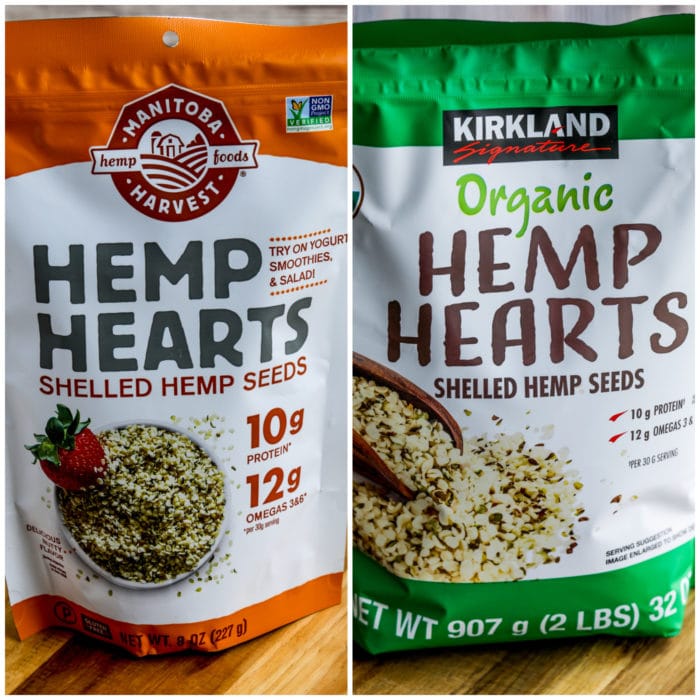 For a while now I have been a fan of an interesting ingredient called Hemp Hearts, and when I spotted them in a big bag at Costco I knew it was time for me to officially make them one of my Kalyn's Kitchen Picks! And recently when I shared a new recipe for Olive Bread that used them, some people weren't familiar with them. So I hope you'll enjoy learning more about this very nutritious product that's also really low in carbs!
What are Hemp Hearts?
Hemp Hearts are the shelled seeds of the hemp plant, and they have a delightfully nutty flavor. They don't contain CBD or THC, so please don't confuse them with those types of hemp products! Hemp seeds are the hulled version of hemp seeds, and despite being slightly lower in fiber they are more useful because they're not so hard or crunchy as the seeds. They're relatively high in fat and recommended to be eaten in moderation, but they also have twice the protein of chia seeds or flaxseeds, are loaded with Omega-3 and Omega-6 fatty acids, and contain all nine essential amino acids, making them a complete protein source.
Where do I buy Hemp Hearts?
I was excited when I discovered Kirkland Hemp Hearts at Costco! But you can also buy Kirkland Hemp Hearts (affiliate link) or Manitoba Hemp Hearts (affiliate link) at Amazon. These are the two brands I've purchased, but if you look at your grocery store or at Amazon, there are also many other brands.
Why are they good for low-carb diets?
Besides being so highly nutritious, Hemp Hearts are also high in fiber and low in net carbs. In the photo above you see the two brands I have used, and the Manitoba Hemp Hearts has 1 carb and 1 gram of fiber in 3 tablespoons. The Kirkland brand from Costco says 2 carbs and 1 gram of fiber in 3 tablespoons. (I have no idea why the nutritional information is different. The two products seem identical to me!)
How do I store Hemp Hearts?
The Hemp Hearts package advises to refrigerate them after opening, but I store mine in the freezer. I recommend freezing, especially if you buy one of the big bags from Costco. They're very small so they thaw quickly when you need to use some in a recipe.
How have I used Hemp Hearts?
Below you can find a list of recipes where I've used Hemp Hearts. But so far I have enjoyed using them in two main ways:
I love them as an ingredients to add texture, flavor, and fiber to low-carb baked goods.
I also think they are amazing to use as a binder to use in low-carb meatloaf, meatballs, or patties.
Recipes where I've used Hemp Hearts:
What are some other suggested uses for them?
Some other suggested uses for Hemp Hearts include sprinkling them on salads, adding them to smoothies, adding them to cereal or oatmeal, sprinkling them on yogurt, or used in any recipe where you'd sprinkle some nuts on the finished dish. And for any recipe that uses Flaxseed Meal as a binder or baking ingredients, you can switch some or all of that for Hemp Hearts. (Both are very low in carbs.)
More about Kalyn's Kitchen Picks:
Kalyn's Kitchen Picks is an occasional blog feature where I spotlight products I love. Everything featured as one of my picks is a product I have purchased myself, and because I want readers to know that my choices are completely unbiased, I don't accept sample products from the many companies that offer to send them to me. You can see all the products I've spotlighted at the page for Kalyn's Kitchen Picks.
We are a participant in the Amazon Services LLC Associates Program, an affiliate advertising program designed to provide a means for us to earn fees by linking to Amazon.com and affiliated sites. As an Amazon Associate, I earn from qualifying purchases.