Low-Carb and Keto Recipes with Pesto
I love Basil Pesto whether it's homemade or from a jar, so I'm updating this collection of amazing Low-Carb and Keto Recipes with Pesto! And there are recipes for every time of year in this collection of 18 tasty recipes with pesto!
PIN Low-Carb and Keto Recipes with Pesto to try some later!
Today I'm updating this collection of Low-Carb and Keto Recipes with Pesto and revisiting my enduring love for basil pesto! If you have a summer herb garden where you're growing basil, it's time to be making Basil Pesto with Lemon or simply freezing your fresh basil if you have lots of basil!
And I've already I've already made some pesto this year, which I freeze in ice cube trays and then seal the cubes in bags with the FoodSaver Vacuum Sealer. I love to pull pesto cubes out of the freezer and use them to give delicious basil flavor to dishes any time of year, which is why you'll find a an assortment of winter dishes in this collection of favorite low-carb recipes with pesto. Just save those for winter if it's too hot for oven cooking or soup recipes where you are.
But please, make some homemade pesto while fresh basil is plentiful! Or if homemade pesto is just not happening at your house, you can definitely use my favorite purchased pesto to try these amazing recipes with pesto. And basil pesto is very low in carbs, so enjoy.
Summer Recipes with Pesto:
This amazing Pesto Pasta Salad can be made with low-carb or regular pasta, but we absolutely loved it with hearts of palm pasta for a low-carb pasta salad option.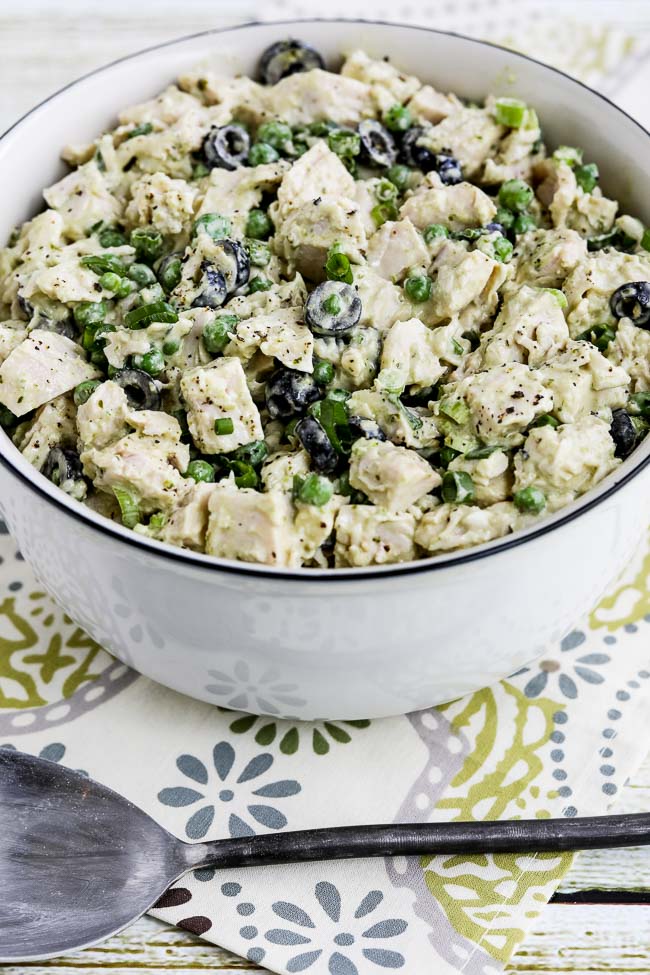 Chicken Pesto Salad has been a big favorite this summer; I've made this twice for parties and several times just for myself!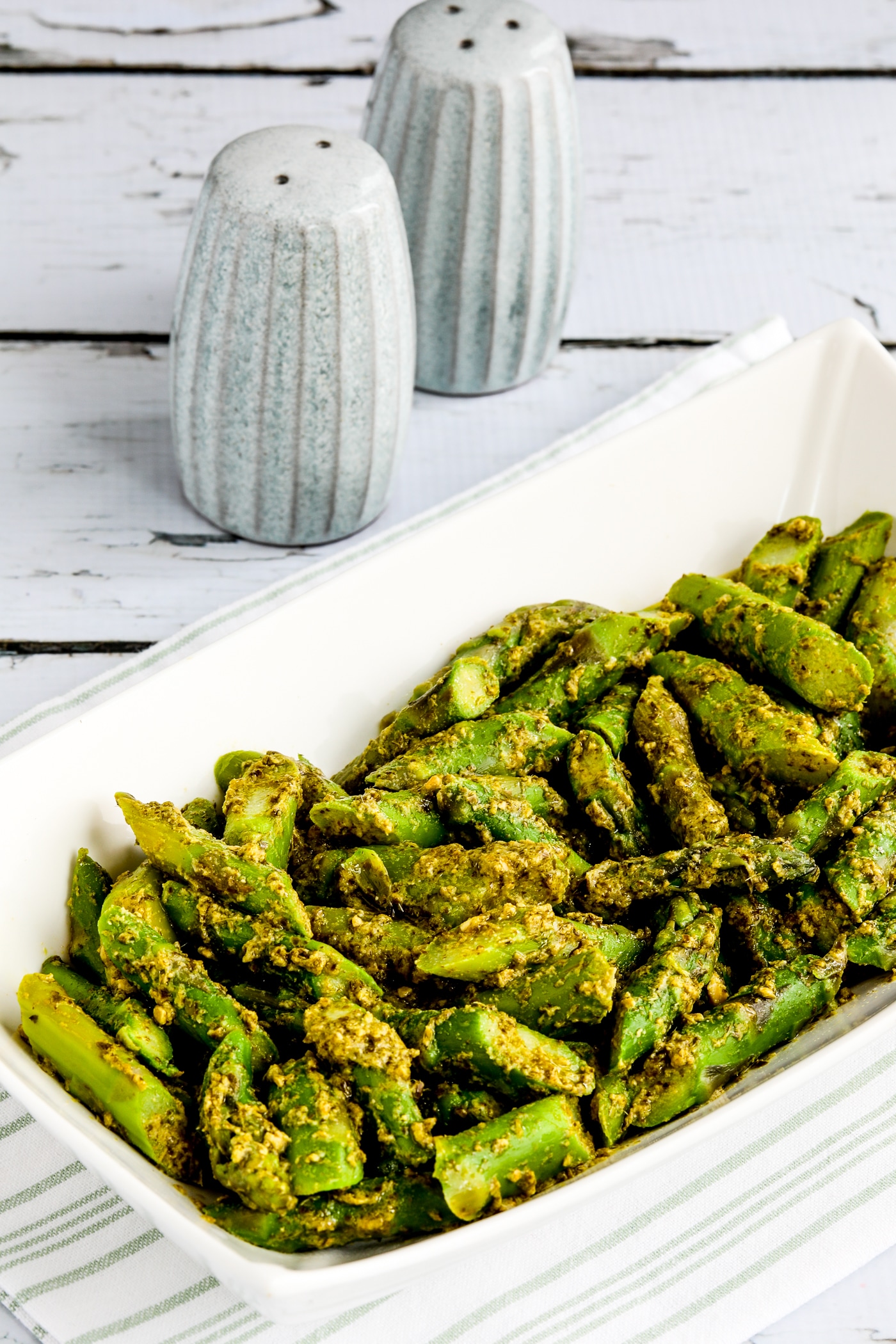 Asparagus with Basil Pesto is one of my Five Ingredients recipes, which means this is about as easy as it gets and it's absolutely amazing.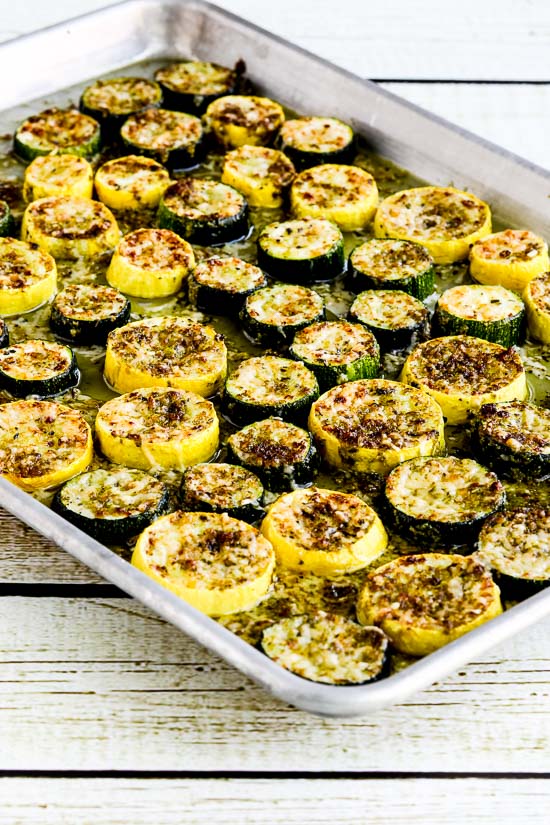 If you like pesto and are also a fan of zucchini or yellow summer squash, you're going to swoon over this Summer Squash with Pesto and Parmesan! This is seriously a wow.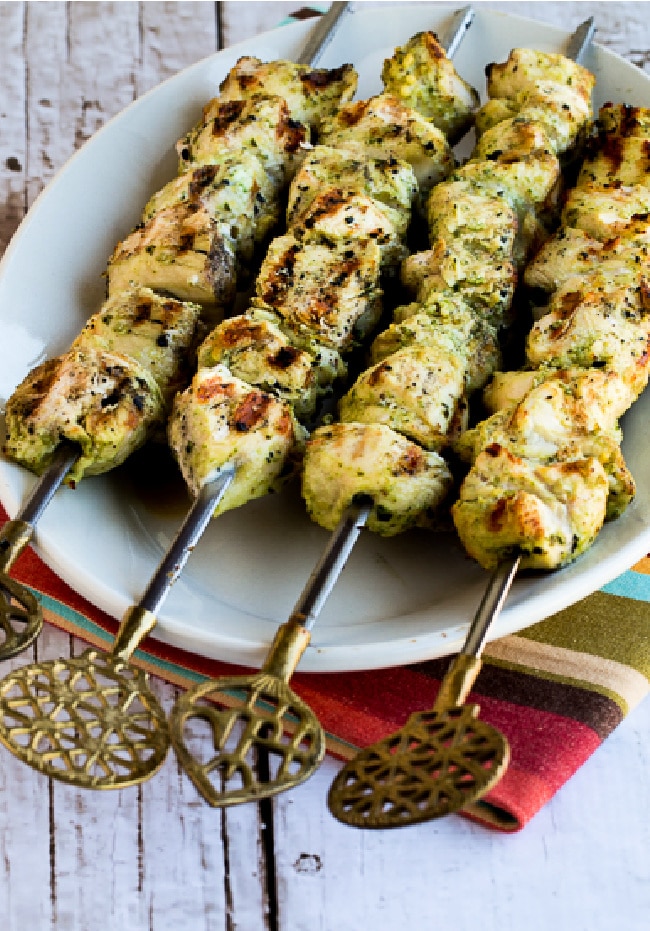 When it's time to cook outside where you live, these Pesto Lemon Chicken Kabobs are delightful! Or make them on a stovetop grill pan if you don't have an outdoor grill.
More Summer Recipes with Pesto:
Winter Recipes with Pesto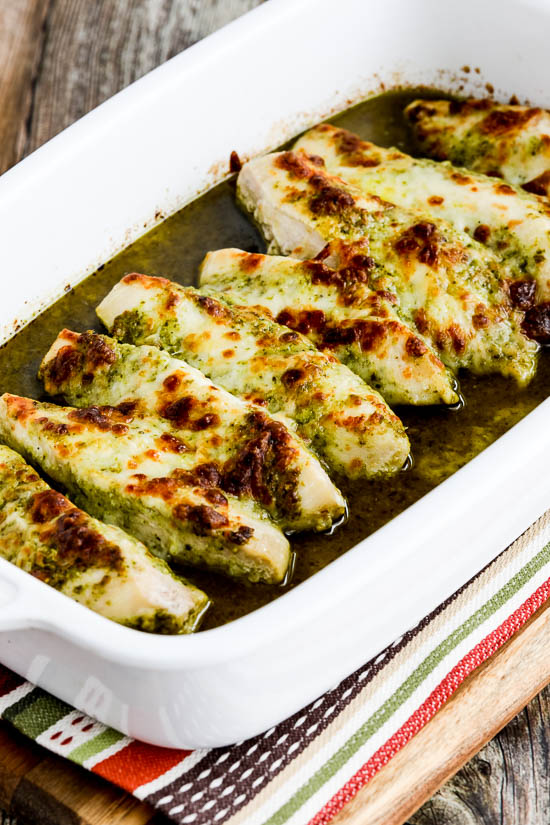 Easy Baked Pesto Chicken has been hugely popular on the blog, and I love that this is quick enough to make for a work-night dinner.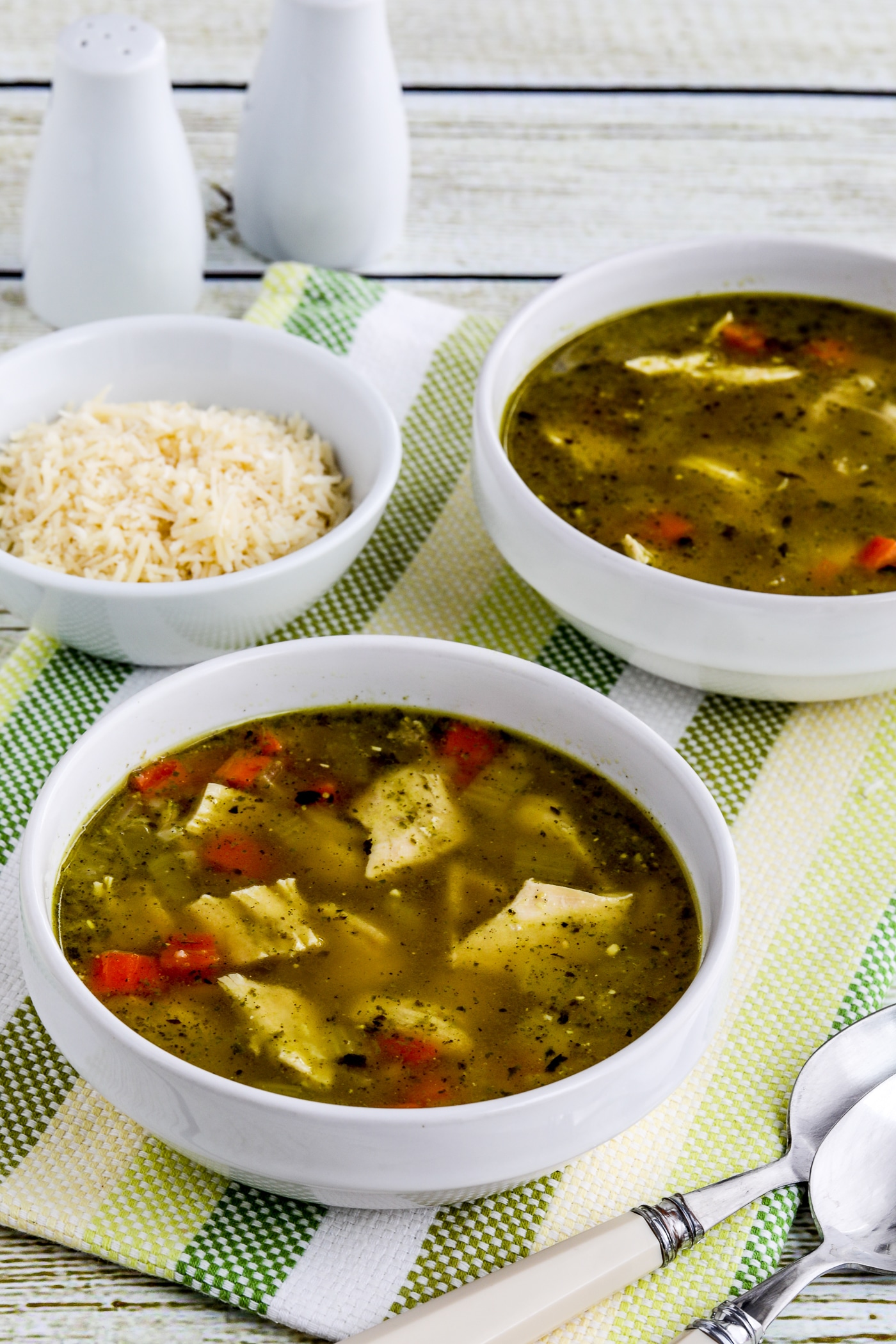 Chicken Pesto Soup is a delicious Chicken Soup made in the Instant Pot that has some pesto stirred in at the end, and if you like the combo of chicken + pesto you'll love this soup!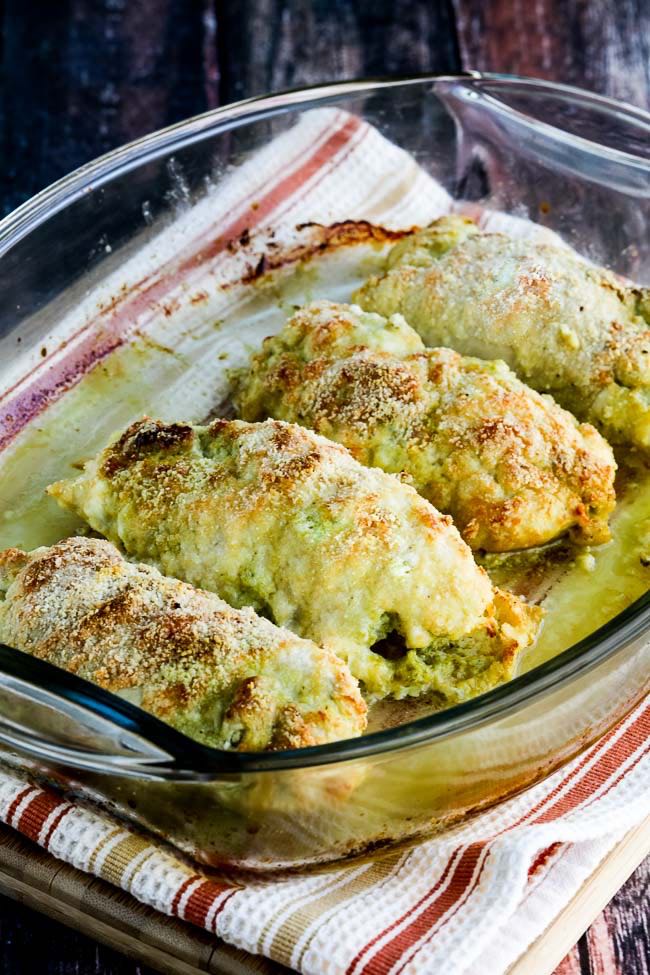 Baked Chicken Stuffed with Pesto and Cheese is a classic recipe that's been hugely popular on the blog; this is perfect for a special dinner.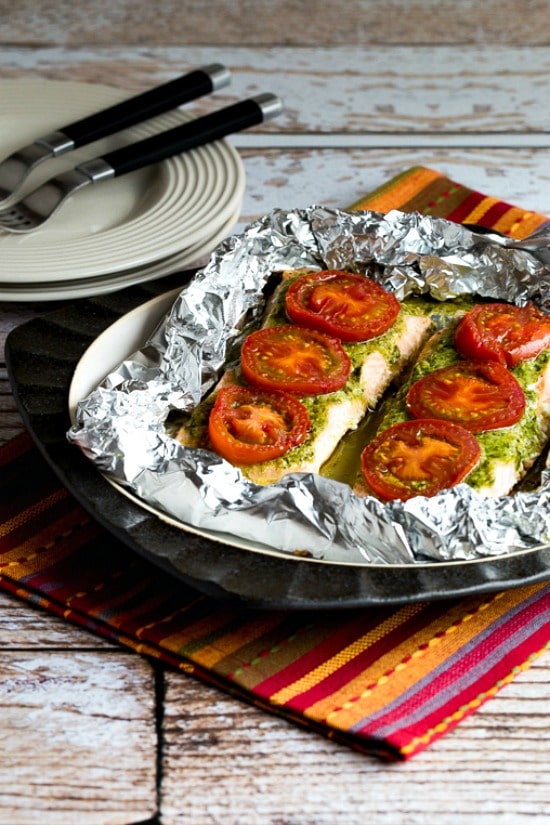 Baked Salmon with Pesto and Tomatoes is an unusual combination that works. Since the tomatoes are cooked you can get away with out-of-season tomatoes for this one. Tomatoes do have some carbs, but there's not a lot of tomato in this.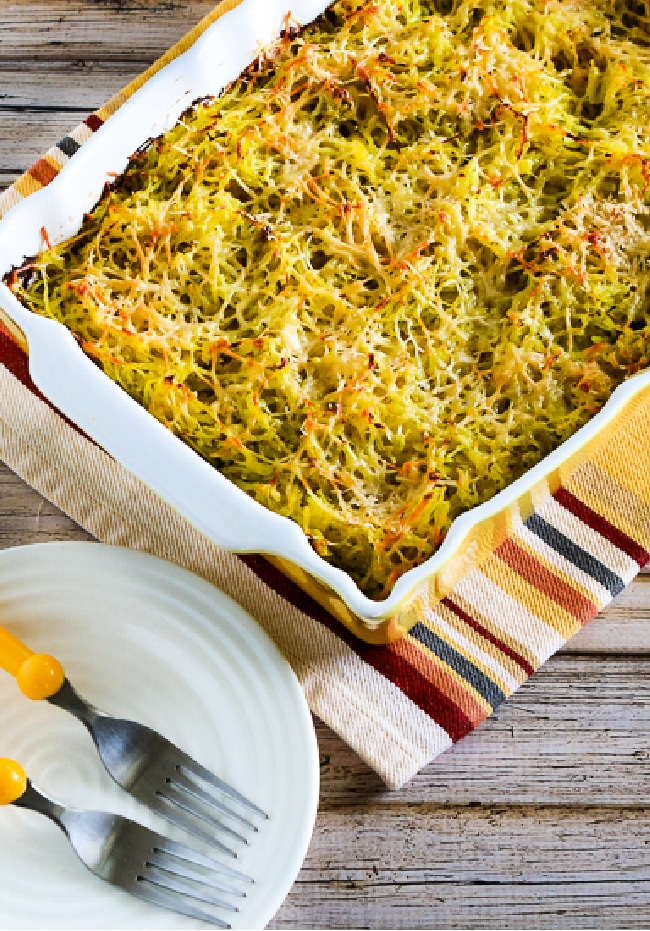 This Pesto Spaghetti Squash has been a popular side dish on the blog!
More Winter Recipes with Pesto:
We are a participant in the Amazon Services LLC Associates Program, an affiliate advertising program designed to provide a means for us to earn fees by linking to Amazon.com and affiliated sites. As an Amazon Associate, I earn from qualifying purchases.