Southwestern Cauliflower Rice Stuffed Peppers
Southwestern Cauliflower Rice Stuffed Peppers are loaded with interesting flavors and this is delicious for a healthy low-carb dinner option! And if you haven't tried making stuffed peppers with cauliflower rice, you are in for a treat!
PIN the Cauliflower Rice Stuffed Peppers to try them later!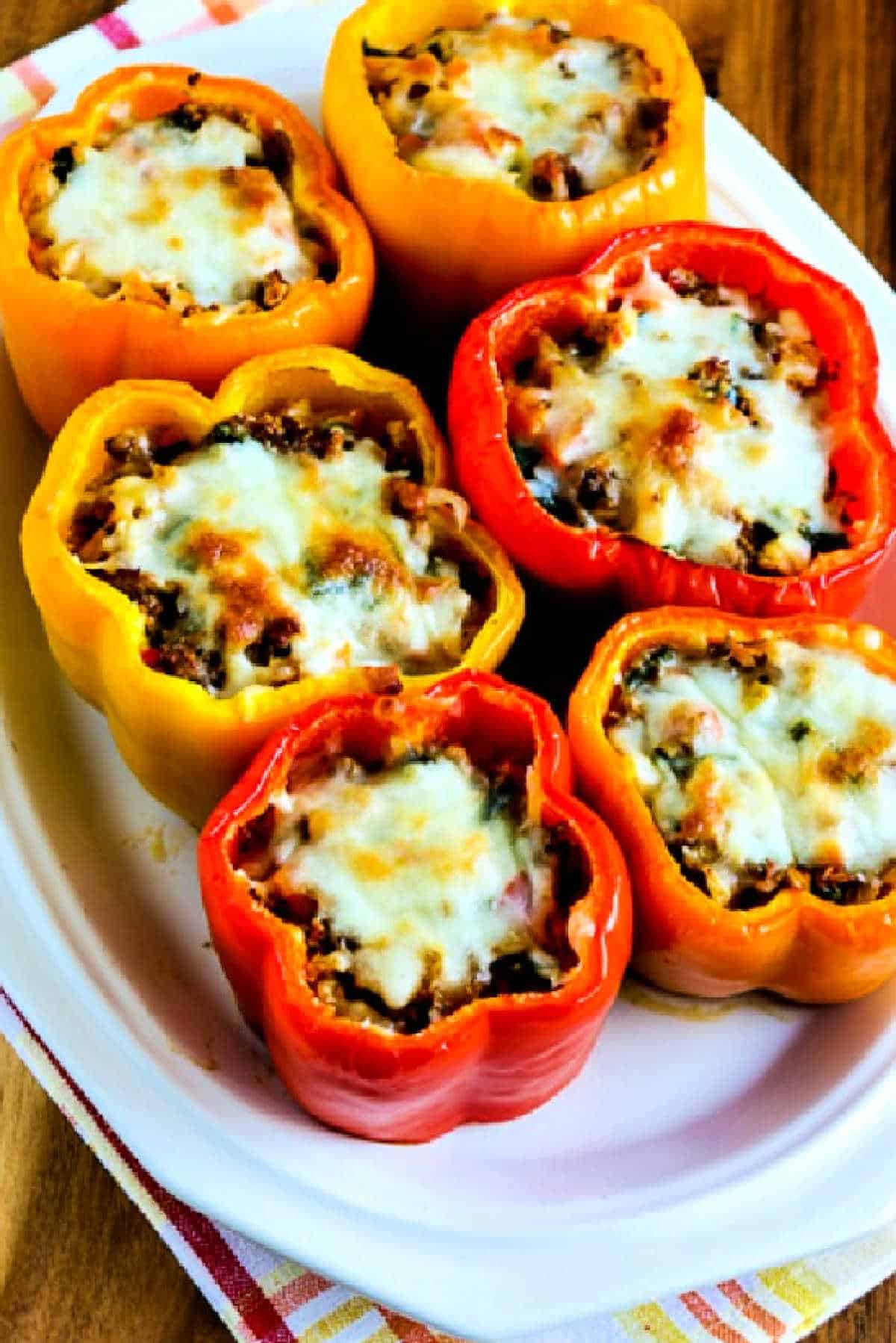 For this week's Friday Favorites post, I'm reminding you about these tasty Southwestern Cauliflower Rice Stuffed Peppers that are a delicious version of stuffed peppers that uses cauliflower rice! I absolutely love the idea of stuffed peppers that substitute low-carb grated cauliflower for the rice that can make stuffed peppers high in carb. I haven't tried making peppers like this with frozen cauliflower rice yet, but I think that would work too if you let the frozen cauliflower rice thaw before you use it.
Be sure not to skip the addition of finely chopped Poblano Chile Peppers (also called Pasilla peppers in many U.S. stores.) The Poblanos are barely spicy, and they add a wonderful flavor to the cauliflower rice stuffed peppers. I used red, yellow, and orange bell peppers for a colorful dish, but green bell peppers would also be delicious for this.
I created this recipe with help from my niece Kara, and we thought the cauliflower rice was delicious with the other flavors here. And even for people who aren't big of fans of cauliflower might enjoy these stuffed peppers where there are so many good flavors to season the cauliflower; enjoy!
What ingredients do you need for this recipe?
ground turkey
olive oil
bell peppers, any color
onion
Poblano pepper,
Kalyn's Taco Seasoning (or use your favorite purchased Taco Seasoning Mix)
Vege-Sal (affiliate link) or use slightly less regular salt
cauliflower
grated Mozzarella cheese
What gives these Cauliflower Rice Stuffed Peppers the Southwestern flavors?
Poblano peppers added to the filling and Kalyn's Taco Seasoning plus ingredients like onion, peppers, and grated cheese all give these stuffed peppers lots of Southwestern flavor!
What are Poblano Chile Peppers?
Poblano chile peppers are large dark green peppers that are mild but have a really delicious flavor. In U.S. grocery stores they are sometimes called Pasilla Peppers.
Want more recipes using Poblano Peppers?
If you like Poblano Peppers or are intrigued by the sound of them, check out Cheesy Stuffed Poblanos with Ground Turkey, Low-Carb Turkey Enchilada Casserole, or Green Chile Chicken Tacos for more recipe ideas with these flavorful peppers!
How to Make Southwestern Cauliflower Rice Stuffed Peppers:
(Scroll down for complete printable recipe with nutritional information.)
Heat a little olive oil and cook the ground turkey until it's nicely browned. Don't rush this; it might take 10-12 minutes to get the turkey as brown as this. (Remove turkey and set aside or use a different pan to cook the onions and peppers.)
While the turkey browns, cut the stem end off the peppers. Then carefully slice off the other end, just removing enough to make a flat surface so the peppers stand up. Put peppers in a baking dish.
Cut the cauliflower into small pieces and buzz in the Food Processor (affiliate link) just until pieces are about the size of grains of rice.
(I haven't tried making this with frozen cauliflower rice yet, but I think it would work if you prefer that. I would thaw the frozen cauliflower rice before you use it in the recipe.)
Chop the Poblanos, pepper ends, and the onion.
Saute chopped onion with some taco seasoning, then add the peppers and cook a couple minutes more.
Add the cauliflower to the pepper/onion mixture and cook about 5 minutes. Then mix in the browned turkey.
Let the mixture cool for a minute or two, then mix in the grated cheese.
Use a spoon to fill each pepper with the onion/pepper/turkey mixture.
Top each pepper with one tablespoon grated Mozzarella.
Bake at 375F/190C 30-40 minutes, or until the pepper is as done as you prefer and the cheese is starting to brown.
More Delicious Low-Carb Stuffed Peppers:
Want even more ideas for low-carb stuffed peppers?
Check out Low-Carb and Keto Stuffed Peppers Recipes to see more stuffed peppers from Kalyn's Kitchen and around the web!
Weekend Food Prep:
This recipe has been added to a category called Weekend Food Prep where you'll find recipes you can prep or cook on the weekend and eat during the week!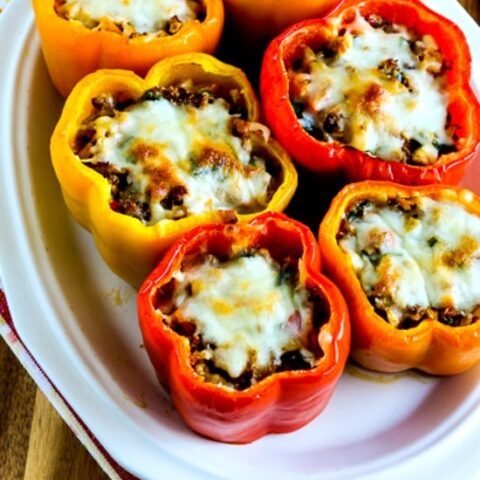 Yield: 6 servings
Southwestern Cauliflower Rice Stuffed Peppers
Prep Time 35 minutes
Cook Time 40 minutes
Total Time 1 hour 15 minutes
Southwestern Cauliflower Rice Stuffed Peppers make a perfect low-carb meal meal for anyone who likes Southwestern flavors!
Ingredients
1 lb. ground turkey (see notes)
4 olive oil, divided (or slightly more, depending on your pan)
6 bell peppers, any color
1 small onion chopped
1 large Poblano pepper, finely chopped (see notes)
1 teaspoon Kalyn's Taco Seasoning (or use your favorite purchased Taco Seasoning Mix)
1 tsp. Vege-Sal (or slightly less regular salt)
1/2 large head cauliflower
1 cup + 6 T grated low-fat Mozzarella
Instructions
Preheat oven to 375F/190C. Spray a baking dish with non-stick spray. (The best size is a dish that will barely fit all the peppers when they're standing up.)
Heat 2 teaspoons olive oil in a non-stick frying pan, add the ground turkey breaking it apart with your fingers as you put it in the pan, and cook turkey over medium-high heat until the turkey is completely cooked and starting to brown, about 10-12 minutes. Use your turner or a potato masher (affiliate link) to break the meat apart as it cooks. (Most ground turkey will release some water, just keep cooking and let that evaporate.)
While the turkey cooks prepare the peppers. Slice off the stem end, discard the stem, and trim any white parts. Carefully slice off the bottom end, taking off just enough to make the pepper stand up straight. Put the peppers into baking dish. Chop the pepper ends and bottom pieces to make at least 1 cup diced peppers, saving the excess for another use if you have more than that.
Finely chop the Poblano chile and chop the onion.
Cut the cauliflower into small pieces and then pulse in a Food Processor (affiliate link) (or use a big hand grater) to make very small pieces, somewhat the size of cooked rice. (If you don't start with small pieces in the food processor, you'll have a hard time getting them all chopped evenly.)
(I haven't tried making this with frozen cauliflower rice yet, but I think it would work if you prefer that. I would thaw the frozen cauliflower rice before you use it in the recipe.
When the turkey is browned, remove to a plate, wipe out the pan, and heat the other 2 tsp. of olive oil. (You can also do this in a separate pan if you don't want to wait.)
Saute the onion about 2 minutes. Add taco seasoning and Vege-Sal (affiliate link) and cook about 1 minute more. Add the chopped bell peppers and Poblanos and saute about 2 minutes. Then add the chopped cauliflower and cook about 4-5 minutes, or until it's starting to get soft.
Stir in the browned turkey and turn off the heat. When the mixture has cooled slightly, stir in the 1 cup of cheese.
Use a spoon to stuff each pepper with the mixture, pressing it down tightly with the spoon. (Holding each pepper over the pan is less messy than trying to stuff the peppers in the dish.)
When all the peppers are filled, top each one with one tablespoon of grated Mozzarella.
Bake 30-40 minutes, depending on how cooked you prefer the whole peppers (I like mine slightly crisp still) or until the cheese is lightly browned. Serve hot.
Notes
Use ground beef instead of turkey if you prefer. Poblano Peppers are often called Pasilla Peppers in U.S. grocery stores. I used Kalyn's Taco Seasoning and Vege-Sal (affiliate link) for this recipe.
This will stay good in the fridge for several days and can be reheated in a microwave or in a toaster oven. Stuffed peppers can be frozen, but the pepper will definitely soften more when it's frozen and thawed, so if you're making extra to freeze I would take some out of the oven sooner than the ones you're eating right away. 
Recipe created by Kalyn.
Nutrition Information:
Yield:
6
Serving Size:
1
Amount Per Serving:
Calories: 351
Total Fat: 24g
Saturated Fat: 6g
Unsaturated Fat: 16g
Cholesterol: 86mg
Sodium: 156mg
Carbohydrates: 12g
Fiber: 3g
Sugar: 5g
Protein: 23g
Nutrition information is automatically calculated by the Recipe Plug-In I am using. I am not a nutritionist and cannot guarantee 100% accuracy, since many variables affect those calculations.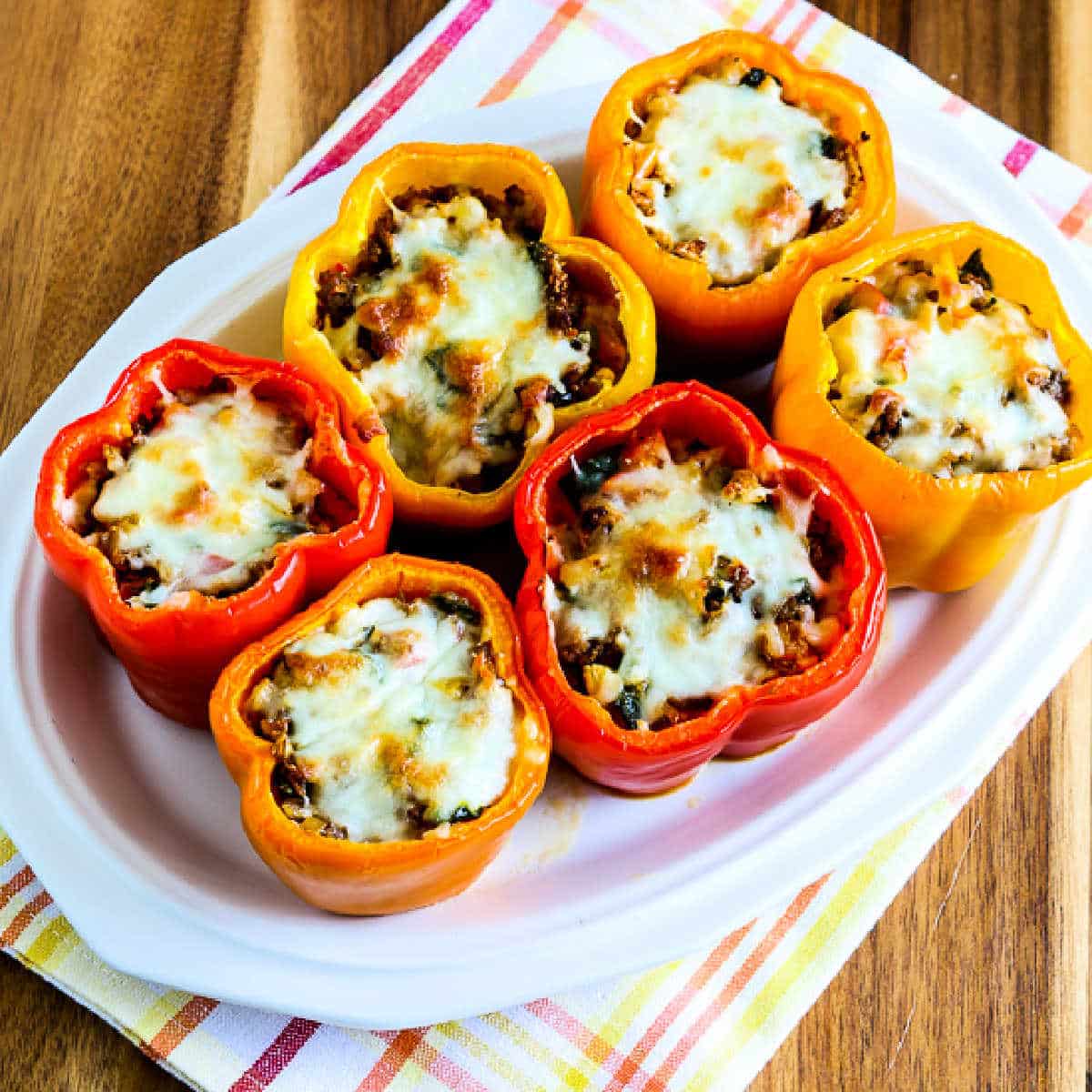 Low-Carb Diet / Low-Glycemic Diet / South Beach Diet Suggestions:
Everything used in the Southwestern Cauliflower Rice Stuffed Peppers is a low-carb ingredient, making this recipe perfect for low-carb and low-glycemic diets,, including Keto as well as any phase of the original South Beach Diet. South Beach would prefer reduced-fat cheese and other low-carb diets would want the full-fat cheese.
Find More Recipes Like This One:
Use Oven Dinners to find more recipes like this one. Use the Diet Type Index to find recipes suitable for a specific eating plan. You might also like to follow Kalyn's Kitchen on Pinterest, on Facebook, on Instagram, on TikTok, or on YouTube to see all the good recipes I'm sharing there.
Historical Notes for this Recipe:
Cauliflower Rice Southwestern Stuffed Peppers were first posted in 2014. The recipe was last updated with more information in 2022.
We are a participant in the Amazon Services LLC Associates Program, an affiliate advertising program designed to provide a means for us to earn fees by linking to Amazon.com and affiliated sites. As an Amazon Associate, I earn from qualifying purchases.