Low-Carb and Keto Stuffed Peppers
Here are Low-Carb and Keto Stuffed Peppers that are perfect for Weekend Food Prep, and stuffed peppers are great for a tasty meal! And this round-up has 18 amazing ideas for stuffed peppers without a lot of carbs!
PIN the Keto Stuffed Pepper Recipes to try some later!
I've been a fan of stuffed peppers for many years, and for people like me who enjoy peppers I think they're especially good in the fall. So for all the peppers fans, today I'm sharing Low-Carb and Keto Stuffed Peppers Recipes, plus a few thoughts about for making stuffed peppers low in carbs.
There are 20 different ideas here for Keto stuffed peppers or low-carb stuffed peppers, so be sure to check out all your options! I hope you'll enjoy trying some of these creative and tasty-looking stuffed peppers.
Tips for making Keto stuffed peppers:
You may be surprised to hear that stuffed peppers can be made without rice! A few of my favorite stuffed peppers recipes just have meat, veggies, and cheese combined and stuffed into a pepper.
You can also make peppers stuffed with Cauliflower Rice (affiliate link) or Palmini Rice (affiliate link), something I'd like to experiment with a lot more.
And one of my stuffed peppers recipes featured here uses finely chopped cabbage instead of rice in the filling. The options for low-carb stuffed peppers really are endless, and the fall is a perfect time to experiment with them.
How do you get the complete recipe?
Just click any recipe name to see the complete recipe on the original blog. All photos are copyrighted by the blog that posted the recipe.
Want to see more Recipe Round-Ups?
Use Recipe Round-ups to find more low-carb, Keto, and gluten-free recipe round-ups like this one.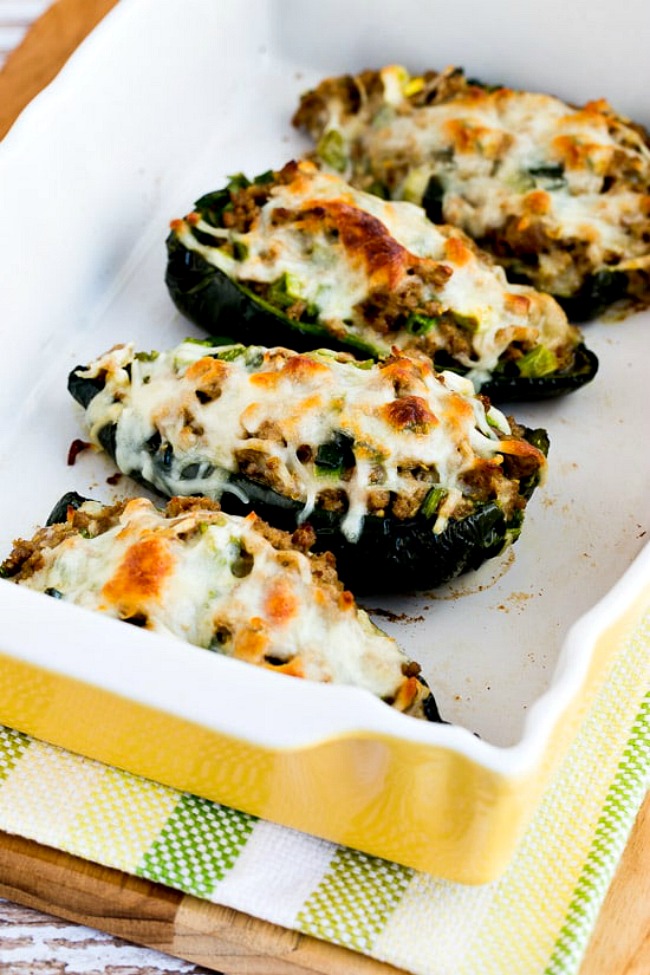 Definitely Cheesy Stuffed Poblanos with Ground Turkey from Kalyn's Kitchen are one of my favorite stuffed pepper variations; this is just slightly spicy but filled with flavor.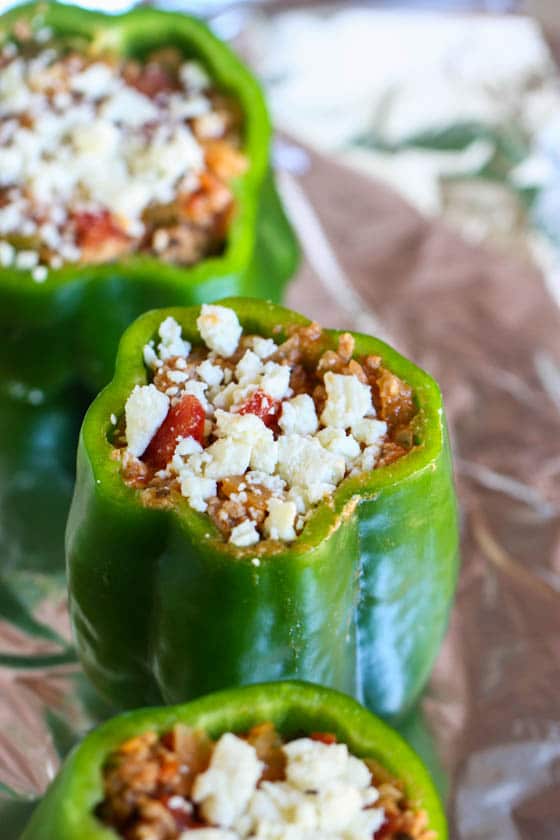 I also love the idea of these Turkey and Feta Stuffed Peppers from Eat Live Run because, FETA! And the other Greek flavors don't hurt either.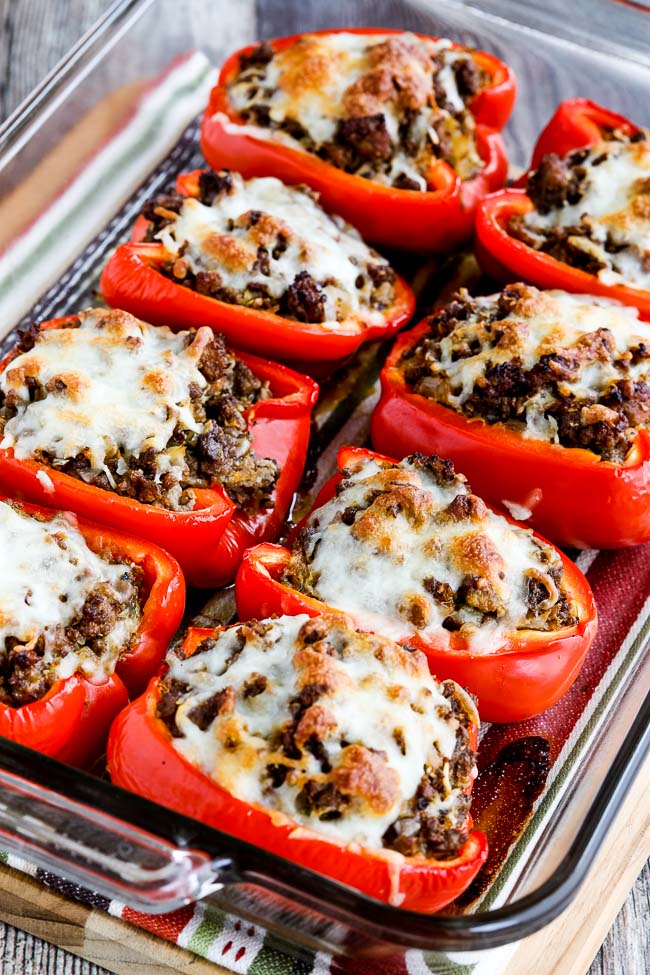 These low-carb Stuffed Peppers with Beef, Sausage, and Cabbage from Kalyn's Kitchen make enough that you can have peppers again later in the week, and the delicious peppers use finely chopped cabbage in place of the traditional rice!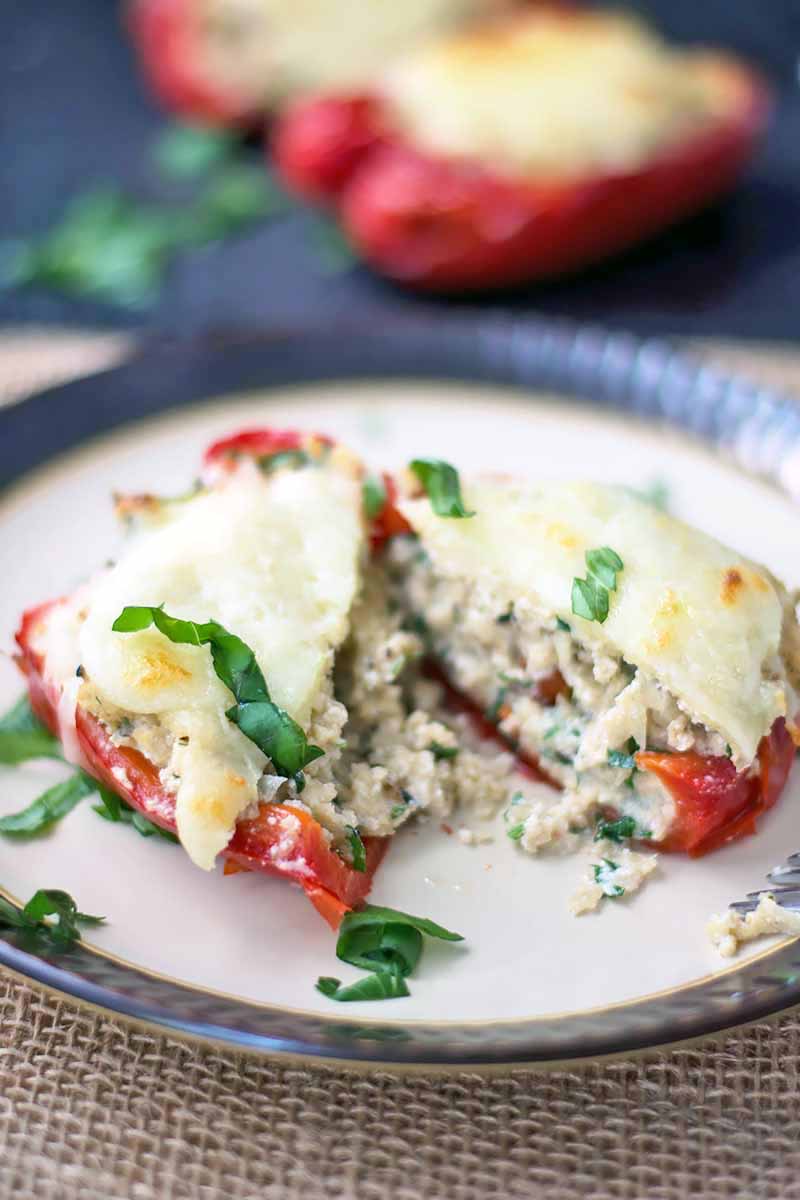 Creamy Riced Cauliflower Stuffed Peppers from Foodal are loaded with cheesy goodness!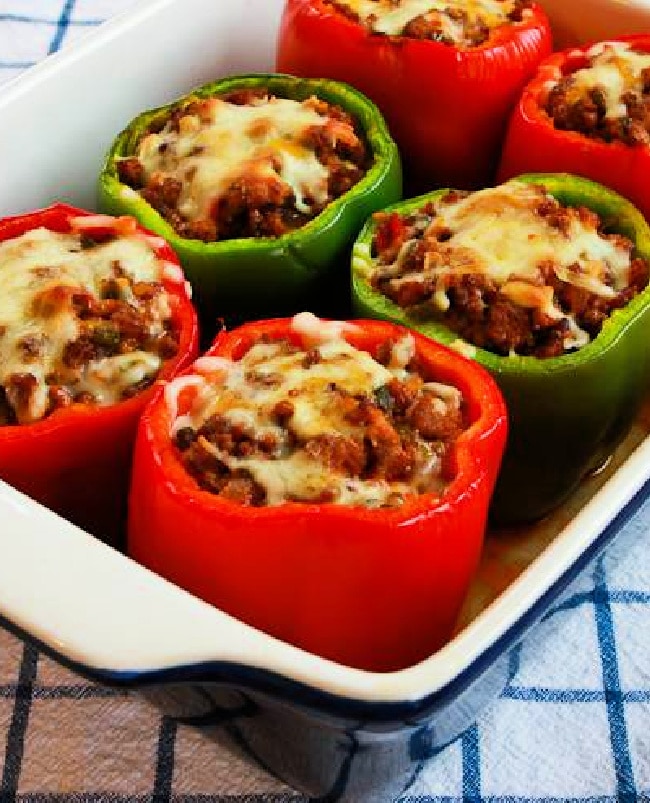 Stuffed Peppers with Italian Sausage and Ground Beef from Kalyn's Kitchen are a favorite that's been really popular on the blog.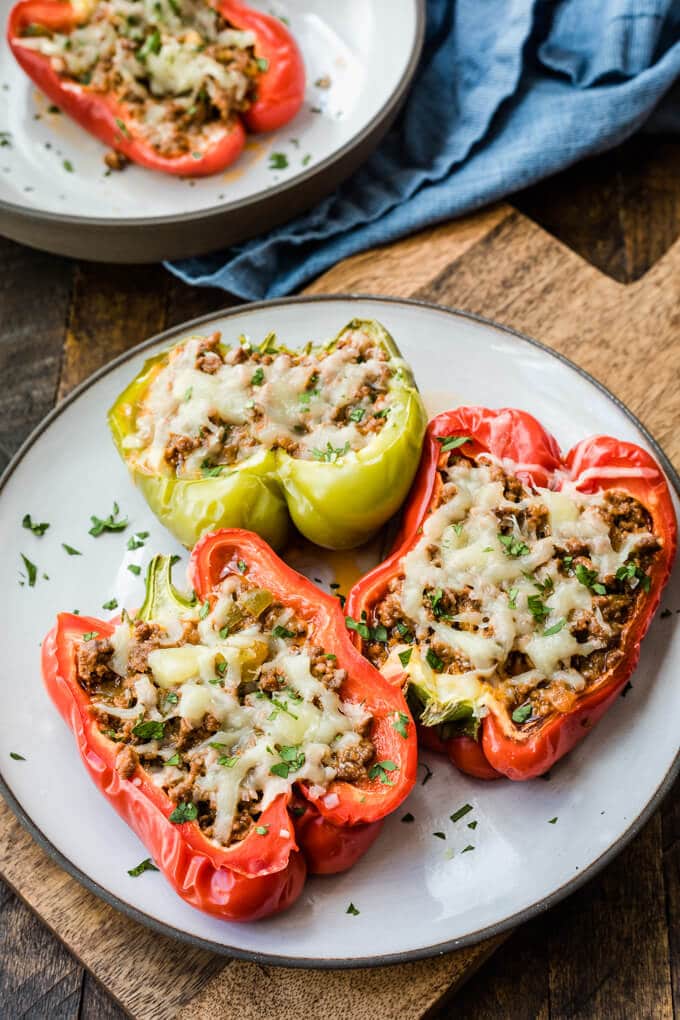 Sloppy Joe Stuffed Peppers from Low-Carb Maven sound easy to make, and I bet this would be a family-friendly dinner.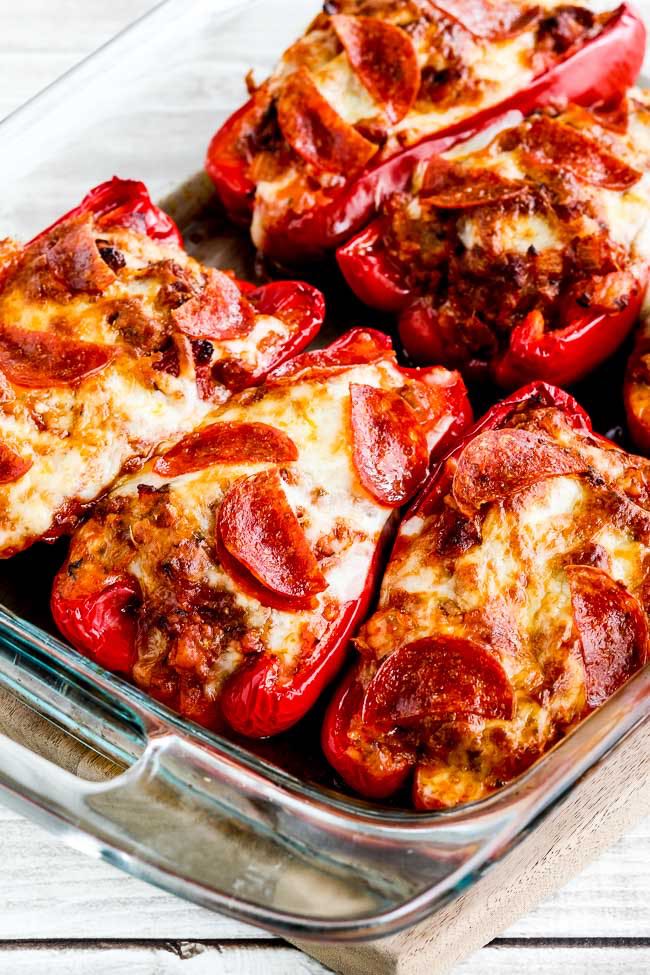 Everyone loves pepperoni pizza, and these Sausage and Pepperoni Pizza-Stuffed Peppers have been a huge hit on Kalyn's Kitchen!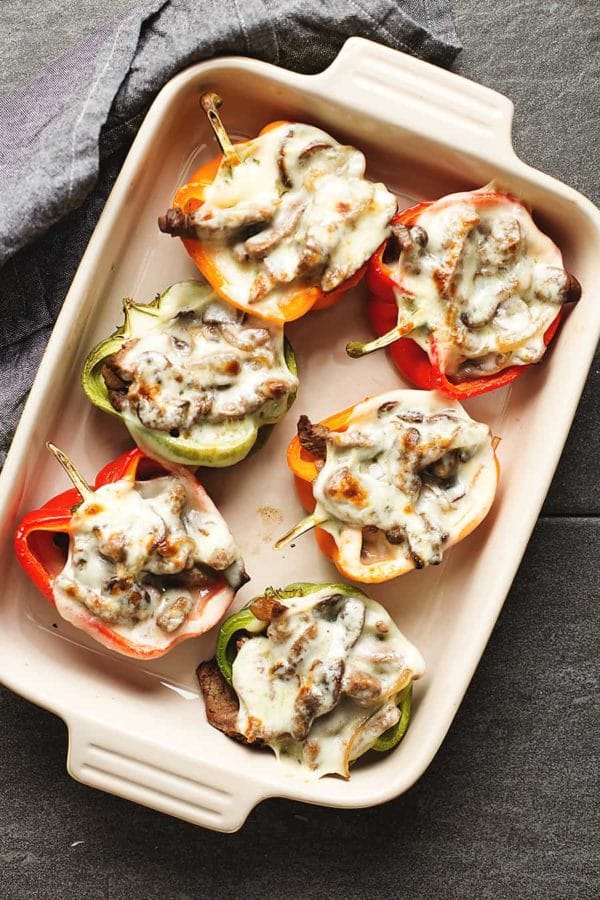 These Philly Cheesesteak Stuffed Peppers from Low-Carb with Jennifer definitely look like a great dinner to me!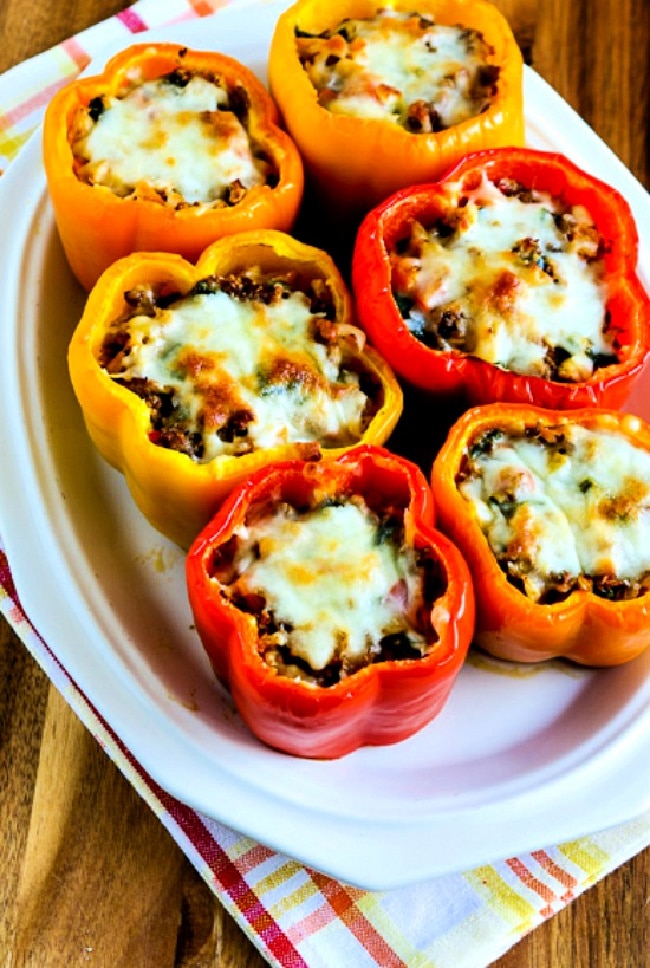 Cauliflower Rice Southwestern Stuffed Peppers from Kalyn's Kitchen have lots of delicious southwestern flavors in an unusual combination for stuffed peppers.
More Low-Carb and Keto Stuffed Peppers!
We are a participant in the Amazon Services LLC Associates Program, an affiliate advertising program designed to provide a means for us to earn fees by linking to Amazon.com and affiliated sites. As an Amazon Associate, I earn from qualifying purchases.