My Favorite Low-Carb Pita Bread (and Recipes with Pita Bread)
Joseph's Flax, Oat Bran, and Whole Wheat Pita Bread is my favorite low-carb pita bread, and this post has amazing recipes with pita bread. Joseph's pita is loaded with fiber and lower in carbs, and here you'll find 26 different ideas for ways to eat this tasty low-carb pita bread; enjoy!
PIN this post about low-carb Pita Bread to try some later!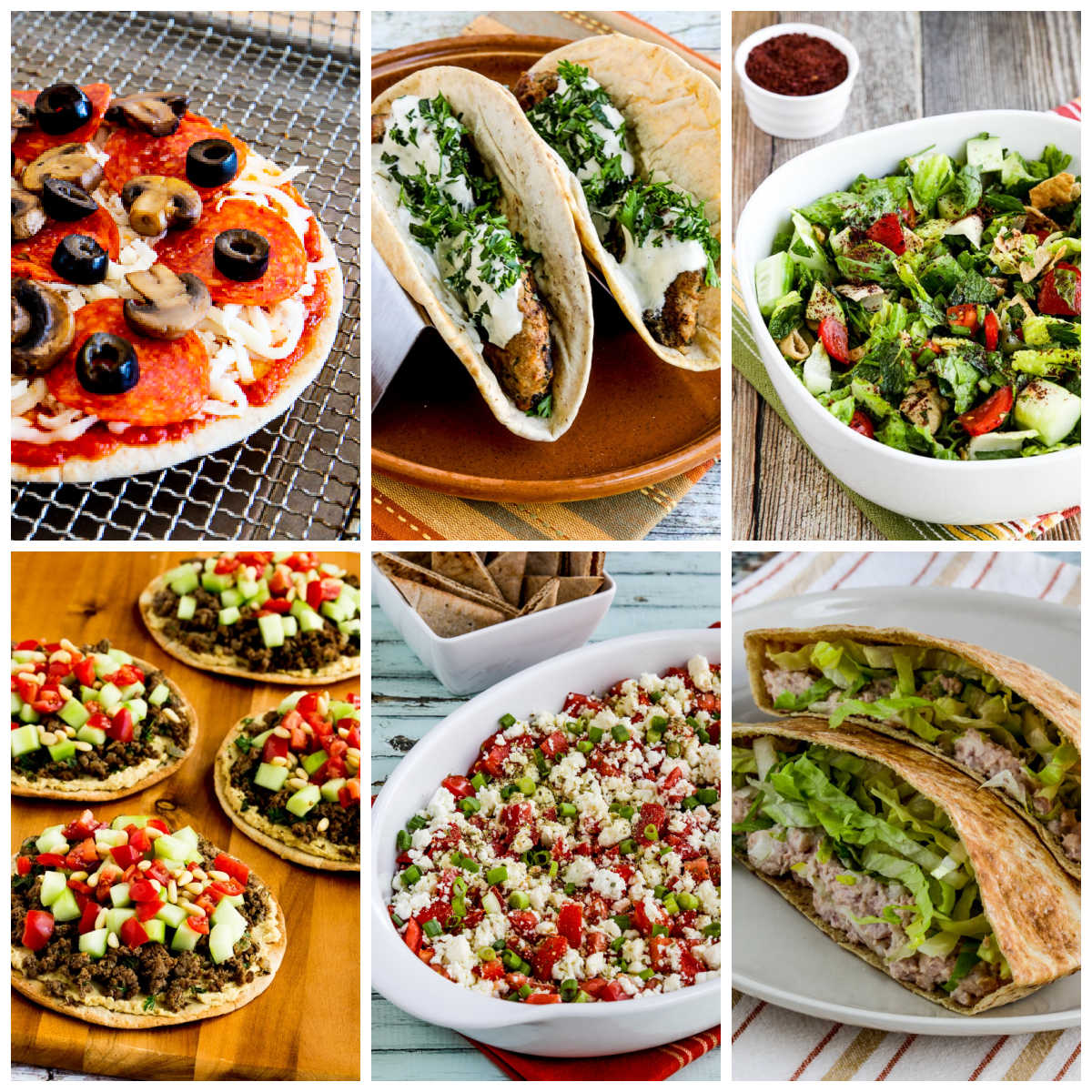 In August of 2005 I visited Rhode Island, and discovered a low-carb pita bread that was so full of healthy ingredients and so delicious that when I came home I wrote about Joseph's Flax, Oat Bran, and Whole Wheat Pita Bread on my new food blog. I brought some of the pita bread home with me from that trip, but I couldn't find them anywhere in Utah.
And I might have forgotten about it completely, except that other fans of the pita bread kept leaving comments on the original post asking where they could get this tasty and relatively low-carb pita bread! Although I checked regularly to find them, for years there was nowhere to order them online. But obviously that's not the end of the story.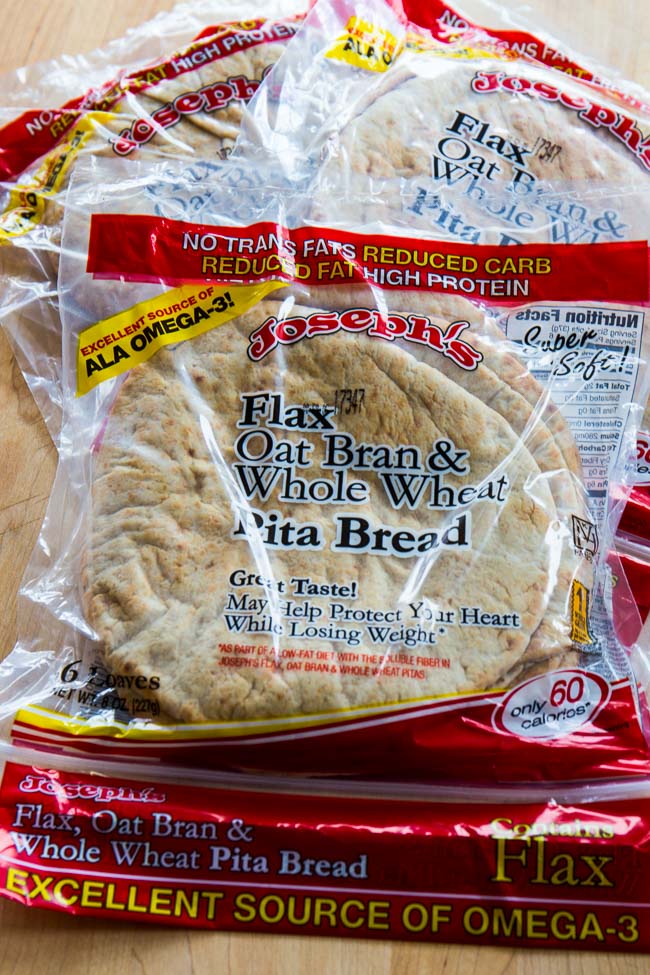 A few years after that the lovely Lydia from The Perfect Pantry offered to send me some of my favorite low-carb pita bread, which was her own favorite as well. Meanwhile, someone left a comment letting me know the Joseph's Bakery products were soon going to be available online. And then a few years later I was so excited to discover that I could buy Joseph's Flax, Oat Bran, and Whole Wheat Pitas at Amazon.com. (affiliate link)
Since then I've been buying the three-pack from Amazon every couple of months and keeping them in the freezer. Joseph's Bakery Flax, Oat Bran, and Whole Wheat Pitas are delicious, nutritious, high in protein and fiber, low in fat, and relatively low in carbs. (The regular size pita has 9 carbs, but 2 grams of fiber and 0 sugars for 7 net carbs.)
Of course this pita bread isn't Keto or gluten-free, but for anyone who's following a carb-conscious or low-glycemic eating plan, they're perfect to stuff with something healthy and eat occasionally for a quick meal.
Recipes I make with Low-Carb Pita Bread: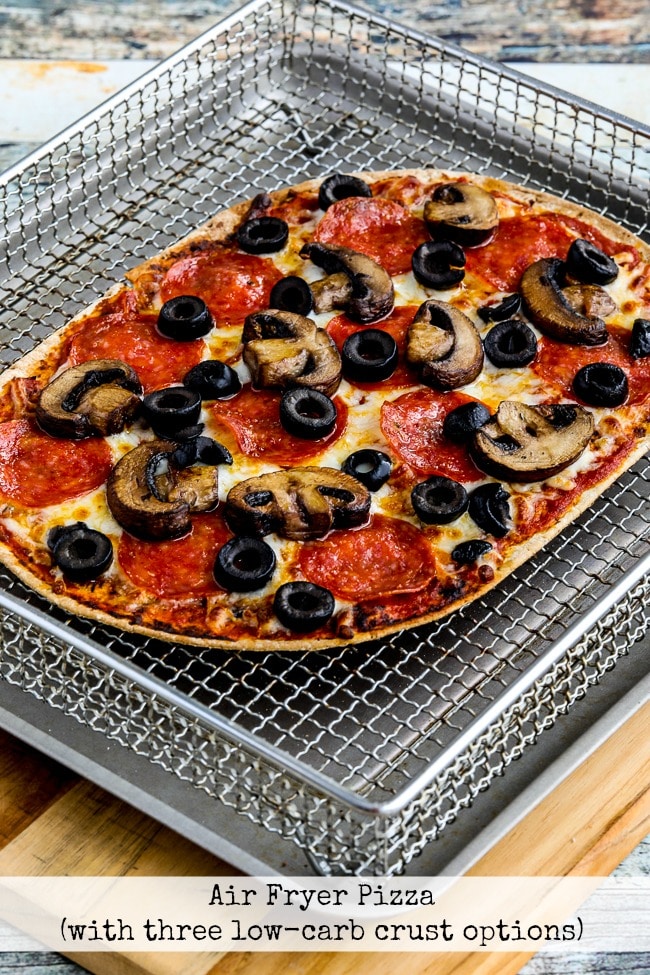 Low-Carb Pita Bread is one of the crust options for this delicious (and quick!) Air Fryer Pizza that's been a hit on the blog!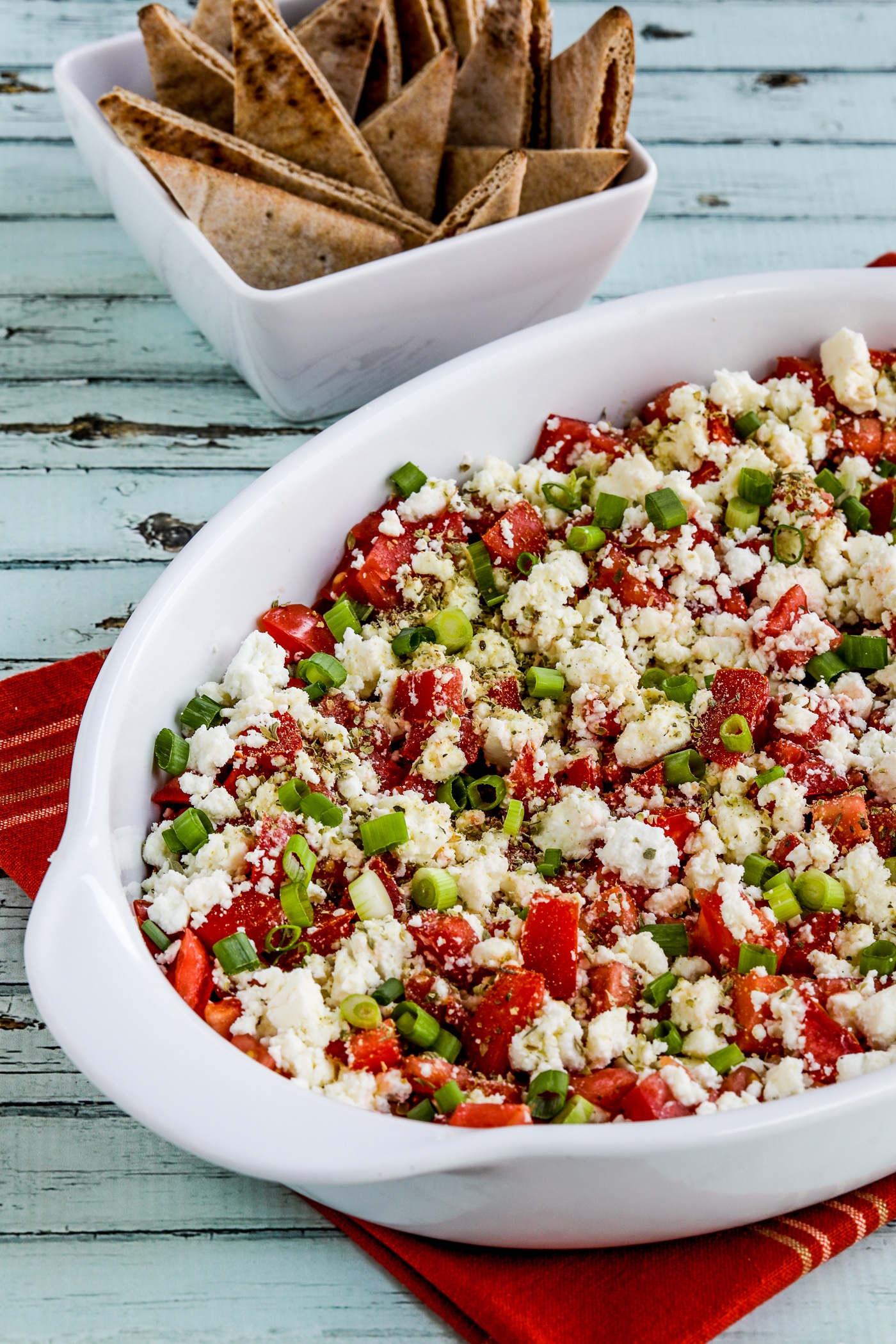 I got the recipe for this Greek Dip with Tomatoes and Feta from my trainer Wendy, and it's so tasty. When I took it to a party people ate it with a fork when the Pita Bread was gone! And lately I've made this several times for friends who are coming to see my new condo!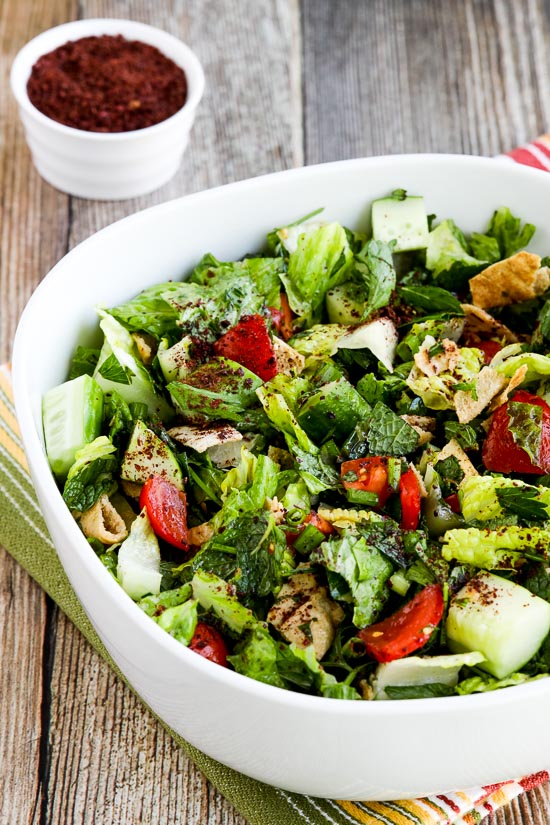 For years and years I've been a huge fan of this Fattoush Lebanese Salad and this is something I make every summer when I have fresh mint and parsley in the herb garden.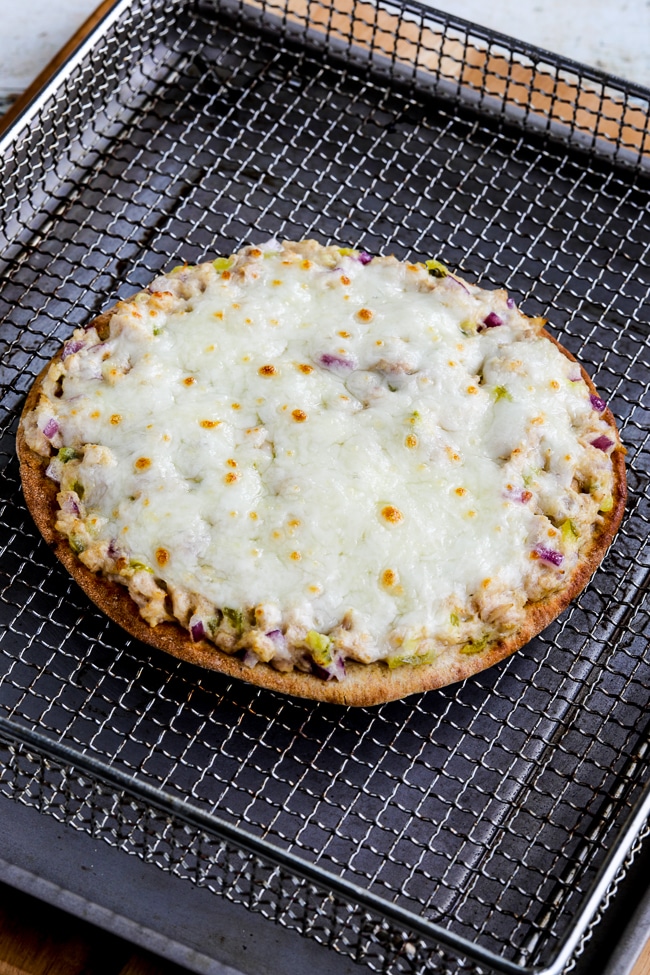 It's a simple idea, but when I'm craving a tuna fish sandwich I love to make these Air Fryer Tuna Melts on toasted low-carb pita!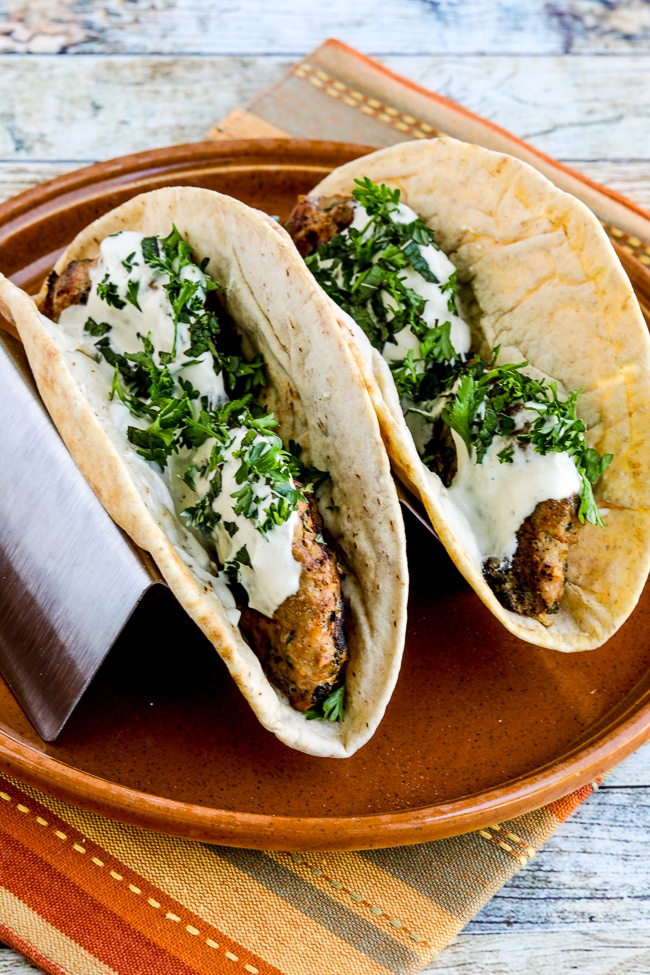 You simply must try these Grilled Middle Eastern Turkey Burgers! These are so tasty and the herb-filled turkey burgers would also be delicious served in lettuce wraps if you wanted even fewer carbs.
Whenever you have leftover ham, make it into Deviled Ham Spread and serve inside low-carb pita for a delicious lunch!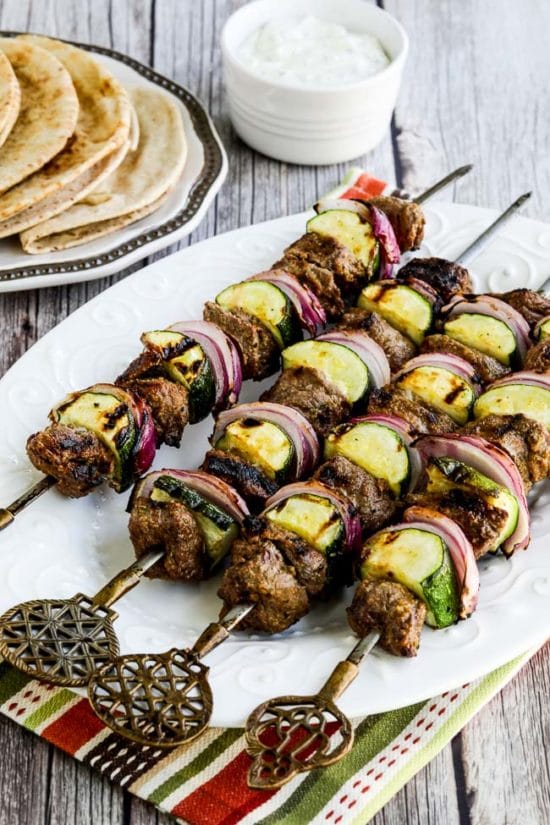 Low-Carb Lamb Shish Kabobs are so tasty, and I love these with Tzatziki Sauce and low-carb pita bread to wrap around the lamb!
Egg Salad Pita with Green Olives is tasty and quick to make, and green olive fans will love these. One pita cut in half and stuffed with egg salad is more than enough for a meal for me.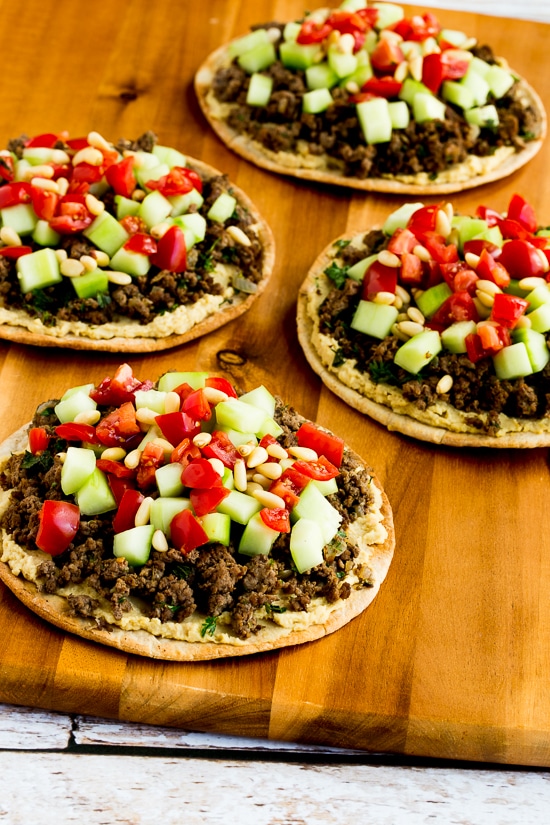 Middle Eastern Beef Pitas do have some carbs in the hummus besides the Pita Bread, but you can get away with a pretty thin layer of hummus if you prefer. Or skip the hummus and eat the spicy middle eastern beef in side the pita bread for a different take on this tasty recipe.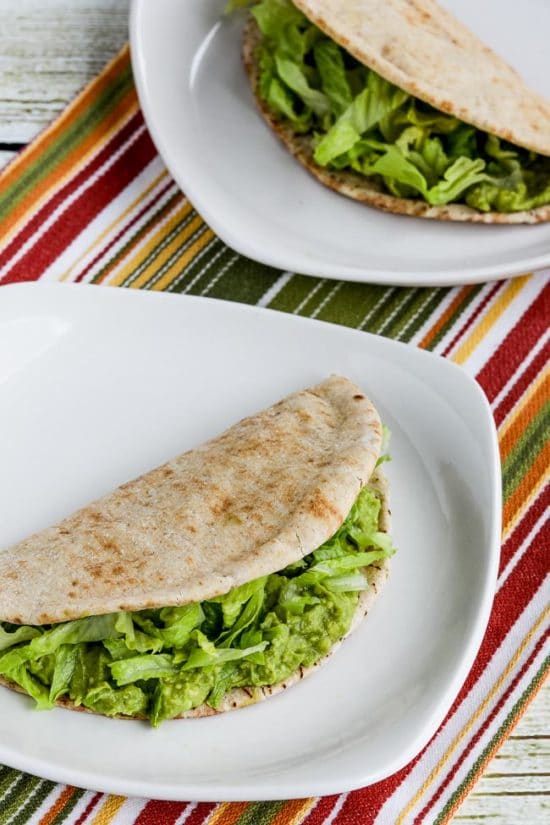 Easy Spicy Avocado in Low-Carb Pita Bread is seriously about as easy as it gets for something tasty to stuff into low-carb Pita Bread, but I'd love this for lunch any time I had an avocado hanging around.
More things to eat inside Low-Carb Pita Bread:
(Some are not low in carbs, check individual recipes for nutritional information)
About Kalyn's Kitchen Picks:
I purchased the Joseph's Flax, Oat Bran, and Whole Wheat Pitas (affiliate link) myself at Amazon.com and although Joseph once left a comment on the blog years ago, this company has no idea that I'm writing about their product now. All items featured here as my picks are things I'd happily buy over and over, and because I want readers to know that my opinions are completely unbiased, I don't accept review products from the many companies who offer to send them to me. You can see my other kitchen and food picks at the page for Kalyn's Kitchen Picks.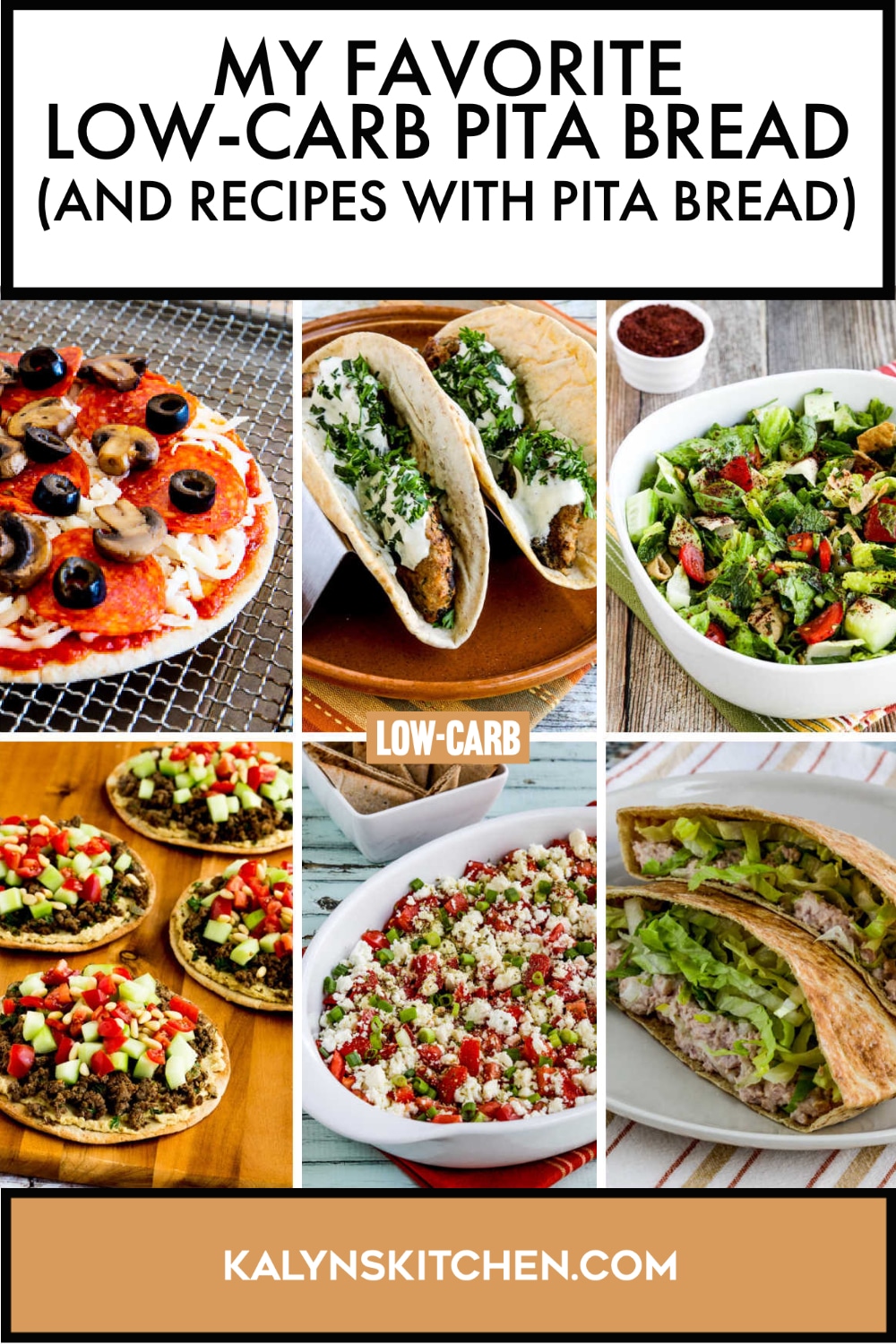 We are a participant in the Amazon Services LLC Associates Program, an affiliate advertising program designed to provide a means for us to earn fees by linking to Amazon.com and affiliated sites. As an Amazon Associate, I earn from qualifying purchases.