Middle Eastern Beef Pitas
These tasty Middle Eastern Beef Pitas were inspired by Hummus with Lahmeh (spiced meat) at one of my favorite restaurants! I used My Favorite Low-Carb Pita Bread to make this a more carb-conscious treat!
PIN Middle Eastern Beef Pitas to try them later!
These Middle Eastern Beef Pitas were 100% inspired by an appetizer I had at Mazza in Salt Lake, where I've enjoyed quite a few lunches and dinners though the years! The appetizer at Mazza included hummus with spicy meat (Lahmeh) scooped up with pita bread.
I kept thinking about how good that combination was, and a few days later my creative cooking brain transformed it into a meal. If you're looking for ways to use garden herbs, tomatoes, or cucumbers during the summer gardening season, this might be an idea you'll enjoy.
I love Joseph's Low-Carb Pita Bread (affiliate link) so much that I order it online and always have some in the freezer, so Kara and I toasted some of that as the base for these middle eastern pitas. We cooked ground beef and onions and seasoned them with cumin, coriander, dried oregano, and dried parsley, and when the meat was browned we mixed in chopped parsley, mint, and cilantro, plus a little lemon juice.
Then we topped the hot toasted pita with a thin layer of hummus, piled some spicy meat on top, and sprinkled over finely chopped cucumber, tomatoes, and pine nuts. Oh yes, this was amazing. And it's something I've enjoyed as a treat for a few years now so it seems perfect to feature for Friday Favorites!
What ingredients do you need for this recipe?
What Kind of Hummus did I use?
Of course you can make your own hummus, but I'm always happy with Kirkland Organic Hummus from Costco when I splurge on a few carbs to enjoy it, and I'd happily use it for this recipe. And there are plenty of options to buy hummus online (affiliate link).
How can you make this recipe lower in carbs?
This recipe is relatively low in net carbs after you subtract the fiber, but it might be high in carbs for really strict low-carb diets. Hummus is something I enjoy occasionally even though it has some carbs, but if you're strictly avoiding carbs, but you can make this with a very small amount of hummus, or skip the hummus completely if you prefer and this combination of flavors will still be delicious!
How to make Middle Eastern Beef Pitas:
(Scroll down for complete recipe with nutritional information.)
Chop the cucumbers, tomatoes, and onion and have the hummus and pine nuts ready when you start to cook the meat.
Chop the fresh herbs of your choice.
We ground together spice mixture in a Mortar and Pestle (affiliate link) but you can pound the spices with something heavy.
Brown the beef in a little olive oil in a large frying pan.
Pushed beef to the side and cook the onions, adding the spices after the onions start to soften.
Mix the browned meat and onions, add the water, and simmer until the water has evaporated.
Then stir in the chopped parsley, mint, and cilantro and a little lemon juice. (Use whatever herbs you have available if you don't want to buy all three.)
I use My Favorite Low-Carb Pita Bread for this recipe which has 7 net carbs per pita. While the meat is browning, preheat the oven to 400F/200C.
Lightly mist or brush the pita breads with olive oil and toast them in the hot oven just until they start to brown. This won't take more than 3-5 minutes; watch them carefully.
Nowdays I would use my Cuisinart Convection Air Fryer Toaster Oven (affiliate link) to brown the pita bread, which be much faster, more like 2-3 minutes.
Spread the warm pita with 2 tablespoons hummus and top with one-fourth of the ground beef mixture.
Then sprinkle with finely chopped cucumbers, tomatoes, and pine nuts or slivered almonds. You could sprinkle them with Sumac or Za'atar if you have some (affiliate links).
Serve right away while the pita bread and ground beef are still warm.
I'm guessing you could save some of the meat in the fridge and reheat it later with a freshly toasted pita bread if you don't need four of these, although I haven't tried that yet.
More Tasty Ideas with Hummus:
Middle Eastern Tostadas with Hummus and Feta
Hummus and Cucumber Appetizer Bites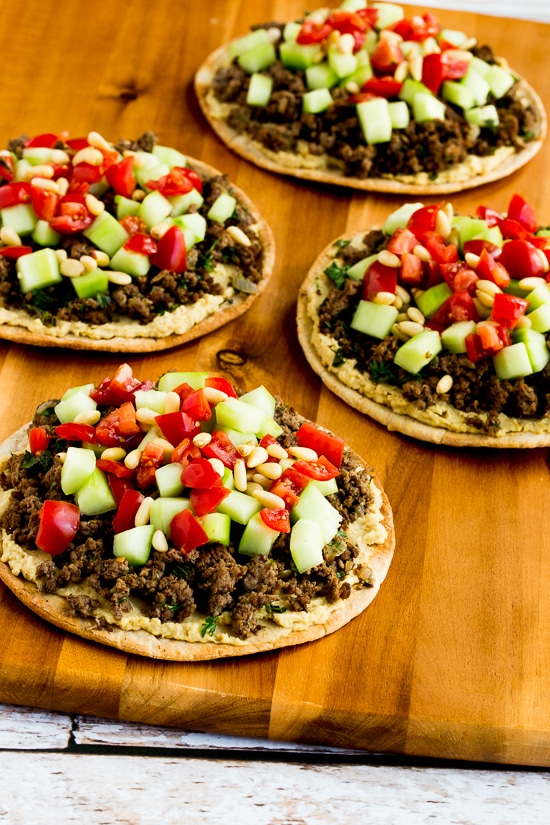 Yield: 4 servings
Middle Eastern Beef Pitas
Prep Time 20 minutes
Cook Time 20 minutes
Total Time 40 minutes
Middle Eastern Beef Pitas were inspired by a dish at my favorite Middle Eastern restaurant in Salt Lake!
Ingredients
Spice Mix Ingredients
1 tsp. garlic powder
1/2 tsp. kosher salt
1/2 tsp. ground cumin
1/2 tsp. ground coriander
1/2 tsp. dried oregano
1/2 tsp dried mint (probably optional, but good)
fresh ground black pepper to taste
Ingredients
1 lb. lean ground beef
1 T olive oil, divided
1/2 onion, finely chopped
1/2 cup water
1 cup finely chopped fresh herbs (see notes)
2 T lemon juice
4 Joseph's Pita Bread, or other low-carb pita (see notes)
1/2 cup hummus (see notes)
1 cup finely chopped tomatoes
1/2 cup finely chopped cucumbers
2 T pine nuts (see notes)
Sumac or Za'atar to sprinkle on the finished pita rounds if desired (optional; see notes)
Instructions
Preheat oven to 400F/200C.
Finely chop the fresh parsley, fresh mint, and fresh cilantro (or whatever fresh herbs you're using.)
Chop the cucumbers and tomatoes.
Have the pine nuts (or other nuts) and hummus ready, as well as the Sumac or Za'atar if you're using it.
Use a mortar and pestle or spice grinder to grind together the spice mixture if you have one of those; if not you can use the individual spices without grinding them.
Heat 1 teaspoon of the olive oil in a non-stick frying pan. (I used my favorite Green Pan.)
Crumble in the ground beef and cook over medium-high heat, breaking apart with a turner, until the meat is nicely browned.
Push meat to the side of the pan, add the other teaspoon of olive oil.
Add the onions, and cook until the onions are starting to soften.
Add the spice mixture to the onions and cook a minute or so longer.
Then mix the onions and browned ground beef, and add the water, scrape any browned bits from the bottom or the pan, and turn the heat to medium-low.
Let the meat simmer for a few minutes until all the water is evaporated.
Turn off heat and stir in the chopped herbs and lemon juice.
While the ground beef browns, mist or brush the pita bread on both sides with a little olive oil.
Place the pita bread on the rack in the heated oven and toast just until the pita bread is browned and slightly crisp. This will only take about 3-5 minutes; watch it carefully.
Spread a thin layer of hummus on each of the toasted pita bread rounds.
Sprinkle one-fourth of the ground beef and herb mixture over the hummus.
Sprinkle each one with a few tablespoons each of chopped tomatoes and cucumbers.
Then sprinkle with some pine nuts or almonds, and sprinkle with Sumac or Za'atar if using.
Serve hot and enjoy!
Notes
I used My Favorite Low-Carb Pita Bread for this recipe. We used parsley, mint, and cilantro for the fresh herbs, but use whatever herbs you prefer or have on hand. I used Kirkland Organic Hummus from Costco, which has about 4 net carbs in the two tablespoons of hummus I used on each of these. You could use slivered almonds if you don't have pine nuts; nuts are definitely optional.
If you have Sumac or Za'atar to sprinkle on, that will give the authentic flavor of the middle east. (affiliate links)
If you're calculating nutritional carbs, be sure to subtract fiber to get the net carbs.
Recipe created by Kalyn and inspired by Hummus with Lahmeh at Mazza in Salt Lake.
Nutrition Information:
Yield:
4
Serving Size:
1
Amount Per Serving:
Calories: 510
Total Fat: 34g
Saturated Fat: 8.8g
Trans Fat: 0g
Unsaturated Fat: 16.5g
Cholesterol: 101mg
Sodium: 816mg
Carbohydrates: 20.2g
Fiber: 5.8g
Sugar: 3.2g
Protein: 40g
Nutrition information is automatically calculated by the Recipe Plug-In I am using. I am not a nutritionist and cannot guarantee 100% accuracy, since many variables affect those calculations.
Low-Carb Diet / Low-Glycemic Diet / South Beach Diet Suggestions:
Hummus in small amounts is approved for all phases of the original South Beach Diet, but South Beach would consider this recipe phase two because of the pita bread. However, the low-carb pita bread I used and several other ingredients have some fiber, so if you calculate net carbs I'd still consider this a relatively low-carb meal although not suitable for the strictest low-carb diets. You can certainly use less hummus if you prefer even fewer carbs.
Find More Recipes Like This One:
Use Lunches to find more recipes like this one. Use the Diet Type Index to find recipes suitable for a specific eating plan. You might also like to follow Kalyn's Kitchen on Pinterest, on Facebook, on Instagram, or on YouTube to see all the good recipes I'm sharing there.
Historical Notes for this Recipe:
In June 2016 I met up with a few Utah food bloggers who gathered to have a goodbye lunch for our friend Dara from Cookin' Canuck who moved to Seattle. One of the appetizers we enjoyed at that lunch inspired this recipe, which I have making ever since. The recipe was updated with more information in 2022.
We are a participant in the Amazon Services LLC Associates Program, an affiliate advertising program designed to provide a means for us to earn fees by linking to Amazon.com and affiliated sites. As an Amazon Associate, I earn from qualifying purchases.